Dick Clark & American Bandstand
---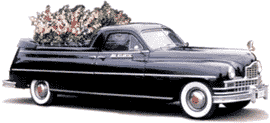 America's Oldest Teenager ... Dick Clark, who never looked his age, died at age 82 on April 18, 2012 from a massive heart attack. He suffered a debilitating stroke in 2004.
Clark found fame in 1956 when he took over as host of 'Bandstand', a local dance show in Philadelphia. He took it national in 1957 and renamed it 'American Bandstand'. I've written more about Bandstand here.
Dick also hosted ABC's 'New Year's Rockin' Eve' for many years, as well as several game shows. He was a very successful producer as well. He also had a stake in a chain of music-themed restaurants licensed under the names 'Dick Clark's American Bandstand Grill'. My wife and I once dined at the one in Indianapolis.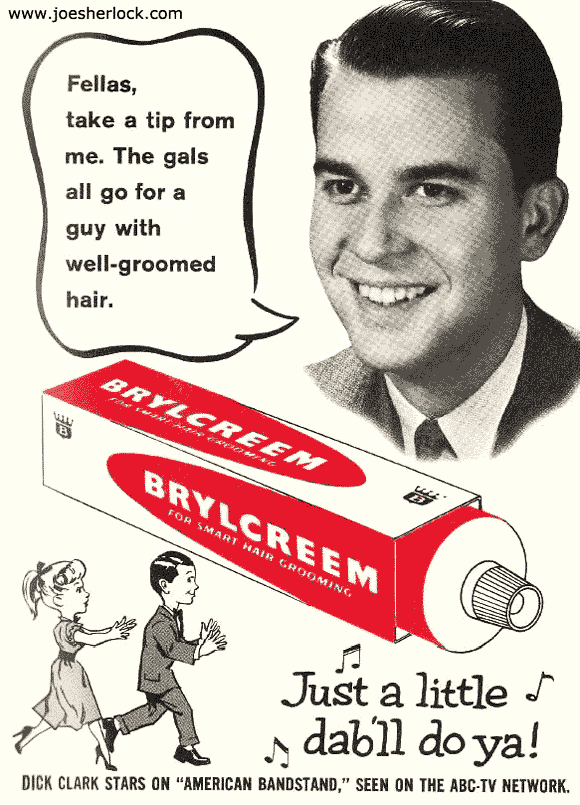 There have been many jokes over the years about Dick Clark's relatively ageless appearance. The best one was a 1982 episode of 'Police Squad!' in which Clark made a cameo appearance buying a jar of 'Secret Formula Youth Cream' from street snitch Johnny the Shoeshine Boy. Rest in peace. (posted 4/19/12, permalink)
---
Bandstand: In late 2004, Dick Clark suffered a stroke. It's hard to believe I'm using "Dick Clark" and "stroke" in the same sentence.
Whenever I think of Dick Clark, I think of Bandstand. In late 1952, television station WFIL in Philadelphia started a local daily afternoon dance program, Bandstand. It was a two-and-a-half hour show, featuring Philadelphia radio personalities Lee Stewart and Bob Horn.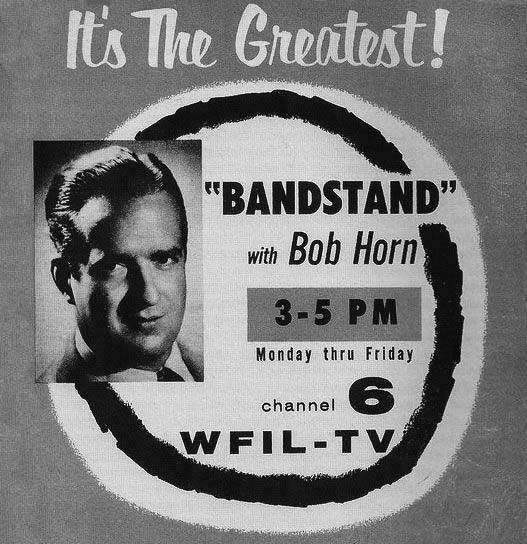 My memory as a 9 year-old is that Lee Stewart was a jerk and Bob Horn was an unsavory-looking guy. Stewart soon left and Horn became the sole host. In 1955 or 56, Bob Horn was fired for what the Philadelphia Evening Bulletin euphemistically referred to as "taking liberties with one of the underage female regulars in his dressing room."
WFIL frantically searched for a squeaky-clean replacement and selected Dick Clark, a 26-year-old Philadelphia radio announcer. Clark fit the role well and, on August 5, 1957, the show went national. A 90-minute version of the two and one-half hour show - renamed American Bandstand - was carried by ABC and became an instant success.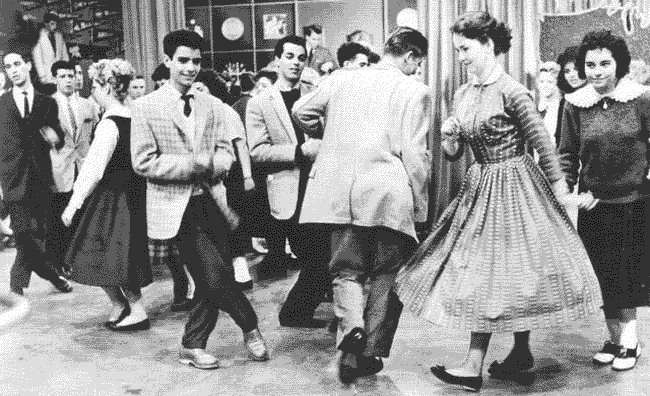 Contrary to popular conceptions, the vast majority of Philadelphia high-schoolers were never on American Bandstand - they just watched it on television.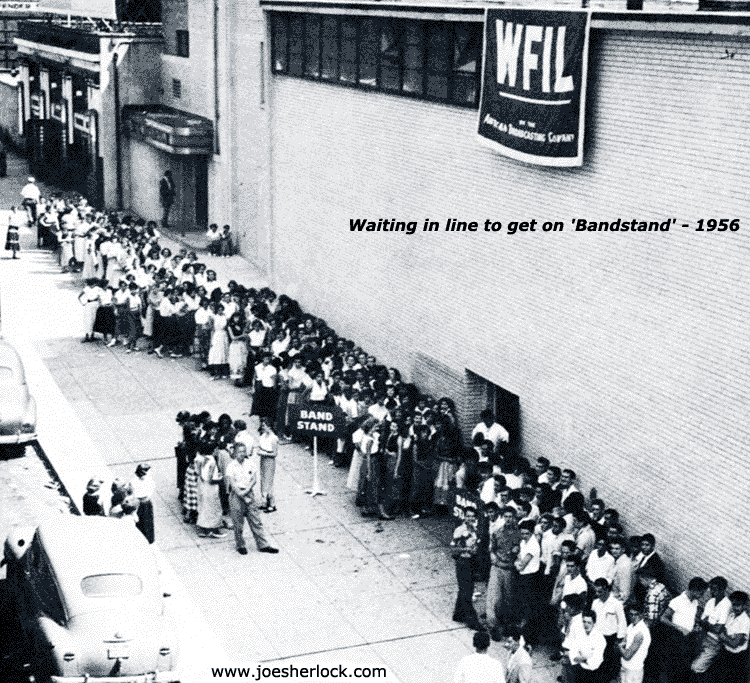 On the 50th Anniversary show (a few years ago), they did a 'Where Are They Now?' segment about the Bandstand regulars - the folks who left school early to dance on the show. What I remember is that the female regulars from the late '50s and early '60s, all seemed to have jobs as hair stylists, part-time real estate agents or blackjack dealers in Atlantic City.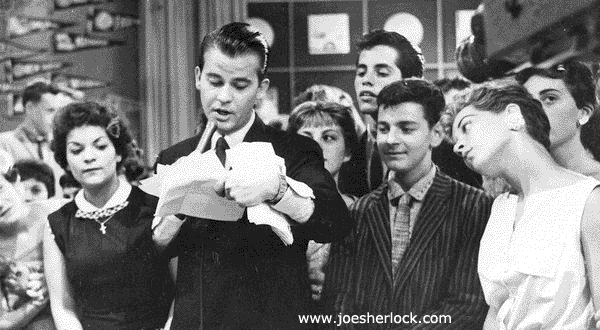 ---
Other Pages Of Interest
| blog: 'The View Through The Windshield' |
| greatest hits: index of essays & articles | blog archives | '39 Plymouth |
| model train layout | about me | about the blog | e-mail |
copyright 2008-20 - Joseph M. Sherlock - All applicable rights reserved
---
Disclaimer
The facts presented on this site are based on my best guesses and my substantially faulty geezer memory. The opinions expressed herein are strictly those of the author and are protected by the U.S. Constitution. Probably.
Spelling, punctuation and syntax errors are cheerfully repaired when I find them; grudgingly fixed when you do.
If I have slandered any brands of automobiles, either expressly or inadvertently, they're most likely crap cars and deserve it. Automobile manufacturers should be aware that they always have the option of trying to change my mind by providing me with vehicles to test drive.
If I have slandered any people or corporations, either expressly or inadvertently, they should buy me strong drinks (and an expensive meal) and try to prove to me that they're not the jerks I've portrayed them to be. If you're buying, I'm willing to listen.
Don't be shy - try a bribe. It might help.
---