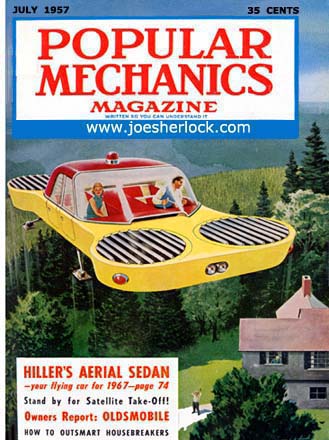 2019 Detroit Auto Show: As regular readers know, the first auto show I ever attended was the 1960 Philadelphia Auto Show in November 1959. Ever since then, I have faithfully followed auto show coverage because I wanted to see what the future held by looking at all the wild concept cars on display. In those days, everyone said the future would involve gas turbine engines, Plexiglas bubble roofs and flying cars. Never happened.
Now auto experts claim that we will very soon be driving all-electric cars and/or riding in fully-autonomous vehicles. I've been burned so many times over my lifetime by pipe dreams that never happen, so I hope you'll understand if I'm skeptical about the predicted universality of electric vehicles and self-driving pods.
Jim Lentz, CEO of Toyota North America, is also skeptical of the proclaimed all-electric future. He pointed out "that only the Tesla Model 3, of all the electrified models now on the market currently is generating more than 10,000 sales per month. And of the 94 "electrified" vehicles on the market – including hybrids, plug-ins and pure battery-electric vehicles – only six top 2,000 a month." Lentz said, "It's going to be a battle," as manufacturers struggle to grab customers in a market where "there's not much growth."
Lentz tried to put the situation into perspective by pointing out that only the Tesla Model 3, of all the electrified models now on the market currently is generating more than 10,000 sales per month. And of the 94 "electrified" vehicles on the market – including hybrids, plug-ins and pure battery-electric vehicles – only six top 2,000 a month.
This year's Detroit Auto Show was light on debuts and lavish unveilings. Peter De Lorenzo, the AutoExtremist, described the show as "a snapshot of a fading industry wheezing through its last gasps of respectability." Ouch.
While Ford, General Motors and Toyota showed new vehicles, Audi, BMW, Mercedes, Porsche, and Jaguar Land Rover, along with such higher-end brands as Ferrari, McLaren, and Lamborghini, skipped it altogether.
The Toyota Supra had its official reveal; it's "a sports car with a capital S: a coupe with 50-50 weight distribution, a straight-six cylinder engine, an integrated spoiler, and 335 horsepower." Toyota hedged its exposure by splitting the development costs with BMW's upcoming Z4. The Supra will go on sale in the summer of 2020 at a BMW-like price of $50,000 or so. The Supra will be assembled in Austria by Magna Steyr, alongside its cousin, the BMW Z4.
Ford introduced the new Shelby GT 500, featuring a supercharged 700+ horsepower V8. The company says will make it the most powerful production car ever. Ford also showed the all-new 2020 Explorer SUV. The Kia Teluride made its debut; it's a large three-row SUV. Cadillac also showed a three-row luxury crossover, the XT6, designed to compete with the Lincoln Aviator and Audi Q7 and due in mid-2020. The in-between-size Caddy SUV shares its underpinnings with the Buick Enclave, Chevrolet Traverse and GMC Acadia.
The redesigned VW Passat sedan also made its formal debut. It looks like the old one to me. And its a stately sedan in an ugly SUV world.
The Lexus LC convertible concept is likely headed for production and it looks great except for that hideous gaping-maw grille, a Lexus family affliction not unlike a third-world country harelip. (posted 1/18/19, permalink)
---
Book Review: 'Ford Model T Coast to Coast: A Slow Drive Across A Fast Country' by Tom Cotter
Before the Model T came along, automobiles were mere playthings for the rich. Henry Ford's T didn't just put America on wheels, it put the world on wheels. The Model T was the first truly affordable car for the working man. Initially priced at $850 in 1908, the price dropped to $390 by 1914 due to production efficiencies. By 1927, a new Model T could be had for as little as $260. At its peak popularity, 1.25 million Model Ts were sold each year.

The Model T was effectively the first ... (more >>>)
---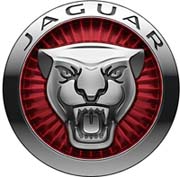 Book Review: 'Jaguar XK: A Celebration of Jaguar's 1950s Classic' by Nigel Thorley
Since its founding in the 1920s, Jaguar has always offered sporting cars. Yes, saloons were produced for gentlemen who required extra doors or wealthy, portly lads who couldn't fit in a sports car, but Jaguar's flagship was always a sports car.
When the Jaguar XK120 burst on the automotive scene at the 1948 London Motor Show, the British sports car stunned the public. Its swoopy lines were quite a contrast with other British two-seaters - as well as older Jags - and made all of them look stodgy and ancient by comparison. The XK 120 was wickedly fast for its time.
The original Jaguar XK was to be a four-cylinder car called the XK100. Thankfully, that idea was scrapped. The 1948 Jaguar XK120 was powered by a new overhead-cam six-cylinder engine used by Jaguar until 1992.
The XK120 became a big hit in the U.S., after the British government reduced ... (more >>>)
---
2018 Auto Sales: For calendar year 2018, new U.S. vehicle sales were 17.33 million cars and light trucks - making it the fourth-biggest year on record. Sales were up slightly from 17.2 million in 2017. Light trucks - pickups, SUVs and crossovers - accounted for a record 69% of the U.S. market.

"New vehicle sales were surprisingly strong in 2018 despite late cycle headwinds from higher interest rates and more nearly-new competition in the used market," Cox Automotive Chief Economist Jonathan Smoke said. "The key positive factor was stimulated demand from tax reform, which strengthened retail demand as the year progressed and also enabled strong gains in fleet sales."
Overall, U.S. light-truck sales (pickups, SUVs) rose 8% in 2018, while car deliveries slid 13% for the year, marking the fifth straight annual decline in car volume (sedans, coupes). Just over 20 models sold more than 200,000 units each last year, demonstrating how much the auto industry is concentrated on a few products. The five top sellers were Ford F-Series pickup truck, soon-to-be-discontinued Chevy Cruise sedan, Ram pickup, Toyota RAV4 crossover and Nissan Rogue crossover.
It was a very good year for pickup trucks: 909,000 Ford F-Series, 585,000 Chevrolet Silverado and 536,000 Ram pickups were sold last year. Large pickups generate at least $17,000 a vehicle in pretax profit for GM and probably similar levels for Ford and FCA. By contrast, many Detroit Three sedans are so unprofitable, that their manufacturers have decided not to build them anymore. GM has said 27% of Chevrolet and GMC trucks - which can haul trailers by day and substitute for a luxury sedan by night - sell for more than $55,000.
For the full year, total Ford Motor Co. sales dropped by 4% to 2.5 million units, dragged down by an 18% slump in car sales. SUV sales rose fractionally and truck sales rose 1%. Full-year F-Series sales accounted for more than 36% of the company's total sales for the year. In an SUV-oriented market, Lincoln sales declined 7% to 103,587 vehicles. Sales of Ford and Lincoln cars sank 18% in 2018. Ford Mustang sales dropped 7% to 75,842 coupes. Sales of the Ford Focus were down 28%, while sales of the Lincoln Navigator increased 70% to 17,839 SUVs. The flagship Lincoln Continental experienced a sales decline of 37% to 8,758 sedans.
Fiat Chrysler Automobiles annual U.S. sales rose 9% in 2018 from to 2.24 million units. Fleet sales were 21% of all sales. For the full year, Ram sales were up 7% compared to last year. For the full year, Chrysler sales are down 12% and Fiat sales plunged 41% to 15,521 vehicles. Alfa sales rose 98% for the full year to 23,820 units. The Stelvio SUV accounted for 12,043 sales in '18. For the full year, Dodge sales rose 3% to 459,324 units, with about a third accounted for by the new Caravan. 66,716 Dodge Challengers were sold, up 3% over last year. Jeep sales increased 17% to 973,227 vehicles; Jeep Cherokee sales increased 41%.
For the full year, General Motors sales were down 2% to 2.95 million light vehicles. The Chevy Silverado pickup and Equinox sport utility vehicle are the company's two best-selling vehicles, with full-year totals of 585,864 units and 290,458 units, respectively. GM light trucks and SUVs rose 2% for the year. But sales fell for the Chevrolet Suburban and the GMC Yukon, popular large SUVs that produce high margins. On the other hand, sales of the Cadillac Escalade jumped up 57% to 36,032 SUVs.
Sales were down 1% at Chevrolet to 2,036,023 units; sales of the Chevrolet Sonic fell 35% to 19,679 subcompact sedans. 47,203 Camaros found buyers in 2018, down 31% from 2017. Sales of the all-electric Chevy Bolt dropped 32% for the full year to 15,922 vehicles. Buick sales fell 6% to 207,223 units. Cadillac sales decreased 1% to 154,702 Caddies. Only 9,669 examples of the Cadillac CT6 found buyers, down 8% from 2017. GMC sales dropped 1% to 556,000 trucks and SUVs.
Toyota Motor Company's U.S. sales edged down fractionally, with car demand falling 12% and light-truck shipments up 8%. 2,128,367 Toyota-badged vehicles found buyers last year; sales were flat compared with 2017. Toyota sold 33,518 Avalon sedans in 2018, an increase of 3% over 2017. 427,170 RAV4 crossovers found buyers in 2018, up 5% from last year. Prius sales dropped 19% to 343,439 sedans.
The Honda brand was down 3%. Subaru had 2018 sales of 680,135, a gain of 5%. Honda's best-selling model was the CR-V; 379,013 found buyers in 2018, a fractional increase over last year. It was the tenth consecutive year of record U.S. sales for Subaru. Mazda reported a 4% increase in 2018 sales; more than half of those sold were CX-5 crossovers. Mitsubishi said its 2018 volume finished 14% higher at 118,074. 667,945 Hyundais found homes in 2018 - a fractional increase, while Kia sales were flat at 589,673 vehicles. Kia only sold 354 examples of its luxury K900 sedan in 2018.
Nissan sales dropped 6% in 2018. Nissan's Rogue was that company's top-selling model. Its 412,110 sales, an increase of 2%, was just passed by the Toyota RAV4. It was, however, the best calendar year for Rogue sales yet. Sales of the restyled, all-electric Leaf grew 31% over last year to 14,715 units. Volvo sold 92,263 vehicles in the U.S. last year - an increase of 21%. Mini sales fell 7% to 43,464 vehicles.

Mercedes-Benz sold 354,137 vehicles in 2018, a decline of 4%, but enough to make it the best-selling luxury marque in the U.S. 14,978 examples of the flagship Mercedes S-Class were sold, down 6% from last year. BMW sold 311,014 vehicles in 2018, an increase of 2% over last year. Only 6,120 examples of the all-electric BMW i3 were sold, a drop of 2%. Lexus sold 298,210 units in 2018 - a decline of 2%. 9,302 flagship Lexus LS sedans found buyers in 2018, up a whopping 127% from last year. The RX crossover is Lexus' most popular model; 111,641 were sold in 2018 an increase of 3% over last year. 223,323 Audis found homes last year, a decline of 1%.
Tesla reported sales of 184,200 electric vehicles in 2018; 140,317 were Model 3s. 158,934 Acuras found buyers last year, an increase of 3% over 2017. The RDX is Acura's best-selling model; 63,580 found buyers in 2018, an increase of 24% over last year. 149,280 Infiniti were sold last year, a drop of 3%. Land Rover sold 82,143 utility vehicles in 2018 - an increase of 23%. Porsche sold 57,202 units in America in 2018 - an increase of 3%. Jaguar sold 30,483 vehicles - a fall of 23% from last year. Maserati sold 11,263 vehicles in 2018, a drop of 18% from 2017. Genesis reported annual sales of 10,312 cars, falling 50% from 2017.
In the price-no-object segment of the market, Rolls-Royce sold 1,080 vehicles in the U.S. last year - an increase of 5%, while Bentley sold 1,972 vehicles, a decline of 18%. Lamborghini sold 1,128 vehicles, an increase of 3%. 1,569 McLarens found buyers last year - a jump of 41%. McLaren experienced its eighth consecutive year of increasing global sales since its formation in 2010. The company sold 4,806 new cars worldwide last year, representing a 44% jump last year. The U.S. is the company's largest single market with a third of McLaren's global sales. (posted 1/8/19, permalink)