---
Car Musings (2019)
---
Cute Rarity: The Nissan S-Cargo was a subcompact delivery vehicle, based on the very small Nissan Micra. First offered in 1989, the S-Cargo's peculiar shape was an homage to the Citroën 2CV and the overall side profile was somewhat snail like. Hence the pronunciation: escargot.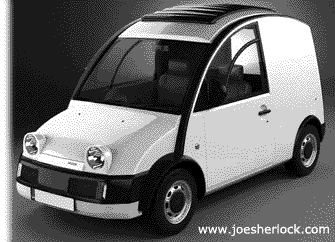 These RHD mini-trucks were not imported to the U.S. although several found their way to the UK. I remember seeing a bright green one parked on the street in London during a 1991 visit.
They looked cuter and odder in person. (posted 3/25/19, permalink)
---
George Barris Is Dead … but his Golden Sahara has been resurrected.
The Golden Sahara is remembered as one of the most outlandish custom cars of the 1950s – and "it only came to be because George Barris and a friend accidentally drove a brand new 1953 Lincoln Capri Hardtop under the back of a hay truck – guillotining the roof off. Fortunately the two men ducked and kept their heads, but the Lincoln was beyond repair." Thus began the story of the Golden Sahara custom car.

When the custom car "made its debut in 1954 at the Petersen Motorama held at the Pan Pacific Auditorium in Los Angeles, it was displayed on a turntable so attendees would get a full 360º view of the car no matter where they were standing. After this, the car would tour the USA being displayed at various shows and dealerships – the latter would pay handsomely to have the car on show as it would attract large crowds – some of whom bought cars while they were there."
The car was updated to include quad tailfins and other features in 1956 or '57 and was renamed the Golden Sahara II.
The car has been restored and, inexplicably, was on display at the 2019 Geneva Auto Show in Goodyear's booth. The car was equipped with vintage reproductions of experimental Goodyear translucent illuminated tires. (posted 3/21/19, permalink)
---
Child Safety In The Good Old Days: What was automotive child safety like in the 1940s and '50s? Pretty much nonexistent.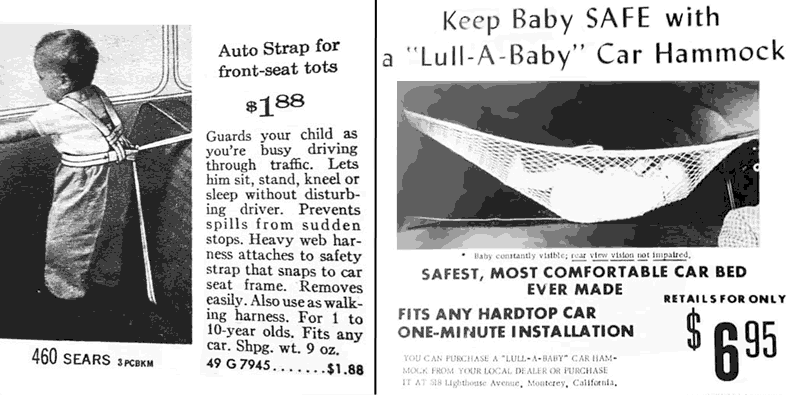 Back in 1954, Howard Gandelot, aVehicle Safety Engineer at General Motors Corporation, wrote ... (more >>>)
---
Book Review: 'Railroading & The Automobile Industry' by Jeff Wilson
PLS, shorthand for Pack, Load and Ship, is a line-item on the financial statements of almost all manufacturers and many distributors. It refers to the actual expense of packaging products, loading them onto a delivery conveyance and the cost of shipping or delivering them. PLS adds nothing of value to the product or consumer's conception of the product and reduction of PLS expense is an ongoing quest for smart manufacturers. Doing so will either add to their profit or allow them to improve the actual product in some way to make it better or more competitive.
PLS varies greatly, depending on what business you're in. At Rohm and Haas Co. in the 1970s, injection-molding grade, bulk pelted Plexiglas - mostly sold in 300-pound fiberboard drums or 1200-pound cardboard totes mounted on wood pallets - averaged 3%. At my plastics display company - where customer orders were smaller and always varied: "Gimme three dozen of this and six of that and sixteen of the other thing." - our PLS averaged around 10% for products shipped in cardboard cartons partially-filled with protective foam peanuts.
This book is all about PLS as it relates to inbound auto components or outbound finished vehicles at automobile assembly plants. This 96-page, large format (8.2" x 10.8") paperback book contains about 200 photographs (a mix of b&w and color) and tells the history of rail shipping automobiles and component parts.
In the early days of the automobile ... (more >>>)
---
Suddenly, It's 1936: The Glacier National Park Red Bus Fleet (White Motor Company Model 706 red passenger buses), on duty at the popular Montana tourist attraction since 1936, will be converted to a more environmentally friendly hybrid as part of a total overhaul. Ford Motor company rebuilt them 20 years ago, adapting the bus bodies to E-series Van chassis and propane systems. Since then, each bus has logged between 130,000 and 150,000 miles, averaging 10,000 each year.
Now the iconic buses are scheduled for a second rebuild. Every bus will get a new Ford chassis and Ford 6.2L V-8 engine. The powertrain will be bolstered by a pass-through hybrid electrical system that will increase fuel economy and lower emissions by up to 25%, the wheels will be upgraded to 19.5-inch-tall wheels to replicate the original 1930s' units, and retro-looking gauges will be added to give the buses a period-correct appearance. Bus bodies will undergo rust-repair and be re-painted on an as-needed basis.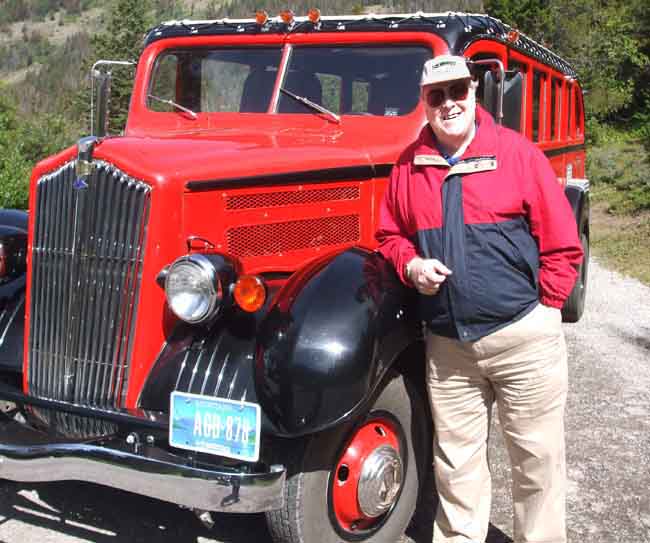 In August 2009, we took the Going-to-the-Sun Road tour in Glacier National Park in northwestern Montana. Appropriately, we toured the park in a 1937 White Motor Coach. The bus held 17 people (four rows of four across plus one next to the driver) and has a rollback canvas roof which provides spectacular views. The White Motor Company built these 25-foot-long vehicles from 1936 to 1939; the Glacier Park ones are painted "ripe mountain ash berry red." Originally powered by a straight-six truck motor with a four-speed manual transmission, the buses were once driven by 'Jammers', college students who would jam the non-synchro tranny into lower gears during steep climbs. Our driver, Bill - a fine tour guide, was a Jammer as a student back in '61.
The seats and dimensions are mostly original and after eight-plus hours of touring, you're ready for a couple of Aleves and a cocktail or two. There's not much legroom and the four across seats were designed for half-starved Depression-era Joads. Not Supersized Boomers. Thank goodness none of our seatmates were wearing jodhpurs. (posted 2/15/19, permalink)
---
It's A Shame About Ford: I won't belabor Ford's long and proud history - we all know how the Model T changed the world, etc.

I will mention its notable accomplishments over the past three decades. First, Ford Motor Company is the only one of the Detroit Three that didn't need a government bailout during the 2008-09 financial crisis - a big deal. Secondly, Ford has had notable product successes. The 1992 Ford Explorer brought the family SUV into the mainstream. The 1998 Lincoln Navigator was the first American luxury SUV. The 2001 Ford Escape was one of the first crossover utility vehicles and remains one of Ford's best-selling vehicles in the U.S. The retro-styled 2005 Mustang revived the ailing brand and gave Ford's ponycar new life. In 2018, the Mustang handily outsold the Dodge Challenger and Chevrolet Camaro. The F-Series pickups, which have been the best-selling vehicle in the United States for 42 years, retained its top spot for 2018.

In 2018, Ford Motor Company's sales dropped 4% to 2.5 million units, placing it third behind General Motors and Toyota. General Motors' sales were down 2% to 2.95 million light vehicles. Fourth-ranked Fiat Chrysler Automobiles' annual U.S. sales rose 9% in 2018 to 2.24 million units. FCA has hit the magic sweet spot - the strong and iconic Jeep brand and the popular Ram truck line - which account for more than 70% of the company's sales.
Ford's net income fell by more than half in 2018. Here's why:
• $1.8 billion in higher commodity costs, mostly caused by tariffs on imported materials.

• Lower sales in China - a $1.7 billion impact. Ford's equity income from its joint ventures with Chinese automakers swung from a $916 million profit in 2017 to a $110 million loss in 2018, a decline of just over $1 billion. Ford's royalty payments from those joint-venture partners fell by an additional $266 million.

• $775 million expenses due to recalls, mostly due to defective airbag inflators made by now-defunct Japanese supplier Takata.

• $750 million due to unfavorable exchange rates, mostly South America and Brexit-related.

• Ford's EBIT (Earnings Before Interest & Taxes) in Europe fell from a $367 million profit in 2017 to a $398 million loss in 2018, a decline of $765 million.
Meanwhile, General Motors 2018 earnings topped expectations and the carmaker foresees strong earnings in 2019 as well, affirming strength in its largest markets.
Ford continues to struggle with a turnaround that has extended almost two years. Sales of its top 10 vehicles in the United States are essential to its financial future but those sales are mixed. The F-Series makes up 36% of Ford's sales in the United States. Ford's next best-selling vehicle in the United States is its small Escape crossover, which competes in one of the most crowded car segments in America. The Escape had a tough year in 2018; sales dropped 12% to 272,228, behind class competitors Toyota RAV4, Nissan Rogue, Honda CR-V and Chevrolet Equinox. Sales of the third best-selling car, the Explorer sport utility vehicle, also fell, down 4% to 227,732. It is still the best-selling vehicle in its class, just ahead of the Toyota Highlander and Jeep Grand Cherokee. In road tests and consumer clinics, neither the Escape nor Explorer are class-leading vehicles; they typically receive mediocre scores.
Ford's fourth-quarter revenue rose only 1% to $41.8 billion and it lost $0.1 billion. Sales in Europe and China were troubled - sales in Europe fell 3%. In China, Ford's 2018 sales totaled 752,243 units - a drop of 37%. The big drop was attributed to lagging sales at the company's Changan Ford Automobile joint venture, where sales fell by almost half.
Early this year, Ford announced a loose joint venture with Volkswagen to examine where cars will be built in the future for the European, U.S. and Chinese markets and to work together to fend off potential competitors in the self-driving car market.
In 2015, the company spent about 35% of its investment dollars on SUVs and crossovers. The new plan increases the investment to 52%. Trucks had been targeted for 32% of investment in 2015, and that has risen to 42% under the new plan. Passenger cars have dropped from 33% of planned spending in 2015 to just 6% under the new plan. This seems reasonable. Whether Ford can inject some excellence and consumer excitement into its future offerings is yet to be seen.
Recent changes to the vehicle market pose problems for all manufacturers, although Ford Motor Company seems to be hardest hit:
• There is a vast array of models available in the marketplace. Thirty years ago, there were far fewer models and configurations available. SUVs were few - now just about every manufacturer offers several. Lexus, Infiniti and Tesla did not exist as luxury marques. Pickup trucks were primarily work trucks. In 1989, the top-selling luxury brands in the U.S. were Cadillac (276.330 units sold) and Lincoln (215,966). In 2018, the top luxury brands were Mercedes-Benz, BMW, Lexus, Audi and Tesla. How times have changed!

• More and more vehicles are leased and the 'deal' becomes more important than the vehicle brand or features. Buyer loyalty has been declining for years; leasing has increased the rate of decline. No one is a Ford Man anymore. Auto purchases made by my children and their spouses over the past 20-plus years typify the new world of no-brand-loyalty:

Geo>Hyundai>Honda
Volkswagen>Ford>Toyota
Oldsmobile>Saturn>Honda>Subaru
Chevrolet>Toyota

• SUVs and crossovers are replacing sedans, coupes and vans as the family vehicle. Manufacturers are struggling to adjust production and future product planning to accommodate the market shift.

• Everybody is talking about electric vehicles but no one knows if the market is real or phantom. Charging is still much slower than gasoline fill-ups, cold weather can drop a battery's output by 40% and charging infrastructure remains spotty. Tesla seems to have too much Model 3 inventory due to lessened demand and is forecasting a loss in the first quarter. Interestingly, Toyota has no plans to build an electric cars, sticking with hybrids instead.

• Everybody is talking about autonomous vehicles but no one knows how or when the technology will be implemented. Basic questions remain unanswered - such as how sensors can tell where the road is when the lane markers are covered with snow and how to determine fault after an accident. Will victims sue the driver? The manufacturer? The component supplier? The software provider?

• All SUVs look the same, except for some brands which have distinctive, iconic front ends (Jeep, Mercedes-Benz, Porsche, BMW, Cadillac, Volkswagen and Buick for example). Viewed from the side, SUVs are two-box, mostly-unimaginative designs. Even the wheels aren't particularly distinctive. (I wrote about the sameness of wheels in 2003 and included some photo comparisons.)
Mustangs look like Mustangs, Jeeps look like Jeeps but Ford doesn't seem to know what an Escape or Explorer should look like. There's no design continuity. I wish Ford the best of luck but they better up their game … soon. (posted 2/11/19, permalink)
---
Back Where It Came From: This 1963 automotive tip may be horrifying to today's ecology-minded youngsters but, 50 years ago, the prevailing wisdom was that oil came out of the ground so why not return it to the ground.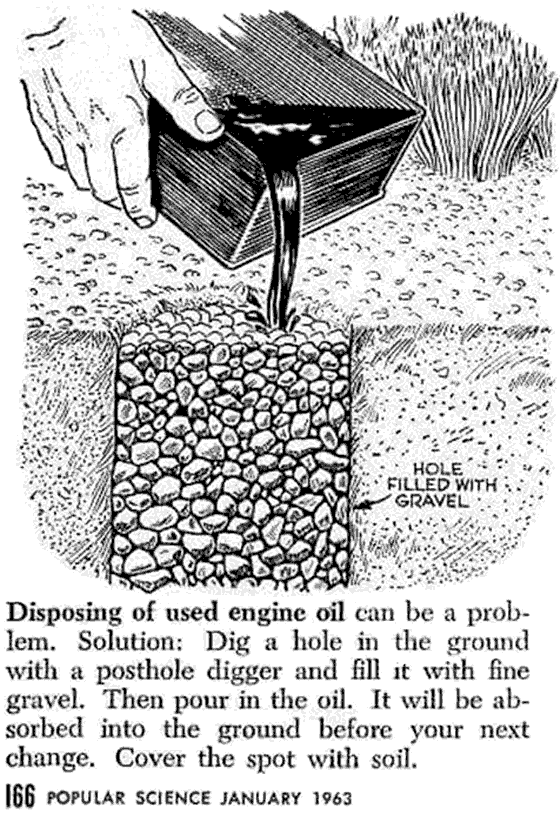 Most dirt is a great filter, especially diatomaceous earth. (posted 2/7/19, permalink)
---
Diamond-Patterned Oddball: Mac's Motor City Garage has posted an article on the 1960 Pininfarina X - a distinctive but odd-looking concept car which looked like a three-wheeled sedan but with its four wheels arranged in a diamond pattern (one in front, two in the middle and one in the back) in a quest for aerodynamics.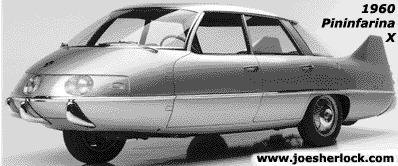 "Batista 'Pinin' Farina, who legally changed his last name to Pininfarina in 1961, was among the most popular and productive Italian coachbuilders of the classic postwar era, with clients ranging from Fiat to Ferrari to Cadillac. Streamlining was a frequent area of design exploration at the time, naturally, and in 1958, his company partnered with Professore Alberto Morelli of the Politecnico di Torino to identify the ideal aerodynamic design. The result was the 1960 Pininfarina X, also known as the PFX."
"Since a teardrop is said to be the optimum aerodynamic shape, Morelli casually tossed away the conventional automotive chassis layout with a wheel at each corner and adopted a rhomboid or X-chassis configuration, above. (Hence the name Pininfarina X.) There was one steering wheel at the front and a single drive wheel at the rear, with two more wheels toward the center to complete the diamond form and steady the platform. The single prototype was powered by a 1089cc Fiat inline four with 43 hp and a four-speed manual gearbox, installed diagonally in the chassis to maximize cabin and cargo volume. Overall length was not quite 170 inches with ample room for four adults.
The large tail fins at the rear were no styling flourish, Pininfarina reported, but were required for stability, in part due to the extremely slippery shape. The claimed drag coefficient was an impressive .23 (.219 according to one interview with Morelli) but the car's highway behavior is essentially a question mark.
It's said that Batista Pininfarina frequently drove the PFX on the road while shopping it around to various carmakers, but there were no hand-raisers for the 1-2-1 rhomboid design."
The Pininfarina X was auctioned off at the 2015 Barrett-Jackson Scottsdale auction with a winning bid of $300,000. That's quite a comedown from the original $3 million asking price. I saw the Pininfarina X in person at the New York Auto Show in the 1960s. The little four-door sedan looked even stranger in person than in photographs. (posted 2/1/19, permalink)
---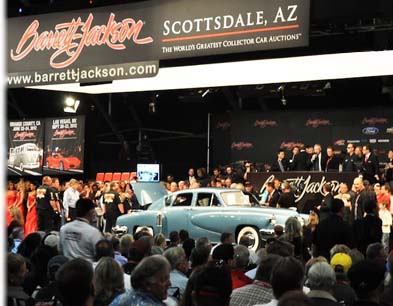 2019 Scottsdale Collector Auto Auctions: F. Scott Fitzgerald once wrote, "Let me tell you about the very rich. They are different from you and me. They possess and enjoy early, and it does something to them, makes them soft, where we are hard, cynical where we are trustful, in a way that, unless you were born rich, it is very difficult to understand."
Yes, the rich are indeed different. Someone who pays millions for a single Ferrari does not just have one collector car. Or one Ferrari. Typically, he has a collection - 20 to 50 cars. He employs several mechanics just to care for them. Often, such folk own a tricked-out enclosed car carrier to transport their prized vehicles to shows. It's fair to assume that this person's collection is worth north of $30 million. The kind of person who has such a collection is quite rich, probably worth a half-billion or more.
This man is likely a first or second generation business owner, with a firm large enough to allow his sheet metal indulgences, including the time off to travel to auctions and hobnob with other, like-minded collectors.
This year's various Arizona vehicle auctions were full of middle-aged (and older) white dudes with buckets of cash bidding against each other, as they sought their automotive nirvana du jour. Or the nostalgia of their youth.
How old are these guys? Looking at the televised Barrett-Jackson events, I'd guess that the age of the average seat holder was 50-65. Hemmings Motor News used to claim that its average subscriber was 52 years-old. And that number didn't change much from decade to decade. It makes sense: By one's early 50s, the kids are out of college and out of the house, the mortgage is shrinking (or paid off) and it's usually peak income time at work. This adds up to Disposable Income to spend on various toys.
Analysts from Hagerty, who followed the Arizona auction action, reported that sales have improved by 11% in the numbers of vehicles sold and by 17% in the prices paid, compared with the same events a year ago. But there's a caveat: Dave Kinney, publisher of the Hagerty Price Guide, said, "Cars below $250,000 are accelerating but offerings above that need a jump-start. Distilled down, big-dollar players are sitting on their hands while the most accessible vehicles are attracting all the bidding."
One measure of the polarization is sell-through rate, how many vehicles in a price range actually are being sold. Hagerty reports that the sell-through rate for vehicles valued at more than $500,000 has been 54% at the various auctions. Those worth $1 million or more have sold at only a 36% rate. The overall sell-through for all vehicles offered up for bidding so far has been 80%. Based on what I saw on television, the sell-through rate seemed extraordinarily high this year. Final numbers indicated an 80% sell-through rate overall.
Total sales this year have been within 1% of 2018 figures.
Ferraris always bring big bucks. Gooding & Co. sold a Rosso Corsa (red) 1963 Ferrari 250 GT SWB Coupe for $7,595,000, a 1958 Ferrari 250 GT TdF Coupe for $5,890,000 and a 1953 Ferrari 250 MM Spider for $5,395,000. RM Sotheby's gaveled a 1985 Ferrari 288 GTO Coupe for $3,360,000. But ... RM estimated that a dark metallic silver (color listed as "Grigio Fumo Max Meyer" in the catalog) 1957 Ferrari 250 GT Coupe Speciale with an attractive one-off Pininfarina coachwork, built exclusively for Lilian, Princess of Réthy, the royal lady of Belgium, would sell for $11-13 million, but it was a no-sale when the bidding called at $7.5 million.
RM Sotheby's successfully auctioned a Waltz Blue 1948 Tucker fee-inclusive $1.6 million and a 1958 BMW 507 Series II roadster for $2,175 million. It should be noted that Elvis Presley once owned a white 1957 BMW 507 roadster. He bought the car while in the U.S. Army and stationed in Germany and used the BMW to drive between his home in Bad Nauheim and the US Army Base in Friedberg. Elvis' 507 was restored and subsequently displayed at Pebble Beach in 2016.
There were many hours of the Barrett-Jackson auction carried on Motor Trend TV and I watched all of it, mostly on fast-forward. The auction was full of 1960s and '70s muscle cars, including a large contingent of Camaros, Mustangs and Corvettes. There were dozens of air-cooled Porsches of all years and combinations. Iowahawk Dave Burge, who also binge-watched Barrett-Jackson, tweeted, "It's weird to watch three liquored-up lummoxes bid a Sizzle Green 1968 Bulgemobile Maniac X99 P-Code up to $175k where there are two dozen Sizzle Green 1968 Bulgemobile Maniac X99 P-Codes on Hemmings for sale at $60k." He's probably referring to some of the overpriced, over-restored muscle cars fitted with giant, hideous, incorrect wheels. At Barrett-Jackson in particular, the average sale price of resto-mods and custom vehicles jumped 22% year-over-year to $73,150. Dave added, "Don't know what bugs me more, people crazily overpaying for cars or people crazily underpaying for cars."
The high-dollar auction sales always make the news but I find the low-to-medium priced vehicles far more interesting. I slowed down the DVR whenever I saw cars that caught my eye:
• A handsome, Gordon M. Buehrig-designed burgundy 1937 Cord 812 supercharged convertible found a buyer at $210,000. The first American front-wheel drive car with independent front suspension caused a sensation at the New York Auto Show in November 1935. The crowds around the new Cord were so dense that attendees stood on the bumpers of nearby cars just to get a look. Many orders were taken at the show but no production vehicles were available until February 1936. Five years ago, a similar 812 fetched only $150,000.

I've designated the 1936-37 Cord 810/812 as one of the Ten Best-Looking American Production Cars.

• A maroon 1938 Ford Deluxe four-door phaeton with a stock-looking body, custom white leather upholstery and powered by a flathead V8 engine with two period-correct Stromberg carburetors and a 3-speed manual transmission, equipped with hydraulic brakes, dropped front axle, fender skirts, wide whitewall tires was sold for at a seeming bargain price of $23,000. Dave Burge tweeted, "I'm kicking my own ass through the tears for not jumping on that." Me too.

By contrast, a teal 1939 Ford rumble seat convertible coupe went under the gavel for $58,000.

• A maroon 1940 Lincoln Zephyr three-window coupe - a claimed $100,000 restoration with a slightly hopped-up flathead V12 engine (using vintage Edmunds speed equipment) - fetched $53,000, a beauty at an almost-bargain price. Only 1,256 three-window Zephyr coupes were made in 1940.

• A bright-blue restored 1940 Plymouth DeLuxe four-door sedan, restored to stock condition, sold for $24,000, far lest than the restoration cost. It was powered by the same flathead six-cylinder engine used by Plymouth from 1935 trough '59, although they did offer optional ohv V8s from 1955 on.

• A dark green, restored 1950 Dodge Power Wagon genuine woody wagon - I had never seen one before - went under the gavel for $100,000.

• A dark blue 1951 Ford Country Squire woody wagon - the last year of the real wood Ford woodies - fetched $72,000. Seemed like a fair price to me.

• A nicely-restored 1951 Frazer Manhattan four-door convertible finished in black with a red canvas roof was one of only 130 made that year and sold for only $29,000 - a steal at that price.

• A restored black 1953 Buick Super Estate woody wagon with red leather interior, powered by at the stock 170-horsepower nailhead V8 and Dynaflow transmission fetched $100,000. Only 1,830 examples were made in '53.

• A fire-engine red 1953 Buick Skylark convertible with white leather interior went under the gavel at $115,000. This restored auto had the original Fireball V8 engine which produced 188 horsepower. Only 1,690 examples were produced and were originally priced at $5,000 - a lot of dough in '53.

• A Polo White 1953 Chevrolet Corvette roadster, #290 of 300 produced at the Flint, Michigan makeshift assembly line, was sold for $190,000.

• A red 1954 Kaiser-Darrin with the stock 161 cubic-inch six-cylinder engine and three-speed manual transmission sold for a relatively low $82,000. In 2015, a pale yellow example fetched $176,000. In 2013, a pale green one sold at B-J Scottsdale for $180,000. Only 435 Kaiser Darrins were made.

• A restored 1955 Chevrolet Nomad wagon, finished in Shadow Gray over Coral and powered by a 265 cu. in. V8 with Powerpack coupled to a two-speed Powerglide automatic transmission fetched $70,000. 8,386 Nomads were produced in 1955.

• An original 1957 Buick Roadmaster two-door hardtop coupe, with less than 20,000 original miles on the odometer and finished in its original color scheme of Shell Beige over Seminole Red, sold for $70,000.

• A blue 1957 Oldsmobile 98 Starfire convertible with the J-2 tri-carb engine package sold for $100,000.

• A black 1957 Studebaker Golden Hawk with a polished aluminum fin insert fetched only $25,000. Golden Hawks usually command twice that price.

• A metallic silver-blue 1958 Buick Century convertible with 31,000 original miles sold for $90,000.

• A white 1958 Continental Mark III convertible with a white, black and red interior gaveled down at $58,000. Once derided by collectors, the 1958-60 Forgotten Marks have now become popular, with prices rivaling those of the more popular and more plentiful 1961-67 slabside Lincoln convertibles four years ago.

• A black 1958 Oldsmobile Dymamic 88 convertible with the J-2 tri-carb engine package sold for $92,000.

• A red 1959 Mercury Monterey convertible crossed the auction block at $40,000. '59 Mercs are a rarity and the price seemed like a bargain for this uniquely-styled fifties convertible. In 1959, 4,426 Monterey convertibles were produced.

• A white Cadillac Series 62 convertible with red leather interior fetched $85,000.

• A red 1960 Cadillac Eldorado Biarritz convertible with a white leather interior sold for $75,000.

• A candy-apple-red, mildly-customized 1961 Oldsmobile Starfire, with white leather interior and powered by a 394 cubic-inch Rocket 88 V8 coupled to a four-speed Hydramatic transmission, sold for $70,000.

• A silver-blue 1962 Mercedes-Benz 190 SL with a black convertible top sold for $120,000. A 1961 black one fetched $125,000, while a '57 black example found a buyer at $85,000.

These cars were underpowered and therefore fairly slow and not very sporty. In the U.S., they were popular with wealthy women and debutantes. I think 190s have become popular because they somewhat resemble their far more expensive and powerful brethren, the Germanically handsome and awesome 300 SL.

• A black 1963 Lincoln Continental four-door convertible fetched a cool $100,000. That seemed like a lot of money to me. In 2015 a triple-black example sold at Scottsdale for $55,000. In '63, Lincoln produced 3,138 convertibles. Later, a triple-black 1964 Lincoln Continental convertible crossed the block at $112,000.

• A very nice, pale-yellow 1964 Chevrolet Corvair Monza Spyder convertible with the turbocharged 150 horsepower flat-six air-cooled engine sold for a bargain-basement $16,500. Fifty-five later, GM's answer to Volkswagen is still unloved.

• A white 1965 Buick Rivera GS, which had a more powerful engine than the standard Riviera, went under the gavel for $50,000. A maroon GS fetched $60,000.

My good friend Marty Hayes was the best man at my wedding and transported my new bride and me in his dad's dark green 1965 Riviera. So I have a soft spot for '65 Rivs.

• A silver 1967 modified Mustang fastback - one of two running Eleanors used in the movie 'Gone in 60 Seconds' - sold for $350,000.

• A red 1971 De Tomato Pantera sold for $97,000. A yellow '73 model sold for $56,000, while a red '73 Pantera sold for $95,000.

• A gold 1978 Pontiac Firebird coupe, driven by James Garner in 'The Rockford Files' television series', fetched $103,000.
Money-wise, the 2019 Scottsdale Auctions demonstrated that there are plenty of dollars around and the collector car market is doing OK. People are feeling optimistic about the future and the very wealthy don't seem to have a care in the world. You see, they're different from you and me. (posted 1/24/19, permalink)
---
British Invasion: The Simeone Foundation Automotive Museum in Philadelphia will feature the storied Bentley marque in its annual Best of Britain exhibit opening in ... (more >>>)
---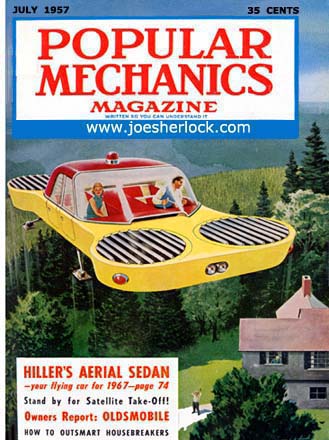 2019 Detroit Auto Show: As regular readers know, the first auto show I ever attended was the 1960 Philadelphia Auto Show in November 1959. Ever since then, I have faithfully followed auto show coverage because I wanted to see what the future held by looking at all the wild concept cars on display. In those days, everyone said the future would involve gas turbine engines, Plexiglas bubble roofs and flying cars. Never happened.
Now auto experts claim that we will very soon be driving all-electric cars and/or riding in fully-autonomous vehicles. I've been burned so many times over my lifetime by pipe dreams that never happen, so I hope you'll understand if I'm skeptical about the predicted universality of electric vehicles and self-driving pods.
Jim Lentz, CEO of Toyota North America, is also skeptical of the proclaimed all-electric future. He pointed out "that only the Tesla Model 3, of all the electrified models now on the market currently is generating more than 10,000 sales per month. And of the 94 "electrified" vehicles on the market – including hybrids, plug-ins and pure battery-electric vehicles – only six top 2,000 a month." Lentz said, "It's going to be a battle," as manufacturers struggle to grab customers in a market where "there's not much growth."
Lentz tried to put the situation into perspective by pointing out that only the Tesla Model 3, of all the electrified models now on the market currently is generating more than 10,000 sales per month. And of the 94 "electrified" vehicles on the market – including hybrids, plug-ins and pure battery-electric vehicles – only six top 2,000 a month.
This year's Detroit Auto Show was light on debuts and lavish unveilings. Peter De Lorenzo, the AutoExtremist, described the show as "a snapshot of a fading industry wheezing through its last gasps of respectability." Ouch.
While Ford, General Motors and Toyota showed new vehicles, Audi, BMW, Mercedes, Porsche, and Jaguar Land Rover, along with such higher-end brands as Ferrari, McLaren, and Lamborghini, skipped it altogether.
The Toyota Supra had its official reveal; it's "a sports car with a capital S: a coupe with 50-50 weight distribution, a straight-six cylinder engine, an integrated spoiler, and 335 horsepower." Toyota hedged its exposure by splitting the development costs with BMW's upcoming Z4. The Supra will go on sale in the summer of 2020 at a BMW-like price of $50,000 or so. The Supra will be assembled in Austria by Magna Steyr, alongside its cousin, the BMW Z4.
Ford introduced the new Shelby GT 500, featuring a supercharged 700+ horsepower V8. The company says will make it the most powerful production car ever. Ford also showed the all-new 2020 Explorer SUV. The Kia Teluride made its debut; it's a large three-row SUV. Cadillac also showed a three-row luxury crossover, the XT6, designed to compete with the Lincoln Aviator and Audi Q7 and due in mid-2020. The in-between-size Caddy SUV shares its underpinnings with the Buick Enclave, Chevrolet Traverse and GMC Acadia.
The redesigned VW Passat sedan also made its formal debut. It looks like the old one to me. And its a stately sedan in an ugly SUV world.
The Lexus LC convertible concept is likely headed for production and it looks great except for that hideous gaping-maw grille, a Lexus family affliction not unlike a third-world country harelip. (posted 1/18/19, permalink)
---
Book Review: 'Ford Model T Coast to Coast: A Slow Drive Across A Fast Country' by Tom Cotter
Before the Model T came along, automobiles were mere playthings for the rich. Henry Ford's T didn't just put America on wheels, it put the world on wheels. The Model T was the first truly affordable car for the working man. Initially priced at $850 in 1908, the price dropped to $390 by 1914 due to production efficiencies. By 1927, a new Model T could be had for as little as $260. At its peak popularity, 1.25 million Model Ts were sold each year.

The Model T was effectively the first ... (more >>>)
---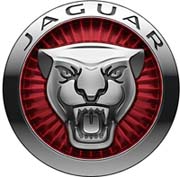 Book Review: 'Jaguar XK: A Celebration of Jaguar's 1950s Classic' by Nigel Thorley
Since its founding in the 1920s, Jaguar has always offered sporting cars. Yes, saloons were produced for gentlemen who required extra doors or wealthy, portly lads who couldn't fit in a sports car, but Jaguar's flagship was always a sports car.
When the Jaguar XK120 burst on the automotive scene at the 1948 London Motor Show, the British sports car stunned the public. Its swoopy lines were quite a contrast with other British two-seaters - as well as older Jags - and made all of them look stodgy and ancient by comparison. The XK 120 was wickedly fast for its time.
The original Jaguar XK was to be a four-cylinder car called the XK100. Thankfully, that idea was scrapped. The 1948 Jaguar XK120 was powered by a new overhead-cam six-cylinder engine used by Jaguar until 1992.
The XK120 became a big hit in the U.S., after the British government reduced ... (more >>>)
---
2018 Auto Sales: For calendar year 2018, new U.S. vehicle sales were 17.33 million cars and light trucks - making it the fourth-biggest year on record. Sales were up slightly from 17.2 million in 2017. Light trucks - pickups, SUVs and crossovers - accounted for a record 69% of the U.S. market.

"New vehicle sales were surprisingly strong in 2018 despite late cycle headwinds from higher interest rates and more nearly-new competition in the used market," Cox Automotive Chief Economist Jonathan Smoke said. "The key positive factor was stimulated demand from tax reform, which strengthened retail demand as the year progressed and also enabled strong gains in fleet sales."
Overall, U.S. light-truck sales (pickups, SUVs) rose 8% in 2018, while car deliveries slid 13% for the year, marking the fifth straight annual decline in car volume (sedans, coupes). Just over 20 models sold more than 200,000 units each last year, demonstrating how much the auto industry is concentrated on a few products. The five top sellers were Ford F-Series pickup truck, soon-to-be-discontinued Chevy Cruise sedan, Ram pickup, Toyota RAV4 crossover and Nissan Rogue crossover.
It was a very good year for pickup trucks: 909,000 Ford F-Series, 585,000 Chevrolet Silverado and 536,000 Ram pickups were sold last year. Large pickups generate at least $17,000 a vehicle in pretax profit for GM and probably similar levels for Ford and FCA. By contrast, many Detroit Three sedans are so unprofitable, that their manufacturers have decided not to build them anymore. GM has said 27% of Chevrolet and GMC trucks - which can haul trailers by day and substitute for a luxury sedan by night - sell for more than $55,000.
For the full year, total Ford Motor Co. sales dropped by 4% to 2.5 million units, dragged down by an 18% slump in car sales. SUV sales rose fractionally and truck sales rose 1%. Full-year F-Series sales accounted for more than 36% of the company's total sales for the year. In an SUV-oriented market, Lincoln sales declined 7% to 103,587 vehicles. Sales of Ford and Lincoln cars sank 18% in 2018. Ford Mustang sales dropped 7% to 75,842 coupes. Sales of the Ford Focus were down 28%, while sales of the Lincoln Navigator increased 70% to 17,839 SUVs. The flagship Lincoln Continental experienced a sales decline of 37% to 8,758 sedans.
Fiat Chrysler Automobiles annual U.S. sales rose 9% in 2018 to 2.24 million units. Fleet sales were 21% of all sales. For the full year, Ram sales were up 7% compared to last year. For the full year, Chrysler sales are down 12% and Fiat sales plunged 41% to 15,521 vehicles. Alfa sales rose 98% for the full year to 23,820 units. The Stelvio SUV accounted for 12,043 sales in '18. For the full year, Dodge sales rose 3% to 459,324 units, with about a third accounted for by the new Caravan. 66,716 Dodge Challengers were sold, up 3% over last year. Jeep sales increased 17% to 973,227 vehicles; Jeep Cherokee sales increased 41%.
For the full year, General Motors sales were down 2% to 2.95 million light vehicles. The Chevy Silverado pickup and Equinox sport utility vehicle are the company's two best-selling vehicles, with full-year totals of 585,864 units and 290,458 units, respectively. GM light trucks and SUVs rose 2% for the year. But sales fell for the Chevrolet Suburban and the GMC Yukon, popular large SUVs that produce high margins. On the other hand, sales of the Cadillac Escalade jumped up 57% to 36,032 SUVs.
Sales were down 1% at Chevrolet to 2,036,023 units; sales of the Chevrolet Sonic fell 35% to 19,679 subcompact sedans. 47,203 Camaros found buyers in 2018, down 31% from 2017. Sales of the all-electric Chevy Bolt dropped 32% for the full year to 15,922 vehicles. Buick sales fell 6% to 207,223 units. Cadillac sales decreased 1% to 154,702 Caddies. Only 9,669 examples of the Cadillac CT6 found buyers, down 8% from 2017. GMC sales dropped 1% to 556,000 trucks and SUVs.
Toyota Motor Company's U.S. sales edged down fractionally, with car demand falling 12% and light-truck shipments up 8%. 2,128,367 Toyota-badged vehicles found buyers last year; sales were flat compared with 2017. Toyota sold 33,518 Avalon sedans in 2018, an increase of 3% over 2017. 427,170 RAV4 crossovers found buyers in 2018, up 5% from last year. Prius sales dropped 19% to 343,439 sedans.
The Honda brand was down 3%. Subaru had 2018 sales of 680,135, a gain of 5%. Honda's best-selling model was the CR-V; 379,013 found buyers in 2018, a fractional increase over last year. It was the tenth consecutive year of record U.S. sales for Subaru. Mazda reported a 4% increase in 2018 sales; more than half of those sold were CX-5 crossovers. Mitsubishi said its 2018 volume finished 14% higher at 118,074. 667,945 Hyundais found homes in 2018 - a fractional increase, while Kia sales were flat at 589,673 vehicles. Kia only sold 354 examples of its luxury K900 sedan in 2018.
Nissan sales dropped 6% in 2018. Nissan's Rogue was that company's top-selling model. Its 412,110 sales, an increase of 2%, was just passed by the Toyota RAV4. It was, however, the best calendar year for Rogue sales yet. Sales of the restyled, all-electric Leaf grew 31% over last year to 14,715 units. Volvo sold 92,263 vehicles in the U.S. last year - an increase of 21%. Mini sales fell 7% to 43,464 vehicles.

Mercedes-Benz sold 354,137 vehicles in 2018, a decline of 4%, but enough to make it the best-selling luxury marque in the U.S. 14,978 examples of the flagship Mercedes S-Class were sold, down 6% from last year. BMW sold 311,014 vehicles in 2018, an increase of 2% over last year. Only 6,120 examples of the all-electric BMW i3 were sold, a drop of 2%. Lexus sold 298,210 units in 2018 - a decline of 2%. 9,302 flagship Lexus LS sedans found buyers in 2018, up a whopping 127% from last year. The RX crossover is Lexus' most popular model; 111,641 were sold in 2018 an increase of 3% over last year. 223,323 Audis found homes last year, a decline of 1%.
Tesla reported sales of 184,200 electric vehicles in 2018; 140,317 were Model 3s. 158,934 Acuras found buyers last year, an increase of 3% over 2017. The RDX is Acura's best-selling model; 63,580 found buyers in 2018, an increase of 24% over last year. 149,280 Infiniti were sold last year, a drop of 3%. Land Rover sold 82,143 utility vehicles in 2018 - an increase of 23%. Porsche sold 57,202 units in America in 2018 - an increase of 3%. Jaguar sold 30,483 vehicles - a fall of 23% from last year. Maserati sold 11,263 vehicles in 2018, a drop of 18% from 2017. Genesis reported annual sales of 10,312 cars, falling 50% from 2017.
In the price-no-object segment of the market, Rolls-Royce sold 1,080 vehicles in the U.S. last year - an increase of 5%, while Bentley sold 1,972 vehicles, a decline of 18%. Lamborghini sold 1,128 vehicles, an increase of 3%. 1,569 McLarens found buyers last year - a jump of 41%. McLaren experienced its eighth consecutive year of increasing global sales since its formation in 2010. The company sold 4,806 new cars worldwide last year, representing a 44% jump last year. The U.S. is the company's largest single market with a third of McLaren's global sales. (posted 1/8/19, permalink)
---
Earlier Car Musings can be found here.
---
Other Pages Of Interest
| blog: 'The View Through The Windshield' |
| greatest hits: various essays & articles | blog archives | '39 Plymouth | model train layout |
| about me | about the blog | e-mail |
copyright 2019 - Joseph M. Sherlock - All applicable rights reserved
---
Disclaimer
The facts presented in this blog are based on my best guesses and my substantially faulty geezer memory. The opinions expressed herein are strictly those of the author and are protected by the U.S. Constitution. Probably.
Spelling, punctuation and syntax errors are cheerfully repaired when I find them; grudgingly fixed when you do.
If I have slandered any brands of automobiles, either expressly or inadvertently, they're most likely crap cars and deserve it. Automobile manufacturers should be aware that they always have the option of trying to change my mind by providing me with vehicles to test drive.
If I have slandered any people or corporations in this blog, either expressly or inadvertently, they should buy me strong drinks (and an expensive meal) and try to prove to me that they're not the jerks I've portrayed them to be. If you're buying, I'm willing to listen.
Don't be shy - try a bribe. It might help.
---
---