Pennsylvania Railroad (2-8-0) Consolidation Steam Locomotive

'Consolidation' is the U.S. designation for a steam locomotive that has a single-axle leading truck followed by four powered driving axles and no trailing truck. The wheel arrangement is 2-8-0.
The first locomotive of this wheel arrangement was commissioned by Alexander Mitchell, master mechanic of the Lehigh and Mahoney Railroad. He needed a powerful engine to pull coal loads over steep grades and found that 4-6-0s and 2-6-0s were not up to the task. The Baldwin Locomotive Works built a steam engine to his specifications in July 1866. The design was a great success and Baldwin soon incorporated the Consolidation in its line of offerings.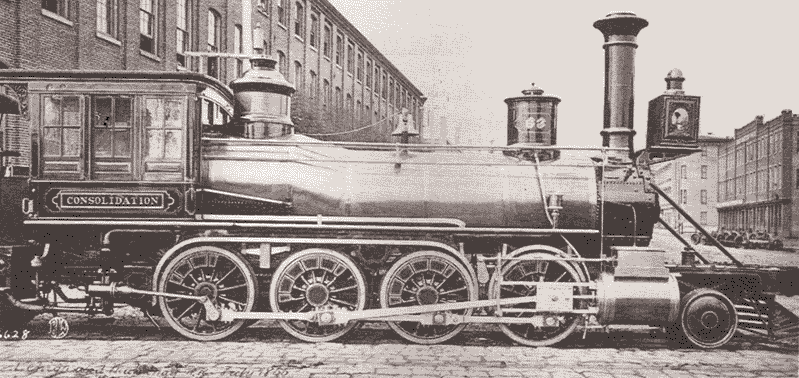 ---
Alexander Mitchell's Consolidation as built by Baldwin - photographed outside the Philadelphia factory prior to delivery
---
The 2-8-0 design was given a major boost in 1875 when the PRR made it the railroad's standard freight locomotive. The same year, the Erie Railroad began replacing its 4-4-0s in freight service with 2-8-0s. Railroads found that the 2-8-0 could move trains twice as heavy for half the cost of earlier locos.
Most PRR Consolidations were constructed between 1901-15. They were built by Baldwin, Lima or the Pennsy's own shops in Altoona PA. Quite a few remained in service until the end of steam locomotive operation on the PRR in 1957. The Pennsy bought/built about 3,500 examples of the sturdy 2-8-0 workhorses.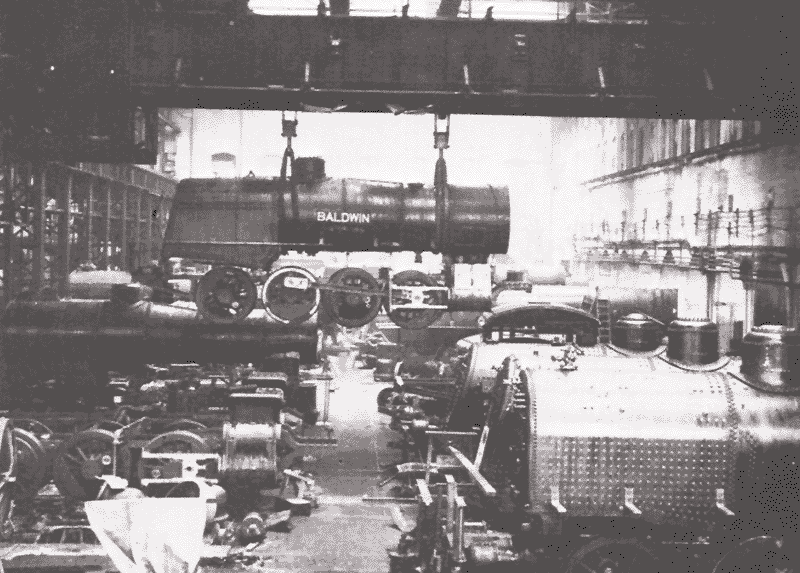 ---
A partially-built Consolidation is on the hoist at the Erecting Shop of the Baldwin Locomotive Works at Broad & Spring Garden Sts., Philadelphia. The photo was taken around 1900, when Baldwin was Philadelphia's largest employer with a workforce exceeding 8,200. In 1907, when employment reached 18,500, the firm moved from this cramped 17 acre urban site to a 225 acre site in nearby Eddystone, PA.
---
Total U.S. production of the Consolidation class has been estimated at more than 33,000 locomotives. About a third were built for export to other countries.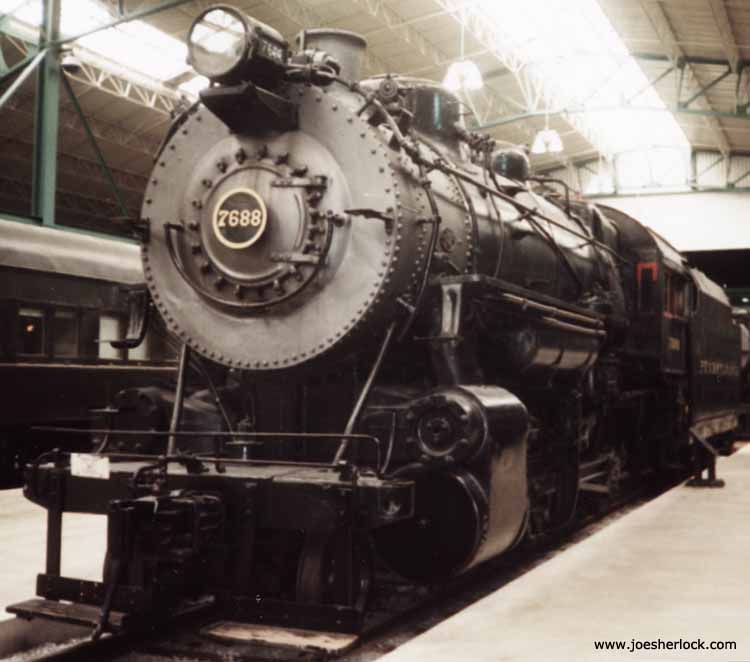 PRR #7688, built in 1915 by the Lima Locomotive Works, has been preserved by the Railroad Museum of Pennsylvania. The nearby Strasburg Railroad regularly operates a Consolidation on its scheduled passenger train excursions.
In 2000, I bought an O-gauge Pennsylvania Express starter set made by MTH Electric Trains. The set included a PRR 2-8-0 Consolidation steam locomotive and tender, a box car, hopper car and caboose. It also featured Protosound, which produces a realistic steam-chuffing sound and an upgraded digital whistle sound. It is a very nice set and offered exceptional value for the money but the locomotive didn't have much 'cab appeal'. So I later bought and installed an engineer and fireman and seats from Arttista Figurines. I also detailed the locomotive cab's inside gauges and levers in brass and silver and put a "fire" in the firebox - using a mix of gold, red and yellow paints.

While the PRR Consolidation steam locomotive normally hauls a freight consist, it looks so good that - in 2009 - I purchased some heavyweight-style MTH Rail King passenger cars for it. These are the Rugged Rails series - the entry-level, budget line of cars offered by MTH. I was pleasantly surprised at the high level of quality and detail on these inexpensive models. Each of these well-made cars has overhead interior lighting, a full car interior, end-of-car elastomer diaphragms, diecast 6-wheel trucks and operating diecast metal couplers.
I detailed the open observation car with silver paint on the railing, gold finials, gold-trimmed rear lanterns and installed a drumhead made from a metal PRR lapel pin. I also installed figures in the coach seats of all coach cars and on the observation platform.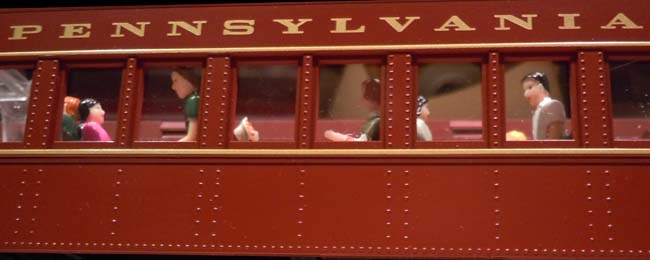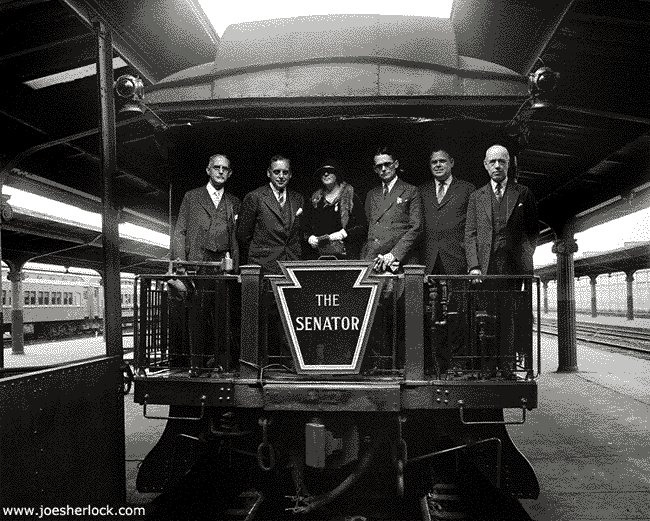 The observation car resembles the one on 'The Senator', Pennsy's crack train from Washington to Boston. It entered into service in 1929. The photo was taken at Union Station in Washington D.C.
In early 2010, I produced a video short (running time - 1:51 min.) of my Consolidation loco and passenger consist in action: