Philadelphia 2011 (posted 7/1/11)
In June, we took an 18 day trip to the Philadelphia area. Since moving to the Pacific Northwest 33 years ago, I've been back to Philly about 20 times. Every time we visit, there are fewer people to see (some have died, some have moved away) and the changes in the area make it seem much less familiar. We decided that this trip would be our last.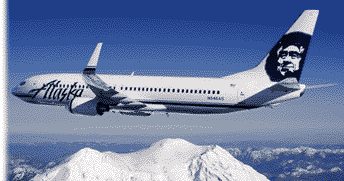 We drove to Seattle, stayed overnight, flew Alaska Airlines to Newark, N.J. and drove to downtown Philadelphia. Our first hotel was on the beautiful Benjamin Franklin Parkway and our room had a view of the Philadelphia Museum of Art with its imposing and magnificent Greek Revival architecture. (After four hectic days in center city, we fled to the suburbs.)
We had a very enjoyable time, visiting old friends, reconnecting with cousins and seeing historic and cultural sights one more time.
I also attended my 50th high school reunion at Saint Joseph's Prep. I had a wonderful time and I think all the other Preppers I met did too. Out of a graduating class of 197, there were over 55 attendees. Some I have seen many times over the years. Others I hadn't seen since graduation. It was good to be able to meet with everyone.
I've kept in touch with friends and also attended every reunion - held every 5 years or so - since graduation. More about the Prep and the Reunion is posted here.
My wife and I also visited the Mummers Museum. Every year, on New Year's Day, a Mummers Parade is held in Philadelphia, with thousands of costumed participants marching up Broad Street.
Mummering is a long-standing Philadelphia tradition. The first official parade was held in 1901. The museum contains a collection of Mummers' paraphernalia, memorabilia and costumes, a few of which date back to the turn of the 20th Century.
On a partly sunny Saturday morning, we took a one-hour Duck Boat Tour of historic Philadelphia. It was a fun yet informative excursion, with a short plunge into the Delaware river. At the end, we were awarded duck-quacker noisemakers.
We were dismayed by what has happened to Independence Mall. The Independence National Historical Park was created through an Act of Congress in 1948. In those days, Independence Hall was surrounded by dumpy, deteriorating commercial buildings and parking lots.
The goal was to create a block-wide grassy mall, extending from Independence Hall to Race Street.
The completion of Independence Mall was a result of an urban redevelopment plan funded by the Commonwealth of Pennsylvania. Now it's being ruined by the placement of tasteless, box-shaped, anonymous exhibit halls - Federal tourist traps - on the Mall.
We didn't bother visiting the Liberty Bell. Admittance required TSA-style security checks, so we went to a nearby gift shop and looked at Liberty Bell snow globes instead.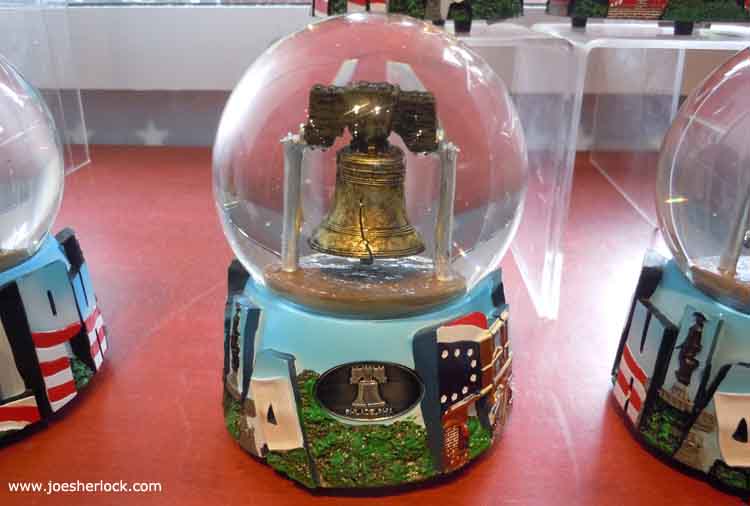 I've previously related my encounter with The Bell, when I got to touch it ... bang on it, actually ... with a wooden mallet. I still remember how sounded. Not good. No reason to visit it again.
Philly's downtown district looked grim. It seemed like a third of the retail spaces on Market Street were vacant. Lots of empty storefronts on South St. too. The once-tony Gallery shopping mall is now anchored by a K-Mart. In the 1970s, the Bourse Building was a place of hustle and bustle - full of tourists, visitors and area worker-bees. It is now mostly empty with few stores remaining. And those shops were selling New York souvenirs, including die cast Statues of Liberty and miniature stretch limos with 'New York City' stamped on the sides. Go figure.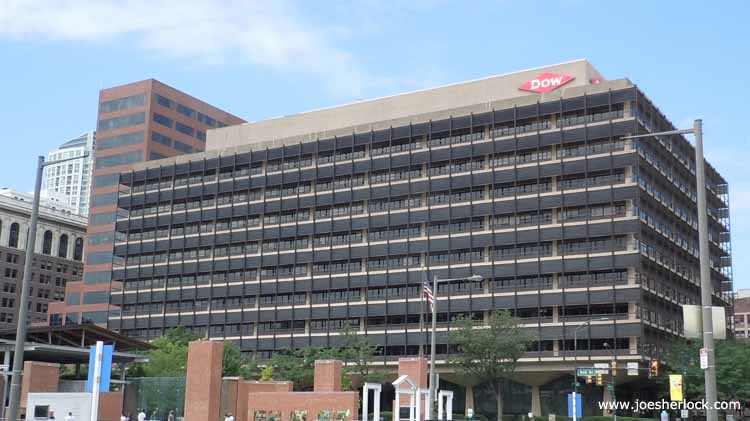 The former Rohm & Haas headquarters on Independence Mall West now sports a bright red diamond-shaped Dow logo on top and is referred to as the 'Dow Building'.
---
Car Sightings: I was surprised at the number of Hyundai Sonatas on the road - it's obviously a popular car in the area. There was more foreign iron than I've ever seen before - the Philly area is beginning to look like the West Coast in that respect. As usual, there are far more luxury brands (Cadillac, Acura, Mercedes, BMW, Lexus, etc.) and far fewer pickup trucks than I see around home. East Coast Big City Flash versus Northwest Rural Country Haulin', I suppose.
My friend Ray and I went looking at cars while our wives went shopping. The Ft. Washington Mercedes dealer was very nice to us, even though we weren't prospective buyers. (On the other hand, I bought my first new car - a VW Beetle - from them in 1967 before they ditched the Wolfsburg volken in favor of a Merc franchise a few years later.)
The nearby BMW store personnel totally ignored us while we examined the orange peel and lack of paint depth on these Bavarian offerings. Even the 7-Series looked like it had been finished in 1950s Earl Scheib enamel.
A nearby Volvo dealer was having an open house and we helped ourselves to some Philly soft pretzels while admiring the tight shutlines, smooth paint and remarkable build quality of the Swedish ... ummmm ... Belgian-made ... ummmm ... Chinese-owned offerings.
---
Rental Car: Our 2011 Chevrolet Impala was much better than the Impala we rented five years ago. The interior was a big improvement over the 2006 model. The '11 example still exhibited lots of sloppy handling and body roll though, even though our silver example had a trunk-mounted 'racing' spoiler.
We averaged an unimpressive 19 mpg on regular gas over 800 miles.
---
Simeone Auto Museum: Located in South Philadelphia, not far from the airport, the impressive Simeone collection has over $80 million worth of sporty, sports and racing cars on display in a 100,000 square foot facility.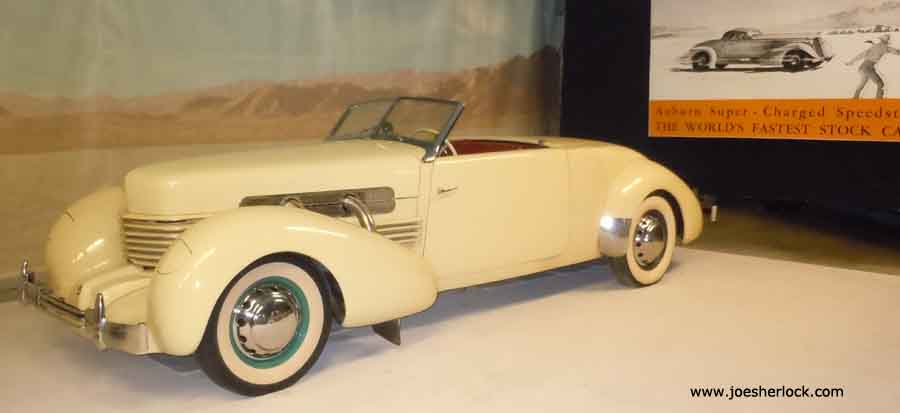 Dr. Frederick Simeone is a neurosurgeon and serious car guy. His father was physician and car enthusiast as well. My wife's dad - a precision machinist - fabricated some of the impossible to find parts for a few of the cars, including the 1937 Cord on display. We got to meet Dr. Simeone; he remembered my father-in-law and his machining/fabrication efforts.
The collection included a 1930 Blower Bentley, C-Type and D-Type Jags, a 1966 Ford GT-40 Mark II, a 1967 Ford Mark IV and the infamous Bugatti Tank racer of the mid-1930s. Highly recommended and definitely worth a visit. I've posted two pages of car photos from the museum, starting here.
---
Dining: Here are links to reviews of some of the restaurants we encountered during our trip:
Speaking of dining, the once-legendary Moe's Deli has lost its soul. Founder Mitchell 'Moe' Sussman died and his son sold the quintessential Jewish delicatessen on Frankford Avenue.
A sign in original Moe's window proclaimed: "Proud To Serve Mayfair and The World Since 1952."
Moe's is now Asian-owned and 80% of the many deli, bread and meat offerings are no longer available. If this were a South Park episode, the place would be named City Deli. What's left of Moe's can be found directly across the street from the still-awesome, recently remodeled Mayfair Diner.
There's no excuse for the lack of lunch and deli meat offerings - Dietz & Watson still has a major presence in the area, with their big blue trucks making deliveries all over the city and 'burbs. One was parked just around the corner from Moe's.
Even though we patronized several Italian restaurants, we couldn't find spumoni ice cream. The manager at the Willow Grove Carrabba's thought Spumoni was a wine. The waiter at Tony's in Ivyland had never heard of it. (But then, he was a moron, albeit an affable one. He thought I lived in Alaska because I used an Alaska Airlines credit card to pay my bill.)
Our Ft. Washington hotel's breakfast buffet included pound cake and coffee cake. The big, round coffee cakes tasted like the Drake's cakes of yore. These sweet, tasty items were a big treat for us as they are scarce to nonexistent in our neck of the woods.
---
Miscellaneous Observations:
• An obituary in a neighborhood South Philly newspaper noted that the deceased "had the same phone number for over 60 years."

• There was a big heat wave during part of our visit with temperatures reaching triple digits. Humidity seemed to be a thousand percent.

• Tastykakes are smaller and pricier than ever.

• Overheard at breakfast: "We're holding a conference in order to facilitate a meeting of ..." WTF? Why not just lock the $#@& people in the same room until they settle their differences? I have a feeling these fellow hotel guests were bureaucrats from the government. Or some big nonprofit. We are becoming a nation of do-nothings: facilitators, advisers and pontificators.

• Established by the Reading Railroad in 1902 and now operated by SEPTA, the Ft. Washington train station was surprisingly tidy and well-kept. On weekends, trains ran hourly.

• The Bridge Street Terminal of the Frankford Elevated line looks better than it used to. The overhead tracks have been rerouted behind the original brick terminal. The exterior of the terminal building is now the most prominent feature. It has been cleaned and restored, the windows have been refurbished, an addition has been built and a 1,000 car multi-story parking garage has been added on the north side. We wondered, "Why didn't they do all this 50 years ago?"

Unfortunately, once you get a block from the station, the El tracks and support structures resume their straddle (strangle?) over Frankford Avenue, turning the street level into semi-twilight and bringing with it the dark shadows of slums and decay.
---
Sum-Up: We had a very satisfying visit but are glad to be back home in the Pacific Northwest.
Farewell, Philadelphia - we won't be returning.
---
Other Pages Of Interest
copyright 2011-21 - Joseph M. Sherlock - All applicable rights reserved
---
Disclaimer
The facts presented on this website are based on my best guesses and my substantially faulty geezer memory. The opinions expressed herein are strictly those of the author and are protected by the U.S. Constitution. Probably.
Spelling, punctuation and syntax errors are cheerfully repaired when I find them; grudgingly fixed when you do.
If I have slandered any brands of automobiles, either expressly or inadvertently, they're most likely crap cars and deserve it. Automobile manufacturers should be aware that they always have the option of trying to change my mind by providing me with vehicles to test drive.
If I have slandered any people or corporations, either expressly or inadvertently, they should buy me strong drinks (and an expensive meal) and try to prove to me that they're not the jerks I've portrayed them to be. If you're buying, I'm willing to listen.
Don't be shy - try a bribe. It might help.
---