Catholic Stuff
Musings on matters of religion, faith and morals

(2002-10)

---
More recent 'Catholic Stuff' can be found here.
---
---
Gimme That Old Time Religion: The Anchoress has written that Pope John Paul II's funeral (April 2005) "made me long to hear more (or, any) Gregorian Chant at mass. I really hunger for it. Enough of the feel-good campfire-type songs, please!"
I couldn't agree more. I am sick and tired of 'Kumbuya' folk music, "invented" ceremonies (I'm waiting for someone to introduce The Blessing of the Dandruff.), turning every low Mass into a time-wasting crap-songfest, excessive hand-holding, hugging and other creepy, Touching To Symbolize Our Shared Faith detritus. Actually, it's more like Touching To Share Germs Just Before Communion. (Isn't this how the Black Plague spread during the Middle Ages?) Maybe we should have a Slather Your Hands And Arms In Purell ceremony.
At midnight Mass last Christmas, there was an elderly woman who insisted on treating us to an a cappella version 'Silent Night' in German to "celebrate her heritage." (Can you translate "Me-Centric" into Deutsche, bitte?) And she sang so badly, I wondered if she might be Bob Dylan's mother. I have seen her at church several times since and have bestowed her with the nickname 'Stella Nacht.'
The only "new" thing needed in church is a polished brass stage hook to drag bad performers off the altar - deliverers of lengthy, pointless homilies, lectors who ask us to pray for odd or political things, off-key warblers, etc.
And I want the old smoker-priests back - the ones who would do a 38-minute Sunday Mass because that was as long they could hold out before they needed another Lucky Strike fix. (posted 4/11/05, permalink)
---
Changing Catholicism? John Derbyshire at National Review has written: "The debate among devout Catholics about this calamity, so far as I can follow it, is not very enlightening. Conservatives blame it all on the reforms of the Vatican II Council (1962-5); liberals blame it on John Paul II himself, saying that his firm traditionalist approach to core doctrines turned off the more open-minded Catholic laity. Both surely know in their hearts that the real culprit is the irresistible appeal of secular hedonism to healthy, busy, well-educated populations."
I think he's right. People are busy - with work, hobbies, etc. - and no longer consider church as a "social outlet" as in the past. Reality television and the internet have become the new social outlets. Writing in the New York Times, funeral director Thomas Lynch notes that "times formerly spent in worship or communion are now spent shopping or Web-browsing or otherwise passing time. Many Americans are now spiritual tourists without home places or core beliefs to return to."
Educated people don't have the fear-of-God factor; they don't equate skipping church with going to Hell. In the U.S., Mass attendance has shrunk from 74% in 1958 to about 15% today. In Ireland - traditionally a very religious country - the numbers have declined from 90 percent in 1973 to 48 percent in 2001. In France, church attendance is less than 10%.
Don't expect a new Pope to make radical changes in an attempt to conform to so-called modern 'values,' though. Especially 'American values.' The Vatican does not see things through American eyes. There are 1.07 billion Catholics worldwide (17.4 percent of the world's population). U.S. Catholics make up only 6% of the total. The Americas (North and South) have the lion's share of baptized Catholics, with 49.8% (approx. 541 million). Brazil is the country with the largest baptized Roman Catholic population in the world - 151 million souls, Mexico has 93.6 mm, Philippines - 66.4 mm, U.S. - 67.4 mm, Italy - 55.8 mm and Poland - 36.9 mm.
Money is different story, however. When it comes to the bishops' contributions to the Vatican, the U.S. dukes it out with Germany for title of Largest Contributor. Speaking of Germany, more than three-quarters of Germans want the successor of Pope John Paul II to be less ''rigid'' about sexual morality and end the Church's ban on contraception, according to a poll published in Deutsche Welle. 77 percent of respondents said they wanted to see the ordination of women as priests and 74 percent think that imposing celibacy and chastity on priests is no longer expedient.
I'm told that the Vatican has a saying about all these wanted changes: "People in hell want ice cream." Catholicism is, after all, a religion - not a focus group.
The U.S. is also by far the biggest donor when it comes to the Pope's annual collection for foreign missions. Additionally, there are other Catholic organizations supported almost entirely by U.S. Catholics. Catholic Relief Services - one of many independent Catholic charities - takes in almost $100 million from U.S. Catholics annually - more in times of disaster.
Catholics in the United States also put an estimated $5.8 billion in Sunday collection baskets to support their local parishes. Pledges to bishops' annual appeals for diocesan operations are an additional $635 million.
In short, the Catholic Church loves us for our money but isn't particularly interested in the opinions of Americans. Or those of our talking-head 'experts' on various TV programs. Or in print. Or in the blogosphere. (posted 4/14/05, permalink)
---
Holy Stink: Here's some Papal History you probably won't learn from those television commentators covering John Paul II's funeral: After Pius XII became Pope in 1939, he appointed Riccardo Galeazzi-Lisi, a medical oddball, as his personal physician. In the 1950s, Ricardo introduced Pius to a Swiss doctor who claimed that his 'cellular therapy' could reverse aging. The treatment required the injection of live cells from sheep embryos.
When the Pope died in 1958, Galeazzi-Lisi prevented the body from being conventionally embalmed. Instead, he used his own preservation system - "based on ancient formulas" and claimed that it was "superior to modern methods and would ensure that Pope Pius' body would resist contamination for at least 100 years."
The Galeazzi-Lisi miracle system involved encasing the Pope's body in a cellophane bag into which were inserted aromatic herbs, or spices, or something - reportedly an ancient Egyptian recipe for preserving their dead. It didn't work.
When Pope Pius' body, stretched out in its odd transparent sheath, was laid on a catafalque in St. Peter's, the multitudes who filed by "were horrified to see it literally decomposing before them."
Each evening, Galeazzi-Lisi would climb a ladder and feverishly pour more of his ingredients into the sheath. The four men standing guard in the Vatican had to be changed every 15 minutes because they could not stand the stench. (The Vatican should have used that mortuary on 'The Simpsons' - it carried "all the leading brands of anti-stink spray.")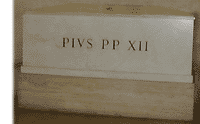 You can bet that, when they finally placed Pius in this marble tomb beneath St. Peter's, they used many tubes of caulk to make sure that sucker was air-tight.
Galeazzi-Lisi also took a series of photographs of the Pope in his death-throes and sold them to various publications, including Life and Paris-Match, at high prices. He was later stripped of his medical license.
The Vatican is being properly and discretely silent about what post-mortem preparations have been made on John Paul II's body. But I'm sure it involved proven preservatives and nothing involving ancient Egypt. (posted 4/6/05, permalink)
---

Papal Viewing: Touring Rome in 2002, my wife and I visited St. Peter's Basilica. The Vatican had exhumed Pope John XXIII in 2001 and was displaying him in a glass case, since he is being considered for sainthood.
It's one thing to see bodies of long-dead people you don't know but I still remember John XXIII, who died in 1963. (He was the little chubby Italian pope - after Pius XII and before Paul VI - and the impetus behind Vatican II.)
Seeing his corpse on display felt kind of creepy - like digging up JFK or Buddy Holly for exhibition.
This is another reason that popes are always buried wearing a cassock and traditional vestments. Imagine the embarrassment if a future generation exhumed Pope Paul VI (d-1978) and found that he was wearing a lime-green polyester leisure suit with epaulets and large white buttons. (posted 4/5/05, permalink)
---
Requiescat In Pace: Pope John Paul II has died. My thoughts are posted here. (posted 4/2/05)
---
Save The Children:
Many liberals were surprised by the emergence of so-called Values Voters in the 2004 Presidential election and by many of the anti-abortion sentiments expressed by such people. The concerns felt by such voters is real and part of a growing trend. When Roe-v-Wade became the law in the '70s, abortion was promoted as an answer to unfortunate and tragic circumstances (
rape, mother's life jeopardized, pregnant, severely-retarded women and the like
). And, the aborted tissue was presented as nothing more than a group of cells - almost like one's appendix.
But legalized abortion quickly became a form of birth control for the lazy and the careless. Later, "partial birth abortions" took the spotlight. This little-known, barbarous practice appalled many moderates who were formerly pro-abortion. Meanwhile, scientific advances have made many early-term fetuses viable. Finally, the use of ultrasound has shown the public that very young and tiny fetuses look like babies, not blobs of protoplasm.
---
Popemobiles: For some facts and musings about papal rides, go here.
---
For Your 'What's Wrong With The Catholic Church' File: The new, $190 million Catholic cathedral in Los Angeles offers Starbucks coffee in the cafeteria and $25-a-bottle 'Our Lady of the Angels' wine in the gift shop. You can buy your own crypt for anywhere from $50,000 to $3 million. The gift shop takes credit cards and even has an ATM. And, what was it again that Jesus did to those money changers in the Temple?
If you just want to park in the garage, it's $12. Hey, here's an idea - instead of paying $50,000+ for a crypt, why not buy an old junker of a van, put the body in it and park it in the garage for $12, then abandon it. Cheap crypt. Heh, heh.
But wait - there's more. Missing from the endless line of church officials at cathedral's grand opening last Monday was one of its first associate pastors, Fr. Carl Sutphin. An accused molester, Sutphin held the title of associate pastor at the new Cathedral of Our Lady of the Angels until L.A. Cardinal Mahony cut him loose in the wake of the Boston church scandals.
It's stuff like this which contributes to the decline of the Catholic Church. Consider these statistics for the Catholic Church in Quebec, where the share of Catholics attending weekly Mass has fallen from 88% in 1957, to 42% in 1975, to 28% in 1990 and to 23% in 2000. Sad. (posted 9-4-2002, permalink)
11-1-2002 Update: From the Los Angeles Times: "Five top executives of the Archdiocese of Los Angeles have quit (two monsignors, two nuns and a layman), saying Cardinal Roger Mahony failed to consult them when he cut program budgets to help close a multimillion-dollar deficit. The archdiocese, the largest in the nation, has a $4.3 million deficit and plans to lay off at least 60 workers and cut programs for minorities, gays and the disabled to bridge the financial gap."
No money for the needy in L.A. but plenty of money to build stone-and-mortar monuments to the Cardinal's ego.
---
Other Pages Of Interest
copyright 2002-21 - Joseph M. Sherlock - All applicable rights reserved
---
Disclaimer
The facts presented on this website are based on my best guesses and my substantially faulty geezer memory. The opinions expressed herein are strictly those of the author and are protected by the U.S. Constitution. Probably.
Spelling, punctuation and syntax errors are cheerfully repaired when I find them; grudgingly fixed when you do.
If I have slandered any brands of automobiles, either expressly or inadvertently, they're most likely crap cars and deserve it. Automobile manufacturers should be aware that they always have the option of trying to change my mind by providing me with vehicles to test drive.
If I have slandered any people or corporations, either expressly or inadvertently, they should buy me strong drinks (and an expensive meal) and try to prove to me that they're not the jerks I've portrayed them to be. If you're buying, I'm willing to listen.
Don't be shy - try a bribe. It might help.
---
---