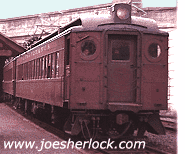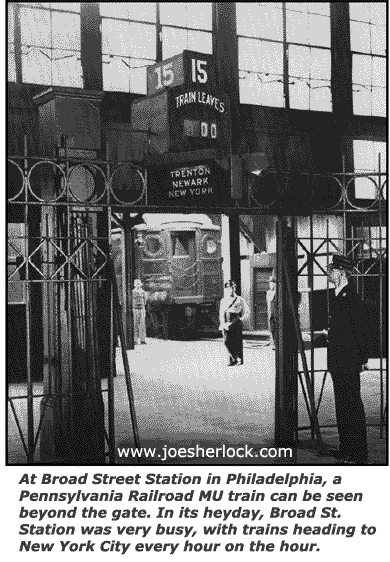 Multiple-unit cars are self-propelled railroad coaches, generally used in commuter service. They are equipped so that a train of such passenger cars can be operated from any one of them by a single engineer.
The Pennsylvania Railroad's stable of MP54 electric Multiple Unit cars was the largest class of this type of car. Initially built for the original Philadelphia-based network of electrified suburban lines, they were eventually used throughout the railroad's electrified zones. The MP54's design dates back to 1906.
Between 1915 and 1939 the PRR made or purchased 432 cars of the MP54 type.
During their long years of service, they became known to patrons as "red cars," or "red rattlers" (especially as they aged and became more noisy and decrepit).
They were also called "owl eyes", due to the two porthole windows on the front end of each car.
MP54 electric MU cars operated in commuter and intercity service by the Pennsylvania Railroad and, later, Penn Central.
Day-hopping to college, I frequently traveled on the Pennsylvania Railroad's Paoli Local from Philadelphia Suburban Station to Villanova. Occasionally, I rode in then-new Silverliner MU coaches.
Most often, the Paoli Local was a consist of ancient Tuscan-red MP54s with overhead pantographs and the distinctive owl eyes front windows.
When K-Line Trains offered an O-gauge two-car MU set in 2004, I e-mailed the company to make sure that the model had the correct windows. Nick Ladd, K-Line's sales manager, provided a prompt reply: "The PRR version will have the famous "owl" eyes so common on all rust liners. I used to ride them in Philadelphia and loved the look of the round windows."
I ordered a set and was not disappointed. The cars have molded seats with little people in them, proper outside marker lights - red and green - which reverse when the train reverses, directional headlights, bell sounds, train announcements and a realistic digital horn. Watching the little MUs running around on tracks brings back lots of memories.
Photos are posted here; I have also produced a video short (running time - 1:21 min.) of my MP54s in action: