Coffee Tales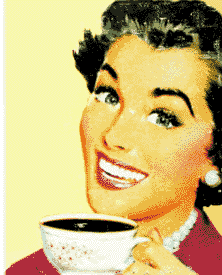 ---
Caffeine-Free: In 1900, before coffee was Yuppiefied with various flavoring bells-and-whistles, there was Boyd's coffee of Portland, Oregon. Many Oregon restaurants stated on their menus, "We proudly serve Boyd's coffee."
Boyd's grew because it offered very good coffee. Now the new owner, Farmer Brothers, is shuttering Boyd's Portland roasting and shipping operations, laying off 135 people and moving everything to Texas. (posted 4/4/18, permalink)
---
Liquid Aggravation: Here's a Starbucks-related posting from Stumptown Blogger: "Imagine this ... a young man, maybe 16 stands in line and when he gets up to the counter he asks for a sip of water to take a pill.
The devil pig acting as a Starbucks employee tells him that he will have to pay for a sip of water. The kid says "Really, I just need this much of water" ... She sent him walking. For my good deed of the day I bought the kid a bottle of water and gave it to the devil good.
My next mission is calling Starbucks corporate and making their day too."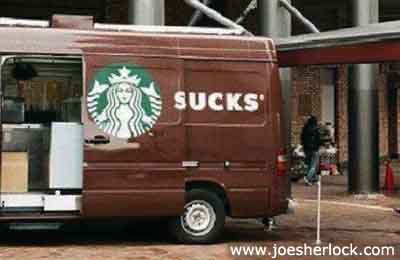 This is why I don't patronize Starbucks, a jerk company, run by jerks with jerks for employees. I've posted another story on these bozos here. (posted 5/25/11, permalink)
---
Time for Coffee:
In 2003, the supermarket chain, Great Atlantic & Pacific Tea Co. Inc. (aka A&P) sold off its Eight O' Clock Coffee division to a San Francisco-based private investment firm in a push to cut debt and reduce operating costs. Under competitive pressures from the likes of Wal-Mart, the company sold its New England and Wisconsin stores earlier this year. Kind of sad - another icon from my childhood is being whittled away.
I remember, as a five year-old, going to the A&P at Frankford and Cottman Avenues in Philadelphia with my mom and strolling down the coffee aisle, inhaling the sweet fumes wafting forth from the chrome-plated grinder.
I have always liked the smell of freshly-ground coffee - even though I don't particularly care for the taste of it. When I drink coffee (infrequently), I always add lots of milk and a little sugar.
Bulk coffee had been sold at A&P since the company's 1859 inception. In 1919, A&P began using the Eight O'Clock brand to identify its Brazilian (100% Arabica) coffees. The company arrived at the name after conducting a survey as to what time of day most coffee was consumed; the most popular time was eight o'clock, both am and pm.
By the early 1930s, with distribution limited to the East Coast and parts of the Mid-West, A&P coffees still enjoyed a 25% share of the national coffee business. It was the largest selling coffee brand in the entire world.
In 1950, Time magazine reported: "The Great Atlantic & Pacific Tea Co. sells one out of every seven cups of coffee in the U.S. Next to General Motors, the A&P sells more goods than any other company in the world." For some 40 years, from about 1920 until about 1960, A&P was the world's largest retailer.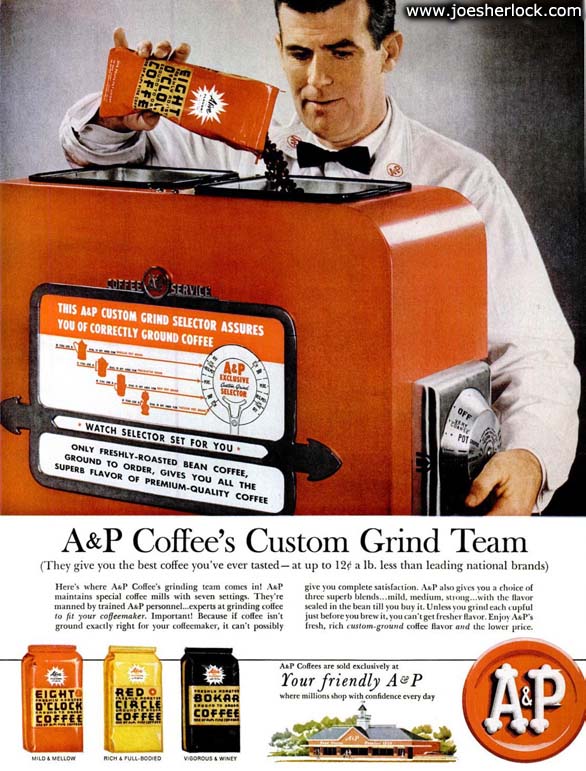 Initially, two blends were offered: Red Circle (in a red bag) - "Rich & Full-Bodied" and Yellow Bag - "Mild & Mellow." A&P claimed it was the best coffee because it was the freshest: "It's 'Alive With Flavor' ... and you get all of it! One reason for this fresh, glorious goodness is that A&P premium-quality Coffee is kept in the flavor sealed bean until the minute you buy. Then, right before your eyes, it's Custom Ground (this gives you all the fresh flavor usually lost by pregrinding coffee)."
Oh well. At least the Eight O'Clock brand will survive. (posted 9/18/04, permalink)
---
Star-#$@%-bucks: The Susan G. Koman Breast Cancer Foundation 'Race for the Cure' arranges a series of 5K runs/fitness walks held in 100 locations across the U.S. Nearly 1.4 million people are expected to participate in more than 100 races in 2004. These races raise significant funds and awareness for the fight against breast cancer. They also celebrate survivorship of this devastating illness and honor those who have lost their battle with the disease. Corporate sponsors include: American Airlines, BMW of North America, Inc., Ford, Hallmark, Johnson & Johnson, Kellogg, KitchenAid, Lee Jeans, New Balance Athletic Shoes, Pier 1 Imports and many others.
I urge you to help this good cause by participating directly or by sponsoring a participant. In 2003, my wife and daughter participated in the Portland event. There were many corporate booths happily giving away free stuff to all participants, except for those Starbucks jerks who wanted a $1 "donation" for a small cup of plain coffee. This is one more reason why I hate Starbucks. (In the 2004 edition of the Race, Starbucks pulled the same 'donation' stunt.)
My buddy from the wilds of North-Central Pennsylvania agrees: "I intensely dislike Starbucks. When I hunted for turkey in Colorado several years ago, I needed to use Starbucks' bathroom. I was told I had to buy a cup of coffee first. But the line was 20 people long. I thought: use bathroom, wash hands, then have coffee and a pastry. But the ignorant waitress refused to give me the key. So I left, walked around the back and pissed against their dumpster! And got my coffee elsewhere."
By the way, there is a website called 'Starbucks Gossip.' The site's slogan is: "Somebody has to monitor America's favorite drug dealer." (posted 9/15/04, permalink)
---
Other Pages Of Interest
copyright 2004-18 - Joseph M. Sherlock - All applicable rights reserved
---
Disclaimer
The facts presented in this blog are based on my best guesses and my substantially faulty geezer memory. The opinions expressed herein are strictly those of the author and are protected by the Constitution. Probably.
Spelling, punctuation and syntax errors are cheerfully repaired when I find them; grudgingly fixed when you do.
If I have slandered any brands of automobiles, either expressly or inadvertently, they're most likely crap cars and deserve it. Automobile manufacturers should be aware that they always have the option of giving me free cars to try and change my mind.
If I have slandered any people or corporations in this blog, either expressly or inadvertently, they should buy me strong drinks (and an expensive meal) and try to prove to me that they're not the jerks I've portrayed them to be. If you're buying, I'm willing to listen.
Don't be shy - try a bribe. It might help.