There is much work to be done but I hope to have my O-gauge train layout operational before Thanksgiving.
Good News: Last week, I visited the Oncology Center for a blood test, which measures cancer markers - carcinoembryonic antigen. Mine is now 0.8, which remains within normal range (0-5.0 µg/L according to my oncologist) and is lower than my last test. I also underwent a CT scan.
Good Times? The economy is now at its best in a decade, according to economist and perpetual optimist Larry Kudlow. "The business side of the economy, the supply side, is doing very well. It's the best showing we've seen - I don't know, probably in over 10 years. It's as though businesses are sniffing out tax cuts, and they're starting to pull the trigger on some investments. And that, of course, will lead to higher wages. I like that a lot because that's been the worst area of the economy, business investments, and I think the stock market loves it."
Hillary Learns That A Brazilian Can Be Quite Painful: Donna Brazile, former DNC head, has written a tell-all book about the 2016 election.
"What emerges ... is a picture of Brazile as heroine (of course), Hillary Clinton as villainess, Debbie Wasserman Schultz as incompetent and lazy, and Barack Obama as the unnamed cancer that ate away at the center of the party." Ouch.
Wasserman Schultz outsourced all operations of the party to Hillary's headquarters in 2015 - long before the start of the primaries, ensuring Bernie's defeat. In other words, the fix was in ... no Russians needed.
"According to Brazile, Obama "left the party $24 million in debt" - hey, sort of like the country! - and his campaign wouldn't pay off that debt until election year. Furthermore, Wasserman Schultz had grown staff and allowed the DNC to pick up the check for Obama consultants." Brazile claims that Hillary "essentially laundered campaign money through the DNC."
Keep in mind that ol' Donna has a big axe to grind. Plus, whenever she's on television, she comes across as an affirmative-action hire/hack whose knowledge is limited to spouting lefty talking points. Donna also was friendly enough towards Hillary during the campaign that she fed her debate questions from her one-time employer, CNN.
In any case, grab a big tub popcorn - the reactions to and effects of this bombshell book should be most entertaining. Watching the revelations unfold will be more entertaining/disgusting than peeking in Kevin Spacey's closet.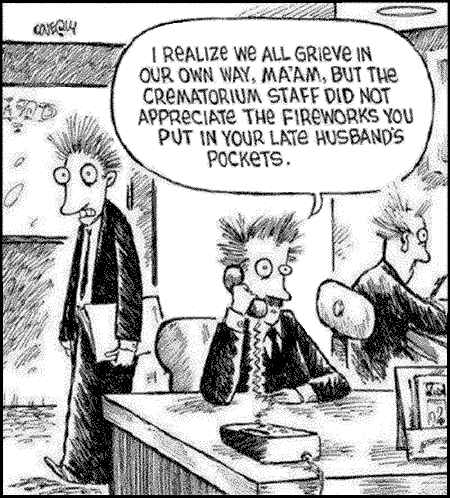 Thought For Today: We are advised to not judge all Muslims by the actions of a few lunatics, But we are encouraged to judge all gun owners by the actions of a few lunatics.
---
Friday November 3, 2017
Future Vision: In the late 1980s, Mazda was developing a luxury brand in the manner of Lexus or Infiniti, called Amati. Sadly, the project was abandoned. At this year's Tokyo Motor Show, Mazda revealed a stunning full-size four-door vehicle called the Vision Coupe.
"A big sedan has always been the symbol of a brand going premium. It's the icon of a brand," said Julien Montousse, Mazda North America's director of design. "It tells that Mazda is becoming serious in reaching that goal. ... Outside and inside, it follows a Japanese aesthetic, moving away from an animalistic approach, away from too much dynamism, to become something more minimal. But it is not mathematical or rigid. It is very fluid, meant to communicate a human trace behind it. It is a way to define and induce a specific feeling that connects a human energy to the product. To encourage pure love." M-kay.
I think the Vision looks great. I hope this coupe/sedan soon goes into production.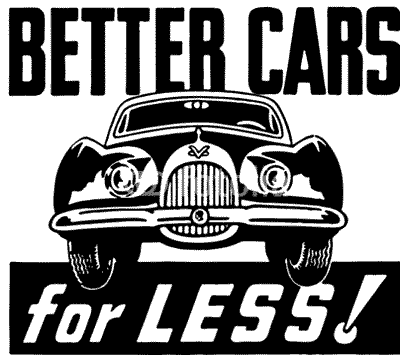 October Auto Sales: Light vehicle sales were estimated at a 18.0 million SAAR (Seasonally Adjusted Annual Rate) last month, up 1% from October 2016, and down 2.6% from last month.
October exceeded expectations, as replacement sales and inventory clear-out boosted the daily sales rate to a 15-year high. U.S. automakers sold 1.35 million vehicles in October. Sales were driven by SUV and truck sales, while sales of family sedans dropped across the board. Low-margin fleet sales declined for the month.
Incentives helped drive sales: Across the industry incentive spending per unit was up 8% year-over-year, surging to $3,820 per vehicle. At General Motors, incentive spending shot up 15% to more than $5,100 per vehicle.
Ford Motor Company's Blue Oval brand recorded a sales increase of 6% year-over-year. Ford truck sales shot up 11.4 percent. Sales of Lincoln vehicles declined 2% year-over-year. Continental sales dipped 19% to 996 sedans. Navigator sales increased 10% to 656 SUVs.
Fiat Chrysler Automobiles saw overall sales sink by 13%. The Jeep and Ram brands both lost 3% last month. The Chrysler brand dropped 22%. Fiat fell 33% to 1,769 vehicles, while Dodge recorded a whopping 41% drop in year-over-year sales.
At General Motors, the passenger car slump weighed heavily. Overall GM sales fell 2%. GMC was the only brand to increase its tally, sales increased 5%. Chevrolet's sales fell 4%, Buick sales fell 5%. Cadillac sales were flat overall. The CT5 crossover experienced a 29% increase, while the compact ATS dropped 42%, the CT6 flagship fell 40%, and the midsize CTS was off 24%. Each model sold less than a thousand units in October.
Honda sales increased 1% while Acura Division was off 1% with sales of 12,698 vehicles. Nissan sales jumped 10% in October. Infiniti sales dropped 8%. Toyota also reported a modest sales increase of 1.1% for October. Lexus posted October sales of 22,894 units, down 8%. Only 609 flagship LS models found buyers in October.
Subaru, which has set a long string of sales records this year, continued to roll in October with slight sales increase. It is the 71st month in row that Subaru has posted a sales gain. Hyundai and Kia sales dropped 16% and 9% respectively.
Audi sales increased 10%, Acura sales slid 1%. Volvo sales increased 11% to 7,008 vehicles. Volkswagen sales rose 12% to 27,732 units. Mercedes sales were flat at 31,401 vehicles. Bentley, Jaguar and Maserati all reported double-digit sales declines for October. 140 Smart car found buyers in October - a cliff-like drop of 67% from last October.
All The Leaves Are Brown ... and the sky is gray: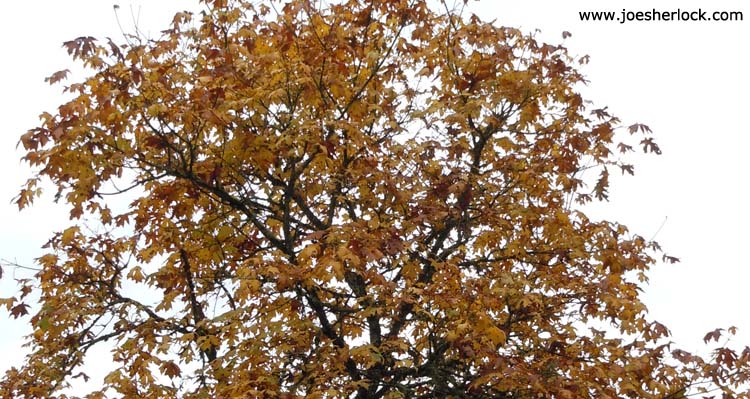 This is the view from our back deck these days. On Sunday, I plan to grill steaks outside. With the time change, I'll have to cook by flashlight.
The Prophet Stewie: Recently, actor Anthony Rapp claimed that Kevin Spacey tried to seduce him at age 14. Apparently, Kevin Spacey has a reputation for hitting on boys and men.
Interestingly, in a 2005 'Family Guy' episode, Stewie Griffin, the acerbic toddler with the British accent and football-shaped head, ran naked through a crowd and yelled: "Help! I've escaped from Kevin Spacey's basement!"Stewie is also a time-traveler and can be seen with something resembling his time machine here.
Sometimes real truth comes from cartoons.
Quote Of The Day is from Steven Wright: "It's a small world but I wouldn't want to paint it."
---
Wednesday November 1, 2017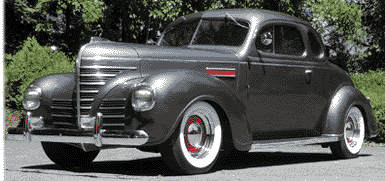 Falling Leaves: At 11:00 am Monday, I fired up my '39 Plymouth business coupe and took a drive. The sun was bright and the temperature was in the low 50s. (It's getting cold at night - temperatures in the mid-30s.)
I was very surprised by the change in foliage since my outing four days prior.
Leaves were dropping everywhere and I could see them falling to the roadsides as I took my drive. Most green deciduous trees have gone directly to brown, many of the yellow leaves have darkened substantially and most of the fire has disappeared from formerly fiery-red leaves.
The drive was pleasant and the Plymouth ran well but, with clouds and rain in the forecast, this may be my last old-car excursion for a while.
Movie Star: The same 1939 Plymouth Deluxe four-door sedan made appearances in two recent films. The Plymouth was seen driving past a ... (more >>>)
Preferred Parking: I recently read a blog post which mentioned a Ferrari F40 supercar; the mention of F40 triggered a memory.
In the early 1990s, we often dined at the Couch Street Fish House (it closed in 2000) in the questionable neighborhood (aka - seedy, filled with drunks and drifters) of Old Town Portland. The establishment had a small valet lot and, when we arrived in my Lincoln Mark VII, the car was always buried in obscurity amongst the other vehicular iron. When I purchased my new '92 Twin Turbo Nissan 300ZX and fitted it with chrome wheels, the valets parked it right next to the door, like a piece of automotive jewelry.
One evening, I exited the restaurant and found my Z buried amongst the more plebeian vehicles. It had been dethroned; a low-slung, red Ferrari F40 was parked by the door. Fame - especially car fame - is fleeting.
Buh-Bye Sears: Once a titan of Canadian retail, Sears Canada has announced that it is going out of business, putting 12,000 people out of work and shuttering all operations nationwide. Among the first to lose their jobs will be most of the 800 people at the head office.
Regarding Sears in the U.S. ... (more >>>)
Pray For The Dead: Tomorrow is All Souls' Day, also known as the Commemoration of all the Faithful Departed. On November 2nd, we pray for the repose of the souls of the dead, in the hope that when we're dead, someone will return the favor and pray for us as well. We can all use prayer - living or dead. So, be sure to pray for the dead; your prayers and intercessions many somehow come back to help you when you're in need - sort of a prayerful Pay It Forward.
I've posted more information about All Souls' Day here.
Book Review: 'American Kingpin: The Epic Hunt for the Criminal Mastermind Behind the Silk Road' by Nick Bilton
Every time we find ourselves frustrated by the actions (or inactions) of some government bureaucrat, we suddenly want to become libertarians. But, taken to extremes, libertarianism can create chaos. Such is the case with 26 year-old, self-proclaimed libertarian programmer Ross Ulbricht. When the dark side of libertarianism met the dark web ... (more >>>)
Quote Of The Day is from Fred Allen: "Television is a medium because anything well done is rare."