Tuesday November 30, 2010
1955 Lincoln - Nice, But Not Too Successful: If you look at a '55 Lincoln Capri today, you'll see a nice looking car that looks, well, very mid-1950s. But that's not how it looked to prospective buyers back then. 1955 was the year of all new bodies for most other cars. Chevy, Pontiac, Packard, Ford, Mercury and the entire Chrysler line all had a brand new look compared with their 1954 counterparts. Lincoln didn't.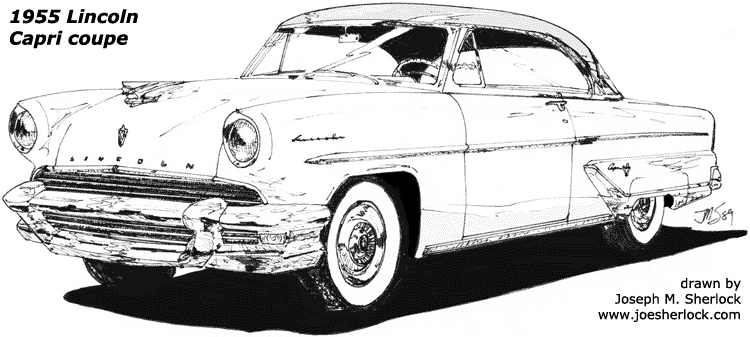 Everybody but Lincoln had three tone color combinations and wraparound windshields. Chrysler first introduced ... (more >>>)
A Hunka, A Hunka Big Merc: A slate blue 1970 Mercedes-Benz 600 limousine, once owned by the Elvis Presley, is to be auctioned in December by Bonhams.
The British auction house has claimed it is one of only a few cars that Elvis registered in his own name and has a picture of the California registration to prove it. Elvis owned the Benz for two years.
It is expected to sell for $230-300,000.
Caution: Idealists At Work. Mark Perry has written that "the political obsession with affordable housing caused a lot of the problems in the real estate and mortgage industries, and led to the financial meltdown."
He quoted Ed Pinto from the American Enterprise Institute: "In 1995, HUD announced a National Homeownership Strategy built upon the liberalization of underwriting standards nationally. It entered into a partnership with most of the private mortgage industry, announcing that 'Lending institutions, secondary market investors, mortgage insurers, and other members of the partnership [including Countrywide] should work collaboratively to reduce homebuyer downpayment requirements.'"
In 1990, one in 200 home purchase loans (all government insured) had a down payment of less than or equal to 3%. By 2006 an estimated 30% of all home buyers put no money down. ... (more >>>)
"Wendy, Let Me Explain Something To You," said Jack Nicholson's character in 'The Shining'.
Now another Wendy needs to be sat down and educated. This one's a Massachusetts teacher, Wendy Scott. She proclaimed to her sixth grade students that they "no longer be allowed to bring writing implements to school. It said pencils would be provided for students in class and any students caught with pencils or pens ... would face disciplinary action for having materials 'to build weapons.'"
Pencils aren't weapons. Now an axe - that's a weapon, Wendy: "Heeere's Johnny!"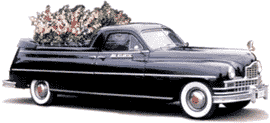 "What's a Goonluca?" Leslie Nielsen, a Hollywood leading man-type in the 1950s and '60s who achieved celluloid immortality when he turned to deadpan comedy in movies such as 'Airplane!' and 'The Naked Gun', has died at age 84.
Nielsen was captain of the doomed ocean liner in the 1972 disaster movie 'The Poseidon Adventure' and played a clueless detective, Frank Drebin, in the 'Police Squad!' television show and 'Naked Gun' movies.
The title of this post comes from an exchange in a 1982 episode of 'Police Squad!' Johnny the Snitch tells Detective Drebin, "She's in big trouble. She's being held by Martin's goon, Luca." Nielsen's character, Drebin, asks Johnny for clarification.
Thanks for all the laughs, Leslie. Rest in peace.
Quote Of The Day is from Mark Twain: "Suppose you were an idiot. And suppose you were a member of Congress. But then, I repeat myself."
---
Monday November 29, 2010
Honest Designer: Peter Birtwhistle, who styled the short-wheelbase 1980 Audi Sport Quattro, has called it "bloody ugly." He's now the chief designer at Mazda Europe.
The only Quattro I've ever seen belonged to the owner of a small design and prototyping firm in Eugene, OR in 1983. The Audi's proportions were ungainly and it was not nearly as taut-looking at my old first-generation VW Scirocco.

Muntz In The Making: Being a fan of Nelson, I got a hearty chuckle out of this.
Haw, Haw.
It's Beginning To Look A Lot Like ... Last week, the 'Signals' and 'Wireless' holiday shopping catalogs arrived. These used to be the official hawkers of PBS and NPR merchandise, so I gleefully tore through them looking for that Juan Williams coffee mug that I always wanted for Christmas but, alas, it was not to be found.
Signals and Wireless (owned by the same company - Universal Screen Arts, Inc., founded in 1938 and based in Hudson, Ohio) don't seem to be doing much with NPR/PBS these days, so if you want that collectible Garrison Keillor with Santa hat tree ornament, you'd better start searching the web.
Too Close To Home: On Friday night, a Somali-born 19 year-old was arrested as he tried to detonate a car bomb in a crowd of 12,000 at the Pioneer Square Christmas Tree Lighting Ceremony in downtown Portland, OR.
Mohamed Osman Mohamud is a naturalized U.S. citizen who has been living in Corvallis, OR and studying "non-degree pre-engineering" (whatever that is) at Oregon State University. He parked a van with six 55-gallon drums of fake explosives - provided by undercover FBI agents - next to Pioneer Square. Then he went to Union Station, an Amtrak stop - about a mile away, and used a cell phone to try to detonate it.
As he pushed the last button, Mohamud yelled "Allahu Akbar!" (Arabic for "God is great!") and tried to kick agents and police as the arrest came.
While there are many unanswered questions about possible co-consipirators and enablers, family involvement, who was funding his "education," etc., a big Well Done should go to the FBI and all other law enforcement organizations involved.
Mohamud came to the U.S. from Mogadishu while in grade school. He attended Jackson Middle School and Wilson High School in Portland before transferring to Westview High School in Beaverton, a western suburb.
Pioneer Square was full of children during the lighting ceremony and ... (more >>>)
The Rest Of The Story: A close terror call in Portland, Oregon was thwarted when the FBI prevented a Somali jihadist from blowing up a crowd at a 'holiday tree lighting' celebration.
Five years ago, Portland became the first city in the nation to withdraw from the FBI-led Joint Terrorism Task Force.
Then-Mayor Tom Potter and the city council voted to withdraw its two police officers from the federal task force. Potter cited "the potential for trespasses against civil liberties and an inability to oversee Portland officers who would be deputized as federal agents." Plus, it was another slap at George Bush, who is reviled in Portland. The Bushes privately refer to the city as 'Little Beirut'.
This time ... (more >>>)
In Nomine Patris: Big Fur Hat wants to start a new religion. Tenets include:
• Our faith believes that waiting on lines is demeaning. Man was not put on Earth to line up like beasts of burden at a too small trough. We jump to the head of the line, if not, there is no telling what the radical arm of our faith is capable of. We just can't control them.

• Nothing is more demeaning to a human than handling animal feces. Our faith does not scoop poop.

• Separating garbage is demeaning. Thus, no recycling for us.

• Demanding that we park on the alternate side of the street might be a problem for us. Depending on the day, our grill must point towards the original Ford Factory. It's very confusing for an infidel to figure out the system, so it's best you just leave us alone.

• Taxes, in our faith, is a form of gambling. The return on your investment is not guaranteed. So, no gambling, no taxes.
Further details can be found here.
In Your Face: Facebook has become a dominant presence on the internet and around the world, but that dominance may be much greater than nearly anyone could imagine.
"Traffic to the huge social network, with 500 million users worldwide, now accounts for nearly 25% of all internet pages viewed in the United States."
No, I'm not on Facebook.
Sad Ending: Legendary Oregon entrepreneur Norm Winningstad killed himself with a gun last week. He was 85 years old, had recently undergone spinal surgery and was reportedly in a great deal of pain. Winningstad died at his home, in the seaside town of Newport, OR.
He had moved from California to Oregon in 1958 to work for electronic instruments manufacturer Tektronix. He soon became known as one of its chief innovators. In 1970, he founded computer company Floating Point Systems. He later co-founded high-tech firms Lattice Semiconductor Corp. and ThrustMaster, a firm that makes joysticks.
Winningstad was an avid helicopter pilot and once owned four Ferraris. He and his wife, Dolores, made many philanthropic contributions to arts and cultural organizations. RIP.
An Interesting Question: "If this whole TSA/Scanner/Pat-Down business had started 30 days earlier, in October instead of November, how would the Nov. 2nd elections have turned out?"
Quote Of The Day is from Henny Youngman: A bum came up to me saying "I haven't eaten in two days." I said, "You should force yourself!"
---
Friday November 26, 2010
Up Is Down; Black Is White. If an electric car which uses absolutely no gasoline is "rated" at 99 miles per gallon by the U.S. government and a plug-in hybrid is "rated" at 93 mpg when its gas engine is off, how many mpg do I get when I'm walking? Or riding a bicycle? Or sleeping?
And, should you believe anything the government tells you?
PS: I once owned a Lincoln that got 156 mpg.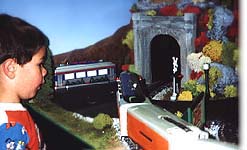 They Grow Up So Fast: When I built my three-level model train layout ten years ago, I sized it so that my then three and one-half year-old grandson was eye level with the lower level of trains.
I had added lots of detail and some operating accessories on the this level to amuse and entertain him. Every time the train went by, crossing lights flashed, bells rang and a gateman jumped out of his yellow shack to wave his red lantern. He was delighted.
During his visit yesterday, I realized that he is now taller than the top of the mountain. But he still enjoys seeing and running the trains.
"The Summer's Gone And All The Flowers Are Dying." It's not all Guinness and soda bread these days over on the Emerald Isle.
The once-admired Celtic Tiger is full of economic turmoil. In good times, the Irish government, like many others, wouldn't restrain itself to spending within the limits of what it collected. And, despite signs of shifting economic conditions and an impending real estate bubble, the Irish bureaucrats never adjusted, guessing that the European Union would make everything alright.
Ireland, always a poor country, took the first steps to liberalize its economy ... (more >>>)
Bad Pun Of The Day: No matter how much you push the envelope, it'll still be stationery.