General Motors Corp. is killing its fabled Pontiac automobile, an 82-year-old division that last flourished selling hot muscle cars. Sales have tumbled 70% since their peak in 1978, and, in recent years, Pontiac has been a steady money loser. Production will cease before the end of 2010.
As of this writing, GM has more than three months' supply of Pontiacs on dealer lots, according to Edmunds.com. In March 2009, the average Pontiac sold for 22% off the sticker price, compared with the industry average of 16%.
Although the first Pontiac car didn't debut until 1926, its lineage dates back to 1893, when Edward M. Murphy established the Pontiac Buggy Company in Pontiac, Michigan to produce horse-drawn carriages. In 1907, Murphy started the Oakland Motor Car Company, an offshoot of his carriage firm. GM acquired Oakland in 1909.
In 1926, Pontiac was introduced as a lower-priced version of Oakland - a shorter wheelbase "light six" priced to sell at a four-cylinder car's price point - positioned slightly above Chevrolet. By 1929, GM sold 163,000 more Pontiacs than Oaklands. Oakland was discontinued two years later.
Pontiacs were easily recognized because of their bright metal twin silver streaks on the hood (from 1935 through '56) and the Indian hood ornament - a stylized sculpture representing Chief Pontiac. In the 1950s, the chief was molded in Plexiglas and glowed when the headlights were on.
By the '50s, Pontiac had acquired an image as a dependable but somewhat dull brand - an old man's car.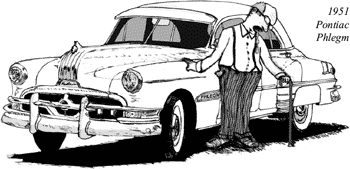 My high school friend Paul drove his dad's hand-me-down 1953 Pontiac Catalina two-door hardtop with the amber plastic Indian head hood ornament. The white-over-mustard yellow lump was pretty gutless and, because the choke cable was broken, Paul's Pontiac had a pull-string running from the carb out the back of the hood opening through the vent window.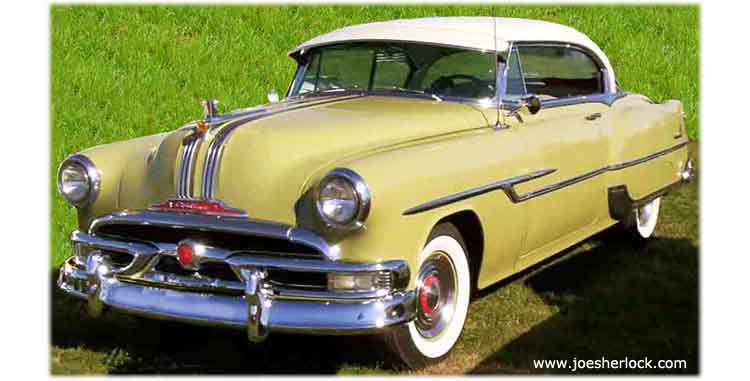 One time the engine backfired and the string caught on fire. That was the closest his Pontiac ever got to being 'hot.'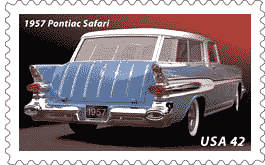 When Bunkie Knudsen took over as general manager of Pontiac in 1956, he brought engineer John Z. DeLorean on board and set out to transform Pontiac's stodgy image. He removed the twin streaks, disparaging them as "suspenders," ditched the Indian hood ornament and introduced the powerful fuel-injected Bonneville in 1957 at the Daytona Beach races. The 310 horsepower had a top speed of more than 130 mph - a tuned stock model was timed at 144 mph on the Bonneville Salt Flats. For the '59 model year, Bonneville became the designation for top-of-the-line Pontiac models, displacing the old Star Chief. Pontiac was finally turning into a 'hot' car.
Three general managers - Bunkie Knudsen ('56-61), Pete Estes ('61-65) and finally John Z. DeLorean ('65-69) - remade Pontiac into an exciting, innovative brand.
In 1959, Pontiac introduced WideTrack, increasing the distance between the wheels across the width. This gave the car a dramatic, muscular stance and improved its handling.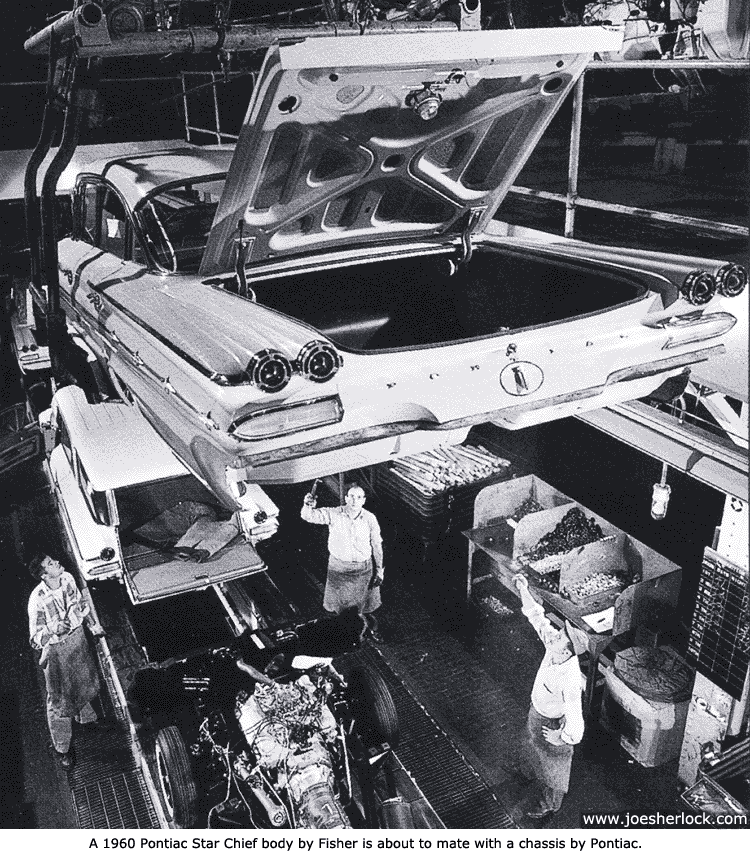 A restyled Grand Prix coupe debuted in 1963, featuring a simple, elegant slab-sided exterior with very little chrome and a formal roofline. People quipped that it was "the best Lincoln that Pontiac ever built," referring to the much-admired lines of the slab-sided Lincoln Continentals of the period.
In 1964, Pontiac introduced the GTO - a compact Tempest with a hotted-up big Bonneville engine and four-on-the-floor manual gearbox. It was an instant winner and became a legend.
My college friend Mike was given a new '65 GTO convertible as a college graduation present by his parents. It had a tan interior; the exterior was a DSO metallic green, from the Buick Riviera color chart. I think his parents paid a $20 upcharge for the special paint. The factory even packed a extra can of paint in the trunk. His four-speed GTO was a truly hot car and got even hotter when Mike's then-girlfriend, Katie, presented him with a set of Hooker headers for his GTO as a graduation gift. Mike eventually sold the car for Something Else. He later regretted that decision and, in the 1980s, bought another '65 GTO and had it restored to replicate the original.
In 1966, Pontiac offered an interesting performance variant - the Tempest Sprint. It was the first American car to use a timing belt to drive a overhead cam - on Pontiac's new 230 cubic-inch, six-cylinder engine. The Sprint model featured high-compression pistons, a hotter cam, dual valve springs, a split/dual exhaust manifold, a better coil and a Quadrajet 4-barrel carburetor.
My first post-college job was with Uniroyal's Timing Belt Division in Philadelphia where most of the Pontiac's cam belts were manufactured. I once drove the company's four-speed manual floorshift Tempest Sprint coupe on a 150-mile trip and was very impressed. 0-60 times were in the 8-9 second range - amazing for a little GM six-banger. It made a sweet, throaty sound as it wound-up rapidly in first gear coming out of a Garden State Parkway toll booth.
The overhead cammer was a great technical achievement but paled in the GTO's shadow. The OHC-6 engine ended production with the 1969 models.
At my next job, my boss had a thing for Pontiacs. His 1967 Tempest was a good-looking, nice riding machine. He later moved up to a gold Grand Am which I found less impressive.
In 1968, Pontiac introduced an all-new body for the Tempest, LeMans and GTO. Body-colored Endura front bumpers were used on the GTO. These closed-cell urethane foam moldings begat a industry trend. Auto historian Thomas Bonsall claimed that the Endura bumper "was one of the great styling innovations of all time because it permitted stylists to blend the bumpers into their frontal styling. Until it came along, front bumpers usually had the look of having been added to a design, rather than being an integral part of it."
Once, during a business trip, I rented a cherry-red '69 LeMans coupe for a week. It had a peppy V-8 and was a fun car to toss around on the rural roads around Anderson, Indiana. It was a good looker, too.
Later, there would be additional memorable Pontiacs - the Firebird in its many iterations, the cartoonish Judge, the Trans Am, the great-concept-but-doomed-execution Fiero, the über-ugly Aztek and other model offerings - many of them thin disguises of Chevrolet counterparts (Phoenix, Sunbird, J-2000, T-1000, etc.).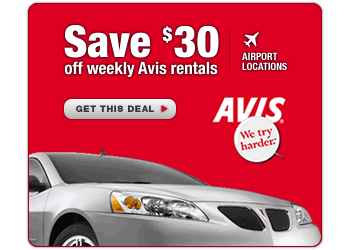 In its final years, the brand was mostly cheap rental car fodder. Sad. But, when I think of Pontiac, I'll always fondly remember the ones from the 1950s through the late 1960s. (posted 4/28/09)
---
Update - Out With A Whimper: When the last Oldsmobile rolled off the assembly line, it headed straight to a museum. Last week, the last Pontiac - a white G6 four-door sedan - exited the Orion Assembly plant and apparently went straight to rental car duty as part of a fleet order.
It's a sad ending for a brand that once found over 800,000 loyal buyers every year. (posted 11/30/09, permalink)
---
Other Pages Of Interest
copyright 2009-20 - Joseph M. Sherlock - All applicable rights reserved
---
Disclaimer
The facts presented on this website are based on my best guesses and my substantially faulty geezer memory. The opinions expressed herein are strictly those of the author and are protected by the U.S. Constitution. Probably.
Spelling, punctuation and syntax errors are cheerfully repaired when I find them; grudgingly fixed when you do.
If I have slandered any brands of automobiles, either expressly or inadvertently, they're most likely crap cars and deserve it. Automobile manufacturers should be aware that they always have the option of trying to change my mind by providing me with vehicles to test drive.
If I have slandered any people or corporations, either expressly or inadvertently, they should buy me strong drinks (and an expensive meal) and try to prove to me that they're not the jerks I've portrayed them to be. If you're buying, I'm willing to listen.
Don't be shy - try a bribe. It might help.
---