My Mom
---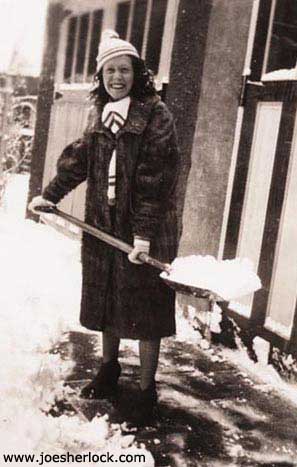 Shoveling snow - 1938
In 1999, I wrote a newspaper article about fathers and, in particular, my dad. But I have never written about my mom before because, frankly, it's been difficult. I've always struggled to translate my deep love for her and my feelings into mere words.
She was a talented artist, prolific writer of letters, school teacher, full-time mother and beloved wife. Born in Philadelphia, PA, she lived there all of her of her life, except for three years in Ireland from age 10 to 13.
My mom drew in pencil, pen & ink and painted in oils. At age 18, she produced a rendition of Thomas Moran's 1875 Colorado painting 'The Mountain of the Holy Cross' in oil. She majored in Fine Arts at college.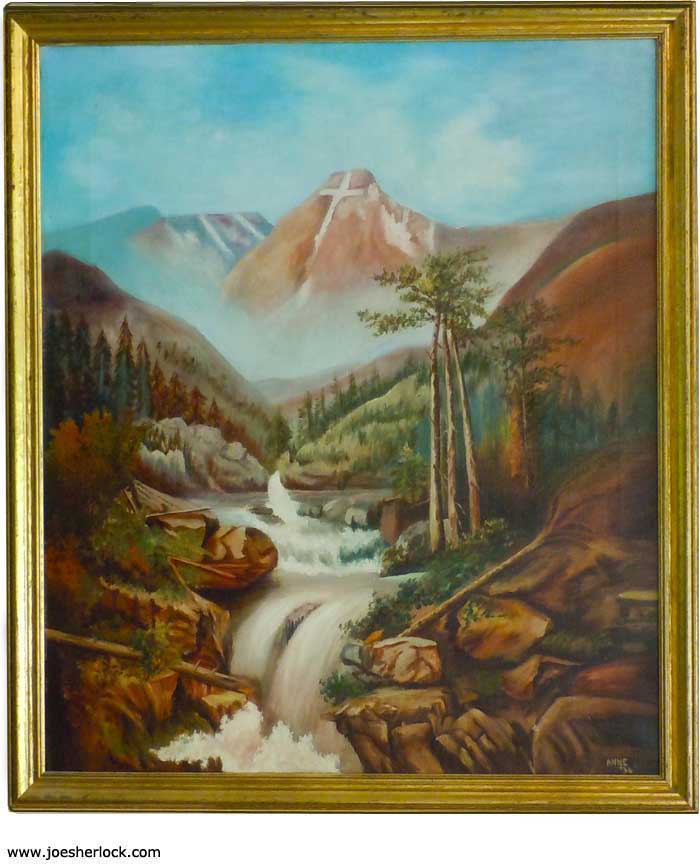 Many of her oil paintings of cottages at twilight capture the soft glow of illuminated windows in fading daylight. Or forest streams reflecting falling light at dusk.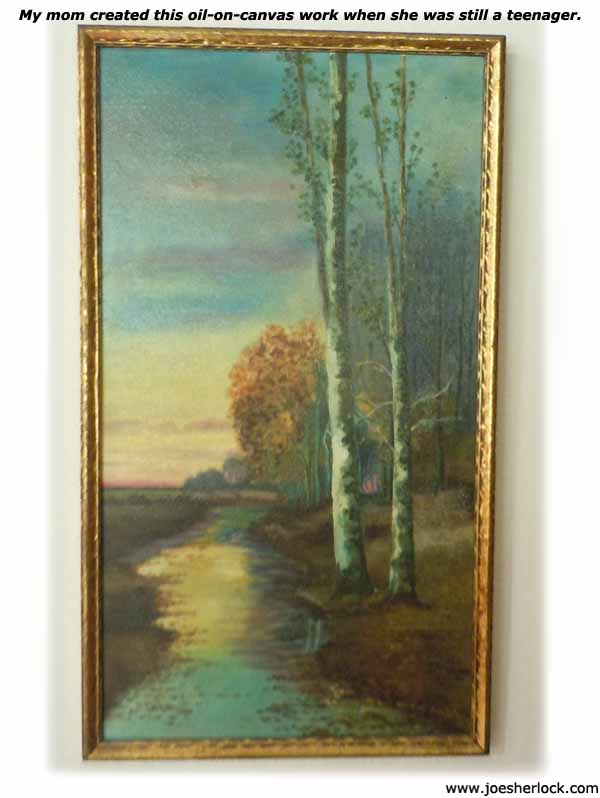 She was painting delicately-lit evenings when she was still in high school - well before that overhyped and overrated 'Painter of Light' (sic), Thomas Kinkade, was even born.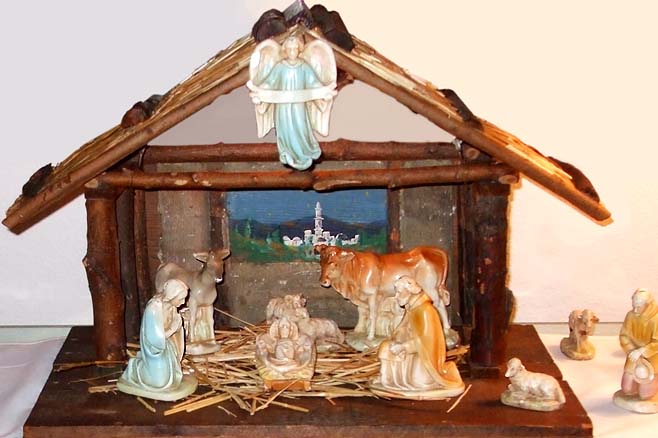 We have an old family Nativity stable, made in 1937. At one point my mom painted in a window with a view of some buildings and the guiding star in the darkening blue sky.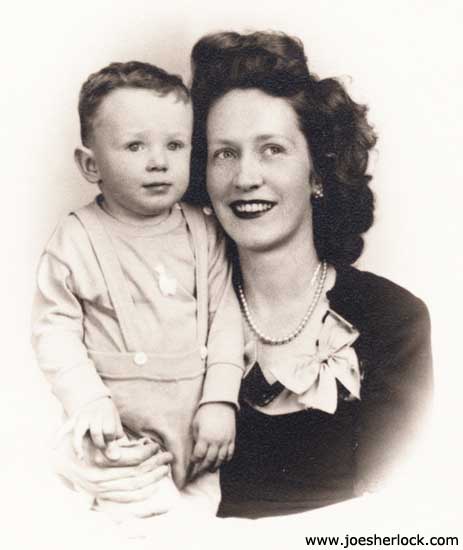 Mom and me - 1944
Then there were all the birthday cakes she baked, including the one that the dog sampled just before the party. (He climbed up on a chair and then the kitchen table and took a bite. She expertly sliced off the offending area and quickly repaired it with icing. It looked like new and I got the extra icing on my slice. Delicious - with nary a hint of dog slobber!)
I remember the little toy cars she bought me when I pestered her while she shopped at the five-and-dime on Frankford Avenue.

The many other tasks which she undertook: Making sure I did my homework. Going over tomorrow's history and geography readings and giving me Q&As on the subject matter. Getting me out of bed on time. Taking care of me when I was sick. Cooking great-tasting burgers - two of them stacked on three-pieces of Stroehmann's sandwich bread. Packing me breakfast on days when I had to serve early Mass, often a small thermos of hot cocoa and a pack of crumb-topped TastyKake Koffee Kakes. Being gracious to my various friends, even the ones she didn't approve of. Encouraging me to draw. Bringing two pounds of ice-packed Moe's Deli potato salad - once my favorite - all the way across the U.S. on an airplane.
She gave me good advice, taught me how to do stuff: tie shoes, make and count change, use trolley and bus transfers and ride the El alone when I was only 10 years old. When I turned five, she got me a mail subscription to Walt Disney's Comics and Stories which helped me learn to read. She championed self-reliance; she loved but never smothered.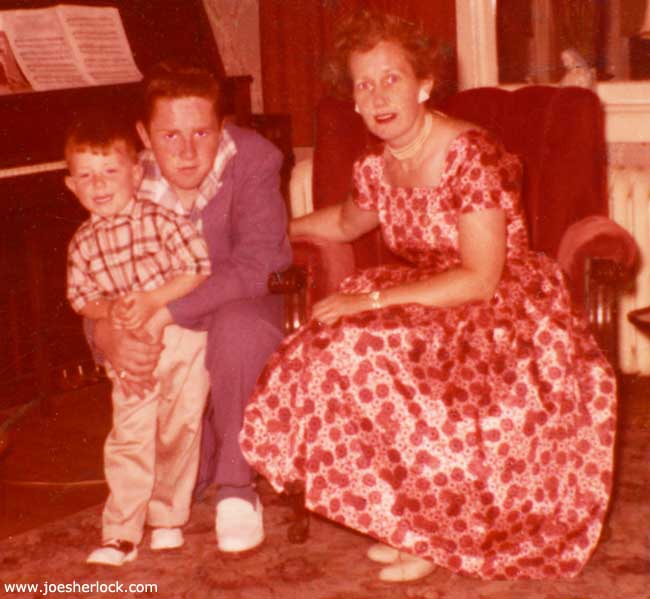 My brother, me and our mom - 1957
I recall all the times she worried about my working too hard at my job: "Are you sure you're OK? You don't look good around the eyes." She doted on her children, and later, her grandkids - and was loved by all. My children still cherish her letters and newspaper clippings with comments in her characteristic blue-ink, precise penmanship. Even today, my cousins reminisce about my mom's kindness to them and I learn something new about her with every story they tell.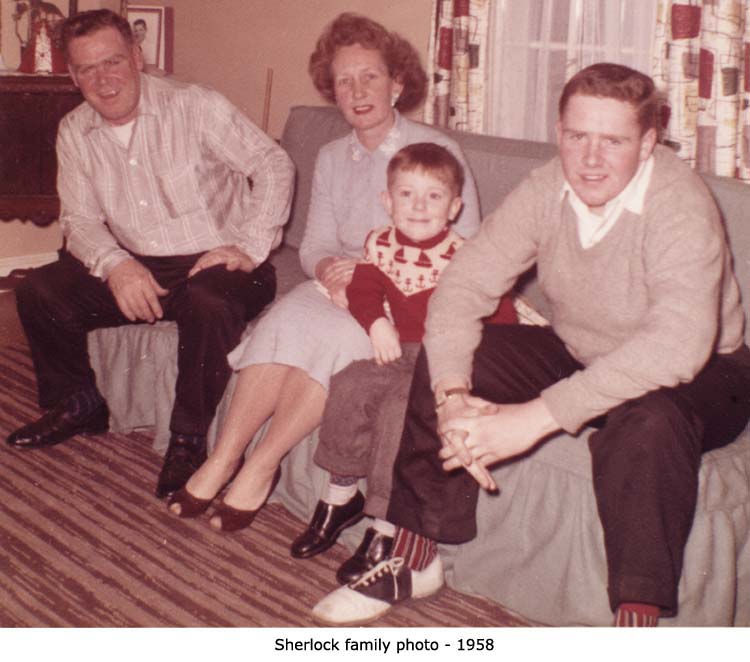 She was a caregiver for her own mother for 13 years and for my dad during the last six months of his life. For the last five years of hers, she valiantly fought cancer and remained active and mobile until nearly the end of her almost 66 years on this Earth.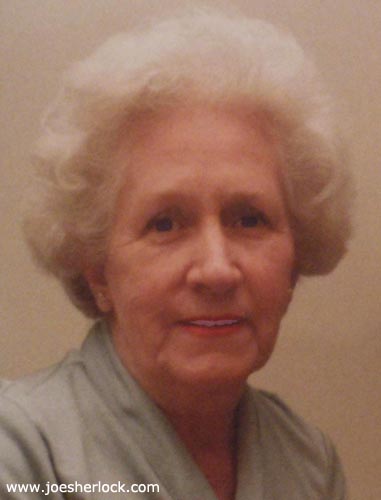 Mom - 1983
She dearly loved her family and friends; she was gracious and helpful to all.
James Lileks has written lovingly about his mom in a way which captures my feelings towards mine: "Growing up under her hand, her gaze, her heart was a miracle, unbelievable luck. I had no idea at the time; we never do. We take the miraculous as commonplace because it happens every day."
For those of you who - like me - who have lost your mother, I offer this advice by painter & poet David Harkins:
You can shed tears that she is gone
Or you can smile because she has lived.
You can close your eyes and pray that she will come back
Or you can open your eyes and see all that she has left.
Your heart can be empty because you can't see her
Or you can be full of the love that you shared.
You can turn your back on tomorrow and live yesterday
Or you can be happy for tomorrow because of yesterday.
You can remember her and only that she is gone
Or you can cherish her memory and let it live on.
You can cry and close your mind,
Be empty and turn your back.
Or you can do what she would want:
Smile, open your eyes, love and go on.
Thanks, Mom, for being such a big part of my life. (posted 5/6/11)