Thursday February 28, 2013
Auto Sketch: 1956-7 Continental Mark II - An American Rolls Royce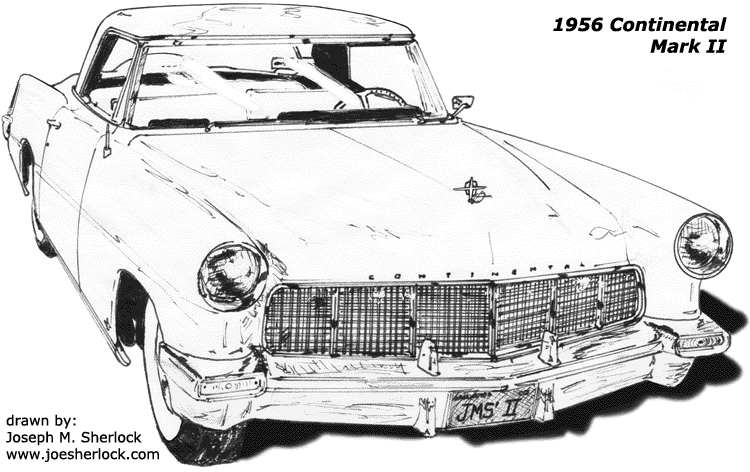 The Continental Mark II was introduced in October, 1955 at the Paris Auto Show. It was offered in only one body style, a two-door hardtop coupe and was a virtually hand-assembled car with a price tag of $10,000. The Mark II was powered by a more or less factory blueprinted (the parts were hand selected from production runs) Lincoln V-8 engine with 368 cubic inches. Every luxury feature known in 1956 was available on this car. All were standard except air conditioning which was a factory option and the electric eye dimmer which was a dealer-installed option.
The Mark II was very exclusive not only because of its price but because it was to be offered only to 'selected' buyers. Presumably, this would weed out the riff-raff. There is no evidence that this selectivity was ever enforced; if you could come up with the money, you could buy the car. Famous (and infamous) Mark II owners included ... (more >>>)
A Graceful Exit: Pope Benedict XVI is leaving the building, citing age and health reasons for stepping down as leader of the Catholic Church. Despite all the rumors about Vatican political in-fighting - such infighting predates even the 16th Century Medicis, I take Benedict at his word. It is said that the 85 year-old Pontiff is blind in one eye, going deaf and has become gaunt. Perhaps he has a terminal disease. Or Alzheimer's.
The world watched as Benedict's predecessor, John Paul II, went through his final, painful decline. Many - including me - wondered if his decay in physical faculties was matched by a drop in mental acuity. It's good that Benedict is relinquishing his papal powers before this happens.
If you believe the prophesies of 12th Century prophet and Irish archbishop St. Malachy, the next Pope will be ... (more >>>)
Quote Of The Day is from the late columnist Earl Wilson: "Always remember, money isn't everything - but also remember to make a lot of it before talking such fool nonsense."
---
Tuesday February 26, 2013
Italian Style: Hemmings.com has posted a 1994 Special Interest Autos print article about the life and work of Franco Scaglione, the designer behind such stunning aerodynamic shapes as the BAT series of concept cars.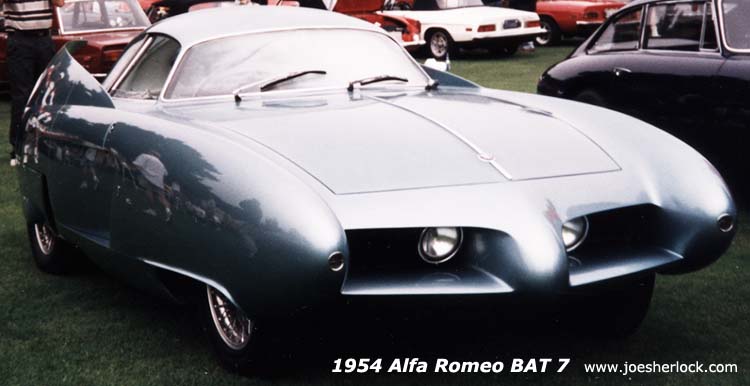 I've posted additional photos of the BAT 5, 7 and 9 here.
Improvement: The 2014 Bentley Flying Spur sedan looks much better than its predecessor. And better than the Mulsanne.
One of these days - right after I win the lottery - I'm going to own a Bentley.
Avert Your Eyes: The new 2014 Jeep Cherokee has been unveiled and ... um ... well, they should have left the veil on.
I'm Still Pro-Sequestration: Despite the weeping, gnashing of teeth and Helen Lovejoy-like cries of "But what about the children?!", I continue to believe that, in the absence of a rational Executive or Legislative Branch, sequestration represents a small step in the right direction toward reducing government deficits.
Grassy Knoll, My Ass! Headline from The Rumsford Meteor: 'Climate Scientists All Agree ... Global Warming Shot Kennedy'.
Book Review: 'John Quincy Adams' by Harlow Giles Unger
Born in 1767, John Quincy Adams, the oldest son of John Adams, witnessed the Battle of Bunker Hill. Throughout his life, Adams continued not only as a witness to history but as a maker of history. At age 14, he acted as secretary and interpreter for the first American ambassador to Russia. As I read this, I reflected upon how little I had accomplished at such an age and was humbled by Adams' prowess and drive. As a teenager, he spoke six languages fluently and had read many classic books, Latin and otherwise. In my weak defense, I can only point out that they didn't have comic books - or TV - back then.
His accomplishments were many ... (more >>>)
Thought For Today: Going to church doesn't make you a Christian any more than standing in a garage makes you a car.
---
Friday February 22, 2013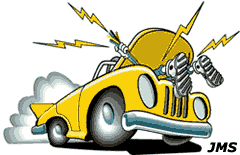 Zapped: Bertel Schmitt of TTAC has written a balanced and accurate assessment of the recent and over-reported dustup between electric carmaker Tesla and a New York Times reporter. The reporter had a bad experience with the vehicle because he didn't follow the charging instructions to the exact letter and ended up stranded on a run between NYC and Boston.
If you don't follow exact fueling instructions for a gasoline-engined or hybrid auto, you'll simply have to stop for a few minutes at one of the many gas stations available in this great land.
Since there are few charging stations and it takes many hours to charge an electric car, simple misunderstandings - or chilly weather - can have alarming consequences. Regardless of what that arrogant blowhard Elton Musk claims.
Bertel offered a great sum-up: "Shell-shocked consumers are left with the impression that a normal ride in one of those electric vehicles must be planned like an Atlantic crossing in a single engine plane."
That's why electric cars are not popular. All of us may admire Charles Lindbergh but no one wants to be Charles Lindbergh.
Super-Selling: Hungarian-born 39 year-old Anita Krizsan is the best-selling Bugatti Veyron salesperson in the world. In just one year, Krizsan successfully completed 11 sales totaling $15 million, working out of a dealership in the Mayfair section of London.
What is Anita's personal transport? A diesel Volkswagen Golf. She moved to the UK 13 years ago to work as an administrator for Honda.
She attributes her success to her phenomenal networking skills, which she exercises by spending time with the super-wealthy at events such as the Goodwood Festival of Speed. She studied languages and speaks fluent French and Russian – her childhood was spent growing up when Hungary was still behind the communist Iron Curtain.
Most of her Bugatti clients are from the Middle-East and Russia.
Pasta Miracle: If you're cooking spaghetti and you notice white steam, you may have elected a new Pope. (permalink)
Restaurant Review: Cazadero Inn; Estacada, Oregon
Located in the old lumber town of Estacada, the Cazadero Inn offers a great view of the Clackamas River from its glass-walled dining room. The exterior of the restaurant is nondescript and ... (more >>>)
Quote Of The Day is from Groucho Marx: "Politics is the art of looking for trouble, finding it everywhere, diagnosing it incorrectly and applying the wrong remedies."
---
Wednesday February 20, 2013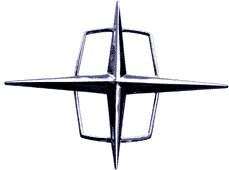 Memorable Dinner: On Saturday night, my wife and I attended a dinner hosted by the Pacific Northwest Region of the Lincoln & Continental Owners Club. We have been members of the Region for over 25 years. We have lots of fond memories of travels, tours, visits to private museums and car shows made possible by membership in this regional club. Even though we haven't owned a Lincoln in almost eight years, we've stayed in the club because we enjoyed the people.
At the dinner, I received two pleasant surprises: an engraved glass award for my "years of service" and a certificate for a free lifetime membership in the club.
The dinner was an opportunity to visit with some old friends and we had a very good time.
A Moving Experience: On Sunday, we moved the O-gauge train platform back into the garage. After returning from Arizona late Wednesday, I had to hustle to remove all the trains, buildings, people and cars from the layout in time for the planned move. We got the layout into its storage spot by 11:30 am under dry, partly-cloudy skies. Everything went quite smoothly without incident.
A few of the glued-down people came loose and fell off the platform during the move but none were crushed by the caster wheels. That's good because I don't want to spend the money to buy miniature grief counselor figures - metrosexual-looking men with closely trimmed beards, glasses and elbow patches on their tweed coats. Push the little button on their backs and battery-powered voice chips ask, "Hmmmm. So how are you feeling today?"
Afterwards, my wife made me a celebratory Manhattan. Drinking before lunch - that's the best form of grief counseling.
91 Years Later: In a bid to slash $465 million of debt, Reader's Digest has filed for Chapter 11 bankruptcy over the weekend for the second time in less than four years. The media company said it has reached a deal with its largest creditor, Wells Fargo, and more than 70% of its secured noteholders on a financial restructuring plan.
This is one more indication of the impending death of print media. Even during the 1980s, Reader's Digest was the best-selling consumer magazine in the U.S.
James Lileks wrote, "For the boomers it was their parents' mag, a middlebrow chapbook with kitschy illustrations on the back and the same parade of stories every month: I Am Joe's Liver-Bile Duct. The Promise of Thalidomide. Saigon, the Paris of Southeast Asia. A 600 page novel would be boiled down to 14 pages, which was quite a feat, and it was always something by Leon Uris. Somehow, within minutes of its arrival, the magazine migrated to the top of the toilet tank, as if borne to its inevitable destination by invisible sprites. Non-union, anti-communist sprites."
The Sherlocks were never a Reader's Digest family, so I have no nostalgic involvement in its difficulties.
Book Review: 'Back To Blood' by Tom Wolfe
Let us all acknowledge that Tom Wolf is an American Treasure. He has produced many thoughtful, thought-provoking, funny works. He has revived the use of exclamation points!!!!!! In past works - fiction and nonfiction - he has conducted archaeological digs at the fringes of our culture and has unearthed treasure troves of interesting artifacts, fetishes and characters.
'Back to Blood' is a ... (more >>>)
I Could Never Tell Them Apart Anyway: Office supply chains Office Depot and OfficeMax are in advanced discussions about a possible merger.

Question of the Day: Why isn't there mouse-flavored cat food?
---
Monday February 18, 2013
Trip Report: We've just returned from two weeks in Arizona - a chance to get away from the dark, rainy Northwest winter. We enjoyed the sun and warmth, spending most of our time in Scottsdale with a brief visit to Lake Havasu City.

Lots of news events happened while we were away. The Pope decided to retire. There was a big blizzard in the Northeast. Many references were made to the Great Blizzard of 1978; interestingly, we were in Arizona then as well at a business convention. My mom babysat the kids at our New Jersey home and was stranded for several days by two feet of snow.
In other news, Patty Andrews, last surviving member of singing Andrews Sisters, died at 94. Flamboyant, opinionated former NYC mayor, Ed Koch, died at age 88. Distinguished conductor James DePreist, 76, died at his home in Scottsdale, AZ, of complications from a heart attack he suffered last spring.
We were blissfully ignorant of all the bad news and had lots of fun during our time in Arizona. I posted a slew of non-automotive travel photos here.
• Vehicular Exhibits: We visited the Hall of Flame in Phoenix - a museum devoted to fire fighting. Ninety fully-restored pieces of fire apparatus were on display, dating from 1725 to 1969. I've posted a selection of photos here.
'Motoring Thru Time' was an exhibit of 100 or so vehicles from 1905 to the early '80s displayed throughout Heritage & Science Park in downtown Phoenix on February 2nd.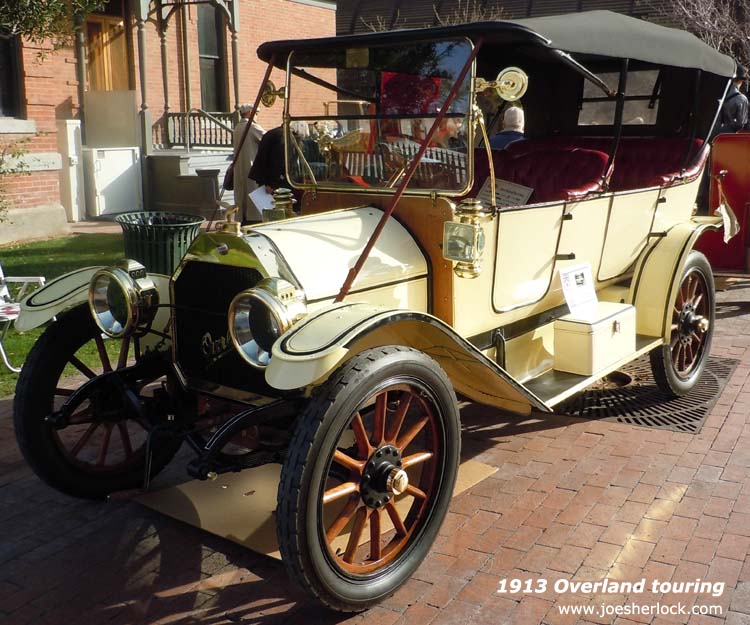 I've posted two pages of old car photos, starting here.
Later that day, we visited the Martin Auto Museum in Phoenix, which featured 60 vehicles plus miscellaneous automobilia. I've took numerous pictures and have posted them here.
• Car Sightings: The Phoenix/Scottsdale area is full of wealthy people; Mercedes, BMWs, Lexi and even Bentleys were a common sight. I spotted what seemed to be a pristine red 1963 Ferrari 250 GT SWB California Spyder zooming south on Scottsdale Rd on a sunny midmorning.
I got a glimpse of a white Tesla Model S sedan on the 101 near Cactus Road toward the end of morning rush hour. It was the first one I had seen, although I later stopped in the Tesla 'store' located in Scottsdale Fashion Square, where there were two finished vehicles as well as a chassis on display. The cars had a very hi-tech looking interior with pancake-flat bucket seats in front and an uncomfortable-looking bench in the back. The plug-in charger interface was a clever design. The Tesla looks better moving along the road than it does in the showroom.
Finally, I got my first look at the gull wing Mercedes SLS AMG, parked outside the Penske Mercedes store in Scottsdale. It was a silver 2011 model and was aggressively handsome. I later came upon The Ice Princess, a bizarre, 20-foot long custom bubble-topped six-wheel vehicle with an old 1950 Studebaker bullet nose, at a not-yet open museum in a rundown Glendale shopping mall.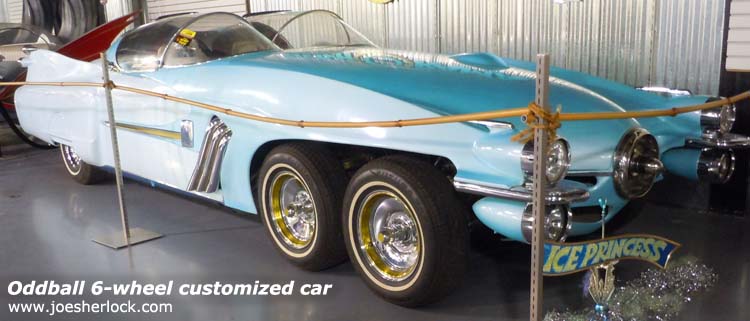 In Lake Havasu City, I spotted a white 2014 Lincoln MKZ in a restaurant parking lot. It looked chubby and unimpressive. I got my first in-person look at the Scion FR-S coupe. It was sleek and impressive from every angle except the front.
In related auto news, the Costco in Scottsdale has a car wash - $7.95 for The Works! I wish there were some in my neck of the woods.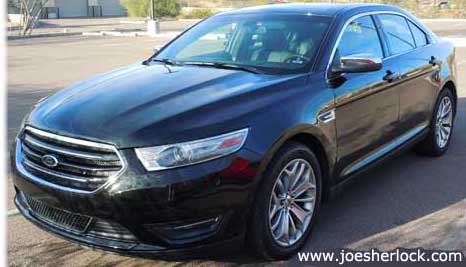 • Rental Car: Our metallic black 2013 Ford Taurus drove us nuts. With the car in park, I fired up the engine and was greeted with an annoying nanny noise until we buckled both shoulder belts. Real car guys know that you start the engine first, then buckle up while the motor oil gets flowing.
The #$@!&* MyFord Touch is a confusing mess of unintuitive controls combined with geographically senseless locations. It took me three days to figure our how to adjust the radio volume; four to figure our how to get the high-beams to work. The gas gauge graphic is a fishless aquarium that slowly drains as you drive.
The back-up camera makes different beeping warning sounds at different times for seemingly no reason. I've been renting vehicles for over 40 years and have never encountered such difficulties before. Naturally, there was no owner's manual in the glovebox.
Despite Soviet-heavy proximity keys, the car still has Welcome-to-the Eighties numbered keyless entry buttons on the on the driver's door. The interior is much nicer than its Ford 500 ancestor and the leather seats were very comfy. But the fuel filler cover didn't lock when the car was locked. Why are so many of the rental cars black with black interiors in hot-hot-hot Phoenix. I wonder if they catch fire in July?
We averaged 21 mpg during our 1,062 mile trip. Taxes and fees represented over 55% of total rental costs.
• Church Stuff: February second was the Festival of Lights, an old Celtic celebration coincident with the feast of St. Blaise and the blessing of throats. St. Mary's Basilica in downtown Phoenix had an impressive Mass to celebrate.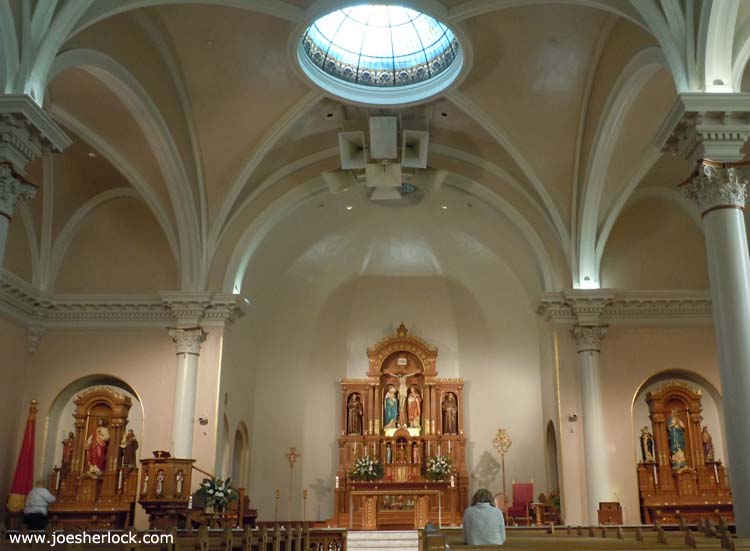 It included candles, lots of Latin chants, incense and a moving ceremony in the beautiful church which dates back to 1881.
The following week, we attended Mass at St. Bernard of Clairvaux in Northeast Scottsdale, a much newer structure named after the twelfth-century, noble-born French Cistercian - the founding abbot of Clairvaux Abbey in Burgundy. The church's interior is huge, expensive-looking and over-the-top: part Caesar's Palace, part Saks Fifth Avenue, part Crystal Cathedral and part-Monty Python Christmas-in-Heaven.
The talented young vocalist sounded like a 1989 Charlotte Church and the lector had the voice of Laurence Olivier. The church seats were upholstered and the kneelers had noise-reducing hydraulic dashpots. Large cut-glass bottles of holy oil with crystal stoppers were displayed on marble plinths near the entrance of the church. The bottles rested on milk glass which was lit from below. There was a waterfall built-in to the large marble structure as well. The large baptismal area was glassed-in and looked like a day spa at a Five-Diamond resort.
The church was full of fanciful alabaster sculptures and mosaic murals. Tiled scriptural phrases decorated the sides of the barrel-vaulted ceiling. There was a large stylized driftwood cross over the altar with a flying Jesus projecting eight or so feet out from the gilded driftwood abstraction.
We were subjected to a Diocesan money-pitch which included a professionally-produced movie shown on two large screens which descended from the ceiling. At the conclusion of the film, the screens quietly Ascended into Heaven. All was controlled by a fellow in an area near the back of the church - it was full of sophisticated A/V equipment with multicolored, blinking lights, joysticks and a mike. It looked like something one might see on a backstage tour of a large concert hall. Or on the Starship Enterprise.
Afterwards, a visiting dignitary from the Diocese gave a brief talk and did a step-by-step review of how to fill out the annual pledge card. He then announced that "while you're completing your pledge, Larry will play some inspiring music on the organ" in the same manner as sleazy television evangelists. Play us out, Larry, we probably won't be back.
• Restaurant Reviews: We had some exceptional dining experiences during our trip. Our top pick was Mastro's Steakhouse, followed closely by Bandera, The Capital Grille, Chompie's Deli and La Hacienda. All are located in Scottsdale.
We had sunny weather almost every day during our Arizona excursion; temperatures were typically in the low 50s at night and in the low 70s during the day. (permalink)
---