Cars Without Stories ... or ... Dead Objects; Living Memories
Physical things have their own utility - a car as transportation, a dwelling as a place to live - but also evoke memories within us. The memories may be associated with the object but are not an integral part of it.
Grace Houghton, associate editor at Hagerty, wrote: "Cars are dead-eyed without their stories, but the irony has always been that those stories are far less durable than the physical object, harder to preserve and rebuild, with less attention generally paid to their maintenance. Which makes sense, really; you have to work at that sort of thing."
When I wrote the eight-part series 'Cars In My Life' several years ago, I concentrated less on the physical specification of the cars and more about the memorable events that involved them. Seeing photos of those cars or similar examples at car shows or on television trigger those memories for me.

There are numerous presidential limos at The Henry Ford Museum. But the one which attracts all the attention is the Kennedy limousine, even though it was greatly modified following JFK's assassination and bears only a passing resemblance to the dark-blue sleek stretched Lincoln convertible conveyance of 1961. It draws crowds because of the story with which it will forever be saddled.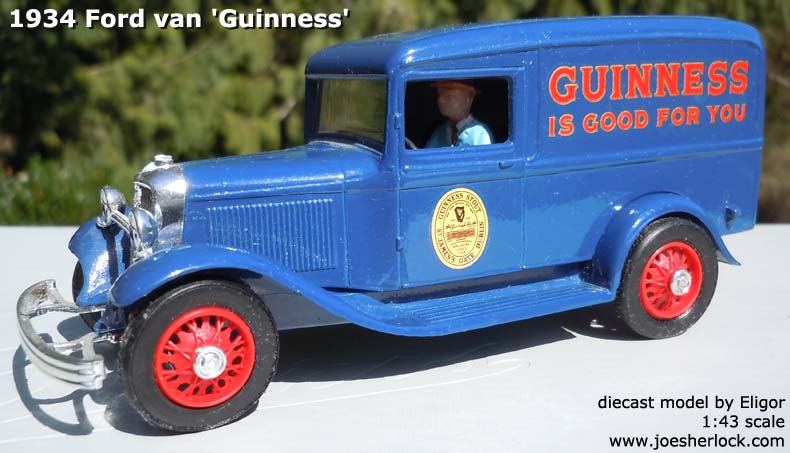 I have dark blue 1:43 scale model of a 1934 Ford van with Guinness markings on each side produced by Eligor, a French diecast model car company. I keep it in my office because it reminds me of my mom who gave it to me for Christmas in 1982. We didn't know it at the time but she only had one more Christmas left.
Objects remind us of pleasant events in our lives. Greeting card companies have made a fortune peddling cards depicting happy-time scenes from a happy hazy, generic past. And Hallmark Stores seem to have more nostalgic 'collectible' crap in them than actual cards.
Nevertheless, it is quite amazing what the seemingly simple stimuli of a nostalgia-evoking touchstone will accomplish - causing an ancient cortex to hum, buzz, grind gears like an antique Comptometer and dislodge, with a silent, cerebral 'ding', a long-lost memory. Triggered by something as simple as a smell, color or a passing reference to a long-forgotten name or event. Or a song. The human filing system is remarkable. Unique. And very disorganized. Old memories reappear randomly and unexpectedly - like discovering an old brass jacket button at the back of a sock drawer. Reproductions - authentic or not - become nostalgic totems, helping to bring back cheerful memories.
In 1957, singer/actress Della Reese scored a Billboard Top 20 hit with the song, 'And That Reminds Me': "I hear the sound of music, Your favorite kind of music, And that reminds me, dear, of you …" Almost every song you know reminds you of someone ... or a place ... or an event.
Sammy Cahn and Jule Styne wrote the 1941 song: 'I've Heard That Song Before':
"It seems to me I've Heard That Song Before
It's from an old familiar score
I know it well, that melody...
It's funny how a theme
Recalls a favorite dream
A dream that brought you so close to me
I know each word
Because I've Heard That Song Before …"
In late 2020, I wrote about how my O-gauge model train layout evokes memories of times past. "As night falls, I enjoy watching the trains and trolleys run around on my layout. I sit in a comfy chair with the lights turned down a bit and let my mind wander. I find that looking at various items on the layout unleashes a flood of pleasant memories. Poet Marinela Reka wrote, "Memories are like antiques; the older they are the more valuable they became."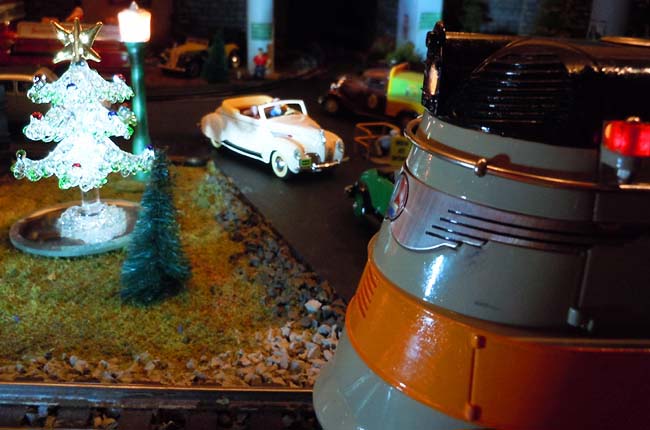 A Gift From Liz: This four-inch tall glass Christmas tree - with colored ball-like ornaments - is mounted on a mirrored base with a gold star on top of the tree. It was the perfect size for my model train layout and it has been on there ever since. The O-gauge toy locomotive in the foreground is a Lionel Hiawatha. The cream-colored model car in the background is a Matchbox Yesteryear 1938 Lincoln Zephyr convertible. It is just behind a green and black Frobly 1932 Ford V8 Victoria which is partly visible. This scene is on the lower level of the model train layout. That level has a 1930s theme and the whimsical crystal tree fits right in.
---
The small crystal Christmas tree can be found near the front of the train layout; it sparkles in the reflected light from street lamps and other nearby lights on the layout. The tree was given to me in 2007 or so by a very good friend, Liz Takai, who lived in Japan from the 1980s onward, often visited the U.S. to see friends and relatives.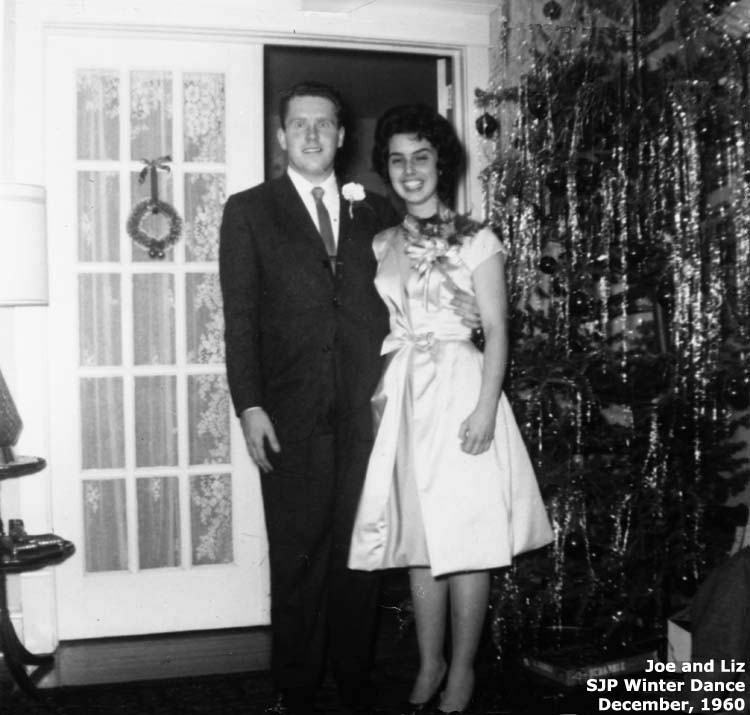 Sadly, Liz was diagnosed with dementia in 2017 and we could no longer reminisce about the good times and people we knew long ago. She passed away in December 2021 at age 76. Whenever I see the little tree, I think of her. I first met Liz when she was only 13. She was a very kind person as well as an accomplished pianist. She was my date for the 1960 Winter Dance as well as my Senior Prom. Elizabeth is survived by her husband Ken, son Kentaro as well as a grandchild and her brother, Ed.
Liz grew up in Pennsauken New Jersey and was a graduate of Notre Dame Academy on Rittenhouse Square in Philadelphia. She was predeceased by both of her parents. Requescat in Pace.
Names on tombstones or listings on Ancestry.com mean little to most of us. It's the stories of those people - the tales, the anecdotes, bittersweet memories - that bring people to life. One of my cousins remembered an uncle because "he used to juggle pears." Even though he raised a family, fought fires and undoubtedly accomplished many other things during his lifetime, the sands of time have eroded memories/impressions to a light pencil drawing almost 60 years after his death.
For most of us, there will be few lasting markers of our presence. The garden projects, home remodeling work, business reports, spreadsheets, tweets, Facebook entries and other little footprints disappear with the passage of time. Dust to dust.
We can only hope that the good deeds we've done, the lessons and values we've passed along to our children, grandchildren and/or the societal changes we've helped to create will somehow make an impact on subsequent generations. (posted 5/10/21)
---
Other Pages Of Interest
| blog: 'The View Through The Windshield' |
| greatest hits: index of essays & articles | blog archives | '39 Plymouth |
| model train layout | about me | about the blog | e-mail |
copyright 2021 - Joseph M. Sherlock - All applicable rights reserved
---
Disclaimer
The facts presented on this website are based on my best guesses and my substantially faulty geezer memory. The opinions expressed herein are strictly those of the author and are protected by the U.S. Constitution. Probably.
If I have slandered any brands of automobiles, either expressly or inadvertently, they're most likely crap cars and deserve it. Automobile manufacturers should be aware that they always have the option of trying to change my mind by providing me with vehicles to test drive. I'll dutifully report my road test impressions on this car blog.
If I have slandered any people or corporations, either expressly or inadvertently, they should buy me strong drinks (and an expensive meal) and try to prove to me that they're not the jerks I've portrayed them to be. If you're buying, I'm willing to listen.