Model Railroad Layout Photos
---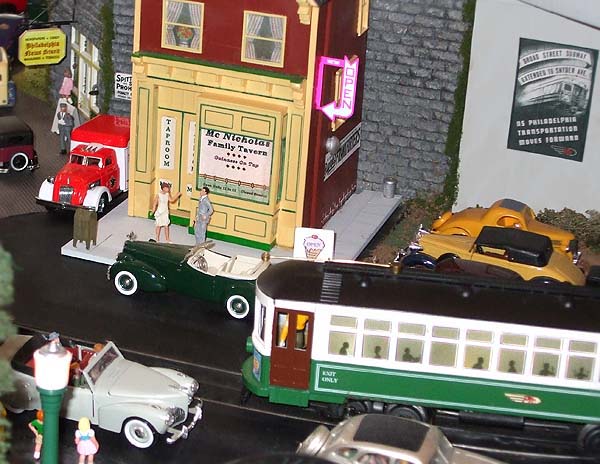 A green 1940 Packard Darrin convertible is parked in front of the McNicholas Family Tavern, just around the corner from The Philly Newsstand. A red and white Budweiser truck delivers beer to the tavern as a Brill PTC trolley passes by. A grey '41 Lincoln Continental can be seen in the foreground, behind a silver 1935 Chrysler Airflow.
---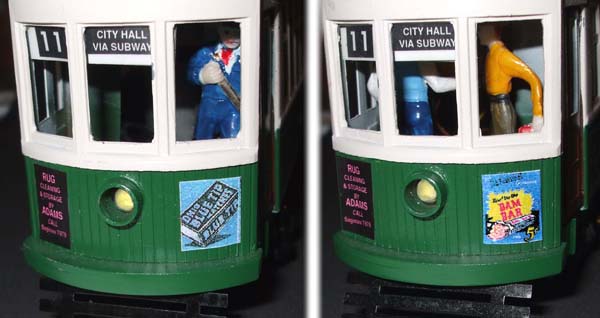 Front and rear views of Brill PTC trolley car shows advertising placards which were often seen in Philadelphia during the period.
---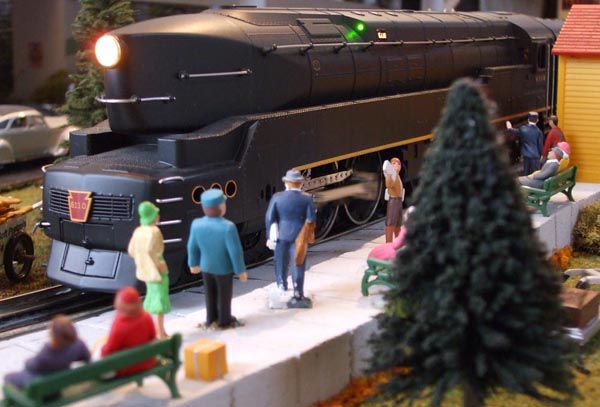 Pennsylvania Railroad T1 locomotive chugs into Union Station on the lower level of the layout.
---

Lionel Hiawatha enters crossing as it heads toward at Union Station. Several vehicles (red '40 Dodge convertible, black '35 Ford Fordor with red wheels and a green '32 Ford roadster) are at/near crossing. Note flagman on left. Aerotrain is visible in upper part of photo.
---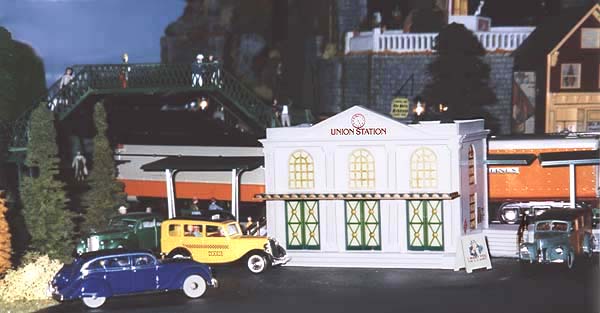 Lionel Hiawatha arrives at Union Station on lower level. Several vehicles (blue Chrysler Airflow, green '38 Cadillac, yellow '35 Ford taxi and '40 Ford woody station wagon) wait to pick up passengers. Note the gawkers watching the activities from the passenger overpass.
---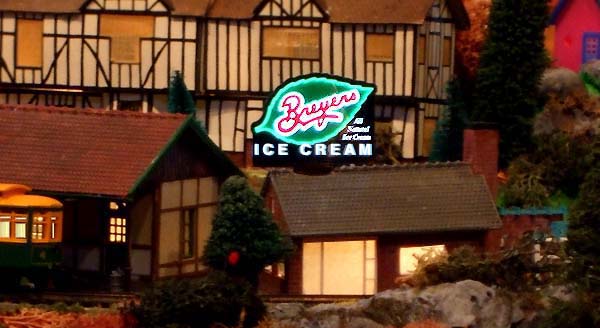 Breyers ice cream animated neon sign is located on the roof of the luncheonette next to the trolley station on the mountain level. It was added to the layout in 2008. In 1866, William A. Breyer started making ice cream and selling it to neighbors in Philadelphia. The vast majority of small corner stores in Philly had large Breyers ice cream signs, featuring the firm's trademark green leaf, hanging outside.
---

Observation cars- Broadway Limited (left) and Congressional Limited (right)
---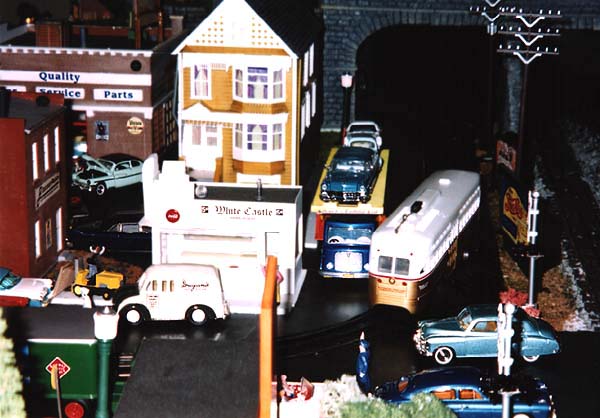 SEPTA trolley makes the turn near the back of the layout. In the foreground is a White Castle with the Gruesome Brothers Funeral Home behind it. A dark blue 1958 Cadillac 75 limousine can be seen between the White Castle and Discovery Plastics. Also near Discovery Plastics is a yellow 1955 Hyster forklift carrying 4'x8' sheets of masked Plexiglas. To the right of the Hyster is a Divco 'Dugan's Bread' van. In the foreground, part of a green Railway Express trailer can be seen. Also in the photo are a blue '48 Hudson Commodore, a blue 1950 Chevy sedan, a '51 Mercury Lido and an auto carrier full of fifties cars.
---

Scratch-built Philadelphia pretzel carts