---

1956 Cadillac Fleetwood 60 Special

In the early 20th Century, Cadillac began using the advertising slogan 'Standard of the World'. If you look at period newsreel footage, you'll see potentates, dictators, popes, celebrities and gangsters being ferried about in shiny black Caddys. Pope Pius XII had several Cadillacs (prewar and postwar), including a Derham-bodied model with a throne in the back seat that could be elevated. In those days, Cadillac was indeed the Standard of the World.
Cadillac was such a prestige brand that, starting in the 1920s (according to author Bill Bryson in his book, 'One Summer - America 1927'), "Cadillac maintained a showroom in Manhattan where, as its ads boasted, "Sales are neither made nor discussed." Visitors could admiringly inspect the latest models but had to go elsewhere for the sordid business of making a purchase."
Caddys of the 1948-1956 era were easily recognized because of those gleaming red taillights perched atop those uniquely-shaped finned rear fenders.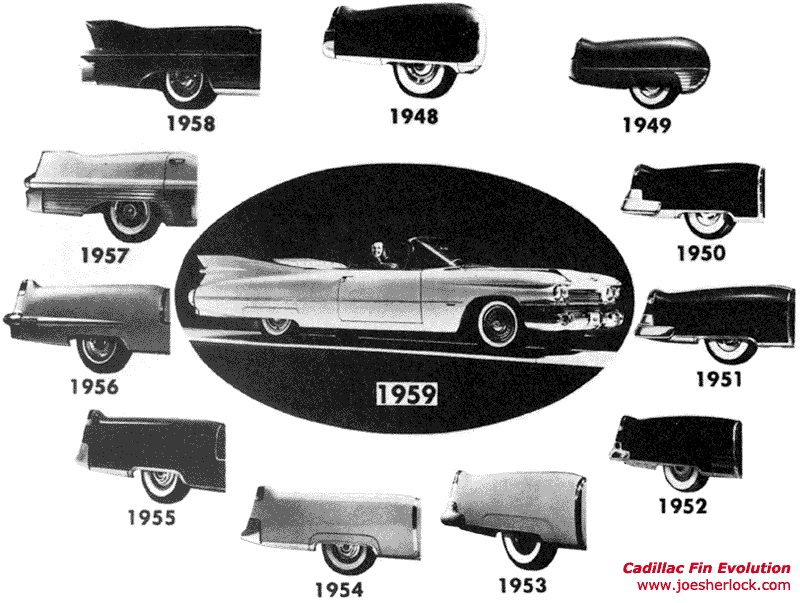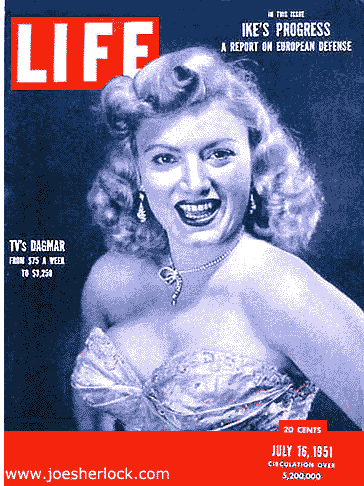 Cadillacs had those big sparkling front grilles, too. Caddys were distinctive and flashy, letting you know that the owner was someone who had "arrived." Who could forget the 'Dagmars' - those tit-shaped front bumper guards on '50s-era Cadillacs? They were named after a busty pinup and 'actress' of the day.
What had started out after the war as an artillery shell shaped bumper guard became an increasingly important part of Cadillac's complicated front grille and bumper assembly. As the 1950s wore on, the element was placed higher in the front-end design, negating their purpose as bumper guards. They also became more pronounced and ... ummm ... bosomy.
The Fleetwood Sixty-Special shown in the sketch was the top-of-the line sedan. Almost a limousine, it rode on a 133 inch wheelbase - four inches longer than the standard 62 models - and was 226 inches long. The big sedan weighed just over 4,600 pounds and carried a luxury price tag of $5,047 without any add-ons. Air conditioning was a $450 option. Cadillac's bored-out 365 cubic-inch V8 produced 285 horsepower. All models had the revised and refined Hydramatic transmission, which was reportedly more troublesome and subject to repairs than its 1955 counterpart. The sporty Eldorado 305 horsepower motor was an option on the Fleetwood. Tom McCahill tested a '56 Caddy, recording a top speed of 125 mph.
The 60 Series could be had with the standard sombrero wheelcovers or fitted with the optional Eldorado Sabre Spoke covers.
All '56 models were restyled on the body introduced in 1954. 1956 saw the introduction of the pillarless 4-door hardtop sedan, marketed as the 'Sedan deVille'. In '56 there was a new grille, with finer textured insert, and the repositioning of the parking lights in the bumpers, below the wing guards. Prominent oval exhaust ports exited out of the upper ends of the rear bumper. On the Fleetwood model, massive chrome spears with hash marks blended from the lower rear fenders into the oval bumper tips. Sixty Special script appeared on the front fenders below the Cadillac crest for the first time in the series history.
The 1956 model year was the end of an era for Cadillac as the marque's trademark taillight-capped tailfins made one final appearance. For the '57 model year, Cadillac received an all new body, riding on a new X-frame chassis.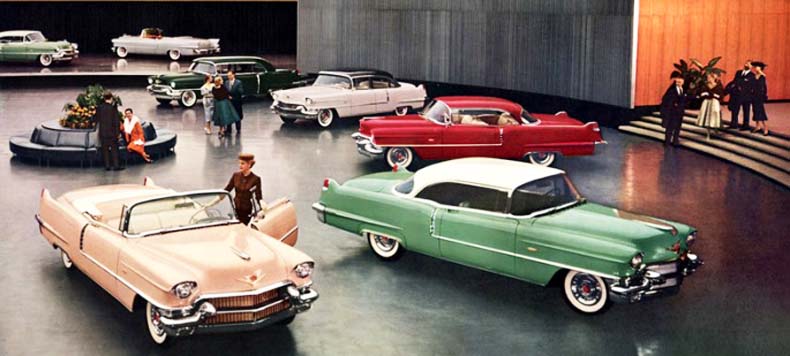 In '56, Cadillac sold its millionth postwar car. In '56, Cadillac sold 154,577 vehicles, an increase of almost 10% over 1955. 1956 was a generally lackluster for auto sales, although the completely restyled '56 Lincoln racked up 50,322 unit sales, far below Cadillac, but a big improvement over the lackluster '55 Lincoln.
Cadillac produced 17,000 of the big Sixty Special sedans sedans that year and 2,150 examples of the pricey ($6,556) and flashy Eldorado found buyers in '56.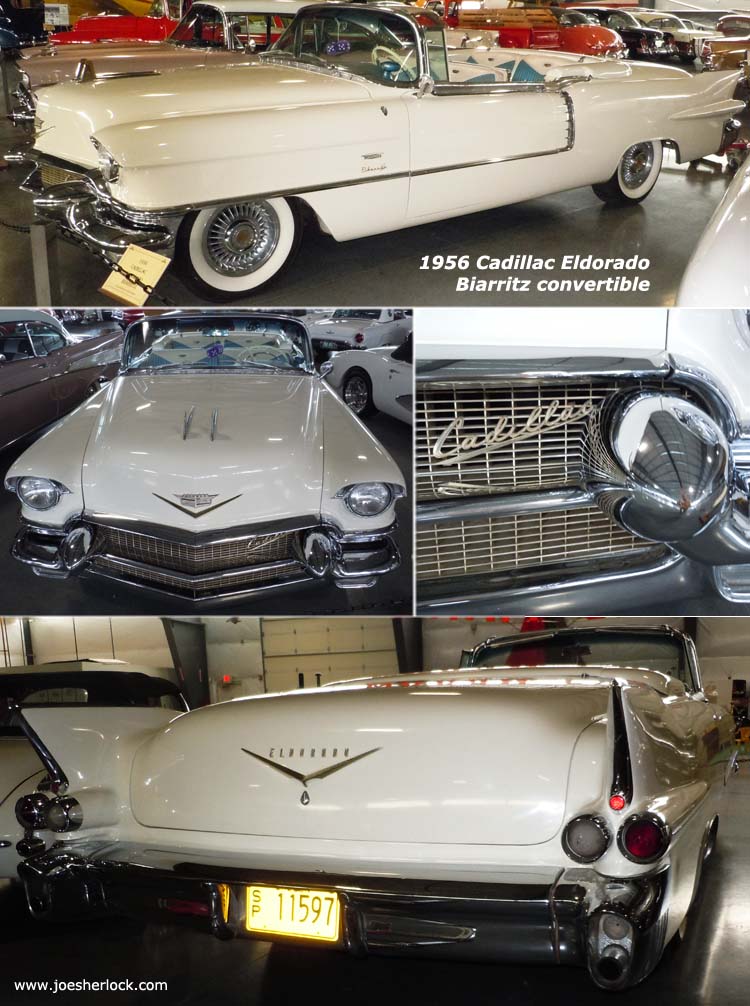 This top-of-the line Cadillac Eldorado convertible is one of only 2,150 Eldos produced in 1956. In those days, Caddys - especially Eldorado models - were the sheet-metal equivalent of a sartorial ensemble consisting of a navy blue double-breasted blazer with bespoke brass buttons, white trousers and tasseled, bone-hued loafers, worn by a man holding a large Cuban cigar. Flush - and not subtle about it. Below is a nicely-detailed scale model of the '56 Eldorado Biarritz: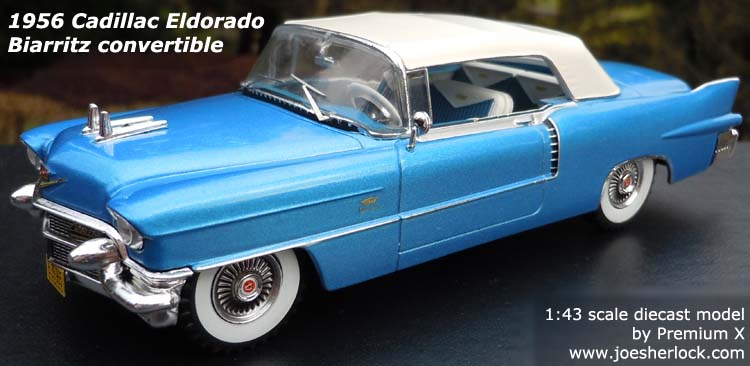 I've always liked the song, 'Look At That Cadillac' by Stray Cats. That's the one where Brian Setzer sang, "I'm puttin' all my money straight right in the bank. Well, I'm a half way to gettin' my big black Cadillac tank!" Who knows? It might have been a '56 Fleetwood Sixty Special. (7/31/14)
Remember When: 1956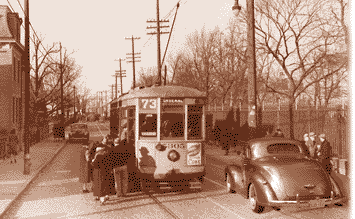 In 1956, cultural icon-to-be Elvis Presley appeared on the national scene with several #1 selling records. Elvis used some of his earnings to buy a '56 Premiere coupe (wisteria with a white roof) and, later, a white Continental Mark II.

Some of the new products introduced this year were Raid insecticide, Crest toothpaste and Comet cleanser. Ford Motor Company went public, issuing stock. Midas Muffler and Burger King began franchising. The 'Dear Abby' advice column debuted.

New words for 1956 included brainstorming, brinkmanship, industrial park and tranquilizer.

Ike was reelected. Dean Martin and Jerry Lewis split up. Briget Bardot made her film debut in 'And God Created Woman.' 'In God We Trust' became the U.S. motto. Grace Kelly married Prince Rainier of Monaco.

Chrysler and Packard offered pushbutton transmissions; Packard also offered power door locks. The first Volvos (PV444 models, which reminded folks of a shrunken '47 Ford) were imported to the U.S. Ford offered seat belts and padded dashboards as options and dished steering wheels as standard equipment, touting its cars as safer. The public wasn't interested, then-sales manager Lee Iacocca developed the oft-heard axiom, "Safety doesn't sell."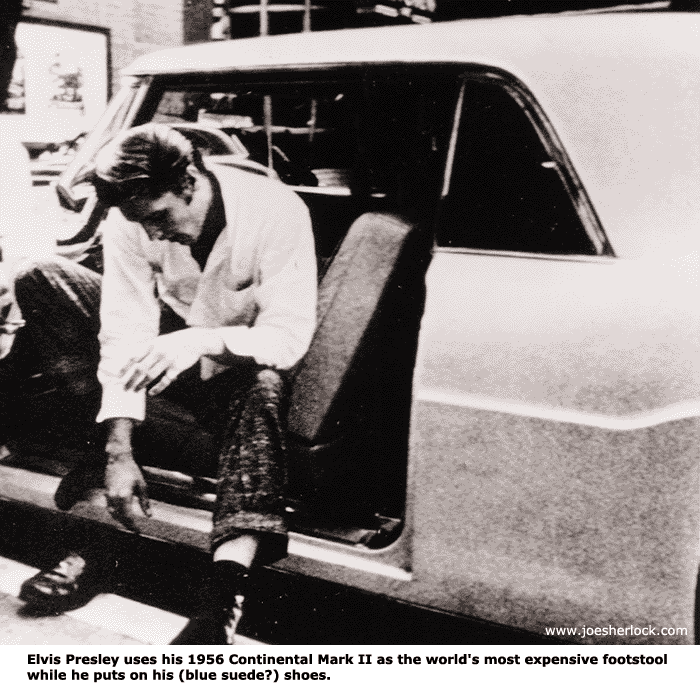 Best-selling songs of 1956 were Elvis' 'Hound Dog' and 'Don't Be Cruel'. Other record hits included Guy Mitchell's 'Singing the Blues', Fats Domino's 'Blueberry Hill', The Platters' 'My Prayer' and 'The Great Pretender', Carl Perkins' 'Blue Suede Shoes', 'The Wayward Wind' by Gogi Grant, Pat Boone's 'I Almost Lost My Mind', Dean Martin's 'Memories Are Made of This', 'Hey Jealous Lover' by Frank Sinatra and Elvis Presley's 'Heartbreak Hotel.'
Top 1956 movies included 'The Ten Commandments', 'Around the World in 80 Days', 'Giant', 'The King and I', 'Love Me Tender' and 'High Society'. In 1956, a movie ticket cost 60¢.
Deaths included actor Bela Lugosi, automobile manufacturer Preston Tucker, bandleader Tommy Dorsey, essayist H.L. Mencken, baseball legend Connie Mack, abstract artist Jason Pollock and comedian Fred Allen.
The Yankees won the World Series over the Brooklyn Dodgers: 4 to 3.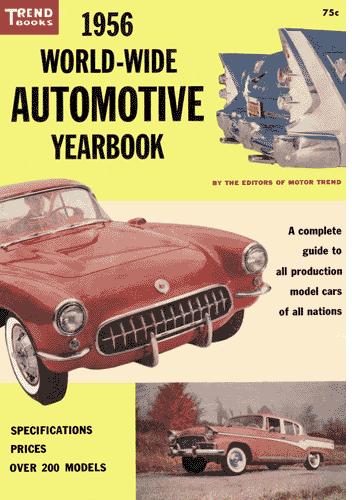 ---
More AutoSketch car drawings can be found here.
---
Other Pages Of Interest
| blog: 'The View Through The Windshield' |
| essays: greatest hits | blog archives | '39 Plymouth | model train layout |
| about me | about the blog | e-mail |
copyright 2014-21 - Joseph M. Sherlock - All applicable rights reserved.
---
Disclaimer
The facts presented on this website are based on my best guesses and my substantially faulty geezer memory. The opinions expressed herein are strictly those of the author and are protected by the U.S. Constitution. Probably.
Spelling, punctuation and syntax errors are cheerfully repaired when I find them; grudgingly fixed when you do.
If I have slandered any brands of automobiles, either expressly or inadvertently, they're most likely crap cars and deserve it. Automobile manufacturers should be aware that they always have the option of trying to change my mind by providing me with vehicles to test drive.
If I have slandered any people or corporation, either expressly or inadvertently, they should buy me strong drinks (and an expensive meal) and try to prove to me that they're not the jerks I've portrayed them to be. If you're buying, I'm willing to listen.
Don't be shy - try a bribe. It might help.
---
---