Model & Toy Cars (2021)
---
On Every Kid's Christmas Wish List: Check out this 1957 Revell catalog for 1:32 and 1:24 model car kits: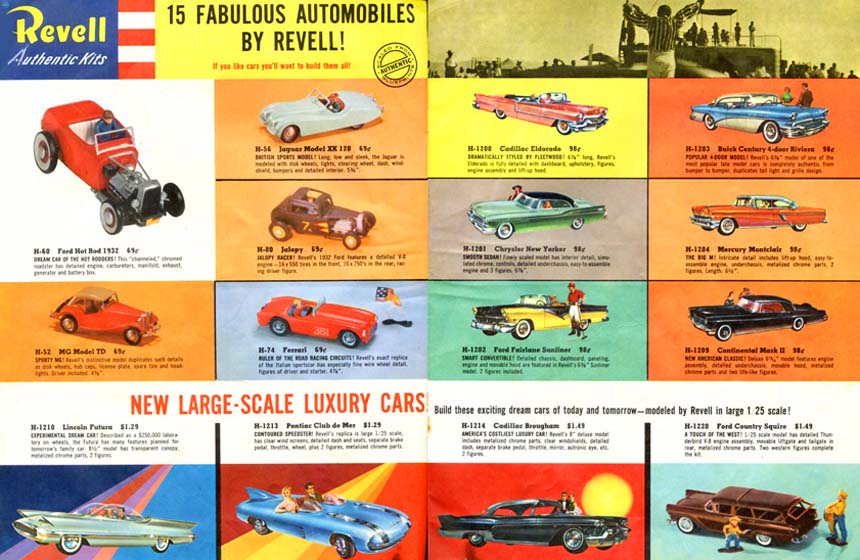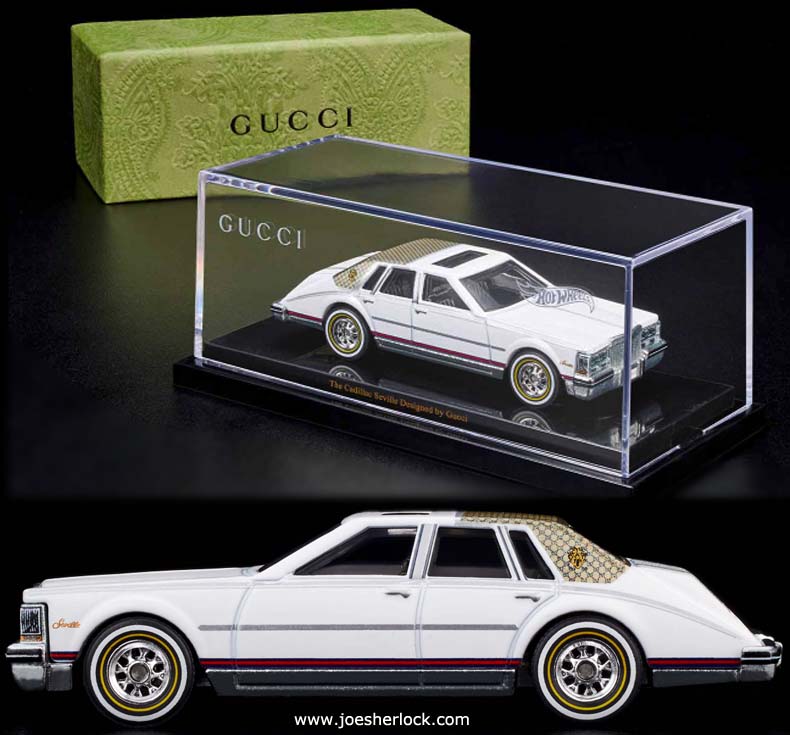 The folks at Mattel Creations - the Mattel division responsible for high-end, collector-grade products - also say this is the first official collectible from Gucci, and the detailing on this is certainly worthy of the partnership. The final price is a Gucci-worthy $120.
The 1:64 scale vehicle is encased in an acrylic display with an authentic Gucci box and slipcover It also features the brand's signature green paper. According to Mattel, every detail "will take your collection to a new level of distinction, beauty and prestige."
I remember when Hot Wheels sold for 49¢. (posted 10/11/21, permalink)
---
Metal Car Action Fleet: This late 1940s or early 1950s advertisement was excerpted from a larger ad for a firm named Novelty Mart, located at 59 East 8th St. in New York City.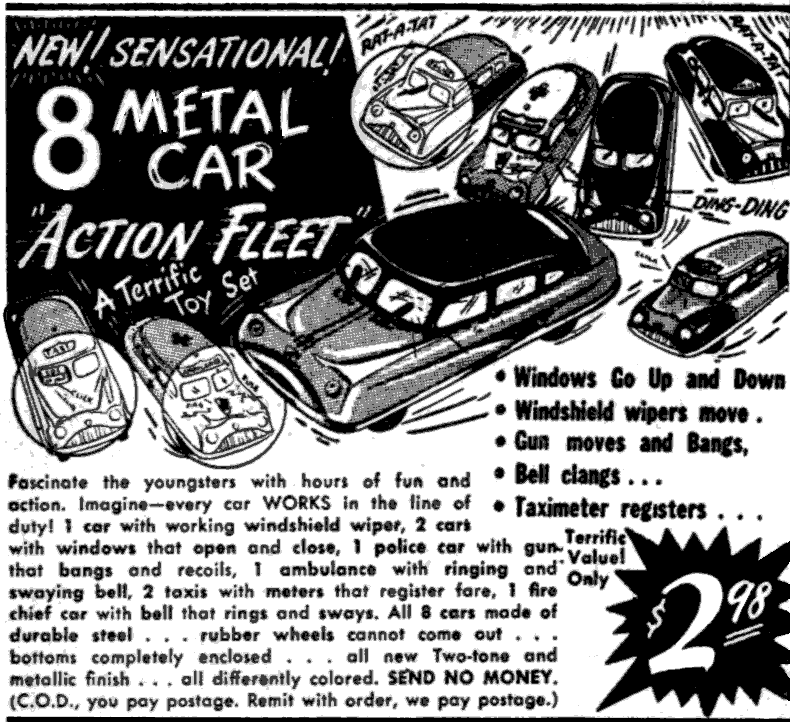 Shipping was included if you prepaid for your order. The cars appear to be lithographed tinplate and no size is given. But each car had a working feature of some sort, which is impressive. It sounded like a good deal - eight cars for $2.98, about 38¢ per car. But it's important to consider the cost of other toy cars of that era - Tootsietoys, Goodie and other diecast toy cars sold for only a dime. In 1954 or so, Matchbox introduced their line in the U.S. Each little item was priced at 25¢. (posted 10/7/21, permalink)
---
Sleek Gift: For Father's Day, I received a resin-cast 1:43 scale model of a 1953 Pegaso Z-102 2.5 Cupola Coupe made for Matrix Models (a Netherlands company) in China. The model has photoetched detail components and run size was limited to 408 examples.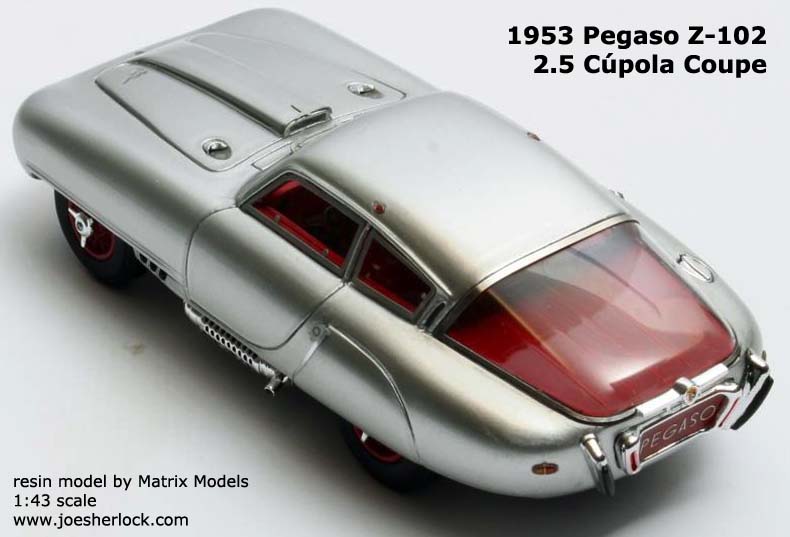 The Pegaso Z-102 was a limited-production Spanish sports car produced by Pegaso (a maker of trucks, buses, tractors and armored vehicles) in both coupé and cabriolet form between 1951 and 1958. The Z-102 was the fastest production car in the world at the time, having reached a top speed of 151 mph. The silver scale model is of a special-bodied 1952 Z-102 'Cupola'. The Cupola was displayed at the New York Auto Show in 1953.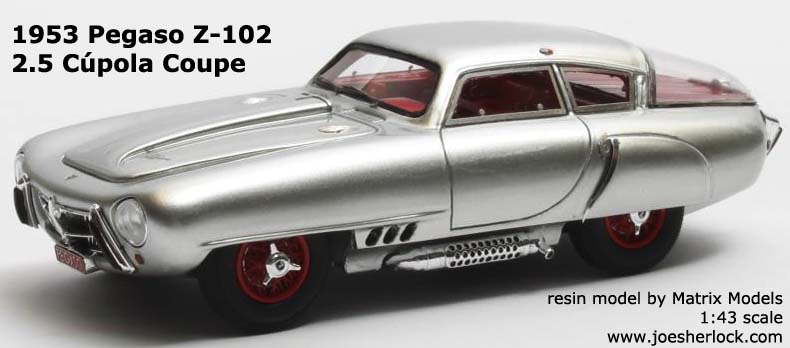 According to an article in Hemmings, only two 'Cupola' models, with a distinctive and oversize aero and futuristic Kammback-style rear window, side exhausts and partially skirted fenders, were ever built. "The car's radical styling wasn't penned by a single designer; instead, Spanish students were asked to sketch what cars would look like in the future, and the resulting design cues were brought to life by in-house coachbuilder Enasa. Power for the Cupola came from a normally aspirated, double-overhead camshaft, 2.5-liter 90-degree V-8, rated at 165 horsepower and 136 pound-feet of torque. It was shifted through a five-speed manual transmission. The car's compact size and relatively light weight (below 2,900 pounds) would have delivered engaging performance."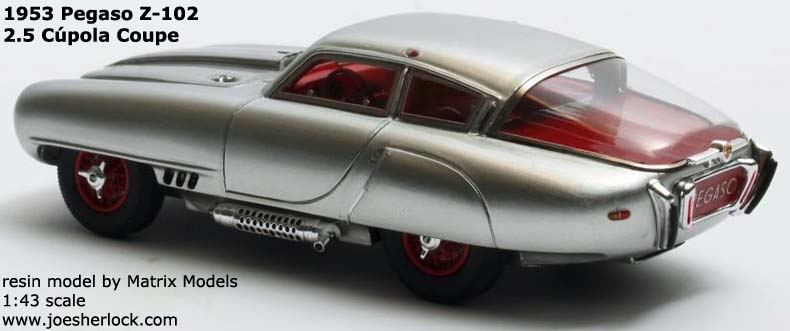 Only a total of 80 Pegaso sports cars were produced over a eight year period - 71 Z-102 and 9 Z-103 models.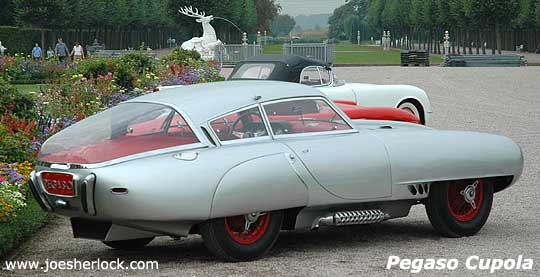 As a kid, I had the silver Pegaso Cupola on my Gotta-OwnDream Car List. Almost seventy years later, I finally got one, even if it's only a scale model. (posted 6/23/21, permalink)
---
Earth-Friendly Toys: Matchbox, iconic manufacturer of toy and model cars, is beginning to produce environment-friendly models. A Tesla model features window glass, chassis, wheels and interior made from 37% recycled plastic. The body is produced from 62% recycled zinc.
Outer packaging is old-time printed, cardboard boxes, similar to the Matchbox offerings in the 1960s - no blister packs or plastic windows. Boxes have protective liner trays containing "70% biomass from potatoes and is therefore compositable at home or by local food recycling centers."
Once an iconic British brand, Matchbox is now owned by parent company, Mattel Inc., which purchased the brand in 1997. It is expected that Mattel's other brands - Hot Wheels, Barbie, Thomas & Friends and Polly Pocket - will probably follow suit. "Gone is the traditional plastic blister glued to a piece of cardboard, a format that's been in use for decades. Instead, the car will reside in a small cardboard box, returning to the formula that the brand started with 68 years ago (and where the name Matchbox originated from). The paper and wood fiber materials that make up the packaging will be certified by the Forest Stewardship Council."
Jack Odell was a self-trained engineer whose daughter's mischievous habit of taking spiders to school in a matchbox prompted him to make her a tiny steamroller as a substitute. This invention led to Matchbox Toys, maker of 3 billion Lilliputian vehicles in 12,000 models.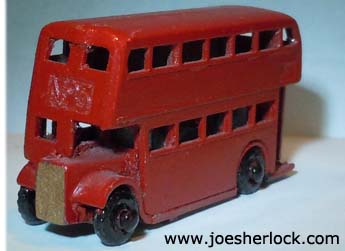 An original Matchbox 5A double deck bus - 2 inches long and introduced in 1954, was purchased by me sometime that year or the next. It has 'Made in England by Lesney' stamped on the base and 'No. 5' is cast on the upper front and rear boards. This bus was heavily used - played with - by me and, later, my brother and even later by my son. By the early 1980s, it was pretty beat up; most of the paint was gone and the yellow 'Buy Matchbox' decals were worn off, so I repainted the body in something close to its original red color and painted the metal wheels black.
---
Matchbox offered miniature vehicles sized just right for a child's hand but hard to swallow. No batteries required either. By 1962, Matchbox was pumping out a million toy automobiles a week, more than the number of real ones made by all the world's major automakers combined. But the firm later saw its sales drop 75% after the introduction of Mattel's slick and fast Hot Wheels in 1968. Matchbox declared bankruptcy in 1982 and has had several owners since.
It is the world's second largest toy maker in terms of revenue, after The Lego Group. Most of Matchbox's toys are manufactured in China. (posted 4/26/21, permalink)
---
Diecast With A Sentimental Story: I have dark blue 1:43 scale diecast model of a 1934 Ford van with Guinness markings on each side produced by Eligor, a French model car company.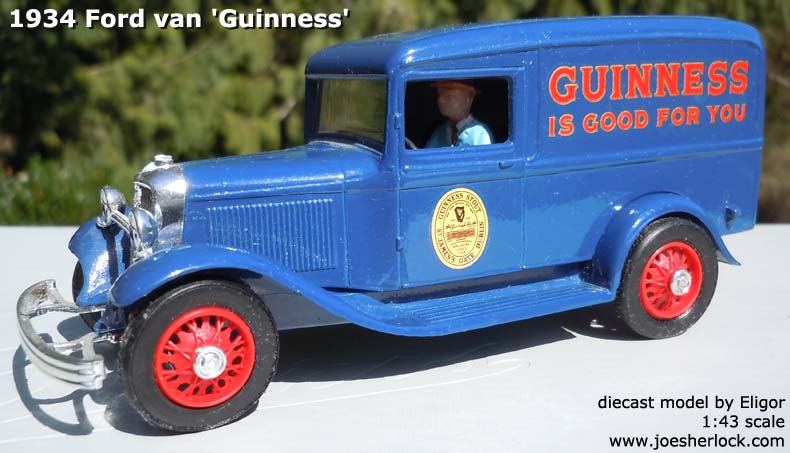 I keep it in my office because it reminds me of my mom who gave it to me for Christmas in 1982. We didn't know it at the time but she only had one more Christmas left. (posted 4/16/21, permalink)
---
Another Christmas Gift: I also received a 1:43 scale model of the 1956 Pontiac Club de Mer, a one-off show car featured in that year's GM Motorama.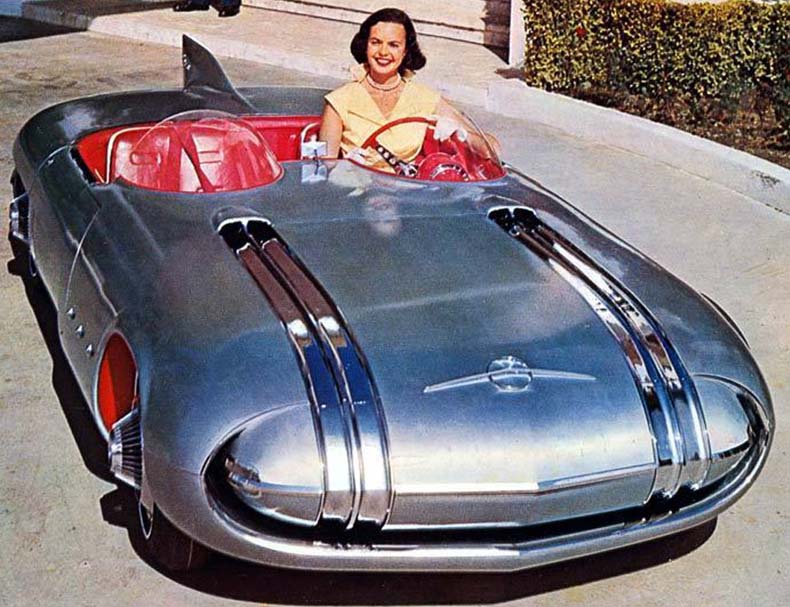 The Club de Mer roadster was reportedly the brainchild of GM Styling VP, Harley Earl, although Pontiac Studio head Paul Gillian was also involved and deserves credit as well. The de Mer was a two-door, two-passenger sports car. It had a sleek, low-profile body and was powered by a large engine - a 287 cubic-inch Pontiac V8, modified to produce 300 horsepower. The car measured 180 inches long and rode on a 103-inch wheelbase.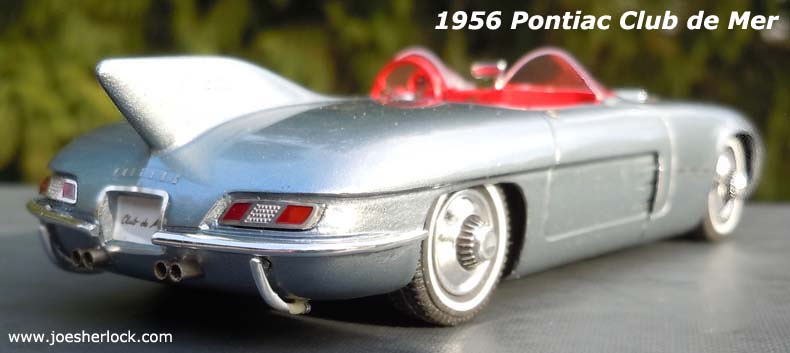 It was finished in silvery-blue paint with a bright red leather interior. The Club de Mer rode on small-for-the era 13-inch tires. It is believed that the original was scrapped by GM in 1958, although two replicas have been constructed by private enthusiasts.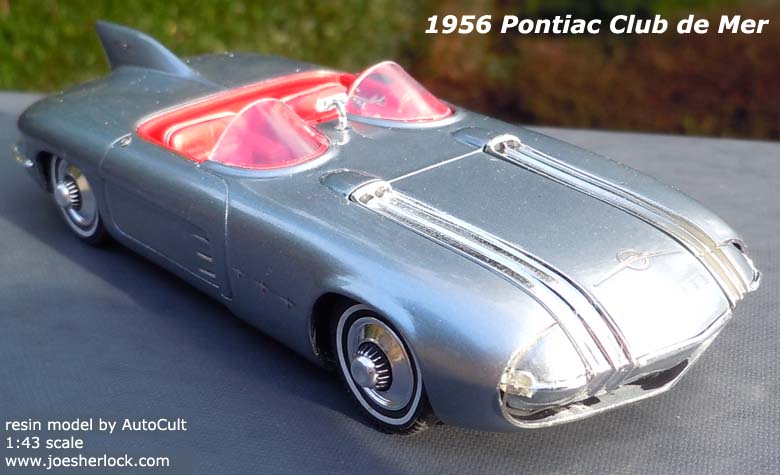 My AutoCult cast resin model is one of only 333 produced and was made in China. AutoCult GmbH is a model company located in Wendelstein, Germany. (posted 1/12/21, permalink)
---
A Gift From Santa: One of the Christmas gifts I received in 2020 was a 1:43 scale model of a 1948 Cadillac Series 62 with a custom Saoutchik cabriolet body.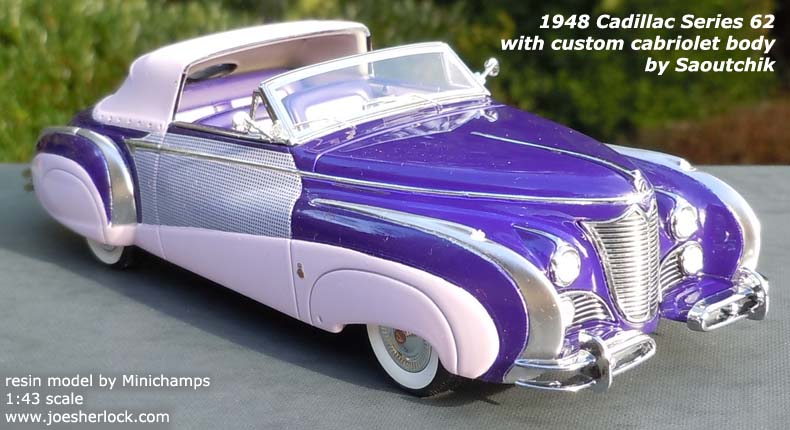 This three-position cabriolet by Saoutchik, has painted cane work accents on the sides, and skirted fenders. French coachbuilder Jacques Saoutchik and his son Pierre built two dramatic show cars based on the Cadillac Series 62 chassis in 1948. This is the only one with the unique purple over pink paint scheme and it is believed that this was the example shown at the 1949 Paris Salon. This car was displayed at the Blackhawk Collection Museum when we visited there in 2010.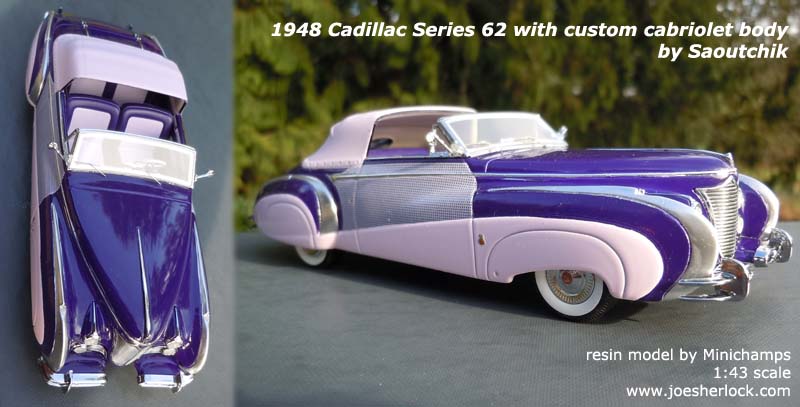 This Minichamps model was resin cast in China and is number 452 of 999 pieces made. Minichamps is a brand of Paul's Model Art, a German firm. (posted 1/6/21, permalink)
---
More toy car photos and stories are posted here.
Read more about the model car business here.
---
Other Pages Of Interest
copyright 2021 - Joseph M. Sherlock - All applicable rights reserved
---
Disclaimer
The facts presented on this website are based on my best guesses and my substantially faulty geezer memory. The opinions expressed herein are strictly those of the author and are protected by the U.S. Constitution. Probably.
Spelling, punctuation and syntax errors are cheerfully repaired when I find them; grudgingly fixed when you do.
If I have slandered any brands of automobiles, either expressly or inadvertently, they're most likely crap cars and deserve it. Automobile manufacturers should be aware that they always have the option of trying to change my mind by providing me with vehicles to test drive.
If I have slandered any people or corporations, either expressly or inadvertently, they should buy me strong drinks (and an expensive meal) and try to prove to me that they're not the jerks I've portrayed them to be. If you're buying, I'm willing to listen.
Don't be shy - try a bribe. It might help.
---