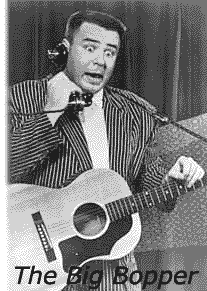 I remember The Day The Music Died; I was a sophomore in high school. On February 3, 1959, I heard the news on the morning radio: Richie Valens, Buddy Holly and The Big Bopper had perished in a plane crash.
Of course, The Music didn't really die. Because The Music consisted of a large galaxy with several pop giants (Elvis, Chuck Berry, Nat King Cole, Sinatra, etc.) and hundreds of very talented but smaller stars (Bobby Darin, Chuck Berry, Connie Francis, Lloyd Price, Frankie Avalon, Sam Cooke, Johnny Mathis, Bobby Rydell, Dion, Jackie Wilson, Brook Benton, Gene Pitney, Fats Domino, Brenda Lee, Roy Orbison, Ben E. King, Paul Anka, Gene McDaniels, Del Shannon, Bobby Lewis and many, many more).
Make no mistake about it - the three Fallen Idols were in the smaller star category. Buddy Holly had several hits but his later (Cricket-less) songs were less than stellar saleswise. (He signed on for the grueling and ill-fated winter tour because he needed the money.) Richie Valens produced only a couple of chartmakers. J.P. Richardson (aka - The Big Bopper) was - at the time of his death - a one-hit wonder. I intend no putdown of these gentlemen; I have several of Buddy Holly's songs in my iTunes library and know all the words to The Bopper's 'Chantilly Lace'. But all are remembered today primarily because they died Famously and Tragically. And therefore, became Larger Than Life. (Hello, Anna Nicole Smith. Or, as The Bopper would have said, "Hello, baby!")
Forest Lawn Cemetery in Beaumont Texas wanted to move The Big Bopper's gravesite to a more visible location with a life-size statue and historic marker. The Bopper's only offspring - a son who was yet unborn when his father died - decided to have the remains examined to put to rest rumors about some Great Plane Crash Conspiracy (Thank you, internet!) and to view his dad's body. (hat tip - Tom McMahon)
So, in March 2007, The Bopper's 48 year-old, 16 gauge steel Batesville crank-sealer casket (with slightly prow-shaped ends and low-slung handles - the closest thing in the '59 coffin world to a nosed-and-decked-and-lowered Jimmy Dean Mercury), sealed inside an inch-thick steel vault was unearthed, unsealed and opened.

The forensic anthropologist who examined the remains reported that Richardson probably had died quickly from the massive injuries he suffered in the plane crash. No surprises. No evidence of any foul play. No smoking gun.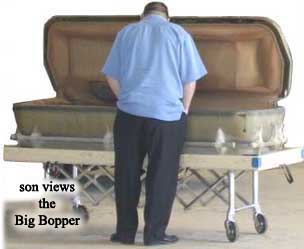 Jay Richardson, the son, was present throughout the autopsy. When the casket lid was raised, it revealed a fairly well-preserved corpse dressed in a black suit and a blue-and-gray striped tie. The Bopper wore socks, but no shoes. (Hey, ya can't really bop with shoes on, baby!) The mottled, bluish face was slightly moldy and misshapen - perhaps by the shifting of mortician's putty used to reconstruct the crushed skull. The fingers had "mummified into curled, dark brown talons." But, remarkably, The Bopper's thick brown hair was reportedly "still perfectly coiffed in his familiar, 1950s flat-top."
Jay, who apparently inherited his father's droll wit, remarked that the Big Bopper would never have chosen to be buried in such a tie.
The Bopper was reinterred in a replacement casket donated by the Batesville Casket Co.** The new, Sapphire Blue box had that ubiquitous, anonymous shape of contemporary mass-produced metal burial containers. No low slung handles. No stylish prow-ends. Just straightforward, innocuous and slightly rounded - not unlike a contemporary Honda or Toyota minivan.
It would have been much more fitting to put The Bopper on ice while Chip Foose or some similarly famous car customizer/restorer did a proper restoration and reupholstering of that ol' '59 Batesville. And maybe added a little Von Dutch-like pinstriping. And, perhaps, fins. But that's just my opinion. (posted 3/26/07)
---
Update (12-29-08): Here's the latest, courtesy of Ron Franscell of the Beaumont Enterprise: "Rock 'n' roll's most macabre historical artifact will go on the block when the family of the late 1950s pop star J.P. 'The Big Bopper' Richardson auctions his casket on eBay sometime in the next few weeks - almost 50 years after 'the day the music died.'"
"The Big Bopper's 16-gauge steel casket was exhumed last year from his original grave at Forest Lawn Cemetery in Beaumont so it could be moved to a more visible location with a life-sized statue and historic marker."
"Jay Richardson, the Bopper's son, plans to sell the empty casket on eBay to raise money for a musical show about his father and to keep the Bopper's memory alive. Born three months after the crash, Jay, who lives in Katy (TX), never met his father in life - but saw him for the first time at his exhumation."
"Wouldn't it be wonderful to bring Dad back to life?" Jay, 49, said recently from Canada, where he was touring with a tribute act to his father, Holly and Valens.
---
** Another story involving Batesville caskets can be found here.