Hot Rod Lincoln - The Car & The Song

(
posted 3/26/12, originally published 1999
)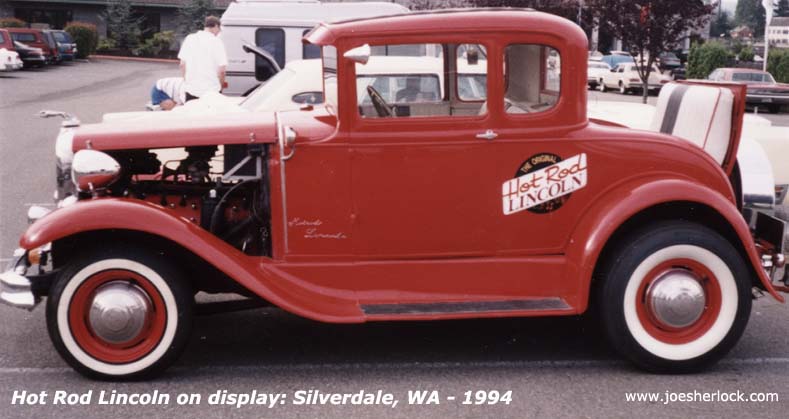 My pappy said, "Son, you're gonna drive me to drinkin',
If you don't stop driving that hot rod Lincoln."
The first time I ever heard the song 'Hot Rod Lincoln' was in 1960. On WIBG - Radio 99. The singer was Johnny Bond. His version was the one that caught on in the Philadelphia area. In those days, there were 'regional hits' - that's why many of those reissued compilation albums have songs or artists you don't recognize.
'Butterfly', a 1957 hit for Andy Williams, can't hold a candle to the 1956 Charlie Gracie version released on Philadelphia's Cameo Records label. It was a far bigger hit in the NY-NJ-Philly universe than the lame Williams rendition.
Charlie Ryan recorded 'Hot Rod Lincoln' in 1955; it became a hit for him during the 1957-60 period, depending on what area of the country you lived in. I never heard his version until I bought - you guessed it - a car songs compilation album in the mid-1960s.
Nevertheless, the creator of 'Hot Rod Lincoln' is Charlie Ryan. He fashioned both the car and the song.
Charlie Ryan is a musician, songwriter and a car guy. In the late 1940s, he purchased a used 1941 Lincoln Zephyr four-door sedan. After a couple of years, he decided to make a hot rod out of it. He removed the Zephyr body, cut two feet off the frame to shorten the wheelbase and dropped a 1930 Ford Model A coupe body on it. At first, the car was painted black with red wheels. Charlie installed a '48 V-12 engine in it along with the 3-speed with overdrive '48 transmission.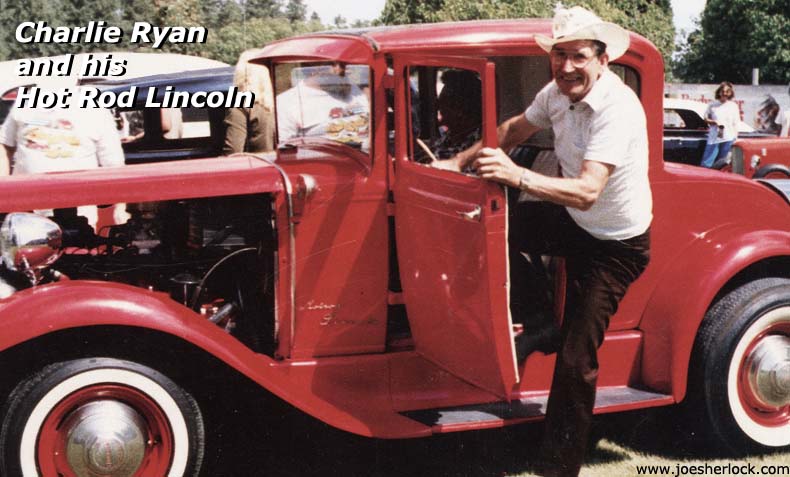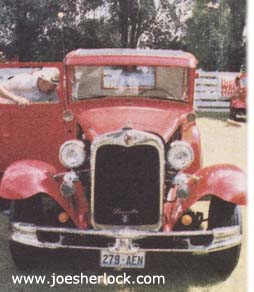 The car has a lot of Lincoln touches on it, including cut-down Zephyr bumpers, a Lincoln emblem on the radiator and the Lincoln greyhound radiator ornament. The interior has a narrowed '41 Zephyr dashboard. In 1960, the car was repainted red. It was repainted again in 1986 in "Datsun Z-car red." Charlie told me, "The paint's the only Japanese thing on it."
While he was working on the car, Charlie was thinking about the song. By the early 1950s, he had the lyrics worked out and began performing it. Charlie Ryan recorded 'Hot Rod Lincoln' in 1955; it was released as a single by Souvenir Records in 1957. It became a major hit in many regions of the United States. While traveling to perform, Charlie and his wife Ruthie often took the Hot Rod Lincoln on tour. By 1960, it needed another engine. Charlie installed a 1939 Lincoln V-12. It's still powering the car today.
Other car songs were written before Charlie's, everything from 'My Merry Oldsmobile' (1903) to Jackie Brentson's 'Rocket 88' (1951 - and, with Ike Turner on keyboard, it's considered by many to be the very first rock n' roll song). But 'Hot Rod Lincoln' was the first car song to become a major hit and make the Billboard top ten list.
'Hot Rod Lincoln' has been performed by many artists - Johnny Bond had a regional hit with the song in 1959; Commander Cody and the Lost Planet Airmen covered it in 1972. In the 80s, Asleep At The Wheel released a very nice version. In 1995, Jim Varney (aka: Ernest) recorded a cover which was used in 'The Beverly Hillbillies' movie.
Today, at 83 years old, Charlie Ryan is semi-retired - but he still occasionally performs 'the song'. At the Lincoln & Continental Owners Club's 1994 National Meet in Silverdale Washington, Charlie brought the car and gave a live performance of 'Hot Rod Lincoln' - to the cheers of a room filled with over 300 Lincoln enthusiasts.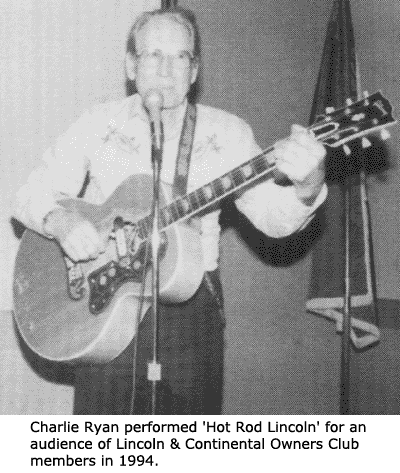 Charlie and Ruthie (married 62 years) have been awarded lifetime memberships in the Lincoln & Continental Owners Club.
They spend their summers at their Spokane, Washington home; winters are spent relaxing in Arizona. And, after all these years, they still have the Hot Rod Lincoln. Charlie and Ruthie often trailer it to events pulled by Charlie's big 1979 Lincoln Continental Mark V Cartier Edition coupe.
We hope that Charlie will never "quit drivin' that - Hot ... Rod ... Lincoln!"
article copyright 1999 Joseph M. Sherlock All Rights Reserved
---

Update: Charles S. 'Charlie' Charlie Ryan died in February 2008 at age 92. He is survived by his wife of over 70 years, three children, 14 grandchildren and 28 great-grandchildren. Charlie always had a kind word for everyone and had lots of stories about his cross-country travels as a musical performer. He was a real gentleman and it was a delight to have known him.
Update II: At Barrett-Jackson's 2013 Scottsdale auction, Charlie Ryan's one-of-a-kind, recently-restored Hot Rod Lincoln went under the auctioneer's gavel for a mere $97,000.
---
Other Pages Of Interest
copyright 1994-99, 2012-21 - Joseph M. Sherlock - All applicable rights reserved
---
Disclaimer
The facts presented on this website are based on my best guesses and my substantially faulty geezer memory. The opinions expressed herein are strictly those of the author and are protected by the U.S. Constitution. Probably.
Spelling, punctuation and syntax errors are cheerfully repaired when I find them; grudgingly fixed when you do.
If I have slandered any brands of automobiles, either expressly or inadvertently, they're most likely crap cars and deserve it. Automobile manufacturers should be aware that they always have the option of trying to change my mind by providing me with vehicles to test drive.
If I have slandered any people or corporations, either expressly or inadvertently, they should buy me strong drinks (and an expensive meal) and try to prove to me that they're not the jerks I've portrayed them to be. If you're buying, I'm willing to listen.
Don't be shy - try a bribe. It might help.
---