Book Review
'Lincoln Design Heritage: Zephyr to LS (1936-2000)'

by Jim & Cheryl Farrell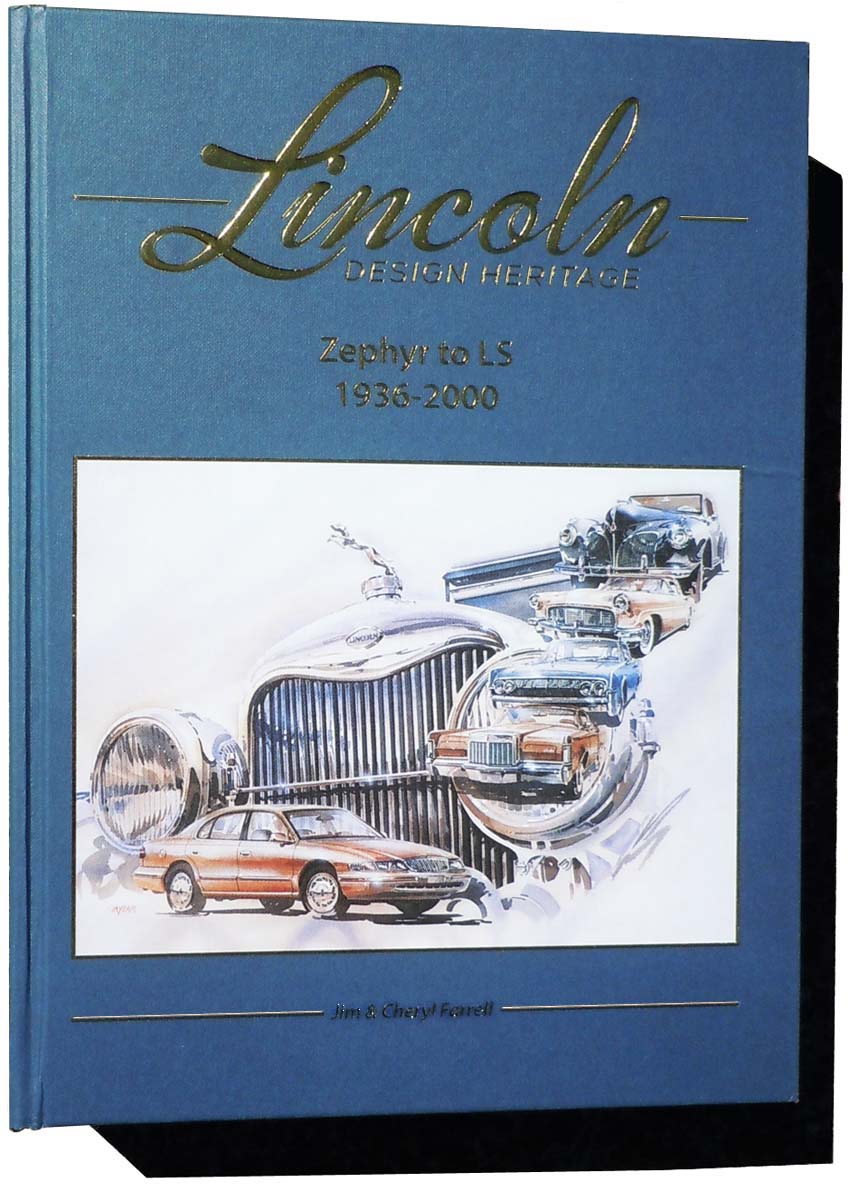 This large-format (approx. 10" x 13") heavy (over six pounds) hardbound book offers coffee table appeal along with a plethora of photographs, artwork and images (1,600 photos total), over 230 bios of designers and clay modelers and a comprehensive history of Lincoln's most important decades. It is a 475-page story plus bibliography and index - over 200,000 words. This limited-edition book is a labor of love by the Farrells, who traveled to Detroit/Dearborn on numerous occasions to scour the Ford Archives, the Henry Ford Museum historical records, as well those at the National Automotive History Collection at the Detroit Library. They also did research at the Art Center College in California, the Collier Automotive Museum collection in Florida as well as other resource sites. The Farrells interviewed hundreds of former Ford employees in order to factually document events chronicled in their book.
In 1999, Jim & Cheryl Farrell wrote and published the highly-acclaimed 'Ford Design Department Concept & Show Cars 1932-1961' (399 pages, over 900 photos, published in 1999) which now fetches $2-300 on the used book market. In that book, every chapter was about a different car; therefore, each chapter stood alone and the book could be read out of order without losing continuity.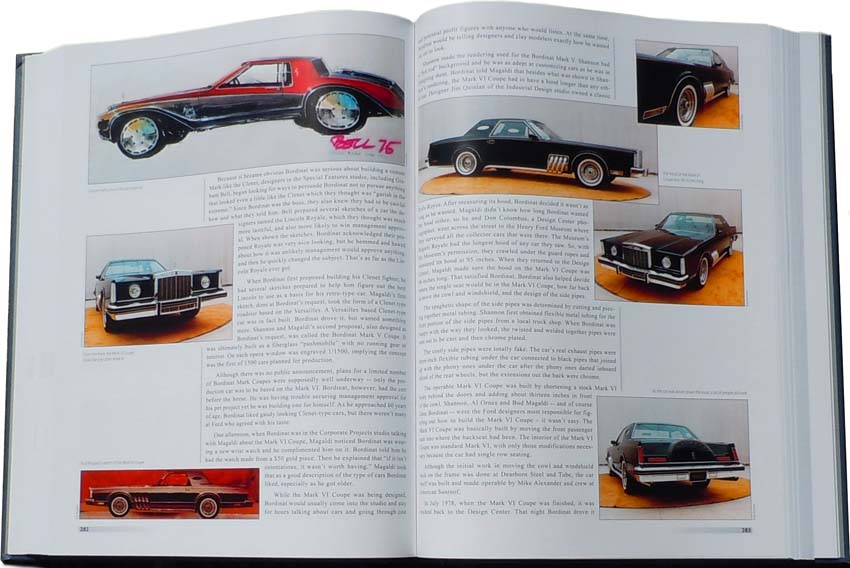 'Lincoln Design Heritage' flows chronologically, beginning with the pre-Zephyr John Tjaarda experimental rear-engined streamliner and subsequent concept/development cars which evolved into the finished 1936 Lincoln Zephyr. Then the book continues from the 1930s through the early 21st Century.
As the story of Lincoln unfolds, it becomes obvious that many of Lincoln's problems were caused by a lack of identity and the authors mention this throughout the book. The original 1920s Model L has undistinguished styling, although Edsel Ford tried to create excitement by encouraging independent coachbuilders to add some magic to the brand. In 1931 the handsome and expensive Lincoln K-series was introduced but it was never successful because the Great Depression caused the ultra-luxury market to evaporate.
The Lincoln Zephyr was a great success and saved the brand, because it was designed to compete with upper-middle and near-luxury segments of the market alongside the Packard 120 and LaSalle. Introduced as a 1940 model, the Lincoln Continental was Edsel Ford's attempt to move up in price with a personal luxury car. World War II and Edsel's death in 1943 caused the Lincoln brand to lose its way.
Lincoln discontinued the Continental after 1948 and, in 1952 - under orders from Assistant Chief Engineer Earle MacPherson, a former Oldsmobile engineer, developed a single-size offering which was too small to compete with Cadillac and was positioned as an Oldsmobile 98 alternative. The 1952 Lincoln looked too much like its Ford and Mercury brethren, although it shared no body panels with either brand. It also carried no design continuity forward from the 1949-51 Lincolns. This was a common problem at Lincoln over many years and a major cause of its failure to successfully compete with rival Cadillac. The authors wrote, "Every model Lincoln produced between World War II and 1960 was totally different from the last. As a result, Lincoln lacked continuity in design and message. It's little wonder then, that during the period 1958-60, Lincoln was almost relegated to the ash heap of has-beens like Hudson, Packard, Studebaker and Edsel."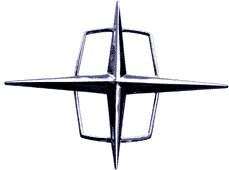 In 1956, Lincoln decided to offer a large car again and it was well-received. At the same time, the Continental Mark II was introduced as a super luxury car but, unlike the original Continental, shared no design cues with its lower-priced sibling. In 1958, Lincoln discontinued the Mark II and replaced it with a badge-engineered 1958 Lincoln designated as the Mark III. The 1958-60 Lincolns and Continentals models did not sell well because of the unusual, bizarre styling and quality issues with the new unitized body construction. The styling was apparently championed by Vice President of Design George W. Walker. In the 1958-60 period, more than five Cadillacs found buyers for every Lincoln sold. During that period, Lincoln "racked up $60 million in losses," according to the book. Soon-to-be Ford President Robert McNamara seriously considered discontinuing the Lincoln marque - he claimed that the Lincoln brand had never made a profit - but relented after seeing the proposed 1961 Lincoln Continental, a clean, slabsided design which later won the Industrial Design Institute award for its overall appearance and execution.
The 1960s slabside era was good for the brand and its image was raised when a special Lincoln was provided for President John F. Kennedy. In 1966, the addition of a coupe model helped Lincoln sales considerably - almost 16,000 coupes were sold during its first model year. The debut of the Mark III personal luxury car as a 1969 model provided Lincoln with a direct competitor to the Cadillac Eldorado. The Mark III was a big success. In 1969, a year after its April 1968 introduction, there were still waiting lists for Lincoln Continental Mark IIIs. Over a three-plus year period, over 81,000 examples were sold. Its successor, the Mark IV coupe had 51% higher unit sales than the '72 Cadillac Eldorado coupe.
The book also contains the story of the proposed MiniMark and other small Lincoln proposals as product planners agonized over the combined ever-tightening federal regulations, the uncertainly of future fuel supply and price increases due to growing inflation during the 1970s. In 1974, I had responsibility for coordination with automobile manufacturers concerning the possible use of my employer's materials-under-development in future automobiles. Several of my sources indicated that the next Lincoln Mark would be based on the Ford Maverick. It turned out that the never-produced Mini Mark was one body-size larger - based on the Ford Torino. This is just one of many interesting and obscure stories brought to light in the book. Another one was about the 'Continental Mark II 1953 Studebaker Club'. It's quirky, obscure tidbits like this that add interest to any book. I like the lines of the '53 Studie as much as those of the Mark II. Apparently, some of the Mark II's designers did, too.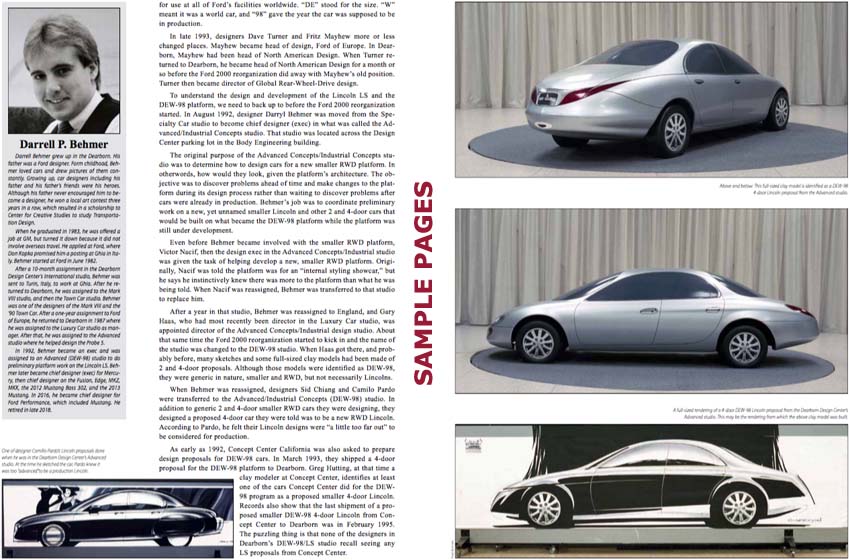 Much space is devoted to the Lincoln Town Car, deservedly so. The popularity of the 1980s Town Car made Lincoln a serious contender in its battle for market share with Cadillac. In 1970, the Town Car designation was initially used to denote a trim package option, including leather seating surfaces and deeper cut-pile carpeting. For 1971, a limited-edition (1,500 produced) Golden Anniversary Continental Town Car commemorated the fiftieth anniversary of Lincoln. For 1972, the Town Car was introduced as a sub-model of the Lincoln Continental model line. Sales rose substantially in 1977, when the Lincoln Continental Town Car was given the upright Rolls-Royce-style grille similar to the ones used on the Mark Vs. Lincoln sales grew by over 53% in the 1977 model year.
When the TC was downsized and restyled for 1980, Lincoln kept the crisp lines and signature upright grille. Yearly styling changes and the use of Designer-Series special editions kept the metal moving.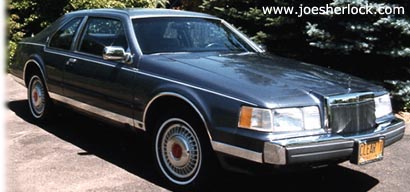 The development of the 1984-92 Mark VII and its successor, the Mark VIII, is covered in detail. I found the Mark VII chapter interesting because its development began when Ford was considering downsizing all of its cars - fearful of continuing stagflation and gas shortages. The book noted that in the 1979-82 period, Ford Motor Co. had lost $2 billion. Management was freaked out. An April 1981 memo from Executive VP Red Poling mandated that all future Lincolns were going to be FWD with smaller engines.
A V6 front-wheel-drive Mark VII was one of the early paper proposals. A FWD V6 Mark VIII was under consideration later. (The only V6 FWD Lincoln produced was the 1988-93 Continental sedan.) The make-it-smaller edict disappeared when sales perked up due to an improving economy. This book is full of such surprises because the Farrells were given access to a lot of insider information.
Following the severe double-recession of 1980-81, Lincoln sales drastically improved, rising 85% between 1982 and '84, compared with Cadillac's increase of only 27%. (During the same period, my then-small manufacturing company experienced a sales increase of over 200%. My partner and I celebrated the return of better times by buying new vehicles; mine was a 1984 Mark VII.) In 1986, Cadillac reduced the size of their vehicles and offered styling which - from a distance - was hard to distinguish from its lesser stablemates, Buick and Oldsmobile. Lincoln reaped the benefits of this as Caddy's sales dropped by almost 40%. Prospects fled from Caddy showrooms to Lincoln dealers because the were turned off by the new, smaller Fleetwoods, DeVilles and Eldorado, all of which were front-wheel drive. During the 1987 model year, Lincoln's sales grew by 155% and it went from 11th in auto brand sales to 9th position. Lincoln outsold Cadillac in 1988 for the first time since 1940.
The Town Car was redesigned for the 1990 model year and remained Lincoln's best-selling offering for the next decade. Town Cars were smooth-riding vehicles with a limo-like look. That's why they were so popular with livery services. And as rental cars. In the 1980s and '90s, I often rented one when traveling.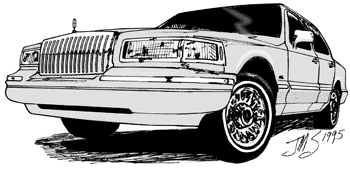 The chapter on the new 1990 Town Car was riveting. Because the design and engineering departments in Dearborn had been so downsized over the years, the final product development of the 1990 Town Car was done by IAD of Worthing, England, a independent company and FoMoCo sub-contractor. The problems encountered, as described in the book, are part Keystone Cops comedy and part tragedy. Nevertheless, the end result was successful - in a save-Nell-from-the-RR-tracks kinda way. When the Town Car was restyled for 1998 there was much gnashing of teeth over the styling of it. A proposal from Ford's California Concept Center battled with Dearborn's in-house design. Then Jac Nasser stepped into the picture and wanted it to look more "European." The result was a more rounded and bulbous vehicle. In the 1998-2000 period, Town Car sales averaged 90,000/year. Then they began to slide. A refresh in 2003 was based on owner input and the result was a nicer-looking front end and more useful interior. Sales perked up but then began to fall again as the market shifted to SUVs. By 2008, Town Car sales declined to about 13,000/year. The last Town Car rolled off the line in 2011.
The TC has become an icon of sorts. In 2019, Mike Seely of The New York Times wrote an article on the "Comfort-Loving Cult" of the legendary Lincoln Town Car. Jim Farrell remarked, "It will be missed." Indeed. In 1988, Lincoln sold 201,113 Town Cars. I bet Lincoln wishes it had a model that sold so well today. Total Lincoln sales of all models was 105,405 vehicles in 2020.
There are separate chapters on the first, second and third generation Continentals. The V6 FWD model was made from 1988-94. The third generation FWD V8 model was produced from 1994-2002. What ties all three together - as pointed out in the book - was the lack of market research for this model. Questions such as who is the target owner for this car? How does it fit with the rest of the Lincoln line, especially the Town Car? How is it better than competitors? And what cars represent the competition? No one at Lincoln could define what a Continental was. And was not. Jac Nasser once said that the Continental was "a car in search of a market."
It is interesting that the book ends with the development of the Lincoln LS and the Lincoln Navigator. The Navigator was the first Lincoln SUV - a response to ever increasing sales of truck-based passenger vehicles. Such vehicles now dominate the automotive market, as well as the luxury segment. It was developed on a relative shoestring and quickly too because it was derived from Ford's Expedition SUV. The Navigator came out almost a year before the Cadillac Escalade and its popularity was a surprise to most Ford execs - except Jac Nasser who was a big supporter of the Navigator's development. In 1998, Lincoln outsold Cadillac because of the sales added by the Navigator. The Navigator continues to be part of Lincoln's all-SUV lineup although the brand's smaller - and less expensive SUV models - account for far greater sales.


2000 Lincoln LS
The 2000 Lincoln LS four-door sedan was an attempt to lure 40-something age prospects away from the siren song of sporty, rear-wheel drive, status-building imports like Mercedes, Audi, BMW and Lexus. This younger buyer strategy was important for Lincoln. In 1999, the average age of the Lincoln buyer was 63 years old, compared with 52 for Mercedes and Lexus and 44 for BMW. The LS was built on the same platform as the sporty Jaguar S-Type sedan. When introduced, the LS received some very good reviews in the automotive press. It won the Motor Trend 'Car of the Year' award. Consumer Reports called it "the best American car we've ever driven."
The LS sold briskly for the first three years, then sales declined. One reason was that Ford Motor Company never fixed the annoying little shortcomings of the original model. Part of this was due to the turmoil caused by Ford CEO Jacques Nasser (known as Jack-the Knife for his backstabbing, imperious ways) during his brief 1999-2001 reign as he spent money foolishly on grandiose, impractical schemes and drove many talented people from FoMoCo because he deemed them "too old, too male and too white." The book covers the chaos created by Nasser in some detail, including that "longtime Ford clay modeler Greg Arceri said he had never seen morale at the Design Center as low as it was just before Nasser was let go." Arceri wrote directly to Bill Ford Jr. (head of Ford's board). Ford met personally with Arceri and listened to his grievances. Shortly thereafter, Nasser was fired. The book is sprinkled with stories of political infighting and intrigue over the decades. Much of the information came from retirees who were reluctant witnesses.
Lincoln management thought that by offering a car the size of a BMW 5-Series but priced more like a 3-Series would attract import buyers. Unfortunately, they later found that few BMW-intenders were interested. Many buyers of the LS turned out to be aging Lincoln owners who wanted to downsize their rides as well as Mercury Sable owners who wanted to step-up. The LS was discontinued after the 2006 model year. Fewer than 9,000 examples were produced in its final year.
The 21st century luxury vehicle market is much different that the market of the early 1990s. Entry-level luxury models are now priced the way mid-priced models (Mercury, Oldsmobile, Pontiac, etc.) used to be stickered. Lincoln and Cadillac once fought for first place among luxury car sales leaders. No more. First of all, the top sellers aren't cars - coupes or sedans, they're SUVs and crossovers. Secondly, foreign brands - European and Japanese - dominate the luxury vehicle market. In 2020, Mercedes-Benz was the luxury vehicle leader (selling 325,915 vehicles in the U.S.), followed by BMW, Lexus, Tesla, Audi and Acura. Cadillac and Lincoln duked it out for seventh and eighth place respectively. Compare this with 1993, when Mercedes-Benz sold only 61,899 cars, compared with 255,869 Cadillacs and 177,208 Lincolns.
The book is full of photos I've never seen before and information I never knew … and I consider myself fairly knowledgeable about Lincolns and Continentals. The book is also sprinkled with artwork by well-known professionals such as Ken Eberts, the late Randy Mytar, Richard Nesbitt as well as numerous retired Ford designers. There are even a couple of my pen-and-ink sketches in the book. Rare prototype photos and text reveal the painstaking and precise development for each model. For Mark II fans, there is a chapter on the stillborn Continental Mark II retractable and the Mark II cabriolet.
Verdict: Highly recommended. This is absolutely the best Lincoln book I've ever read and one of the best automotive books I've ever encountered. It is thorough, accurate and a very satisfying read. I learned much from it. (posted 9/23/21)
---
Orderng Information: This book can be ordered directly from the authors. Price of the book is under $100. A copy can be reserved by phone (541-673-4039), e-mail (cfarrell57@gmail.com) or mail (Jim & Cheryl Farrell, 870 Black Oak Drive, Roseburg, OR 97471)
---
Other Pages Of Interest
| blog: 'The View Through The Windshield' |
| greatest hits: index of essays & articles | blog archives | '39 Plymouth |
| model train layout | about me | about the blog | e-mail |
copyright 2021 - Joseph M. Sherlock - All applicable rights reserved
---
Disclaimer
The facts presented on this website are based on my best guesses and my substantially faulty geezer memory. The opinions expressed herein are strictly those of the author and are protected by the U.S. Constitution. Probably.
If I have slandered any brands of automobiles, either expressly or inadvertently, they're most likely crap cars and deserve it. Automobile manufacturers should be aware that they always have the option of trying to change my mind by providing me with vehicles to test drive. I'll dutifully report my road test impressions on this car blog.
If I have slandered any people or corporations, either expressly or inadvertently, they should buy me strong drinks (and an expensive meal) and try to prove to me that they're not the jerks I've portrayed them to be. If you're buying, I'm willing to listen.