Monday March 30, 2015
Autosketch: 1958 Packard - Why Bother?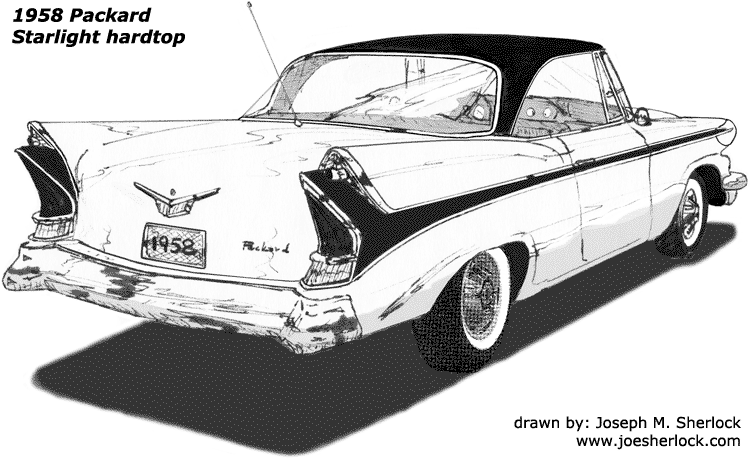 Let it be known that Packard was once the world's premier luxury auto brand. The first Packard automobile was produced in 1899. In the 1920s, Packard exported more cars than any other in its price class. When the ticker tape rained down on Charles A. Lindbergh during the New York City parade celebrating his historic flight, he was riding in an open Packard.
Packard quickly became the most well-known of the premium brands. From the very beginning, Packard featured innovations, including the modern steering wheel. The marque developed a following among wealthy purchasers both in the United States and abroad. Early in the 20th century, a Packard cost four times the price of an Oldsmobile Runabout.
In 1916, Packard sold 10,645 vehicles. In 1927, Packard sold over 36,000 cars; the following year, over 50,000 were sold. By the end of the 1920s, Packard was outselling every other luxury car in the world.
'Top Gear' Is Dead: As you probably know, Jeremy Clarkson has been sacked by the BBC. His cohorts, James May and Richard Hammond, have stated that they will leave the show if Clarkson leaves. So, I guess that's the end of 'Top Gear' as we know it.
The program is estimated to have around 350 million views per week in 170 different countries. By 2008, 'Top Gear' had become so popular that the waiting list to get audience tickets included more than 300,000 names, or 21 years' worth of episodes.
'American Top Gear', with different hosts, has been far less successful because it is unwatchable, in my opinion.
Hopefully, the three ex-TG lads will reunite on a new program on another network along with The Stig, of course.
Not A Headline From The Onion: 'Fire Extinguisher Factory Destroyed In Massive Blaze'.
Within 30 minutes, the Chicago building, which "housed several businesses in addition to the chemical factory, was completely engulfed in flames. More than 150 firefighters responded to the scene and it took them nearly three hours to extinguish the fire."
Quote Of The Day is from T.S. Elliot: "The only wisdom we can hope to acquire is the wisdom of humility."
---
Friday March 27, 2015
Why Paris Is Dingy And Dirty:
The City of Light is permitting only half the cars to be in the city on any given day - odd number license plates on one day, even on the next. The efforts had come after a measure of fine particulates in Paris peaked at noon on March 14 at 110 micrograms per cubic meter, exceeding the level in Beijing, obscuring the Eiffel Tower and sending a hazy dome over the city.
Jack Baruth provided a simple explanation: "The short answer is: 'France loves diesels.' Which begs the question: Why? Diesel, as a fuel, is a terrible, sticky, slippery, non-aromatic mess. I realize that TTAC has more than its fair share of diesel evangelists who have somehow managed to convince themselves that these diesel disadvantages don't exist or don't matter, but they are in the decided minority.
After winning the Cannonball One Lap of America (Alt Fuel Class) in 2006 behind the wheel of a brand-new E300 CDI, I swore to myself that I would never knowingly operate a diesel vehicle again if I had any other option. I despise diesel fuel. Sure, I respect your right to get excited about it, the same way I hope you respect my right to think that more expensive kinds of wood make a guitar sound better, but in both cases we're being willfully contrary and stupid."
The use of diesel fuel for passenger cars in Europe has risen from under ten percent in 1980 to over 50% in 2005, and higher that today. France is on the leading edge of this, with more than 75% of private cars powered by diesel. Why? Because tax structures favor diesel.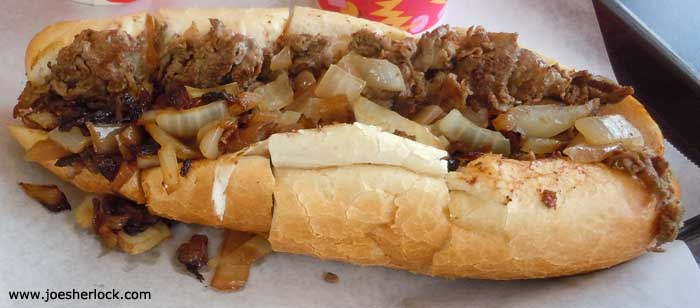 Today is National Cheesesteak Day
Quote Of The Day is from Greg Gutfeld on Deepak Chopra: "Here's what I love about Deepak, in general: Chopra hates the American dream, but exploits it to the hilt for himself. He tells poor people that the key to happiness is through spiritual prosperity. Which he charges for, increasing his own financial prosperity. American capitalism is bad, apparently, for everyone but him."
---
Wednesday March 25, 2015
Not Sanforized: Am I the only one who thinks that the front of the Mini Superleggera looks like a shrunken 2002 Ford Thunderbird?
Farewell To A Talented Artist: Marvin Randall Mytar, an artist who specialized in watercolors of aircraft and automobiles - especially Lincolns, has died after suffering a fall. Over the past couple of years he had bravely fought inoperable brain cancer and other serious ailments.
Mr. Mytar was 67 and had taught at the Art Center College of Design for 17 years. An architect by trade, Randy was also an active volunteer with the Lincoln & Continental Owners Club. He had a love for music and played drums in his band the J.L Randall Trio.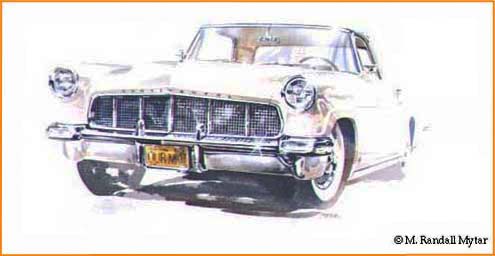 I have two of his signed prints, including one of a white Continental Mark II, just like the ones I owned. It is framed and hangs in our hallway downstairs.
Rest in Peace, Randy. (permalink)
Friend Of Hillary: Economist Teresa Ghilarducci, once labeled the most dangerous woman in America by US News & World Report, is an adviser to Hillary Clinton, who may have surpassed Ghilarducci as the most dangerous woman in America.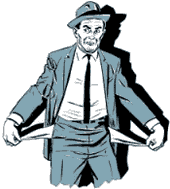 Ms. Ghilarducci would "chuck the tax break people receive when they put money into the retirement accounts known as 401(k)s and use the savings to create an entirely new system run by the government. Terms like "government run" and "eliminate tax breaks" are catnip to the right, and Ghilarducci became, for a time, its favorite scratch pole: The woman who wants to "nationalize" 401(k)s, and the like."
Don't fix something that's not broken. In 2008, the S&P 500 dropped by 37%. The value of my retirement account dropped by 31%. It's not fun to see almost one-third of one's retirement nest egg disappear but it was only a paper loss, since I hadn't made any actual withdrawals from my retirement accounts.
In October 2008, I wrote, "Don't panic sell. The U.S. stock market will rebound. It always does."
I took my own advice and held on. The value of my retirement account by the end of 2014 had grown 2.7 fold (+170%) over its value at the end of 2008.
Even when one factors in pre-crash numbers, the value of my retirement account by the end of 2014 had grown 1.9 fold (+90%) over its value at the end of pre-market crash 2007. Had I been forced to put my money in a government-run account, the value of my retirement funds would have only grown less than 13% from 2008 to 2014 and less than 15% from 2007 to 2014. That's not even enough to keep up with real-world inflation.
Hillary is a socialist who surrounds herself with like-minded people. I don't want that woman or her friends to get their hands on my money.
Book Review: 'Brief Encounters: Conversations, Magic Moments, and Assorted Hijinks' by Dick Cavett
This book is a collection of pieces from Cavett's New York Times blog. They are mostly about past events in his life but are not listed chronologically, which is a bit disorienting. Furthermore, the pieces are unedited, so when he writes about some blog comment about a past piece and then expounds obliquely on the comment, the reader is left maddeningly in the dark.
More than once, I had to Google what he was referring to, because he would dangle an item without elaboration, such as the guest who died on his television show. According to some audience members, Cavett turned and quipped to the decedent, "Are we boring you, Mr. Rodale?"
Cavett is an unabashed apologist for Groucho Marx ("the most supremely gifted comedian of all time," according to Cavett), Arthur Godfrey (I don't care what Dick says, that guy was the prototype for Lonesome Rhodes), John Lennon (post-Beatles lived-on-a-bed pompous druggie asshole - without him, we would have been spared Yoko Ono) and others. Originally from the Nebraska farmlands, Cavett has become ... (more >>>)
Old Hippie In Tesla Hits Jogging Mexican Astronaut: Singer David Crosby was involved in an accident on Sunday evening in Santa Ynez, CA when the 2015 Tesla he was driving hit jogger Jose Jimenez.
Would that be Jose Jimenez, the Astronaut, a frequent guest on 'The Ed Sullivan Show' - as played by Bill Dana?
Jose Jimenez: "To me the most important thing in the rocket travel is the blast-off."
Ed Sullivan: "The blast-off?"
Jose Jimenez: "I always take a blast before I take off. Otherwise I wouldn't go near that thing."
Crosby was reported to have been going 55 mph in his 2015 Tesla when he struck the jogger. The posted speed limit for the road is 55.
California Highway Patrol investigators spoke with Crosby who said that he had reduced vision from sunglare. They confirmed that Crosby stopped his vehicle immediately at the scene and was not under the influence of alcohol or drugs. Of course, the cops took his word, given Crosby's stellar record in that regard.
Meanwhile, the victim kept moaning and repeating, "My name - Jose Jimenez."
Quote Of The Day is from Eric Hoffer: "People who bite the hand that feeds them usually lick the boot that kicks them."
---
Monday March 23, 2015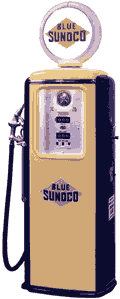 Jay Leno Hates Ethanol. And so should you.
Jay wrote, "There have been a lot of old-car fires lately. I went through the '70s, the '80s and most of the '90s without ever having read much about car fires. Suddenly, they are happening all over the place. Here's one reason: The ethanol in modern gasoline - about 10% in many states - is so corrosive, it eats through either the fuel-pump diaphragm, old rubber fuel lines or a pot metal part, then leaks out on a hot engine … and ka-bloooooie!!!
As someone who collects old cars and keeps them up religiously, I am now replacing fuel-pressure regulators every 12 to 18 months. New cars are equipped with fuel lines that are resistant to ethanol damage, but with older cars, the worst can happen - you're going down the road, and suddenly your car is on fire.
There's more. I find that gasoline, which used to last about a year and a half or two years, is pretty much done after a month or so these days. If I run a car from the teens or '20s and fill it up with modern fuel, then it sits for more than two months, I often can't get it to start."
Read the whole thing. Jay blames the government. Me, too. I gas up my '39 Plymouth at the only ethanol-free pump in town.
Train Bandits: Earlier this month, burglars made off with hundreds of model train locomotives, rolling stock and other products valued at over $80,000 from English's Model Railroad Supply in Montoursville, PA.
I visited this shop in 2008 when I met up with my friend Ray in North Central Pennsylvania during our 2008 PA-NJ trip. I also have one of English's Bowser O-gauge Brill trolleys on my model train layout.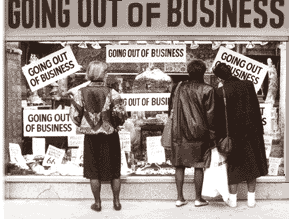 Closing Time: The world is moving online and retailers are continuing to shutter brick-and-mortar outlets.
"While total U.S. retail sales grew 3.7% in the fourth quarter of 2014 compared to the same quarter in 2013, e-commerce sales jumped 14.6% in the fourth quarter. One year earlier, total sales grew 3.8% year-over-year, while e-commerce sales increased 16.0%."
Abercrombie & Fitch is closing 60 stores. Aeropostale is closing 75 stores - I've never understood how the firm stayed in business anyway. Every time I passed by one the store was empty or nearly so.
Dollar Tree acquired Family Dollar chain and plans to close as many as 500 Family Dollar outlets. JC Penny will close ... (more >>>)
Thought For Today: Never believe atoms; they make up everything.
---
Thursday March 19, 2015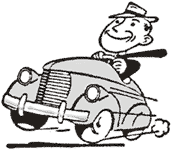 Consumer Reports Annual Auto Issue: I've been perusing the latest fact-filled edition. I put a lot of faith in Consumer Reports' car reliability opinions because I believe it presents pretty unbiased information, except for its apparent Tesla fetish, and has the largest experiential database - over 1.3 million subscriber vehicles. It is, in my opinion, the most comprehensive and believable of various reliability surveys.
Strangely, CR gave the Best Overall Award to the Tesla Model S, despite only average reliability, practical difficulties of recharging and a price of $90,000. In all fairness however, it must be pointed out that car brands which have been around for many decades (Lincoln, Cadillac, Fiat, Jeep, Dodge, Mercedes) seem unable to produce products with even 'average' reliability.
Lexus was named top brand, followed by Mazda, Toyota, Audi and Subaru. The worst ranked brand was Fiat, followed by Jeep, Mini, Dodge and Ford. Mercedes took a big hit for reliability; especially troublesome models included the entry-level CLA and the pricey S-Class flagship.
This year, the dreaded black dot rank for 'much worse than average predicted reliability' was awarded to: Cadillac ATS, Cadillac XTS, Chevrolet Silverado 1500, Chevrolet Cruze, Dodge Charger, Dodge Journey, Dodge Ram 1500, Fiat 500 and 500L, Ford C-Max, Ford Escape, Ford Fiesta, Ford Focus, GMC Sierra 1500, Infiniti Q50, Infiniti QX60, Jeep Cherokee, Jeep Compass, Jeep Grand Cherokee, Jeep Wrangler, Mercedes-Benz CLA 250, Mercedes-Benz GL-Class, Mercedes-Benz S-Class, Mini Cooper Countryman and Paceman, Nissan Altima, Nissan Pathfinder, Nissan Sentra, Scion FR-5, Subaru BRZ and Volkswagen CC.
According to CR, the Fiat 500L "garnered the lowest score of any new car in our latest reliability survey." I guess Fiat still means Fix It Again, Tony. Caveat Emptor.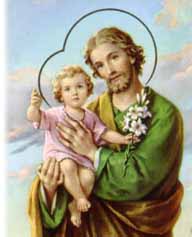 Honoring St. Joseph: Today, Catholics around the world celebrate the feast day of St. Joseph, the earthly father of Jesus.
Sadly, St. Joseph doesn't always get the respect he deserves. His feast day is overshadowed by St. Patrick's Day, two days earlier. In recent times, a St. Joseph the Worker 'feast' has been celebrated on May 1, which gives it a vaguely communistic whiff. (In 1955, responding to the May Day celebrations for workers sponsored by socialists, Pope Pius XII instituted this secondary, optional and poorly-named feast of 'St. Joseph the Worker'.)
When I entered first grade, the nun separated the class into three reading groups based on ability. The smart kids were put in the Sacred Heart group, the average kids went into the Blessed Virgin group and the dummies ended up in the St. Joseph reading group.
Poor St. Joseph. He deserves better.
We know that ... (more >>>)
Congrats To Bibi: Benjamin Netanyahu was victorious in the Israeli elections this week. Netanyahu owes his victory in no small part to that Israeli ingrate President Obama - a vote for Bibi is a vote against the dreadful Mideast policies of Barry O. and his sock puppet, John Kerry.
Netanyahu will in all likelihood become Israel's longest-serving prime minister, exceeding the time in office of David Ben-Gurion, and his new term should give him political life after Obama.
Netanyahu has devoted the past 25 years of his life to decrying the threat posed to Israel by the genocidal regime of Iran. As Iran continues on its path to become a nuclear threshold state, now abetted by the United States, this seems to be Netanyahu's moment.
National Review's Quin Hillyer pointed out that "Americans should be embarrassed, even mortified, that Obama has tried so hard to undermine both Netanyahu and the entire case for Israel's legitimate, existential interests. We should recognize that Israel - entrepreneurial, humane, and free - is a bellwether for civilization itself, and we should not let our own House and Senate members, Republican or Democrat, forget it. Because of Obama, the Israeli election has been roiled by questions about how the Obama–Netanyahu quarrels will affect Israel's security. But Obama's real quarrel is not with Netanyahu personally, no matter how much Obama pretends it is, but with Israel itself. He dislikes Netanyahu only because Netanyahu stands so strongly for Israel."
Jon Voight said: "I love Israel. I want to see Israel survive and not be overtaken by the madmen of this world. President Obama does not love Israel. His whole agenda is to control Israel, and this way, he can be friends with all of Israel's enemies." True dat.
Having 'lost' the Israeli election, Barack Hussein Obama has moved on and is now busy blaming George W. Bush for the rise of ISIS.
Book Review: 'Double Agent: The First Hero of World War II and How the FBI Outwitted and Destroyed a Nazi Spy Ring' by Peter Duffy
How can you make a true life story about a Nazi double agent a dull book? I dunno ... but author Peter Duffy has figured out a way.
The story is about a German-American who managed to infiltrate New York's Nazi underground in the days leading up to World War II. William G. Sebold, approached the FBI and became the first double agent in the Bureau's history ... (more >>>)
Quote Of The Day is from Jack Baruth: "Mr. Obama's tenure has produced a country where gay men are free to marry but they can't afford the wedding they want because there are no jobs to pay for it."
---
Tuesday March 17, 2015
Discretion: Six retired Irishmen were playing poker in O'Leary's apartment when Paddy Murphy loses $500 on a single hand, clutches his chest, and drops dead at the table. Showing respect for their fallen brother, the other five continue playing standing up.
Michael O'Conner looks around and asks, "Oh, me boys, someone got's to tell Paddy's wife. Who will it be?"
They draw straws. Paul Gallagher picks the short one. They tell him to be discreet, be gentle, don't make a bad situation any worse.
"Discreet?! I'm the most discreet Irishmen you'll ever meet. Discretion is me middle name. Leave it to me."
Gallagher goes over to Murphy's house and knocks on the door. Mrs. Murphy answers and asks what he wants. Gallagher declares, "Your husband just lost $500 and is afraid to come home."
"Tell him to drop dead!", says Murphy's wife.
"I'll go tell him." says Gallagher.
Irish Nun Story: The 98 year-old Mother Superior lay dying in an Ireland convent. The nuns gathered around her bed trying to make her last hours comfortable. They gave her some warm milk to drink but she refused.
Then one of the nuns took the glass back to the kitchen. Remembering a bottle of Jameson Irish Whiskey received as a gift the previous Christmas, she opened it and poured a generous amount into the warm milk. Back at Mother Superior's bed, she held the glass to her lips. Mother drank a little, then a little more and before they knew it, she had consumed the whole glass.
"Mother," one nun asked earnestly, "Please give us some wisdom before you leave us."
The old nun raised herself up in bed and said, "Don't sell that cow."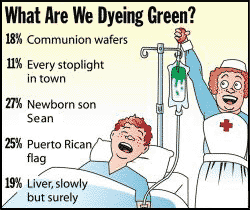 Irish Business Lesson: You'll find it here.
The Cookie Trick: A black guy and Murphy go into a pastry shop. The black guy whisks three cookies into his pocket with lightning speed. The baker doesn't even notice.
The black guy says to Murphy, "You see how clever I am? You Paddies can never beat that!"
Murphy says to the black guy, "Watch dis, any Paddy is smarter din you and I'll prove it to ye."
He says to the baker, "Give me a cookie, I'll show you a magic trick!" The baker gives him the cookie, which he promptly eats.
Then he says to the baker, "Give me another cookie for me magic trick." The baker is getting suspicious, but he gives it to him. He eats this one too.
Then he says again, "Give me one more cookie, please." The baker is getting angry now but gives him one anyway. He eats this one too.
Now the baker is really mad, and he yells, "OK. And now where is your famous magic trick?"
Murphy says, "Now look in the black guy's pocket."
---
Friday March 13, 2015
Q&A: Ever wonder what happened to all those huge 1958 Lincolns? Answer here.
A Big Thanks ... to Big Fur Hat of 'iOTW Report' who gave this blog a nice shout out and sent some traffic my way. He liked both Hillary the Eighth and the Cadillac Hearse AutoSketch.
More Hillary: Now that we know about the e-mail scandal, I guess that Reset button was really a Delete button.
Happy Birthday to my dad who would have turned 96 tomorrow.
Congrats To My Grandson ... who is being inducted into the Eagle Scout Court of Honor this weekend.
My Favorite Movies: 'A Face In The Crowd', 'Absence Of Malice', 'Addams Family Values', 'American Graffiti', 'Arthur', Back To The Future', 'Being There', 'Blazing Saddles', 'Brainstorm', 'Bullitt', 'The Caine Mutiny' 'Butch Cassidy And The Sundance Kid', 'Cabaret', 'Cars', 'Cat On A Hot Tin Roof', 'Chicago', 'Dr. Strangelove', 'Elmer Gantry', 'Evita', 'Fargo', 'Firefox', 'Forrest Gump', 'Galaxy Quest', 'The Godfather' (I and II), 'Going My Way', 'The Great Race', 'High Society', 'The Hunt For Red October', 'In Like Flint', 'In The Line Of Fire', 'It's A Mad, Mad, Mad, Mad World', 'Jailhouse Rock', 'The Little Shop Of Horrors', 'The Loved One', 'Loving You', 'The Meaning Of Life', Monty Python And The Holy Grail', 'The Mouse That Roared', 'Network', 'No Time For Sargents', 'Ocean's 11' (1960 original), 'Once Upon A Time In America', 'Our Man Flint', 'Patton', 'The Peacemaker', 'The Rainmaker', 'Return of the Jedi', 'Robin and the Seven Hoods', 'Rocky', 'Ronin', 'The Shining, 'Silence of the Lambs', 'The Simpsons Movie', 'Singing In The Rain', 'Star Wars', 'Stargate', Starting Over', 'The Swimmer', 'Topper', 'Tora, Tora, Tora', 'Tough Guys', 'The Untouchables', 'Up', 'Who Framed Roger Rabbit', 'The Wizard Of Oz', 'Working Girl', 'Young Frankenstein', 'Zathura', every James Bond film, every Dirty Harry film, every Wallace & Grommit movie and most of the Pink Panther films.
The only nine of my picks that made it to the American Film Institute's 100 Greatest Movies were 'American Graffiti', 'Dr. Strangelove', 'The Godfather II', 'Forrest Gump', 'Network', 'Patton', 'Silence of the Lambs', 'Singing In The Rain', and 'Star Wars'.
Question Of The Day: Can a hearse carrying a corpse drive in the carpool lane?
---
Thursday March 12, 2015
Let's All Sing Along:
I'm Hillary the Eighth, I am.
Hillary the Eighth, I am, I am ... (more >>>)
Quote Of The Day is from George Burns on sex: "It isn't premarital sex if you have no intention of getting married."
---
Wednesday March 11, 2015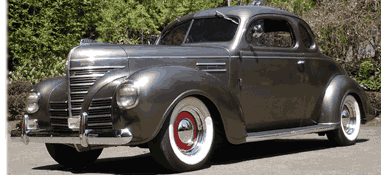 Steamy Ride: At 10:15 am on Monday, it was sunny and bright with temperatures in the upper 40s. For the first time since my February hospitalizations, I was feeling well enough to fire up my '39 Plymouth coupe. I drove to downtown Battle Ground and gassed it up. Then I took a long and leisurely drive to Vancouver and back. The sky was blue and cloudless.
The only damper was that the old coupe began to overheat and was steaming by the time I returned home. My fault - I failed to check the fluid levels. On Tuesday, I picked up some anti-freeze and topped off the radiator tank.
There ... that should fix it.
Alternate Designs: In 1939, Briggs Body Company showed a series of futuristic, art-moderne presentation models of automobiles to various car manufacturers as an inducement to give Briggs more car body subcontracting work.
The firm did a lot of ... (more >>>)
The Greatest Generation: They grew up during the Depression; their core values were shaped by poverty and the idea that every able-bodied person needs to pull his/her own weight.
"Do you think them guys back in the 30s, they worried about the cultural mix? As if what was happening in some yocky-dock country in the Balkans - ooh, the Muslims are this, the commies are that - as if that was gonna affect them having a roof over their heads and food on the table for their families?
If you didn't work you didn't eat. That's pretty basic. Didn't have to think about injustices to migrant workers or whether women were getting paid the same or whether queers could get married. They weren't reluctant about calling some folks deadbeats, moochers, parasites, like, gee, it's gonna hurt their feelings. People back then (including the women folk who were a hell of a lot stronger than the men sometimes) people had some clear understanding of morals, civic duty, work togetherness."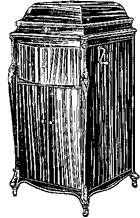 "Grab Your Coat ..." One of my favorite songs is the 1945 recording 'On The Sunny Side Of The Street' by Tommy Dorsey. I used to play a shellac record of this song on an ancient wind-up Victrola while following along on my uncle's drum set in the 1950s.
Ann Clark Terry, sang with her three sisters under the name The Sentimentalists with the Tommy Dorsey Orchestra (1943-1946) and provided the vocals for 'Sunny Side Of The Street'.
They were also known as The Clark Sisters.
Book Review: 'Stonewalled: My Fight for Truth Against the Forces of Obstruction, Intimidation, and Harassment in Obama's Washington' by Sharyl Attkisson
The author is a seasoned reporter with a long and distinguished career with CBS. Over a 30 year career, Attkisson has exposed scandals and covered controversies under both Republican and Democratic administrations.
This book is mostly about the Obama administration's attempts to silence Sharyl, including having her phones wiretapped and her computer hacked. The general lack of support by a should-have-been-outraged CBS News is very telling.
Reading the book provides... (more >>>)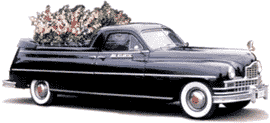 RIP: David B. Frohnmayer has died at age 74 of prostate cancer. Frohnmayer, a Republican, served three terms in the Oregon House of Representatives from 1975 to 1981, representing southern Eugene.
He was elected as Oregon Attorney General in November 1980. Frohnmayer served as Attorney General until his resignation on December 31, 1991, when he became Dean of the University of Oregon School of Law.
As Attorney General, one of his most notable cases involved leading the prosecution of members of the Rajneesh movement (followers of Bhagwan Shree Rajneesh). Frohnmayer prevailed in six out of the seven cases that he took to the United States Supreme Court. In the 1980s, the Rajneesh cult represented a genuine threat to the people of Oregon and to the economy of the state.
Frohnmayer was appointed President of the University in 1994. He announced his retirement as President in April 2008. The Oregonian called Dave Frohnmayer's presidency "one of the most remarkable higher education performances in Oregon history." A good guy.
Quote Of The Day is from Carl Sandburg: "A baby is God's opinion that the world should go on."
---
Monday March 9, 2015
Automotive Exclusivity: Over its almost ten-year production run, a total of 450 Bugatti Veyrons were sold worldwide. 113 examples of the $2 million supercar found homes in the U.S.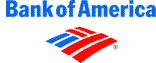 Bad Bank: Malcolm Berko is no fan of Bank of America. Neither am I.
"Visit Google and type in "Bank of America fraud," and then read and weep. Next type in "Bank of America fines and penalties." You'll quail at the innumerous details about BAC's allegedly intentional illegal activities, all of which were said to be approved by management, the executive committee and the board of directors. Those accusations include, but are not limited to, e-mail fraud, foreclosure fraud, consumer loan fraud, debit and credit card fraud, defective mortgage fraud, currency and commodity manipulation, money laundering, fraudulently overstating its capital ratio, defrauding Fannie Mae and Freddie Mac, and colluding to rig international benchmark levels used by fund managers. To settle, BAC paid billions in fines and legal fees. Still, management and the board, disdainful of those fines, look down their chins (not their noses) at investors and regulators."
BAC's biggest fine, $16.65 billion, was for ... (more >>>)
Quote of the Day is from Bill Vaughan: "It might be a good idea if the various countries of the world would occasionally swap history books, just to see what other people are doing with the same set of facts."
---
Thursday March 5, 2015
Happy Birthday: My wife's Toyota Avalon Limited turned 10 years old this week.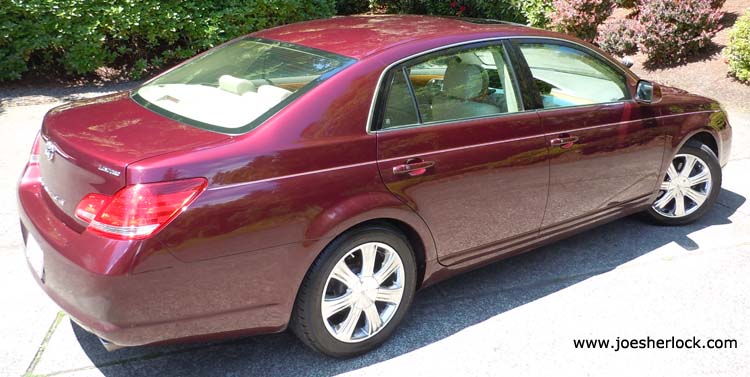 With 57,500 miles on the odometer, it still looks almost new inside and out and we've had no problems with this car. Put gas in the tank, buy tires when needed and get routine service done at appropriate intervals - that's it. This is probably the most reliable car we've ever owned. (permalink)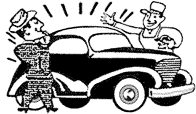 February Auto Sales: Light vehicle sales were at a 16.2 million SAAR in February - up 5% from February 2014, and down 2% from last month.
The sales rate hit a 10-month low, partly because of historic cold in parts of the country along with lower than expected fleet sales and some inventory shortages of key models.
GM was the number one auto seller in February, accounting for 18.5% of sales, followed by Toyota (14.4%) and Ford (14.1%).
Sales rose 13% at Toyota, 6% at Fiat Chrysler, 7% at Hyundai, 5% at Honda Motor and 4% at GM. Ford Motor Company sales were down 2%, partly because it hasn't yet gotten production of the redesigned F-150 pickup up to speed at the Kansas City Assembly Plant. Subaru sales increased 19%, while Volkswagen sales delined 5%.
Lexus sales jumped 22%, scoring a February sales record for the luxury brand. Infiniti sales rose 20%. BMW sales increased 15%, while Mercedes-Benz and Audi each experienced a 5% increase. Cadillac sales dropped 13%; Lincoln sales declined by 8%.
Book Review: 'Agent Storm: My Life Inside al Qaeda and the CIA' by Martin Storm, Tim Lister and Paul Cruickshank
Morton Storm was a six-foot-one red-haired Dane, with a troubled youth - a brawler and a street gang member. He did jail time and, when outside, lived off Denmark's generous social welfare system. Socially and spiritually bankrupt, he became a convert to Islam, after reading a library book on the life of The Prophet.
He quickly becomes involved in the dark and dangerous world of militant Muslims and travels in the same circles as terrorists. After a decade of frustration ... (more >>>)
A Conspiracy Theory Begins: You give your two cents worth. But all you get is a penny for your thoughts. So, where's the extra money going? I mean, it can really add up over time.
Quote Of The Day is from American journalist and pundit Donald Kaul: "A sinking ship gathers no moss."
---
Tuesday March 3, 2015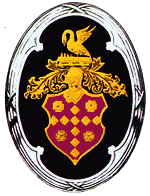 "Ask The Man Who Owns One." Founded by James Ward Packard with two partners in 1899, Packard was an American luxury automobile marque built by the Packard Motor Car Company. The first Packard automobiles were produced from 1899 until 1958.
Early Packards quickly gained an excellent reputation and, from the start, were priced above lesser competitors. Early in the 20th century, a Packard cost four times the price of an Oldsmobile Runabout.
Packard quickly became the most well-known of the premium brands. From the very beginning, Packard featured innovations, including the modern steering wheel. The marque developed a following among wealthy purchasers both in the United States and abroad.
The famous and iconic Packard slogan, 'Ask The Man Who Owns One' first appeared in an October 1901 print advertisement.
In 1916, Packard sold 10,645 vehicles. By the 1920s, Packard was exporting more cars than any other in its price class. When the ticker tape rained down on Charles A. Lindbergh during the New York City parade celebrating his historic flight, he was riding in an open Packard. In 1927 ... (more >>>)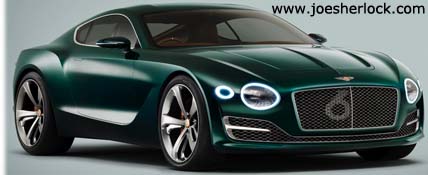 Stunning: At the Geneva Auto Show, Bentley debuted the sleek, eye-catching EXP 10 Speed 6 - a concept for a high-end, two-seater sports car. Wow!
"The exterior design of EXP 10 Speed 6 is an expression of muscular, athletic surfaces inspired by the aerodynamic shapes of aircraft fuselages and wings.
The ethos of the design was to develop contemporary interpretations of Bentley styling cues, which have been brought together with beauty and precision. The result is a coupe of clean, modern surfaces whilst remaining unmistakably Bentley."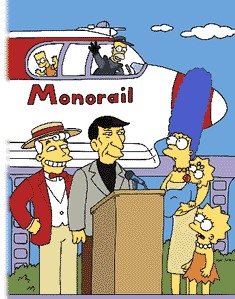 Spock Now In Another Universe: Leonard Nimoy, the sonorous, gaunt-faced actor who won a global following as Mr. Spock, has died at age 83 of lung disease.
In addition to his many appearances in the 'Star Trek' movies and television series, as well as other movie and television productions, he played himself in the 'Marge Vs. The Monorail' episode of 'The Simpsons'.
Rest in peace, Mr. Nimoy. You really did live long and prosper.
Why Bother? In downtown Vancouver, WA, commercial vacancies are at 17%.
Downtown Vancouver is dying because it's so hard to park there, the city keeps changing its mind on whether streets are one-way or two, Stormtrooper meter maids prowl the downtown core and many of the people with disposable incomes live in east Vancouver and find it less hassle to do business near home or in east Portland.
I haven't shopped in downtown Vancouver in over 15 years. There are relatively few places to shop there anyway; most retailers have closed up shop or moved east.
Fifty Shades Of Frat: If you're planning to send your kid to Wesleyan University, you may want to take a closer look at student housing.
"Open House is a safe space for Lesbian, Gay, Bisexual, Transgender, Transsexual, Queer, Questioning, Flexual, Asexual, Genderf__k, Polyamourous, Bondage/Disciple, Dominance/Submission, Sadism/Masochism (LGBTTQQFAGPBDSM) communities and for people of sexually or gender dissident communities. The goals of Open House include generating interest in a celebration of queer life from the social to the political to the academic. Open House works to create a Wesleyan community that appreciates the variety and vivacity of gender, sex and sexuality."
Note the bondage and discipline aspect. The frat hazings must be ... ahem ... hard to beat.
And while your son/daughter is not being whipped, they'll be indoctrinated into the progressive, secular and depraved meme of the moment.
Specialty Soda-Pop Flavorings: I use the term 'soda-pop' because I have lived in the land where it is "soda" (Philadelphia), and the land where it is "pop" (Pacific Northwest). I have also bridged the geographical gap between Jimmies and Sprinkles. But that's a different story.
James Lileks wrote: "What are the chemists at Dr. Pepper smoking? Last year they brought out a summer-only flavor called 'Cherry Vanilla', which had such a chemical aftertaste that I felt like I'd sprayed my mouth with a full can of Krylon paint."
This, of course, doesn't answer my question, "Is Dr. Pepper board-certified?"
Quote Of The Day is from Morgan Housel of 'The Motley Fool': "There were 272 automobile companies in 1909. Through consolidation and failure, three emerged on top, two of which went bankrupt. Spotting a promising trend and a winning investment are two different things."