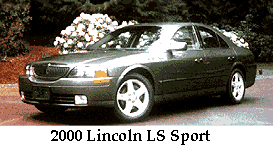 Lots of professional automotive writers do road tests for various magazines. I certainly don't want to steal anyone's thunder but I've been doing a little road testing myself. I was recently given a new 2000 Lincoln LS Sport for a week to road test for a California-based car club publication. I put over 800 miles on the vehicle.
The LS test car was the V-8 model with the Sport Package - a $1,000 option which includes stiffer suspension, big 17" alloy wheels with low-profile P235/50 tires, an automatic transmission with select-shift 'boy-racer' stick-shift mode (try as I might, I could never get it to start in first gear), a tilt and telescoping, leather-covered steering wheel and monochromatic front and rear bumpers without the usual chrome inserts.
It also had a 6-CD changer mounted in the glove box which took up just about the entire compartment, making it useless for storing anything larger than a pair of ladies gloves. Traction control, leather seats, automatic headlamps, electronic message center (which insisted that we were averaging between 0.8 and 1.6 miles per gallon - not true; we averaged 22 mpg on premium) and big 4-wheel disc brakes with ABS are standard. So are driver and passenger front air bags as well as side airbags.
The LS had the usual luxury items - remote keyless entry, alarm system, power seats with two-position memory on driver's side, three-button universal garage door opener, and a rear seatback which folds down for extra storage. LS list prices range from $31,215 for the V-6 with manual transmission to about $37,000 for a fully-optioned V-8 model. Our test car would probably sticker at about $35,000.
I had an enjoyable time with the car - the LS had a lot of good features - but what I also want to communicate here are the marketing and positioning aspects of the Lincoln LS brand - things which you can apply to your business.
The stated purpose of the LS is to get 40-somethings to become Lincoln buyers. Lincoln wants to lure them away from the siren song of those sporty, status-building imports like Lexus, Mercedes, Audi and BMW. This younger buyer strategy is important for Lincoln's long-term survival as a brand. In 1999, the average age of the Lincoln buyer was 63 years old, compared with 52 for Mercedes and Lexus and 44 for BMW. In 1999, Lincoln sold about 176,000 cars but was outsold by Mercedes, Lexus and Cadillac.
In the early 1950s, marketing a luxury car was easy - the entire Lincoln line competed with a few other American brands for the customer's dollar. Today, a single Lincoln model - the LS sedan - has 15 direct competitors in the "near-luxury" segment. And, because the competition is plentiful, tough and focused, the LS needs to be world-class-with-no-excuses if it wants a significant share of this market.
The Lincoln LS has gotten some very good reviews in the automotive press. It won the Motor Trend 'Car of the Year' award. Consumer Reports called it "the best American car we've ever driven."
Despite the favorable reviews, there's very little buzz about this car on the street. Many of the people I talked with didn't know much, if anything, about this Lincoln model - particularly those in their 30s and 40s. This is not good news for Lincoln - they need to do more to get the word out about this car to their target market.
When the Jaguar S-Type was introduced (the S-Type is on the same basic platform as the LS but costs $10,000 more), the area Jaguar dealer hosted an evening cocktail party complete with swing band (Pink Martini) to introduce the S-type to the community.
We received two invitations - one because we own a 1996 Jaguar and one because we were a member of the local Jaguar club. Several business acquaintances, who fit the target owner profile, also received direct mail pieces inviting them to the party. Everybody had a great time and a Jag salesman later told me that quite a few orders for S-Types were taken in the days following the party. Great buzz!
A few months later, the LS appeared. We own a 1996 Continental but, if there was a party, we weren't invited. Nor was any other Lincoln Club member, that I know of. Nor were my thirty and forty-something business friends who fit the target customer profile for this car. So, the LS remains a well-kept secret - many prospective buyers are unaware of its existence. Zero buzz.
The Lincoln LS has some great features:
1. It handles. This car is the best-handling sedan I've ever driven. It corners like it's on rails. There's a reverse S-curve not far from home which has a 20 mile-per-hour speed limit. We blew through it at 50 - no power-slide, no four-wheel drift, no flop-sweaty Omigod-I'm-gonna-hit-that-tree moment - the car just rumbled through that 'S' like a freight train on steroids.

One of my friends pushed it through some hilly twisties near his home and said that it out-handled his daughter's BMW 3-series. I've owned two sports cars and, while the LS is no sports car, it's pretty darned close. Everybody who drove it loved the handling and cornering capabilities of this car.

2. It's responsive. When you tap the accelerator pedal, this car jumps. It's no drag racer, but crack the throttle 1/4 way and you're haulin', mister. I made several timed 0 to 60 mph runs and it averaged 7.8 seconds - not bad (and very competitive in its class) but, frankly, it feels even faster than it really is.

By the way, the use of the manual shift option didn't improve acceleration times for me. Everyone who drove it liked the responsiveness of the LS. It stops well, too. The four discs with giant 12-inch rotors halt it quickly and decisively.

3. It's more comfortable than it looks. The front bucket seats look very European - spare and flat-looking. But they're surprisingly comfortable, even on long trips. The infinitely adjustable seats combined with the tilt and telescopic wheel means you'll surely find a setting which is right for you.

The back seat is short on legroom and headroom by big Lincoln standards but is generous compared to most cars in its price class. The LS is also narrower than a big Lincoln and, while the rear bench seat is alleged to accommodate three, that's only true for Callista Flockhart and her two body doubles.

The ride in our test car was firm and jiggly, especially if the road was less than glass-smooth. I suspect that LS models without the Sport Package would ride much better.
Unfortunately, this little Lincoln has four shortcomings which make it less-than-competitive in its target market:
1. It's bland-looking. Up close, the LS has some wonderful design cues which make it look muscular and purposeful. Step back and they fade and become invisible, making it look boring and anonymous - resembling a Mitsubishi Diamante or a Mazda Millennia.

A friend and I parked the LS next to a BMW 3-series and began backing away - the Lincoln lost its identity at 25 feet; the 3-series still looked like a Bimmer half-a-block away. And the LS's rear-end looks like every other Mercedes-wanna-be knock-off. The LS needs to make a strong visual statement as it comes at you on a two-lane road. Or as it passes you on a freeway. It doesn't do either.

2. Where's the space? You would think that a car riding on a wheelbase 7 inches longer than a Continental would feel spacious. It doesn't. The low windshield, slope of the side windows and thick pillars (a 15-inch blind spot from the front windshield base to the side window) induce claustrophobia.

The targeted potential customer typically uses his/her car as an office - and needs lots of storage. This car has almost none - the center console won't even hold a cell phone. The cupholders are for demitasse only. These and other interior design details are stupid and maddening.

3. It has some cheesy detailing. If Ford paid Mattel Toys (or Firestone) more than 23¢ to injection mold that hideous plastic grille, they were robbed. The door pockets scream 'low quality' - I've bought nicer ones from J.C. Whitney for $2.19 each. The wood trim on the LS is real burled walnut but half the people who looked thought it was cheap plastic.

The tailpipes were tiny - they looked like '61 Falcon leftovers - and had no fat, ominous-looking chrome tips like their competition. And there's no V-8 burble, either. Just a whine - like a Japanese V-6.

World-class cars are world-class down to the last detail. This one isn't.

4. It's a Lincoln. Several people remarked that they wouldn't consider this car because "it's a Lincoln." Those who had never owned a Lincoln said that a BMW or Lexus conferred more status. Four people who own or owned recent-vintage Lincolns were weary of quality/service problems and poor treatment from dealers and were less than enthusiastic about buying another one.

Recently, Ford announced that 50% of executive bonuses would be tied to customer satisfaction; this, at least, indicates that they are aware of the problem.
The LS is currently selling briskly - over 4400 units were sold in April, 2000 (compared with 7,100 Town Cars and 1,800 Continentals). But new Lincoln models always sell well in the first year. I talked with Lincoln salespeople at two dealerships. Their consensus was that two kinds of people were buying LSs.
The first were older people in their 60s who were trading their big Lincolns for something small and easy to park. The second group were younger buyers, mostly male, who either were moving up from a Mercury Sable or who traded an older BMW or Lexus (after being sticker-shocked by the new ones). Almost everybody orders the V-8 version. Not exactly the market Lincoln targeted.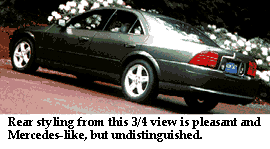 The Lincoln LS is a very promising car - the more I drove it; the more I liked it. But to improve market penetration and sustain sales over the longer term, the LS needs to be world-class-with-no-excuses - and it's not. The car needs $15-$25 per unit added to the materials budget to be less cheesy. The interior needs to look more spacious. Storage space should be increased. Design details need to be refined. The exterior styling must be more distinctive.
Those dealers who can't or won't provide world-class customer service need to be repaired or replaced. And Lincoln needs to create a positive brand-buzz - if Lexus, Starbucks, Range Rover and Nordstrom's can do it, so can Lincoln.
The comments here can apply to your business, too. Your competition is smarter and much more focused than it was, say, 10 years ago. You must continue to change and evolve to provide world-class excellence in an ever-more-crowded marketplace.
Ten years ago - the Lincoln LS would have been hailed as one of the best cars in the world - but in today's tough world, it's just another contender. Don't let the same thing happen to your product or service.
---