---
Everyone whines about the Great Recession which began in 2008 but it was nothing compared to the Great Depression which began in the late 1920s. The trigger point of the Great Depression was the stock market crash on Black Tuesday, October 24, 1929, although housing and auto sales began to soften in 1928. By 1932, stocks were worth only about 20% of their value in the summer of 1929.
The bottom dropped out of the automobile market in late 1929. Auto sales fell a whopping 72% between 1929 and the nadir of the Great Depression in 1932. The economy never truly recovered until America began building up for the inevitable war, known as World War II. The American mobilization for war at the end of 1941 moved approximately ten million people out of the civilian labor force and into the war.
The depression of the 1930s changed the way wealthy Americans lived. Conspicuous consumption became muted. Household staffs were reduced - fewer gardeners, chauffeurs, maids and other servants. Cars were often piloted by owners themselves. The first three years of the Great Depression slashed the number of U.S. automakers almost in half. High-end auto marques like Cord, Duesenberg, du Pont, Franklin, Jordan, Marmon, Mercer, Locomobile, Peerless, Pierce Arrow and Stutz went out of business during the Depression.

Lincoln's new K-Series models were introduced in late 1930 as a '31 model. While Lincolns were available fully-bodied from the factory, many were custom-bodied by well-known coachbuilders such LeBaron, Judkins, Derham and Willoughby. Lincoln sales suffered greatly during the Depression but the brand was kept alive by its parent, Ford Motor Company.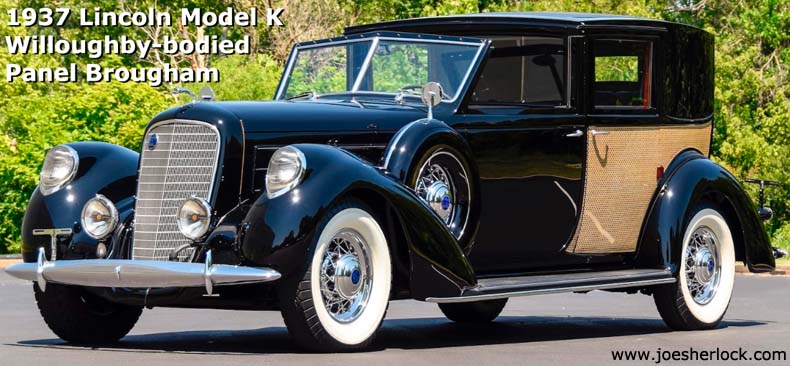 Sales of the big Lincolns declined during the Depression; Lincoln sold only 1,411 cars in 1935 - all of them big, built-by-hand K-Series models. The firm introduced the lower-cost, non-coachbuilt Lincoln Zephyr in 1936. The sleek, mid-priced Zephyr increased Lincoln sales almost 14-fold and probably saved the marque.
Lincoln
Model
Year

K-Series
Sales
(units)

Zephyr
Sales
(units)

Continental
Sales
(units)

1931

3,535

--

--

1932

3,674

--

--

1933

1,707

--

--

1934

2,418

--

--

1935

1,411

--

--

1936

1,515

19,111

--

1937

977

29,997

--

1938

616

19,111

--

1939

133

21,000

1

1940

0

21,104

942
The Lincoln shown in the sketch is a 1937 Lincoln K-Series Willoughby Five-Passenger coupe - one of six made by the Utica, NY coachbuilder. The car rode on a 136-inch wheelbase and was priced at $5,550. It was powered by a 414 cubic-inch, 150 horsepower V12 engine. 1937 was the last major restyle for the large K-Series cars, in fact it is difficult to distinguish between a 1937, '38 or '39 model. The '37 restyle introduced streamlined headlamps built into the tops of the fenders, somewhat like its little brother, the Zephyr.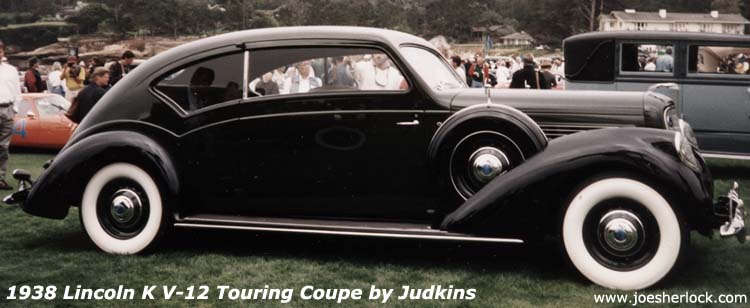 An era was coming to an end - the age of big, coachbuilt Lincolns was almost over. (11/30/15)
Remember When: 1937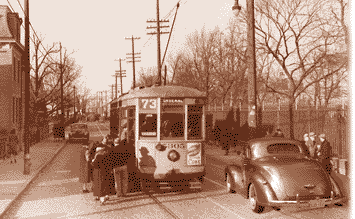 In 1937, Hitler repudiated the Versailles Treaty. Italy conquered Ethiopia. Japan expanded her hold on China. In Russia, Stalin's purges escalated.

In the U.S., FDR began his second presidential term and pressed for reorganization of the Supreme Court. He appointed Joseph P. Kennedy as special envoy to Great Britain. In that country, George VI ascended to the throne as King. The abdicated King, now the Duke of Windsor, married American commoner Wallace Simpson.

In aviation, Amelia Erhart disappeared and the Hindenburg Zeppelin exploded.

The Auburn-Cord-Duesenberg empire collapsed. Hudson Motor Co. discontinued the low-priced Terraplane. The Automobile Department of the Toyoda Loom Works was made an independent business unit under the name Toyota.

New ideas included supermarket shopping carts, blood banks, nylon and knock-knock jokes.

Movies this year included 'Snow White And The Seven Dwarfs', 'Topper' and 'A Star Is Born'.

Big 1937 record hits - sold in the form of large, 10-inch diameter, mineral-filled shellac 78 rpm records - included Tommy Dorsey's 'The Lady Is A Tramp', Count Basie's 'One O'clock Jump', Benny Goodman's 'Sing, Sing, Sing', Bing Crosby's 'Sweet Leilani', Fred Astaire's 'They Can't Take That Away From Me' and Bob Hope's signature song, 'Thanks For The Memory'.

Famous people born in 1937 included Bill Cosby, Jane Fonda, Dustin Hoffman and Robert Redford. Deaths in '37 included composer George Gershwin, actress Jean Harlow and industrialist John D. Rockefeller.

The Yankees won the World Series, defeating the New York Giants in five games, for their second Series championship in a row and their sixth in fifteen years (1923, 1927–28, 1932, 1936).
More AutoSketch car drawings can be found here.
---
Other Pages Of Interest
| blog: 'The View Through The Windshield' |
| essays: greatest hits | blog archives | '39 Plymouth | model train layout |
| about me | about the blog | e-mail |
copyright 2015-20 - Joseph M. Sherlock - All applicable rights reserved - Drawing copyright 1992, 2015
---
Disclaimer
The facts presented on this website are based on my best guesses and my substantially faulty geezer memory. The opinions expressed herein are strictly those of the author and are protected by the U.S. Constitution. Probably.
Spelling, punctuation and syntax errors are cheerfully repaired when I find them; grudgingly fixed when you do.
If I have slandered any brands of automobiles, either expressly or inadvertently, they're most likely crap cars and deserve it. Automobile manufacturers should be aware that they always have the option of trying to change my mind by providing me with vehicles to test drive.
If I have slandered any people or corporations, either expressly or inadvertently, they should buy me strong drinks (and an expensive meal) and try to prove to me that they're not the jerks I've portrayed them to be. If you're buying, I'm willing to listen.
Don't be shy - try a bribe. It might help.
---
---