---

1956 Lincoln: Successful Upgrade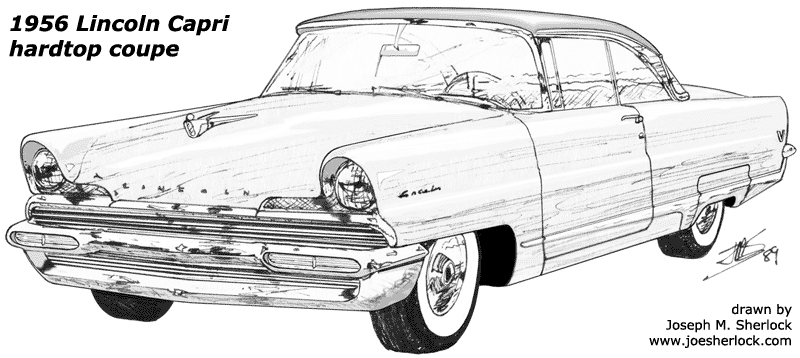 Acquired in 1922 as a way for Henry Ford to keep his son Edsel occupied so that he didn't mess with the Model T, Lincoln was for years a premium brand, competing with the likes of Cadillac and Packard. Lincoln's first foray into the upper mid-priced field with the Zephyr happened during the Great Depression of the 1930s and was a response to Packard's downmarket 120 model.
After Edsel died in 1943, Lincoln began to drift - mostly downward. By 1952, Lincoln was being positioned as an Oldsmobile alternative, offering high performance in a smaller package than a Cadillac. Prices were in-between Olds and Caddy. Styling was unexceptional; Lincolns of the period looked like a less-flashy Mercury. Not good in showy postwar America. Sales tanked.
Meanwhile, Cadillac offered the expensive and snazzy Eldorado model in 1953 and its redesigned 1954 models featured wraparound windshields across the board, making Lincolns look even more staid by comparison. Lincoln was one of the few makes to miss out on Detroit's 1955 sales boom; sales dropped 27% to 27,222 units.
Change was needed. The 1956 Lincoln offered dramatic, contemporary styling at a size and price equal to that of Cadillac. Though ads proclaimed them 'unmistakably Lincoln', there was scarcely a trace of the stolid '55s. Wheelbase grew three inches to 126 inches, overall length seven inches to 223 inches and width three inches.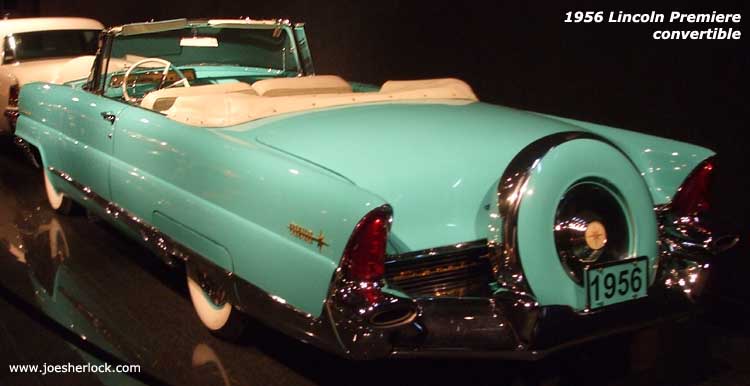 The body design, conceived by Head Stylist William F. Schmidt, won an award for its clean lines from the Industrial Designers Institute. The car's hooded headlight eyebrows were inspired by the 1955 Lincoln Futura show car, another Schmidt creation.
1956 Lincolns rode on a new chassis with a full-section box frame. Power was from a bored-out Lincoln engine with 368 cubic inches making 285 horsepower. Interiors were substantially upgraded over 1955.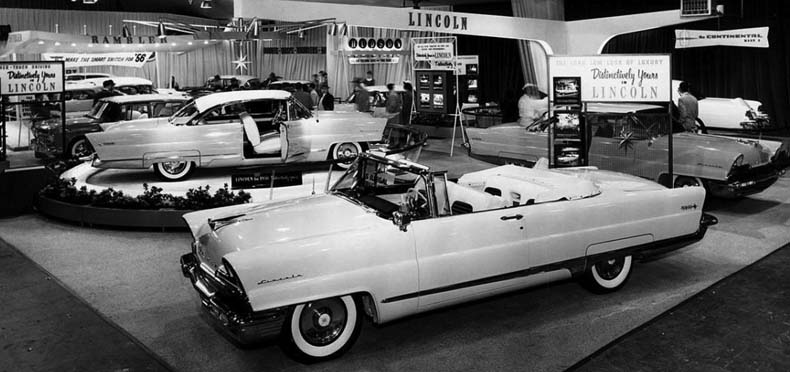 Lincoln continued with two series for '56: Capri and new top-of-the-line Premiere, each with a four-door sedan and hardtop coupe. A convertible was exclusive to Premiere and was the priciest '56 Lincoln at $4,747. The Capri coupe shown in the sketch was one of 4,355 made and carried a base price of $4,119.
Despite a relatively down year for the auto industry, Lincoln sales for the '56 model year were 50,322 units - almost double those of 1955. Change was good. However, the 1956 model year was not a profitable one for Lincoln. Eugene Bordinat, then styling supervisor at Lincoln-Mercury, claimed that, if 1,000 more Lincolns had been produced and sold, Lincoln would have made a profit.
The 1957 Lincoln fared worse. Only 41,123 were sold at a loss of $1,525 per car. (posted 3/31/11)
Remember When: 1956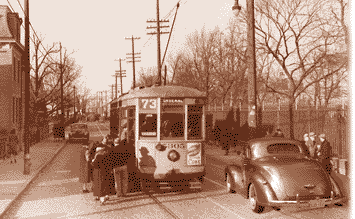 In 1956, cultural icon-to-be Elvis Presley appeared on the national scene with several #1 selling records. Elvis used some of his earnings to buy a '56 Premiere coupe (wisteria with a white roof) and, later, a white Mark II.

New products included Raid insecticide, Crest toothpaste and Comet cleanser. Ford Motor Company went public, issuing stock. Midas Muffler and Burger King began franchising. The 'Dear Abby' advice column debuted.

New words for 1956 included brainstorming, brinkmanship, industrial park and tranquilizer. Ike was reelected. Dean Martin and Jerry Lewis split up. Brigitte Bardot made her film debut in 'And God Created Woman.' 'In God We Trust' officially became the U.S. motto.

Grace Kelly married Prince Rainier of Monaco. Chrysler and Packard offered pushbutton transmissions; Packard also offered power door locks. The first Volvos (PV444 models, which reminded folks of a shrunken '47 Ford) were imported to the U.S. Ford offered seat belts and padded dashboards as options and dished steering wheels as standard equipment, touting its cars as safer. The public wasn't interested, then-sales manager Lee Iacocca developed the oft-heard axiom, "Safety doesn't sell."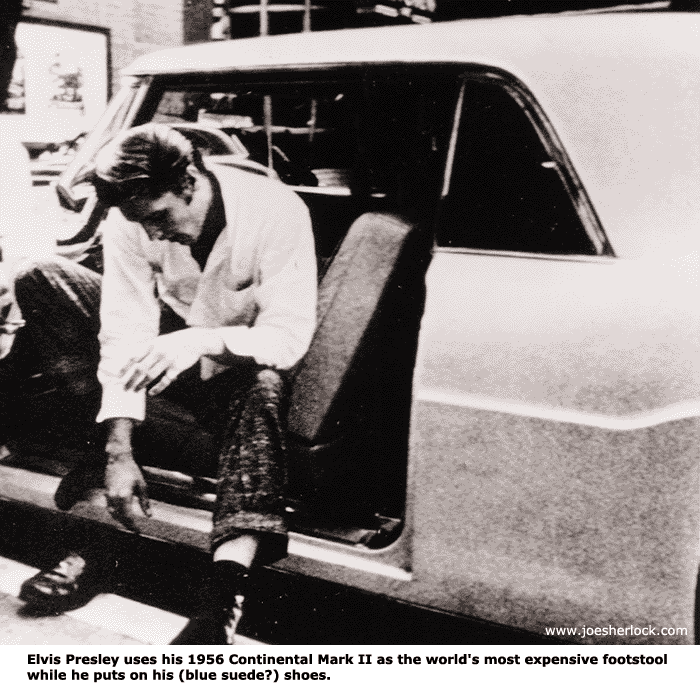 Best-selling songs of 1956 were Elvis' 'Hound Dog' and 'Don't Be Cruel'. Other record hits included Guy Mitchell's 'Singing the Blues', Fats Domino's 'Blueberry Hill', The Platters' 'My Prayer' and 'The Great Pretender', Carl Perkins' 'Blue Suede Shoes', 'The Wayward Wind' by Gogi Grant, Pat Boone's 'I Almost Lost My Mind', Dean Martin's 'Memories Are Made of This', 'Hey Jealous Lover' by Frank Sinatra and Elvis Presley's 'Heartbreak Hotel.'
Top 1956 movies included 'The Ten Commandments', 'Around the World in 80 Days', 'Giant', 'The King and I', 'Love Me Tender' and 'High Society'. In 1956, a movie ticket cost 60¢.
Deaths included actor Bela Lugosi, automobile manufacturer Preston Tucker, bandleader Tommy Dorsey, essayist H.L. Mencken, baseball legend Connie Mack, abstract artist Jason Pollock and comedian Fred Allen.
The Yankees won the World Series over the Brooklyn Dodgers: 4 to 3.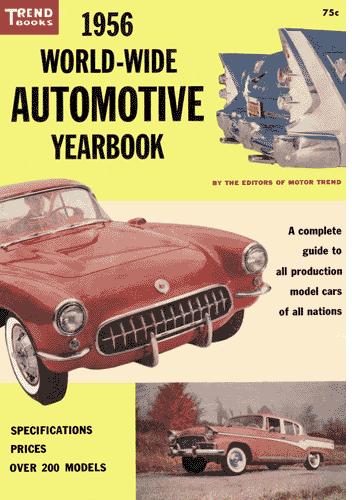 ---
Other Pages Of Interest
copyright 1992, 2011-20 - Joseph M. Sherlock - All applicable rights reserved
---
Disclaimer
The facts presented on this website are based on my best guesses and my substantially faulty geezer memory. The opinions expressed herein are strictly those of the author and are protected by the U.S. Constitution. Probably.
Spelling, punctuation and syntax errors are cheerfully repaired when I find them; grudgingly fixed when you do.
If I have slandered any brands of automobiles, either expressly or inadvertently, they're most likely crap cars and deserve it. Automobile manufacturers should be aware that they always have the option of trying to change my mind by providing me with vehicles to test drive.
If I have slandered any people or corporations, either expressly or inadvertently, they should buy me strong drinks (and an expensive meal) and try to prove to me that they're not the jerks I've portrayed them to be. If you're buying, I'm willing to listen.
Don't be shy - try a bribe. It might help.
---
---