Dull Automobile Design

The Unbearable Dullness Of Being: Where have the style champions gone?
(posted 5/27/05)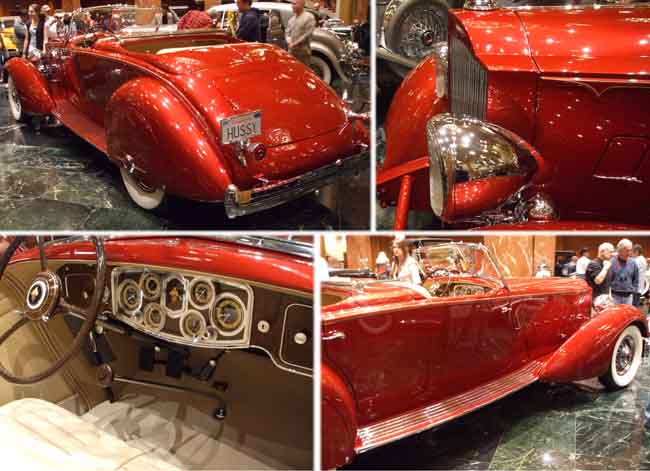 Just as a physician can tell a lot about a patient's health from a simple look at his/her fingernails, one can tell a lot about a car's design by looking at wheels.
The design/style of wheels is not especially influenced by government regulations. There are many aftermarket wheels offering unique and attractive designs. But, in the world of the OEM factory wheels, all seem to look alike - whether they are on cheap cars or expensive cars. That wasn't the case in the 1950s. Back then, you could easily identify a car just by its wheelcovers. Why does everything look the same today? The wheels and the vehicles? I think it's because designer managers and execs are lazy lemmings and have no new ideas.
Just look at today's me-too wheels compared with the variety of 1953 designs: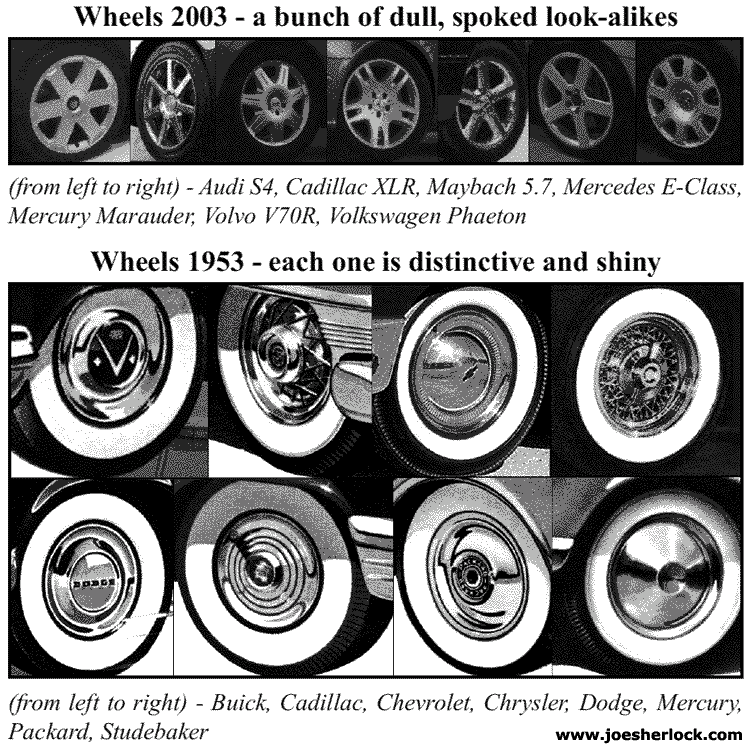 There seems to be no one in Detroit championing cool, stylish cars these days. It didn't used to be this way.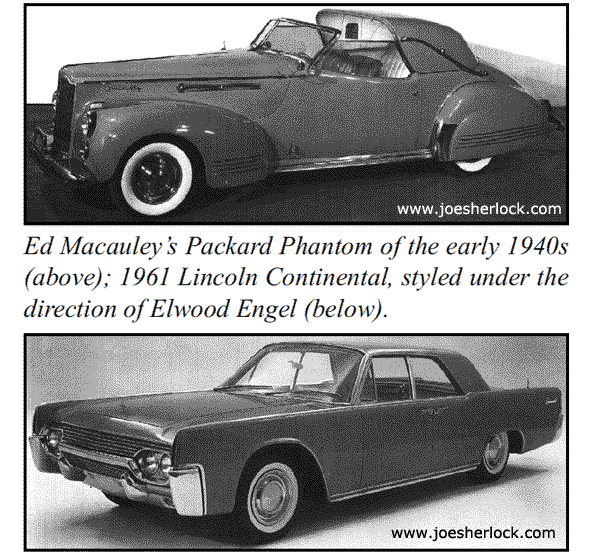 Harley Earl (the LaSalles of the 1930s, the Motorama cars of the '50s, 1953 Corvette), Lee Iacocca (first generation Mustang), Edsel Ford (1940 Lincoln Continental), Ed Macauley (Packards of the late 1930s), Bill Mitchell (1963 Corvette Sting Ray, Buick Riviera and '66 Olds Toronado), Virgil Exner (Chrysler's Forward Look of the 1950s), George Walker (the two-seater 1955 to '57 Thunderbird), Raymond Loewy ('53 Studebaker Starlight coupe and subsequent facelifts, '62 Stude Avanti) and Elwood Engel (1961 Lincoln Continental, '61 Thunderbird, '63 Chrysler Turbine Car and 1968 Dodge Charger) are all gone - these were people who fought for their ideas and design concepts.
These men knew that there was a world outside of the car business; many of them had interests aside from automobiles - sailboats, architecture, airplanes and the like - and they brought ideas from other disciplines into the automobile world. For example, Bill Mitchell styled the GM Aerotrain. This variety of design exposures made for interesting cars.
Many of these folks 'wintered' in California or Florida and socialized with people outside the automobile industry - providing fresh viewpoints. They also visited the great design houses and coachbuilders of Europe, often commissioning cars just to bring some novel-looking iron back to Detroit. When Edsel Ford returned from Europe in the 1930s, he commissioned a Ford-based sports roadster to emulate some of the sports cars he'd observed while abroad: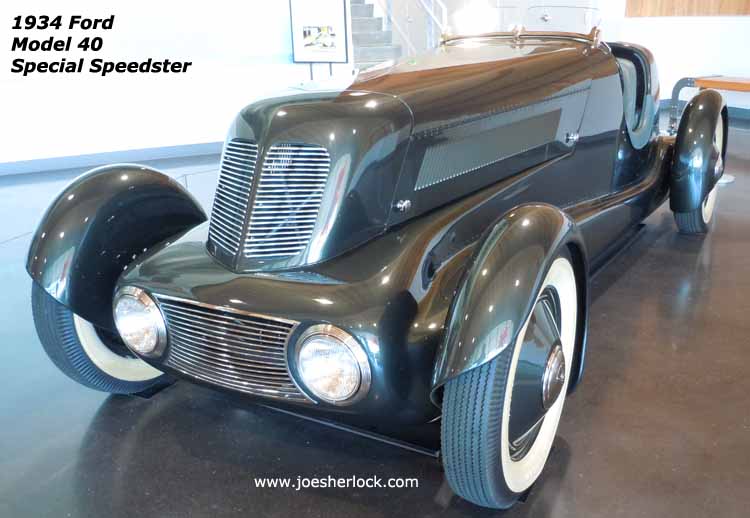 Firms like Delahaye showed swoopy, chrome-trimmed designs which must have made an impression on Harley Earl: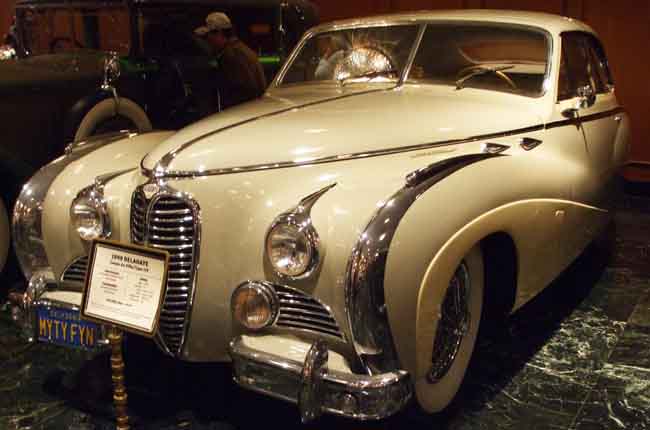 When he wasn't sketching automobiles, Raymond Loewy designed stuff for the Pennsylvania Railroad - everything from trash bins to locomotives, like the streamlined T-1 passenger steam loco of the early 1940s.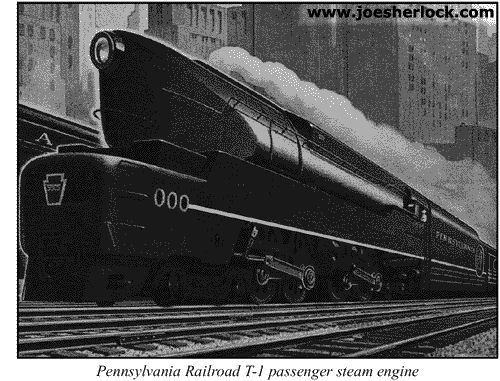 Who fights for cool cars today? Certainly not J Mays of Ford Motor Company who is responsible for much of the company's current banal and awkward product line. Nor Chris Bangle who is responsible for BMW's unfortunate 7-Series cars of today.
Bob Lutz makes interesting noises at GM, but he's only there as a consultant, possibly as decorative trim for that uninspired corporation.
Most of today's car designers live in the little world of Detroit - they are 'smaller' men than their predecessors - and have a less catholic outlook (not in the religious sense, but, rather, in its secular meaning). And the dearth of new ideas makes too many cars seem the same - aeroblobs. (The P/T Cruiser, Hummer H2, new Mustang and new Mini are some notable exceptions.)
Car companies need to hire some champions of style. Because, in the world of automobiles, good, distinctive design sells. Always has. Always will.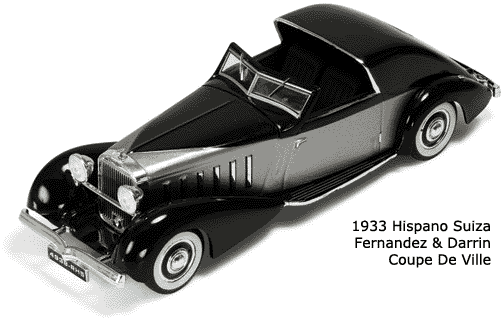 ---
copyright 2005-21 - Joseph M. Sherlock - All applicable rights reserved
---
Disclaimer
The facts presented on this website are based on my best guesses and my substantially faulty geezer memory. The opinions expressed herein are strictly those of the author and are protected by the Constitution. Probably.
Spelling, punctuation and syntax errors are cheerfully repaired when I find them; grudgingly fixed when you do.
If I have slandered any brands of automobiles, either expressly or inadvertently, they're most likely crap cars and deserve it. Automobile manufacturers should be aware that they always have the option of giving me free cars to try and change my mind.
If I have slandered any people or corporations, either expressly or inadvertently, they should buy me strong drinks (and an expensive meal) and try to prove to me that they're not the jerks I've portrayed them to be. If you're buying, I'm willing to listen.
Don't be shy - try a bribe. It might help.
---