RIP: John C. Haas, former chairman of Rohm & Haas has died at age 92. Son of co-founder Otto Haas, he was also active in philanthropic activities.
When Otto died in 1960, his other son, F. Otto Haas, took over the reigns of the Philadelphia-based company. F. Otto died in 1994 at age 78. (permalink)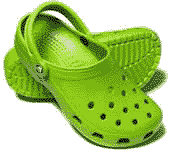 Haven't They Suffered Enough? Crocs has donated 100,000 pairs of ugly shoes to people in Japan. Manalo, the shoe blogger, once described Crocs as an "ungainly, life-sapping, and horrifically unattractive product." In other words, more dreadful than Charlie Sheen's 'Torpedo of Truth' tour opener in Detroit.
What's next - green polyester leisure suits from Sears?
Who Knew? A couple of years ago, people told me that, if I voted for John McCain, we'd soon be bombing Libya, running covert ops in the Middle East and experiencing even more military casualties in that quagmire known as Afghanistan.
It turned out that they were right. I voted for him and everything they predicted has now come true. (permalink)
Kiss Of Death? Last week, Donald Trump called President Obama an "ass-kisser," referring to his kowtowing to Middie-Eastern potentates and dictators. The billionaire real estate mogul and possible presidential hopeful pulverized the President's foreign policies in the Middle East, insisting "every time I look, he's going into another country."
While I've never been a fan of The Donald (his ego is larger than his net worth), he seems to be the only person out there who is not afraid to harshly criticize Barry O.
Donald Trump has succeeded in most of his endeavors while Obama is a consummate failure. Maybe in January 2013, Mr. Trump will have the chance to lean forward and tell Barack, "You're fired."
Quote Of The Day is from Jay Leno: "President Obama's approval ratings are so low now, Kenyans are accusing him of being born in the United States."