Restaurant Reviews (2011-12)
by Joe Sherlock,
The View Through The Windshield
---
2013 Restaurant Reviews can be found here.
---
Here is a collection of restaurant impressions (listed alphabetically) with updates for revisits:
13 Coins; Sea Tac, WA: In 20 years, I've never had a bad meal here. The leather booths with high tufted backs evoke pleasant memories of the 1960s.
On my most recent visit, I had a 'Philly cheesesteak'. It wasn't really authentic but was quite delicious anyway. Recommended. (7/1/11, permalink)
15 East Restaurant & Bar; Battle Ground, WA: Rising from the ashes of the defunct Paparazzi and with some of the same staff, this new restaurant advertises 'The Craziest Happy Hour That Ever Existed'.
Well, at least they're getting their name out there. And the Happy Hour is pretty darned good. Drinks are cheap and the appetizers are modestly priced and creative, including focaccia bread with rosé dipping sauce, pizza, meatball sliders, etc. We also sampled the deep-fried lasagna bites. They were probably deathly unhealthy but tasted wonderful.
On another occasion, I had dinner there and found my entrée to be quite tasty. This place is off to a good start. We'll be back for more. (8/17/11, permalink)
August 2012 Update: Out of business. That didn't take long.
Acqua Pazza; Rancho Mirage, CA: Describing itself as a California bistro, this establishment's menu options are many, and the food quality and service are very good. You can dine outside at the water's edge or enjoy the air-conditioned inviting decor indoors. We've been here twice and left full and satisfied on each occasion. (2/22/12, permalink)
Arnold Palmer's; La Quinta, CA: Sometimes, you wonder why an establishment exists. This place has been plopped down next to a road - not a golf course. Despite a bit of berming, traffic noises dominated the patio's ambiance.

We were unimpressed by the overpriced, mediocre food and slow, inattentive service. Ol' Arnie should be embarrassed. We won't be back. (2/22/11, permalink)
Babe's Bar-B-Que Grill & Brewhouse; Rancho Mirage, CA: Once upon a time, Marie Callender's was the ultimate chick place, offering dainty and blandized food in an alcohol-free setting. The pies were good though. But ever since MC ditched its Boston Creme Pie a few years back, it's been on my Drop Dead List.
Donald W. Callender, the former owner of MC, opened Babe's in 2000 or so. While the decor is interesting, pig-centric and clever, the food is almost as blanded-down as MC's.
The beef brisket tasted like wet stew meat with BBQ sauce on top. While I'm not from the South, I've hung around enough helpful Southerners to have experienced barbecue at its best. This ain't it.
Portions were large, the wait staff had foreign accents and were neglectful.
On the day we visited, Babe's was populated by a lot of chattering chicks.
Why am I not surprised? (2/22/11, permalink)
Big River; Corvallis, OR: We had lunch at this riverfront restaurant and bar. It featured a surprisingly elaborate and frou-frou lunch menu.
The food was tasty and the service was good but prices were surprisingly high and there's no real view of the river - not that we cared on this dark, rainy day. (1/5/11, permalink)
Bishop's; Vancouver, BC: What a marvelous dining experience: we were greeted at the front door by John Bishop himself at his legendary restaurant, established in 1985. The service at this Kitsilano neighborhood spot was personalized and top rate.
The food was impeccable. Everything was unique and prepared in-house, including the breads - soda bread and potato bread. (They even gifted us with a large chunk of soda bread to take home.) We enjoyed a bottle of Quails Gate rosé, a dry wine with a refreshing fruit flavor.
Bishop's is a great way to spend a delightful evening. Highly recommended. (9/16/12, permalink)
Black Bear Neighborhood Pub; N.Vancouver, BC: This establishment offers some of the best pub food I've ever tasted. The chicken curry soup was rich and marvelously spicy. The pot roast special had beef so tender, that no knife was necessary. The meat was tender, flavorful and none of that overcooked, 'leftovers' taste one finds so often with restaurant pot roast.
My wife's club sandwich was enormous and tasty - one of the best she's ever eaten. The atmosphere and decor are pretty close to a traditional British pub and a wide selection of beer and wine is available. Our waitress was friendly and attentive. Highly recommended. (9/13/12, permalink)
Blue Bell Inn; Blue Bell, PA: A historic restaurant which, when it's good, is really good but sometimes has an off night. The food quality varies but the staff seems helpful. Good luck - you're on your own here. (7/1/11, permalink)
Bone's Steak & Chop House; Battle Ground, WA: I had reviewed this restaurant shortly after it opened in 2009. For the record, my wife and I were its very first paying customers and had our photo taken on opening day.
Since then, the restaurant has had its ups and downs, probably because it's been hard to make money in the depressed area known as North Clark County. Good staff departed, replaced by affable but clueless waitpeople. Offerings shrunk, as did the wine list. Once weekly customers, we stopped patronizing Bone's over a year ago.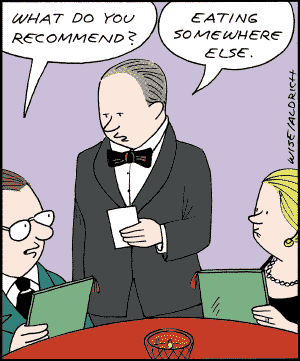 A June visit indicated that things were on the upswing. But a return visit in July was awful. Our meals featured watered-down, improperly-prepared cocktails, undercooked meat, small portions, no promised bread and slow service. Oh yeah, and baked potatoes which were obviously Saturday night's leftovers, reheated incompetently and cold in the center.
Cafe Italia; Indian Wells, CA: This unpretentious-looking strip mall restaurant is a hidden jewel. The simple but elegant decor is inviting, the wine list is fairly extensive and the food is first-rate. Prices are surprisingly reasonable, considering that there's a floor show included with your meal.
When you're least expecting it, the wait people burst into song. Individually or as a duo, they perform Broadway numbers, standards and light operatic pieces. During our 2012 visit, we found that there were fewer singers, time between performances was longer and the talent was not as exceptional as in prior years.
Nevertheless, it's a fun way to spend an evening. (2/22/12, permalink)
Carrabba's Italian Grill; Willow Grove, PA: We could tell by the booth design and layout that it was a corporate cousin to Outback Steakhouse but Carrabba's Italian food is excellent - and a bargain. When it's busy, Carrabba's can be quite noisy though - just like Outback.
I can't wait for them to open some Carrabba's out our way. There are none in California, Washington or Oregon, although there are a couple in Nevada. (7/1/11, permalink)
Castelli's; Palm Desert, CA: Joe Pesci and other celebs dine here when visiting The Desert. The walls are filled with framed photos of them. No wonder - this place is boffo: well-prepared pasta dishes and delicious garlic bread.
The atmosphere is lively but, on this visit, the service almost crossed the line between prompt and the bum's rush. (2/22/11, permalink)
Charlies Bistro; Vancouver, WA: When my office was in downtown Vancouver, this nearby location was the site of a nondescript sandwich shop.
It has since undergone a remarkable transformation, with more upscale decor, new ownership and a creative menu. Were it located in Portland's trendy Pearl District, Charlies would be famous, pricier and a lot busier.
This establishment offers above-par casual American cuisine carefully prepared and well-presented. The wood-accented decor is warm and inviting, I had the shepard's pie, which was excellent.
My wife raved about the fish and chips. The rosemary fries were flavorful and had a good mouth feel.
Charlies has a full bar, with decent selections of wine and beer. We'll be back. (12/20/11, permalink)
CinCin; Vancouver, BC: Featuring contemporary Italian cuisine, this restaurant is highly rated by reviewers but struck us as ordinary and overpriced - $25 bucks for a small plate of pasta bolognese, something Tim Horton's sells for under $5.

The wine list was over the moon, with prices starting at $10 or so per glass and ending north of $2,000 per bottle. Staff seemed haughty and indifferent. Based on my observation, CinCin's clientele seemed mostly to be young well-heeled Asian men trying to impress their well-dressed, petite Asian dates. This establishment is on an upper floor, reached by a long, steep, winding set of tile steps - a challenge for many geezers.
Sum-up: Avoid CinCin; you can do much BetterBetter in this big city. (9/14/12, permalink)
The Coachmen; Battle Ground, WA: Located at the site of the former Chililicious, this eating establishment specializes in 'gourmet' hamburgers made from "1/2 Pound Certified Angus Beef freshly pressed in-house."
My cheeseburger was big, pricey ($9.25) and surprisingly lacking in flavor. I'm not sure why. Coachmen's signature 'cyclone fry' - a spiral-cut potato fried and served on a stick, shish kabob-style - was excellent. My cup of tomato basil soup was flavorful but waaaay too sour.
I ate here on a calm day but a previous visit last year to Chililicious demonstrated that, on a cold, windy day, there is a lot of draftiness from the two large glazed overhead garage-style doors that open up in the summer. Dress warmly and don't sit near the doors.
Verdict: Not awful but not exceptional enough to merit a return. The Laurelwood Public House & Brewery is a short walk away and offers tastier food and a non-drafty environment. Laurelwood had been on our 'avoid' list but a visit last month indicated that the service has improved. (11/15/11, permalink)
Update: The Coachmen is out of business - November 2012
Charlotte's Restaurant; Newtown Square, PA: Nice, friendly place offering attentive service and a wide range of good food. Try it - you won't be disappointed. (7/1/11, permalink)
Dunn's Famous; Vancouver, BC: The iconic Montreal-based smoked meat deli offers sandwiches and dishes mostly based on its corned-beef-like meat. The atmosphere is casual, the waitress was friendly yet too slow but the food was outstanding.
The soup was well-prepared and tasty, the beef on my French dip was brisket-like and flavorful while the au jus was thick, rich and gravy-like. My wife's lean smoked-meat sandwich looked and tasted delicious.
Verdict: a good lunch spot. (9/14/12, permalink)
Five Guys Burgers & Fries; La Quinta, CA: This chain has over 900 locations but this was my first visit to Five Guys. The menu is simple and the food is copious and tasty. 90% of the menu consists of burgers and fries. The concept harkens back to almost 50 years ago when McDonald's and other fast food establishments kept it simple - no fish sandwiches, McNuggets, Happy Meals or those dreaded kiddie play areas filled with screaming waifs.
You won't get 15¢ burgers here; in fact, the big, juicy hamburgers are pretty expensive. But everything is big and flavorful and worth the money. And while you wait for your order to be freshly prepared, you can munch on complimentary peanuts in the shell. Nice place; we'll be back. (2/22/12, permalink)
Fleming's Prime Steakhouse & Wine Bar; Marlton, NJ: This is a first-rate restaurant offering the best beef filets I encountered on our two-week-plus Philly trip. Everything - drinks, food and service - were above par. (7/1/11, permalink)
Full Sail Brewing; Hood River, OR: This independent, employee-owned brewery has an on-premises pub. Nothing to complain about but nothing exceptional either - just standard-fare pub food. Meh - you could do worse. (6/11/12, permalink)
Hockinson CookHouse; Brush Prairie, WA: This establishment can be found in the former location of the Hockinson Kountry Cafe - once a local favorite in rural Hockinson until it was forced to move in 2010 when road improvements took away its much of its parking lot. It goes without saying that parking is at a premium here.
The setting was plain but functional. The waitress was friendly but slow - our entrees were parked in the ready-area for over five minutes - and the food was expensive and disappointing. Our French fries were limp, pale and undercooked; our luncheon sandwiches were uninspired and lacked flavor.
My recommendation: Skip this place head over to the Hockinson Kountry Cafe - now in Battle Ground - and enjoy a much better meal at a cost saving of 15-20%. (4/17/12, permalink)
Update: Out of business, November 2012
Hog's Breath Inn; La Quinta, CA: We've been here a few times for lunch. The food is good, the view from the second-floor terrace is exceptional, especially on a sunny day which is the norm in The Desert.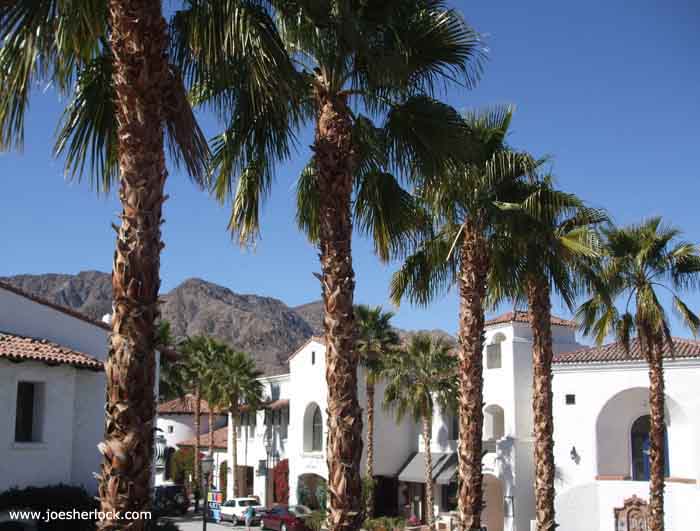 Unfortunately, the Hog's Breath Inn has succumbed to the unpleasant culture of the Chop House of Palm Desert (same ownership) and now offers slow and indifferent service. We're not going back. (2/22/12, permalink)
The Homestead; La Quinta, CA: We enjoyed the ambiance of outdoor dining. The service was very good; the food was very ordinary. But the place is very popular with locals, so it must have something going for it. (2/22/11, permalink)
Update: Closed in 2012.
Il Melagrano Ristorante; Doylestown, PA: The food and atmosphere are exceptional. Two recent dining experiences were marred only by our waitress - the owner's wife, I think - who never smiled and seemed to carry a permanent chip on her shoulder.
The food doesn't need to be fixed here; Il Melagrano should just send that woman to charm school. (7/1/11, permalink)
Jim's Steaks; Philadelphia, PA: This is one of the best cheesesteak joints in Philly. Forget the hype about Geno's versus Pat's; in my opinion, Jim's wins hands down.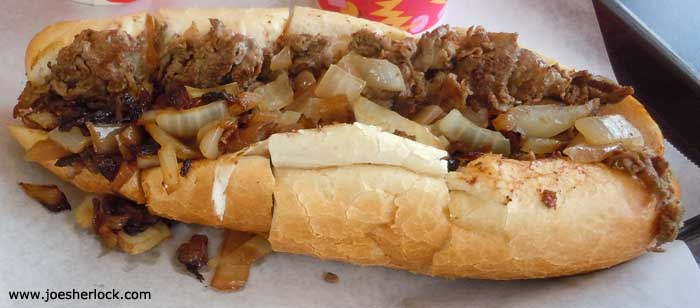 Others will claim that to get a good cheesesteak, it must be made by Italians. Baloney. When I worked in downtown Philly in the 1970s, I used to patronize Jim's on South Street. Everyone, from the cook to the cashier, was black. But they made a damn fine cheesesteak and still do - with top grade ingredients including flavorful, gristle-free beef.
The beef and onions are cooked to interact/meld and become almost as one, imparting a Zen-like euphoria to the person consuming this cheesy delicacy.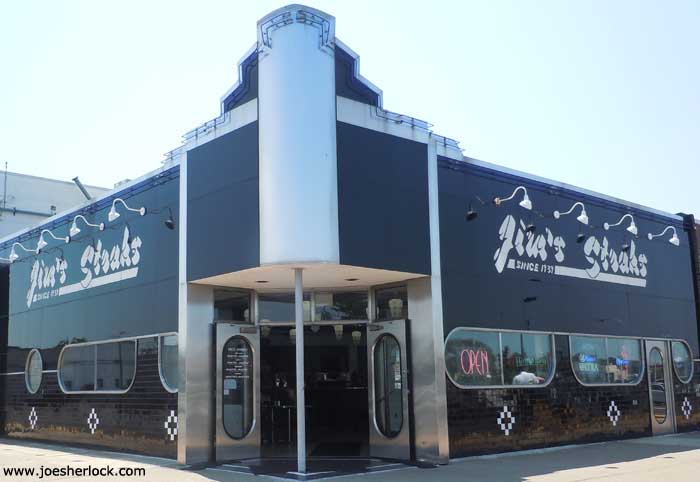 Our most recent visit was to Jim's on Roosevelt Boulevard at the site of the now-demolished Sears and Roebuck complex. Highly recommended. (7/1/11, permalink)
Julie's Cottage Kitchen; Dollars Corner, WA: I could kick myself because this establishment has been around for 18 years and this was my first visit. To think that I could have been experiencing fine homemade, comfort-style, generous-in-portion entrees during a period straddling two millennia.
The staff is friendly, fast and attentive; the food is plentiful and flavorful. I had a patty melt which was at least as good as the ones at Twenty 6 in La Quinta, CA.
The restaurant is small and the atmosphere is cozy. The parking lot fills up because, it seems every patron drives his/her own rig.
Prices are in line with the Hockinson Kountry Cafe in nearby Battle Ground - a lot of tasty food for the money. We'll be returning to Julie's real soon. (4/23/12, permalink)
Kingston Taphouse & Grille; Vancouver, BC: Good pub food with fast and friendly service can be found at this downtown urban oasis. Pub-woodsy and inviting inside. (9/14/12, permalink)
La Solera Restaurant; Battle Ground, WA: Once known Mexi-Chicken - a sort-of Mexican fast food joint, the owner closed and remodeled the place, reopening it a few months ago as an upscale Mexican restaurant with a new nom-de-plume.

After three visits, we've given up. The food is pretty good but the revolving staff of flawed waitresses and the inability of the cook to make anything in less than a half-hour has frustrated us beyond belief.
Battle Ground could use a really good Mexi place but this isn't it. Three strikes and yer out. (7/11/11, permalink)
Lavender Bistro; La Quinta, CA: This is our new favorite place in the desert. We dined outside under the stars. Our meals were carefully prepared and presented. The waiters were properly attentive.
The delicious cuisine was described as French but I'd categorize it as American Continental.
Our second visit was just as enjoyable. Recommended. (2/22/12, permalink)
Le Crocodile; Vancouver, BC: This establishment was rated number one out of almost 1,700 Vancouver restaurants by TripAdvisor, so our expectations were quite high. This delightful French restaurant actually exceeded them, in food quality, service and wine selection. Our meals were perfect in every way.

It was our anniversary and we were made to feel very special by Pierre, our waiter. At the meal's conclusion, every diner is presented with a pair of chocolate crocodiles - one dark, one milk. Highly recommended. (9/13/12, permalink)
Lord Fletcher's; Rancho Mirage CA: Decorated in faux-English 1950s fashion with coats-of-arms on the walls and timbered ceilings, Lord Fletcher's was a frequent stop for the likes of Dwight Eisenhower, Gerald Ford (a lousy tipper, by the way) and Frank Sinatra.
Ol' Blue Eyes dined there for more than 30 years and made it the site of his 70th birthday celebration in 1985.
This is a geezer hangout. While no spring chickens, my wife and I were the youngest diners in the joint. That said, we had a fine meal. Fletcher's prime rib is even better than Lawry's in Beverly Hills. In fact, it's the best I've ever eaten.
The service was good, too. My biggest complaint: the room temperature was close to 80 degrees. Management was obviously kowtowing to our parchment-skinned fellow diners who come here to get their bones warmed. We dined here again in 2012 and were not disappointed. (2/22/11, permalink)
Los Jalapeños; Vancouver, WA: We've been dining at this locally owned Mexican restaurant for over 15 years and have never had a bad experience. The service is polite and generally fast. The quality of the food has improved recently - better quality meat, more generous cheese toppings, etc. Los Jalapeños has two Vancouver locations; we patronize the one on NE 99th St. Highly recommended. (10/25/11, permalink)
Marathon Grill; Philadelphia, PA: The Chestnut St. location featured a slow kitchen, an indifferent waitress and unexceptional, overpriced comestibles in a bland setting.
Marathon's website espoused a philosophy including "principles of consistency." Sigh. Too many dining establishments focus on mission statements and other high-falutin' axioms instead of concentrating on delivering good food, service and value.
Ignore the fancy verbiage; avoid this mediocre, buzzword-driven Cliché Cafe. (7/1/11, permalink)
Mario's Italian Cafe; Bermuda Dunes, CA: This local chain has several locations. The food is bodacious, portions are plentiful and staff is attentive. I really liked the minestrone soup. Oh, and the meatballs are awesome. We've been patronizing Mario's for five years. We visited two of their locations in 2012 and were still impressed.
Beware - Mario's can get pretty busy during peak hours with a line out the door. (2/22/12, permalink)
Mayfair Diner; Philadelphia, PA: This Northeast Philadelphia institution still offers spectacular Diner Food.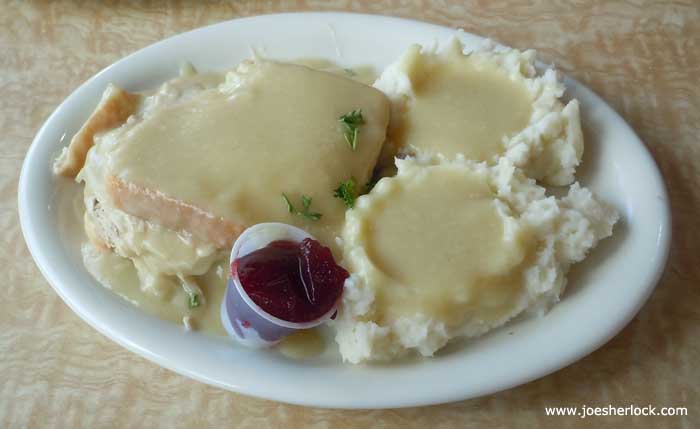 My hot turkey sandwich was delicious and just as good as I the ones I had there some 50 years ago.
The Mayfair has been recently remodeled inside and out - the red crown molding on the roof is new - but continues to offer the same delicious, generous servings which has made it famous since its inception in 1932. Servers are competent and friendly.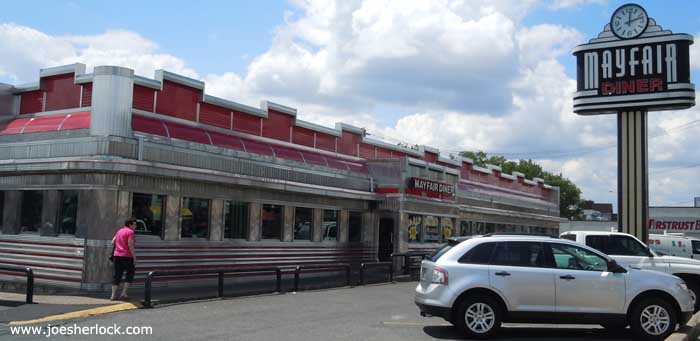 I have additional information on the Mayfair Diner posted here. (7/1/11, permalink)
McCormick & Schmick's Grill, Tigard, OR: We've been to this Bridgeport Village restaurant a couple of times but regardless of location, we've never, never had a bad meal at any M&S during past 30+ years. That includes Jake's Grill - the excellent steak joint - at the Governor Hotel in downtown Portland.
In the early 1970s, Bill McCormick purchased Jake's Famous Crawfish, a 100-plus year-old restaurant in Portland. He later hired Douglas Schmick to manage the restaurant and the rest is history. The duo's reputation for dining excellence allowed the company to quickly expand. M&S is now a national chain with about 90 locations.
Sadly, McCormick & Schmick's closed its original downtown Portland restaurant at Southwest First Avenue and Oak Street in mid-2009. Ever-shrinking parking opportunities near the restaurant (thank you, MAX Mass-transit Overlords; thank you, People's Republik of Portland) caused fewer potential customers to choose it as a dining spot. Many of the nearby businesses that once regularly patronized M&S have moved away as the bum-friendly neighborhood got seedier and less safe.
At most locations, seafood takes center stage but you can always find filet mignon and other land-based niceties on the menu. Every McCormick & Schmick's offers powerful, old-school cocktails and prompt, professional staff. And decent wine offerings.
It's why we keep going back again and again, even though this retiree can no longer do expense account dining. (5/19/11, permalink)
Mimi's Cafe; La Quinta, CA: Offering flavorful roast turkey dinners, the menu states, "Any day can be Thanksgiving."
The non-turkey menu items are also very good. The portions are large, the prices are very reasonable and the place fills up quickly with dangerously hungry geezers armed with canes and walkers. Go early to get a good table.
The decor is country French with a dash of New Orleans, if you care about such things.
In 1982, we dined at a Mimi's Cafe in Anaheim, California - the original one. It was a memorable and enjoyable meal. Now Mimi's can be found in 22 states. (2/22/11, permalink)
Nel Centro; Portland, OR: Located in the Hotel Modera in downtown Portland, we left here disappointed. Our dinner experience was good - food and service were just fine. On the other hand, our bar experience was dreadful. It took 25 minutes to get waited on and be served drinks - during a fairly unbusy Sunday afternoon. My drink order was screwed up; the waitress 'forgot' to place the order for one of the appetizers. Her apology of "I'm sorry; it will be here less than five minutes" was just another lie - it took 15 additional minutes for our simple, just ladle-it-out dish to arrive. Because we were a party of six, a mandatory 20% was added to our bill - To Insure Prompt Service - NOT!
This establishment is expensive and, therefore, we expect near-perfection - in all ways. We won't be returning. (7/29/12, permalink)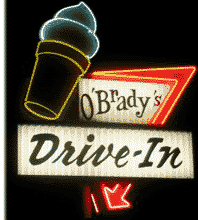 O'Brady's Drive-In; Dollars Corner, WA: Located just west of Battle Ground, WA, this drive-in joint opened in 1974 and is now considered a venerable local 'institution'.
O'Brady's is best known for their many flavors of ice cream - good ice cream, too. They also sell milkshakes, soft serve ice cream, burgers, etc. The onion rings are quite tasty but the burgers are unexceptional. I'd rather have a McD's Quarter Pounder and keep the change.
It's not that O'Brady's burgers are bad - it's just really hard to top Mickey D's in my view.
Earlier in the week, we had lunch at McDonald's during our trip to Hood River, Oregon.
I continue to believe that McD's offers the best burgers and fries for the money. The food is consistent and above par, whether you're dining in Hood River, Boston or Rome, Italy.
Memo to all the Busybodies and Food Police who would like us to give up tasty food and exist on nothing but kale, watercress and tofu: Drop dead.
O'Brady's is closing in Fall 2012 because the highway is being widened. So if you want the old-time drive-in experience, don't dawdle.
Update: closed September 15, 2012. (6/11/12, permalink)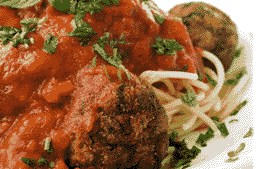 Pastini Pastaria; various Oregon locations: Let's get the worst thing out of the way first - while this Oregon mini-chain has locations all around Portland and even in Bend and Corvallis, there is no Pastini in southwest Washington - an area that could use a really good Italian restaurant. Bummer.
Pastini calls itself a "homegrown Oregon Italian bistro with a passion for pasta. Our reverence for the splendid noodle has inspired us to create over 30 classic and contemporary Italian pasta dishes using fresh, local ingredients in the tradition of the neighborhood bistros of Italy."
I believe this to be an understatement; my experience is that Pastini is better than many bistros I've encountered in Italy.
We've dined at various Pastini locations including NW Portland, Tigard and Corvallis and have always had a delightful time. The food is consistent and well-prepared, the wine list is excellent and the spumoni ice cream is delicious. The massive meatballs are wonderful, too. And the waitpeople are properly attentive. Recommended. (1/5/11, permalink)
Philly Bilmos; Vancouver, WA: This East Vancouver shopping center sandwich shop has Philadelphia memorabilia on the walls and offers great cheese steaks and pizza steaks, served on rolls allegedly flown in from Amoroso Baking Co. in Philadelphia. We've been patronizing this place since 2006 and the only change is that Bilmos is becoming more popular and busy. Good for them.
I've tried just about every establishment in the Pacific Northwest claiming to offer 'genuine' Philly cheese steaks; this one is the closest I've found to the Real Thing. The only thing missing was the rattle of pots and pans as the Frankford El passed by. And Rocky Balboa yelling, "Yo, Adrian!"
Philly Bilmos also offers TastyKake cupcakes - $1.75 for a three pack - as well as other Tasty products. So you can still get your TastyFix while living in the beautiful Pacific Northwest. What more do you need? (7/1/11, permalink)
Pomme Frites; Palm Springs, CA: This cozy downtown prepares entrees from scratch. The offerings are a combination of Belgian and French cuisine. The decor and layout is cleverly reminiscent of an intimate European café.
Unfortunately, the attitude of the owner and some of the wait staff has become a little too stereotypically French for our tastes - haughty and dismissive. In an area full of great restaurants, we don't need a dose of arrogance served with our food.
After five years of patronage, we won't be returning to this now-dour establishment. (2/22/11, permalink)
Provecho Mexican Grill; Vancouver, WA: Located just north of downtown, you shouldn't let the semi-dumpy strip center location scare you off. The menu is very limited (tacos, burritos and tostadas seem to be the primary focus) and no rice was available but the food was very good.
Chips and salsa are top notch but you have to pay extra ($5.50) for them. Our waitperson was pleasant and prompt. The decor is pretty basic, but we had an enjoyable time. (10/23/11, permalink)
Q4 al Centro; Vancouver, BC: This fine Italian restaurant is located in the L'Hermitage Hotel in the downtown Vancouver hotel district. The food and drink are outstanding; the service is polite but the food takes a while to arrive. No worries; just sit back and enjoy your drinks. The meatball appetizers were to die for; all of the entrees were excellent as well.
Sum up: a nice way to spend and evening. (9/15/12, permalink)
Red Robin; Vancouver, WA: Before I begin my Old Man Whining, let me say that enjoyed my most recent dining experience at Red Robin. As chains go, you could do a lot worse. I'm talkin' about you Applebee's, Panera Bread, Chevy's, El Torito, and Ruby Tuesday.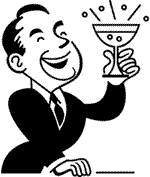 That said, Red Robin is noisy. I used to enjoy that in the 1980s when Happy Hours were really happy and there was a certain conviviality between humans - now absent thanks to .08 blood alcohol laws.
Politicians tell us that we are a bitterly divided electorate. People should drink more; alcohol is the social lubricant that brings everyone together. And they should stop talking on cell phones and texting in social situations. Talk to your bar mate instead. When I left Red Robin, I passed a guy hanging half out the front door in an apparent attempt to get good cell reception. If The Robin is blocking cell reception within, I cheer, "Boo-Ya!"
People have three voices: inside voice, outside voice and cell phone voice. Cell phone voices are very close in volume to outside voices. That's why I hate cell phones in restaurants - every user is a loudmouth. At least texters are quiet.
In the good ol' days, Red Robins used to be jumpin' places every night as were T.G.I. Fridays, which in the '70s, featured magicians as entertainment on Friday evenings. But all the Fridays around here have closed their doors; the chain has been on a long downhill slope for decades. One reviewer wrote, "T.G.I. Fridays is where you go if all the Red Robins have burned down." True dat.
Red Robin is also about hype. The colorful, laminated menus are supplemented by specials of all stripes. My waitress cheerfully proclaimed, "This is the final day for our Octoberfest Burger!" - something which I believe involved and unnatural and unholy mating of ground beef and sliced Black Forest ham. And possibly Lederhosen. I replied, "Thank God - our long national nightmare is almost over." She was not amused.
My non-Germanic dish - a Patty Melt - took a while to arrive but it was pretty good. I made sure they didn't put any of the listed Thousand Island Dressing on it; in my Patty M. world, such goopy toppings are sacrilegious. Purity demands that one enjoys the ambrosia-like meld of burger, cheese, fried onions and toasted rye. The Robin's PM did not measure up to the world class ones that I've enjoyed at Twenty 6 and Julie's Cottage Kitchen. But then, I've set a high bar.
My Robin servers were attentive and friendly. I'll be back again. (11/19/12, permalink)
Ristorante Mama Gina; Palm Desert, CA: This establishment has some of the best Italian cuisine I've sampled since the demise of Gaetano's in Philadelphia. Dining there has become an annual event for us.
Mama Gina has two locations - Palm Desert, CA and Florence, Italy. (2/22/12, permalink)
Riverside Grill; Hood River, OR: Located in the Best Western Hood River hotel, this is a nice dining spot. The seating offered great views of the Columbia River and the service was excellent. The food was pretty good, although my sirloin was overcooked. (6/11/12, permalink)
Seasons in the Park; Vancouver BC: This unique restaurant is located in 130-acre Queen Elizabeth Park, Vancouver's 'horticultural jewel' with some of the most beautiful and well-maintained gardens in the world. The restaurant offers spectacular views, since it's the highest point in Vancouver (almost 500 feet above sea level). Most tables have great views of the park, downtown Vancouver and the mountains that line the North Shore. Our luncheon seating looked northward: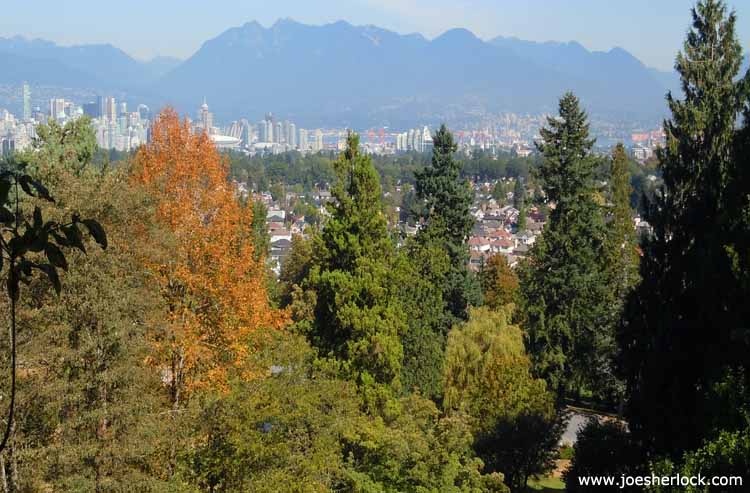 The food and service were just fine but, let's face it, people dine here for the view. Recommended. (9/17/12, permalink)
Shenanigans; West Linn, OR: Shenanigans is a Portland icon. In the 1970s, it was a hot drinking-dating-dining spot, located on Swan Island with a view of the Willamette River. I ate there a couple of times and found it to be very good. Several years ago, Shenanigans relocated to Hayden Island in the Red Lion Hotel with a view of the Columbia River. Initial visits were promising but the decline in the quality of service and, later, food caused us to dine elsewhere. In 2011, the restaurant closed.
Shenanigans has again arisen at the West Linn space formerly occupied by Rose's. A lunch visit with friends became a pleasant dining experience. Service was prompt and attentive. My prime rib sandwich was excellent - the quality of the beef and bread were exceptional.
For lunch, Shenanigans serves up sandwiches, pasta and salads. A full dinner menu offers prime steaks, fresh fish, chicken and pasta dishes. The beef is local and the burger meat is ground on premises.
Over $600,000 was spent remaking the space into Shenanigans' new image. The dining room is intimidatingly huge and needs some partitions to break things up. The decor is black and white - perhaps a nod to its Tuxedo Charley's Lounge - but the gigantic dining room needs color, perhaps some bright wall coverings to relieve the elegant but stark appearance.
I hope that third time's a charm for Shenanigans. This establishment merits your dining patronage.
Update: Out of business - Shenanigans suddenly closed its doors in September 2012. (8/9/12, permalink)
Sherman's Deli; Palm Desert and Palm Springs, CA: This wonderful Jewish deli is just like the kind you find in New York and Philly. Sherman's rye bread is the best in the West and every item on the menu is far above par.
We prefer the Palm Springs location which is roomier but the food at the PD location is just as good - as a 2012 visit confirmed. The matzo ball in my chicken soup was the size of a baseball!
Oy! You'd be meshugeh not to eat here. (2/22/12, permalink)
Sirocco; Indian Wells, CA: This elegant, pricey Italian restaurant is at the Renaissance Esmeralda Resort & Spa.
The food is always interesting and flavorful and the service is good. We visit this establishment every year and it continues to impress (2/22/12, permalink)
Stardust Diner; Vancouver, WA: Located in east Vancouver on SE 164th Avenue, this stainless steel recreation of a classic 1950s diner offers an authentic diner experience.
I've eaten here several times since the place opened in the mid-1990s. The food is well-prepared, tasty and the portions are plentiful. Prices at the Stardust are diner-reasonable. Everything appears to be home-made.
The menu is diner-like, featuring well-loved American recipes, although most diners of yore offered a larger and more diverse selection of entrees. Like Terry's or The Mayfair.
Stardust's staff is friendly and not easily flustered, even when the place is packed. There's an old-style jukebox (and mini-jukes at some of the tables), walls are adorned with old ads, especially auto-related items and period glass block is used on some of the partitions.
I recently attended a car club dinner at the Stardust Diner. The car-centric diner management made posters and 'reserved' table tents on each table with photos and logos of the club's favorite marque - a unexpected and pleasant surprise. The Stardust also sponsors a car show in August of each year. Recommended. (1/27/11, permalink)
Stuft Pizza: La Quinta, CA: Located in Old Town LaQuinta, this place is noisy and busy but the food is pretty good. I didn't care for the meatball pizza though - too much sauce and not enough cheese. The Pizza Margherita was just fine, though.
The waiters were attentive but annoying when they kept offering to turn our patio heater back on when the temperatures dipped below 68 degrees. (They must have interned at Lord Fletcher's.)
Also irritating were the hostesses, who seemed to be having a contest to see how often they could say "you guys."
"Follow me, you guys, I've got a table for you right over here. Do you guys want me to turn up the patio heater? No? Well, your server will be right with you. You guys have a good meal."
The best restaurants never refer to patrons as "you guys." (2/22/11, permalink)
Sullivan's Steakhouse; King of Prussia, PA: This expense-account steak joint features a well-orchestrated, professional wait staff offering excellent service. The food is wonderful but pricey. Sides cost extra but are tasty, including onion rings the size of Smart tires.
The wine list is extensive but expensive. Fleming's has better beef, though. (7/1/11, permalink)
Three Rivers Grill; Hood River, OR: Located in restored old house with a view of the Columbia, the establishment doesn't look like much from the outside. Step inside and the service, the view and the food will amaze you. Specializing in Northwest cuisine with a French flair, Three Rivers is exceptional; everything we ordered was perfectly prepared. The wine list is fairly extensive with emphasis on local wines. Three Rivers has a small bar staffed by an expert mixologist. Highly recommended. (6/11/12, permalink)
Tir Na Nog; Philadelphia, PA: Zagat has named this the 4th greatest Irish pub in the U.S. I attended my high school class reunion's Friday Happy Hour here and was pleased with the food, drinks and service.
Located next to Suburban Station, the pub seems to cater to a thirty-something crowd. (7/1/11, permalink)
Tommy O's; Vancouver, WA: This downtown Hawaiian restaurant/lounge has been described as a Pacific Rim Bistro, with "contemporary island favorites fused with fresh, local ingredients."
We shared a bottle of 2007 Tommy O's Hula Hula Washington Red - a relabeled Maryhill Winery blend ("every varietal they've got but the kitchen sink went in it, " I quipped to my wife). The wine was surprisingly good - as were the appetizers and the entrees.
This place offers a relaxed atmosphere. Our waiter was friendly and helpful and the support staff were attentive. The food is a bit pricey for what you get yet we didn't feel ripped off.
I know the real Tommy O - Tommy Owens. Fifteen years ago he had a small lunch counter in the Vancouver Marketplace downtown. Now he's running a couple of thriving restaurants and a catering service. Good for him. (3/26/12, permalink)
Toner's Beef & Ale; Ft. Washington, PA: This dark and somewhat decrepit tavern reeks of stale beer but makes a surprisingly good, mouthwatering cheesesteak. If you're in the neighborhood, try it. (7/1/11, permalink)
Tony's; Ivyland, PA: Still offers the best genuine tomato pies, just like the NE Philly location did in 1959. One of my teenage friends used to get his pizzas from Tony's just down the street from the his folk's house on Frankford Ave. It's still there but Tony Mallamaci's grandson now operates a second location in Ivyland, a Philly suburb.
On our most recent visit, we imbibed two bottles of Ruffino Chianti, which made me feel like Tony Soprano. We ordered Tony's famous tomato pie; it was delicious and evoked a lot of pleasant memories from 52 years ago. (7/1/11, permalink)
Twenty 6; La Quinta, CA: This casual and trendy cafe is located within the LaQuinta Resort and Club. That's the one with the Model A mascot.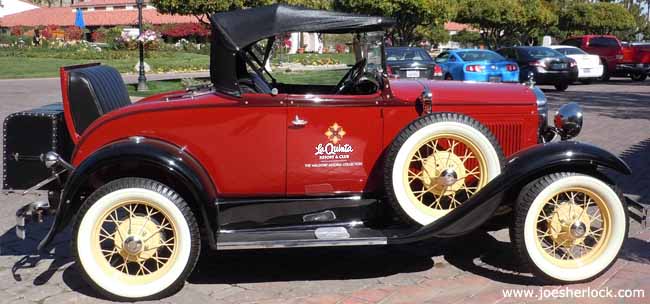 The atmosphere was pleasant. We dined outside under the stars - at a table lit by a full moon. And were serenaded by a band at the nearby outdoor bar; it was distant enough that the music didn't overwhelm. The menu consisted mostly of basic comfort foods; our selections were reasonably flavorsome and inoffensive.
A 2012 visit confirmed that the patty melt is one of the best on the planet. (2/22/12, permalink)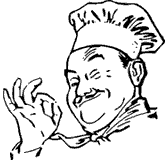 Vinnie's Pizza; Vancouver, WA: Located downtown at the former site of a McDonald's Express (and you thought McDonald's locations never went out of business), Vinnie's is far more than a mere pizza joint, offering appetizers, salads, calzones, strombolis, lasagna and pasta dishes. Desserts are also offered including spumoni ice cream, a rare find at Italian restaurants these days.
A selection of beers and wines is available. The most expensive wine on the list was a $20/bottle chianti; it was excellent. I had a very hearty but simple lasagna (meat, cheese, noodles, basil - no olives, mushrooms or other items which screw things up). The garlic bread that accompanied it was hideous-looking but tasted OK. My wife had a veggie pizza and raved about it, especially the crust and the sauce. On our second visit, each of us ordered a small pizza and we were both quite pleased with the taste. The restaurant's website claims an ancestral New York heritage for its pizza recipes.
The decor is sort-of minimalist sophistication with subdued colors and a selection of local art framed and mounted on the walls. The service was good and our dinner bill was modest. Vinnie's has two Clark County locations under the same ownership; the original Vinnie's is in Ridgefield, WA.
Google claims there are 78,800 results for 'Vinnie's Pizza', suggesting that there are thousands of restaurants with that name across the U.S. I'm betting that most of them are not as good as this Vinnie's. We'll be back again. (7/5/12, permalink)
William Penn Inn; Ambler, PA: Established in 1714, this establishment is the oldest continuously operated country inn in Pennsylvania. It offers a dignified dining atmosphere, an abundant wine list and excellent food.
The service is usually attentive and polite but a little arthritic from aging waiters. This time, we encountered a young smart-alec who seemed more interested in hustling us along rather than being attentive to our needs. Harrumph. Fire this dude and bring back the geezers. (7/1/11, permalink)
---
More Restaurant Reviews can be found here.
copyright 2011-12 - Joseph M. Sherlock - All applicable rights reserved
---
Disclaimer
The facts presented in this blog are based on my best guesses and my substantially faulty geezer memory. The opinions expressed herein are strictly those of the author and are protected by the U.S. Constitution. Probably.
Spelling, punctuation and syntax errors are cheerfully repaired when I find them; grudgingly fixed when you do.
If I have slandered any brands of automobiles, either expressly or inadvertently, they're most likely crap cars and deserve it. Automobile manufacturers should be aware that they always have the option of trying to change my mind by providing me with vehicles to test drive.
If I have slandered any people or corporations in this blog, either expressly or inadvertently, they should buy me strong drinks (and an expensive meal) and try to prove to me that they're not the jerks I've portrayed them to be. If you're buying, I'm willing to listen.
Don't be shy - try a bribe. It might help.