---

---
Buying A New Car (2005)
---
Disclaimer: The following article is in no way intended as a new vehicle buying guide. When it comes to transportation, everyone has different needs. Wants. Desires. Passions. And budgets. That's why there are so many different kinds of vehicles available in the marketplace. (Thanks for stating the obvious.)

You're quite welcome.

If all buyers had the goal of utilitarian, sensible transportation, Checker Motors would still be in business, happily making 1962 Marathons. These taxi-based vehicles were practical, roomy and virtually indestructible. The interiors were fully washable, too.

Checkers didn't offer much in the way of passenger safety by today's standards but the car itself was very sturdy. If you were in an accident, your heirs could simply hose the gore off the dashboard and sell the Marathon to someone else.

Checker Marathons never won any styling awards. In those made-for-TV movies cranked out by Universal Studios in the 1970s, every character playing a dignitary from a Soviet-block nation was chauffeured in a black Checker Marathon. Universal didn't have access to any Soviet-made Chiaka limousines and - to the studio - the big, Michigan-made Checker personified the stolid styling of USSR luxo-barges of the period.

Today, it is difficult for anyone to purchase a truly awful new vehicle. Honda and Toyota have raised the quality/reliability bar so high, that all other manufacturers have been forced to produce durable and desirable cars - just to remain competitive.

This was not true in the 1980s when a plethora of notable crapmobiles graced new car dealers' showrooms - I'm thinking of the Cadillac Cimarron, Pontiac Sunbird, Chevrolet Chevette, the multiple variants of the Chrysler K-car, Ford Tempo, Renault Alliance, Yugo and so many more. And the infamous GM X-cars, like the Oldsmobile Omega.

So ... buy whatever pleases you. You may not get the perfect, indestructable machine of your dreams but it's unlikely you'll be saddled with a complete pile of junk, either.

(If you need a guide to the lingo and buzzwords used by various auto publications, go here.)
---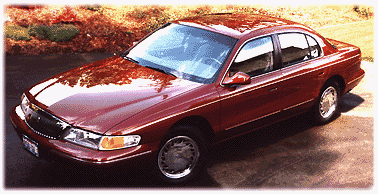 Car Decision Process: We ordered a new car in February 2005 to replace my wife's aging 1996 Lincoln Continental. To be sure, we could have fixed up her Lincoln but, after almost ten years of ownership, we were tired of the Continental. Maybe it was tired of us, too. But we treated it well - it spent much of its life sheltered from the elements in our garage. The Lincoln was waxed twice a year and we always performed the scheduled maintenance in a timely manner. Nevertheless, it was time to buy a new car. (My wife sold her Continental to a fellow member of the Lincoln Club.)
Approaching things logically, I prepared a List of Candidates for my wife's consideration. She wanted a four-door sedan. We wanted to spend less than $50,000. We are picky about car choices because we keep vehicles a long time - 8 to 10 years, usually. (Our record is 28 years.) The replacement automobile would not be a Lincoln. I was concerned about the viability of the brand and none of Lincoln's offerings interested us. (If you're interested in additional thoughts about the Lincoln brand, go here.)
I wanted our new car to have traction and vehicle stability control. This requirement eliminated the Honda Accord, Mazda6 and Subaru Legacy. The BMW 530i was out because of my wife would have none of that iDrive mouse/knob thing. And the Chris Bangle styling is off-putting. And I've heard that new BMWs are haunted by electronic gremlins. Mercedes? Too expensive - and there are rumors of poor build quality in recent models. The Chrysler 300 was crossed-off because DaimlerChrysler vehicles have spotty reliability records and my wife didn't like the looks of it. The Ford 500 and its Mercury Montego sibling were underpowered, had cheap-looking interiors and surprisingly little headroom for such tall cars.
We narrowed our focus to seven models: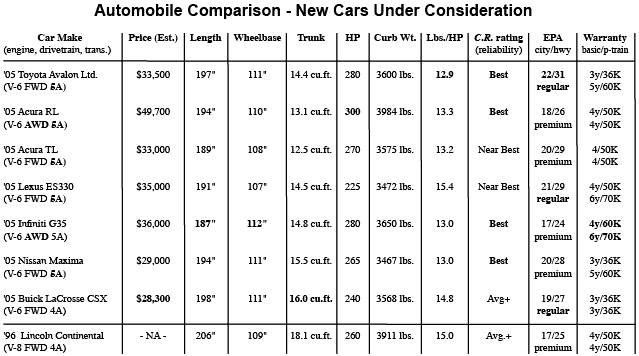 C.R. rating = Consumer Reports magazine reliability score (4/04)
While we did visit dealers and test drove a couple of cars, we had a chance to examine all of the candidates in a single day at the Portland Auto Show. I had high hopes for the much-hyped new Acura RL. But it disappointed in person. I didn't care for the front end. And the interior didn't seem fancy enough for a $50,000 car. It also had an iDrive-like central control 'mouse' which was a turn-off for my wife. The Acura TL was a very nice car and was $17,000 less money than its larger brother ... but it was a bit on the small side. The Nissan Maxima seemed to offer a lot for the money - on paper - but had a cheesy-looking center stack inside. We didn't care for the exterior styling either. The Infiniti G35 was nicely trimmed but had a less roomy interior than its wheelbase would have indicated. My wife didn't like its looks.
We also looked at the Buick LaCrosse and sat in several models. My wife and I agreed that it wasn't a bad-looking car but she said she'd never buy one because "it's a Buick." Buick was once a proud brand driven by doctors and up-and-coming executives. Now it has become a sedan for fixed-income, tight-fisted septuagenarians. It is going to take a long time for this brand to change that image.
Later, we saw a Maserati Quattroporte sedan. I remarked to one of my car buddies, who was also at the auto show, that it could pass for a Buick, especially with the chrome-ringed portholes on the sides. I offered to buy my wife a LaCrosse and replace all the Buick badges with Maserati emblems but she'd have none of it. So ... it was definite then. No Buick for us.
My wife and I both liked the new Toyota Avalon. It is very roomy inside and the reclining rear seats are a hoot. The interior is nicely styled and looks very upscale. The exterior is pleasant but not groundbreaking and, therefore, will never win any novel design awards. (That's OK. Just keep giving them to Chris Bangle and his ilk. But don't force us to own any Banglemobiles.)
We left the Avalon display and checked out a Lexus 330ES. By comparison, it was a disappointment. The exterior wasn't as good-looking to me. And the interior was more cramped and dark. Both cars are similarly priced. We test drove the more-expensive Lexus GS model earlier and were underwhelmed. I thought it was overpriced for what it was. The handling and acceleration were mediocre on the six-cylinder version. The V-8 model costs a whopping $8,000 more. (Four grand per cylinder?! Has Lexus no shame?! Or do they just take lessons from the Jaguar S-Type?)
At the time we were looking, there were no 2005 Toyota Avalons on dealer lots. (We had to go to the auto show to see it.) Nevertheless, local Toyota dealers had literature to provide and specifications to discuss. The Buick LaCrosse had been in showrooms for months. But dealers had no literature to offer. "We're still waiting for it from GM," one admitted. Meanwhile, General Motors wrings its corporate hands and can't understand why people buy Toyotas. If GM can't get its act together enough to print a brochure in time, how would it respond if suspension widget failures caused a major LaCrosse recall? How long would the new family Buick remain up on blocks, awaiting parts from this sluggish, indifferent automotive behemoth?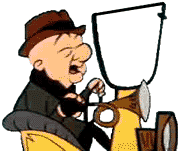 Maybe GM simply hands out 1998 Regal brochures to Buick prospects, figuring that those Mr. Magoo 70 year-old eyes can't make out the difference. I finally got some literature directly from GM, requesting it via Buick's website.
By the time the LaCrosse brochure arrived, we had already made our decision to purchase a new, top-of-the-line Avalon Limited. In Cassis Pearl (deep red) with an ivory leather interior. The Toyota is nine inches shorter than the Continental but has substantially more interior room.
We contacted seven Toyota dealers. One was unbelievably rude: "You should be lucky to get this car. We have a tight allocation. We'll sell it with the options we want at the price we want to charge."
Another e-mailed: "Vehicles on the lot will have an adjusted market value of $3,000 over retail. ... All our vehicles are sold with Vehicle Theft Registration which adds $289 to the cost." Still another said, "I'll call you right back as soon as I get to the office." And never did. We finally found a friendly, responsive dealer who was willing to sell us an Avalon, equipped the way we wanted, at a substantial discount from MRSP. All staff were polite and professional. Although we made our initial contact with this dealer at the auto show, our salesperson told us that 70-80% of their sales originate with an internet inquiry. This Salem Oregon dealership sells cars to buyers all over the West. No wonder.
Our Avalon was built at the Georgetown, Kentucky plant. (The facility has produced almost 6 million vehicles since it opened in 1988. Not just an assembly operation, the plant makes engines and does its own body stamping and plastic injection molding, too.)
In the past, some of the car-buff magazines have made fun of the Avalon. A "Geezermobile." "Toyota's Buick," one called it. Laugh if you will, boys, but, with 12.9 pounds per horsepower and a five-speed automatic, this baby will out accelerate most of the cars you drool over. (Toyota claims 0-60 in 6.6 seconds.) It's a comfortable car, too. And dead-bang reliable - J.D. Power awarded it Best-In-Class for reliability.
Consumer Reports has consistently given the Avalon top marks for durability. Intelichoice cited the Avalon for low ownership costs. Such things become more important as miles roll up and years go by. The Toyota Avalon is a 10-year car we can live with.
We'll give it a good home. (posted 2/16/05)

Update 3/7/05: We picked up my wife's new Toyota Avalon Limited on a sunny-and-mild Sunday afternoon. We're still getting used to the car, but are very impressed so far. Nice build quality, flawless paint throughout, rattle-free. On the freeway, the car rides as well as anything we've ever owned. In the twisties, it handles surprisingly well and (despite what I've read in road tests) the steering seems very responsive. The power steering is overboosted at low speeds - 10 mph and below - that makes parking a breeze and makes the car feel like a Buick Regal. But at typical road speeds, the boost returns to normal and provides good feedback to the driver (unlike a Regal).
We picked it up with only 14 miles on the odometer, so we're trying to be gentle during break-in. But crack the throttle the slightest amount and it moves. On the way home, my wife was driving our Jaguar and got stuck behind some moron doing 30 mph in a 50 zone on a narrow two-lane road. I saw the telltale smoke start to pour out of the Jag's twin pipes and thought, "Here we go!!" I cracked the throttle of the Avalon about 1/3rd and it shifted down and both cars positively hauled-ass past one surprised moron at 60-plus mph. Likety-frickin'-split! I had no trouble keeping up with the Jag. I'm going to like this Toyota. By the way, the Avalon averaged 28-plus mpg at freeway speeds of 70 mph.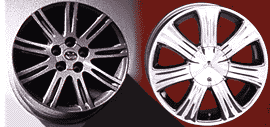 Complaints - only one so far. I didn't like the look of the 17" factory alloy wheels - too dark. I replaced them the next day with chrome-plated 17" Alba Impulse wheels. The appearance of the Avalon is much improved.
Update 3/18/05: It is always good when an auto writer has nice things to say about a vehicle you've just purchased. Anita Lienert of The Detroit News tested the 2005 Toyota Avalon. She remarked that it "is so gorgeous inside and out that it looks like it belongs in the lineup of Lexus, Toyota's luxury brand." More nice words from Ms. Lienert: "The new Avalon signals the end of the not-so-flattering nickname, "Toyota's Buick." ... Avalon gets a powerful new engine for 2005 and one of the best rear seats in the business. And the sedan, which one buff book once derided as the "Ward Cleaver of sedans, synonymous with bland," gets a hefty dose of sex appeal, with such sporty features as Toyota's first dual-exhaust system and a new floor-mounted shifter."
Anita concludes: "My drives in the Avalon coincided with similar test drives in February of its principal domestic competitors, namely, the 2005 Buick LaCrosse and the 2005 Mercury Montego. The Avalon outshines the LaCrosse and the Montego in most respects ... Toyota executives aren't shy about describing the Avalon as a car for the "mature buyer." The good news is that they've shaved years off the car's image, and therefore your own, with the redesign and made it seem like the best buy in its class."
Update 3/23/05: Here's another Avalon review - Jim Mateja of the Chicago Tribune gave the car generally positive comments, noting that "in back, the limo-like leg, head and arm room puts some large luxury cars to shame. Those who developed the snug rear cabin in the Cadillac STS sedan should check out Avalon. You could wear snowshoes and still not strike the backs of those front seats. And the rear seat backs recline for more relaxed long-distance travel."
He begins his review with an attention-getting sentence: "Finally, a car that should take sales away from the Toyota Camry, the industry's top-selling car since 2002: The 2005 Toyota Avalon." Three-plus weeks after taking delivery, we still haven't found any flaws, problems or dislikes with our new Avalon Limited.

Update 3/24/05: I gave our new Toyota Avalon its first bath this week. I've always felt that you cannot know a car until you've gotten up-close-and-personal and washed it. Some observations:
1. It is very slab sided - no door protector strips to break the visual line of height. That's why it looks taller than it is. We're having the sides custom-pinstriped later this month to reduce the visual blockiness of the side view. Nothing wild. Our experienced pinstriper gave us sage advice, "Start with something fairly simple. You can always add more later, if you want."

2. The car is tall. The Avalon's height is about the same as its 1996 Lincoln predecessor. But the Continental had a curved roof that dropped gently toward each side of the car. The Avalon has a fairly flat roof (similar to my daughter's Honda CR-V) - that's probably why the headroom is better than the Continental. But it makes the middle of the roof harder to reach.

3. The glass area is big - the front windshield and rear window each have a lot of surface area. The side windows are normal in size although they appear small visually because of the large vertical expanse of doors.

4. The hood has creases which blend into the style of the front end. I didn't notice this until I started soaping it up. It's a nice, subtle effect but easy to miss.

5. The taillights are jewels. I first noticed this phenomenon with Lexus models. Viewing a clean example on a sunny day, Lexus' taillights sparkled so much that they made other cars' taillights seem dull by comparison. Then I noticed that some of the newer Toyotas have the same kind of taillights, including our Avalon. Looking closely, I've figured out how they achieve this effect. The exterior taillight is molded in red transparent plastic with no lensic finish. It has highly-polished (I'd guess to a 2-3 micron level) flat first and second surfaces, except for the reflex area (reflectors are required by DOT/SAE regulations and must be red). The necessary optical lenses are molded into an inner clear taillight. That way the red outer light can really 'sparkle' as light bounces back from both the flat exterior first surface and the flat interior second surface.

This is not a totally new idea - the 1956-57 Continental Mark II's taillights were similarly constructed but didn't produce a jewel-like appearance because (a) the molds were not as highly polished (likely 8-10 micron finish) as those used by Toyota/Lexus and (b) the molded acrylic's red tint was darker and, therefore, less transparent than the plastic used by Toyota and Lexus for today's cars.

The overall 'jewel' effect is stunning; the approach very clever and, I think, typical of Toyota's attention to little details.
More car photos here.
---
Update 6/1/05: "A Penny Pincher's Lexus": That's what Forbes calls the Toyota Avalon. More: "The Avalon is an accountant's idea of a Mercedes. Compare Toyota's Avalon to DaimlerChrysler's entry-level Mercedes-Benz E-Class sedan, which costs $24,000 more. The Avalon has more horsepower and torque, as well as more shoulder room, hip room and backseat legroom. You should only spend that $24,000 extra for the Mercedes if image means a great deal to you - and if you're willing to forego the E-Class' endemic problems with reliability. Otherwise, you don't need to be a coupon-clipper to see the superior value of the Avalon. You just need to be comfortable owning a car that blends into the scenery - a characteristic which actually appeals to fuzz-fearing leadfeet like us."
Finally: "We recommend the Avalon with no qualifications. ... The Avalon is a better value - by which we mean it gives you more for your money - than just about any car we can imagine. In addition to giving you luxury-car features for less-than-luxury prices, it now has a powerful engine and the best gas mileage of any large sedan on the market."
We now have over 3,000 miles on our Avalon and continue to enjoy it - no unpleasant surprises.
---
Update 9/15/06: We now have just over 15,000 miles on our Avalon. We have not experienced a single problem so far. No rattles, squeaks, electrical gremlins or mechanical issues. We average 23-25 mpg in mixed driving and close to 30 mpg on the highway - all on regular gas.
---
Update 3/8/10: Five years old and it still looks and runs great. We have encountered not a single problem whatsoever in 35,000 miles.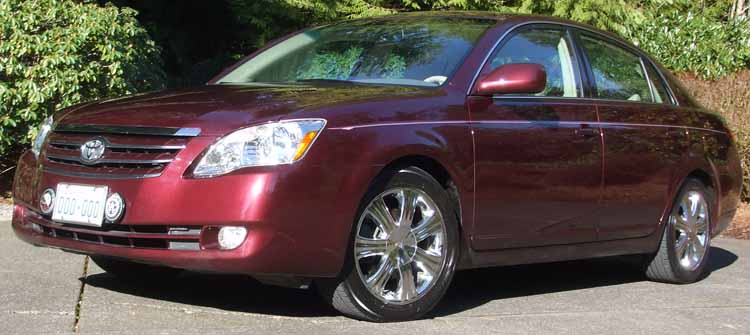 (photo: 3/1/10)
---
Update 4/15/11: At age six and with just under 40,000 miles on the odometer, our 2005 Toyota Avalon Limited continues to be reliable and trouble-free.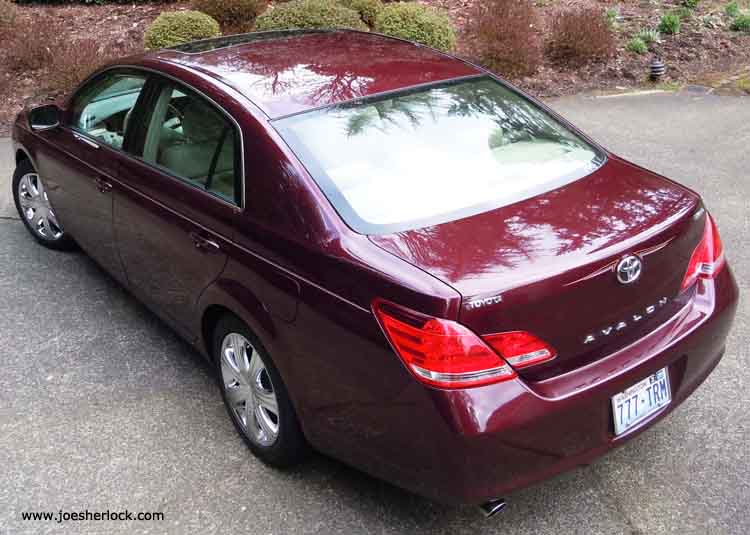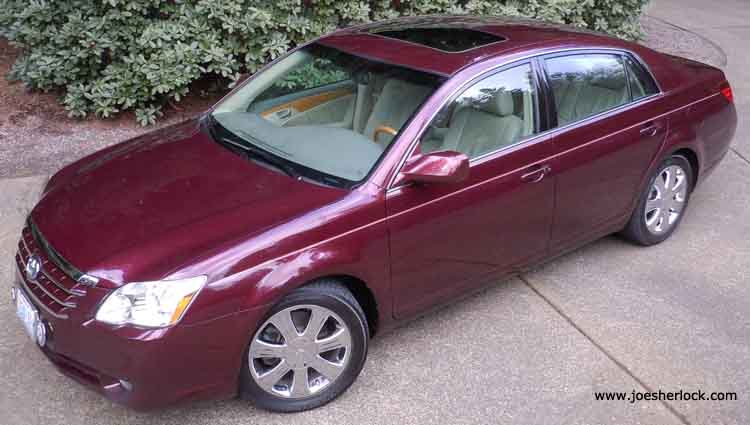 It still looks - and runs - like a brand new car. (posted 4-15-11, permalink)
---
Car Washerobics: The morning was cloudy and cool - good car washing weather. So, I backed my wife's Toyota Avalon out of the garage and gave it a thorough exterior cleaning. The Avalon has been through numerous car washes in the last 11 months, but I hadn't hand washed it since July 2012. The sun finally came out at noon.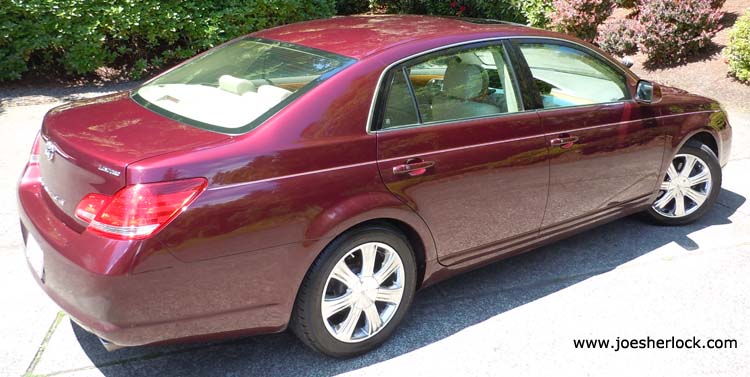 I must say that, at eight-plus years-old and with nearly 50,000 miles on the odo, the Avalon still looks - and runs - like new. And it now sparkles again. (posted 6-04-13, permalink)
---
Milestone: On July 22, 2013, the odometer of my wife's 2005 Toyota Avalon reached the 50,000 mark.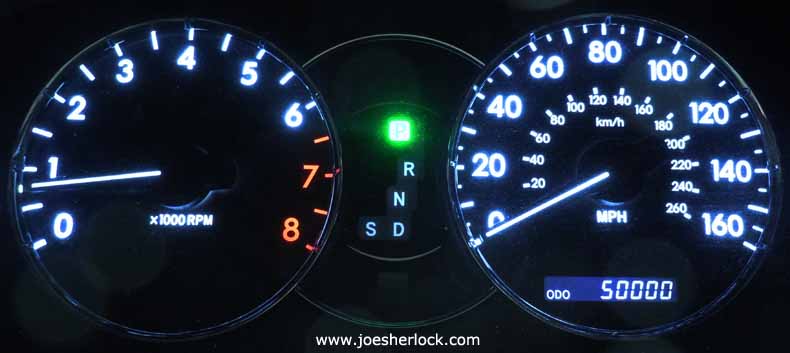 During its eight-and-a-half years with us, it has remained trouble-free. (posted 7/22/13, permalink)
---
Another Milestone: My wife's Toyota Avalon has turned nine years old. With 52,500 miles on the odometer, the car still looks - and runs - like new. It remains trouble-free and has neither rattles nor squeaks. And, thanks to a recent car wash, it now sparkles again.< (posted 3/12/14, permalink)
---
Still Looking Good: I took this photo of my wife's 2005 Toyota Avalon a few weeks ago when the weather was still dry: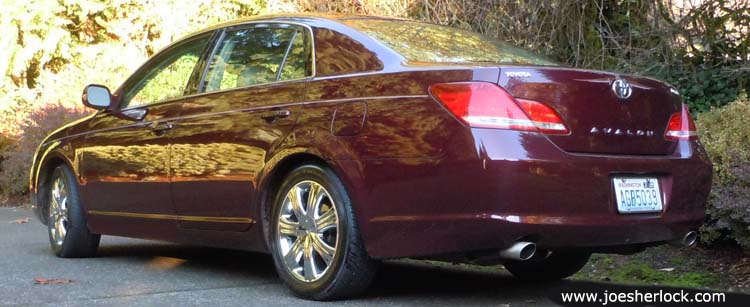 At almost 10 years of age with 56,000 miles on the odometer, the car runs flawlessly and has given us nary a lick of trouble. The only problems are minor: the symbol on the dashboard's trunk release button has worn off due to use and there is an occasional dashboard rattle. (posted 12/8/14, permalink)
---
Happy Birthday: My wife's Toyota Avalon Limited turned 10 years old this week.
With 57,500 miles on the odometer, it still looks almost new inside and out and we've had no problems with this car. Put gas in the tank, buy tires when needed and get regular service done at appropriate intervals - that's it. This is probably the most reliable car we've ever owned. (posted 3-/7]15, permalink)
---
Now A Teenager: My wife's 2005 Toyota Avalon Limited turned 13 years-old this week: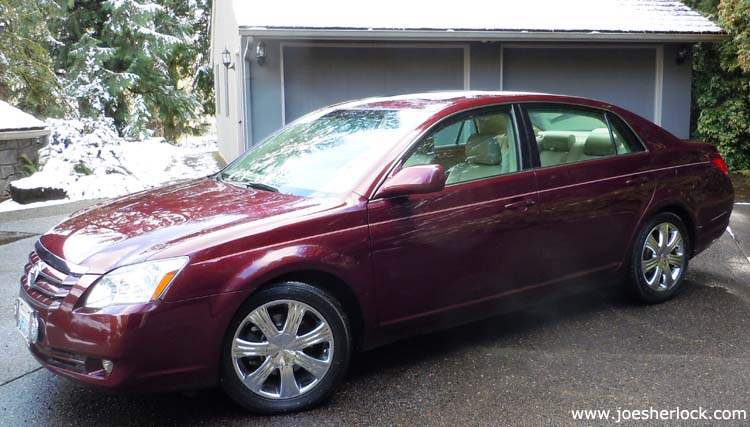 With 68,580 miles on the odometer, it still looks almost new inside and out. This year, we replaced a windshield washer hose and a leaking power-steering line. Otherwise, we put gas in the tank, buy tires when needed and get regular service done at appropriate intervals - that's it. The Avalon remains the most reliable car we've ever owned. (posted 3/7/18, permalink)
---
Happy Birthday, Sweet Sixteen: My wife's 2005 Toyota Avalon Limited has turned 16 years-old.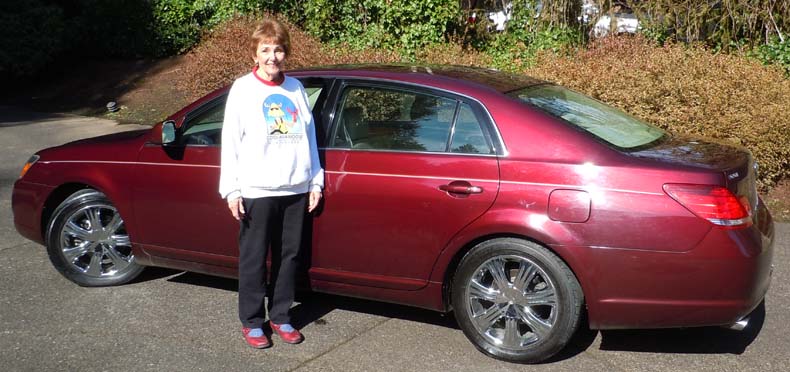 Carol with her Avalon - March 1, 2021
---
It now has just about 77,000 miles on the odometer and it runs and drives well. We ran it through the car wash this week and it still looks almost new. The leather seats are in great shape and none of the plastic trim has faded or discolored.
A recent study from iSeeCars reveals that the Toyota Avalon is the longest-lasting sedan in America, with 3.9% of them having over 200,000 miles on the odometer and are still on the road.
We generally keep our vehicles a long time - 8 to 12 years and/or 80-100,000 miles, typically. (Our record is 28 years and 156,000 miles on our 1967 Volkswagen Beetle.) The Avalon remains the most reliable car we've ever owned. Based on the good behavior of this car combined with the low miles we're putting on it, I wouldn't be surprised to find it in our garage in 2041. On the other hand, I don't know if I'll be around in 2041.
Incidentally, I've owned my 1939 Plymouth coupe for almost 27 years. (posted 3/6/21, permalink)
---
Other Pages Of Interest
copyright 2005-21 - Joseph M. Sherlock - All applicable rights reserved
---
Disclaimer
The facts presented on this website are based on my best guesses and my substantially faulty geezer memory. The opinions expressed herein are strictly those of the author and are protected by the U.S. Constitution. Probably.
Spelling, punctuation and syntax errors are cheerfully repaired when I find them; grudgingly fixed when you do.
If I have slandered any brands of automobiles, either expressly or inadvertently, they're most likely crap cars and deserve it. Automobile manufacturers should be aware that they always have the option of trying to change my mind by providing me with vehicles to test drive.
If I have slandered any people or corporations, either expressly or inadvertently, they should buy me strong drinks (and an expensive meal) and try to prove to me that they're not the jerks I've portrayed them to be. If you're buying, I'm willing to listen.
Don't be shy - try a bribe. It might help.
---