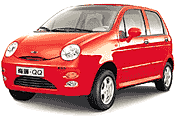 The notorious Malcolm Bricklin is back. He has announced an agreement between his New York-based Visionary Vehicles LLC and Chery Automobile Co., one of the fastest-growing players in the fledgling Chinese auto industry.
The deal marks a stunning return to the industry for the 65-year-old Bricklin. Chery currently produces a very small sedan - the QQ. U.S. sales will begin in 2007 with starting prices as low as $6,900.
While in his 20s, Bricklin parlayed the family building supply business into a chain of franchised Handyman Hardware stores. He sold out in 1964 amid a flurry of lawsuits. His next enterprise, marketing a warehouse full of Lambretta motor scooters, led to selling scooters made by Fuji Heavy Industries of Japan.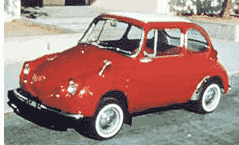 Bricklin began his auto career in the late 1960s by importing Fuji's tiny, Beetle-shaped Subaru 360, which initially sold well at the cut-rate price of $1,300, but tanked in the market after Consumer Reports magazine dubbed it "unacceptably hazardous."
Malcolm took the remaining unsalable Subarus and tried to market them as cheapie dirt-racing vehicles. No sale! Subaru eventually paid off Malcolm so that they could reclaim U.S. distribution rights.
Malcolm used this payoff money to fund his gullwinged, Bricklin SV-1 sports car introduced in 1974 and manufactured in the Province of New Brunswick in Eastern Canada. Within a year, the company was bankrupt, running up $32 million in debts after producing just 2,800 cars. Bricklin went on to other enterprises such as importing Fiat X1/9s as Bertones.
In the 1980s, Bricklin brought the ultra-cheap, ultra-crappy Yugo car to the U.S. market. Priced at $3,995, the little Yugo was somewhat of a sensation at first - a cheap alternative to a used car. But build quality was poor. Consumer Reports called it "one of the worst cars (the magazine) has ever tested." Yugo (and Malcolm) disappeared in 1992 when Yugo America Inc. collapsed amid falling sales and production problems in war-torn Yugoslavia.
It's a little-known fact that Malcolm Bricklin worked closely with Rohm & Haas Co. to develop the acrylic plastic-skinned SV-1. (I saw his personal car in the parking lot of R&H's Bristol (PA) Plastics Engineering Laboratory on more than one occasion. It was a chauffeur-driven Lamborghini 350 GT with a telephone.) The original SV-1 design was similar in size and weight to the original Datsun 240Z. But, as it developed, it got bulked up.
Malcolm later visited the R&H downtown Philadelphia corporate offices, pitching for venture capital. He showed up wearing denim jeans, jacket and a cowboy hat. The finance people took one look - remarked, "Who is this clown?" - and threw him out! A couple of years later, John Z. DeLorean stopped by R&H asking for funding but, with his graying executive hair, polished, bespoke British wingtips and expensive pinstriped power suit, he got a much better reception. Tall, dapper John didn't get any money though.
Speaking of which, I wonder if ol' John Z. ever wanted to do a joint venture with the Chinese? Maybe he could have imported a small coupe called the 'White Snow'.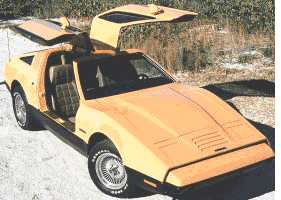 The use of a solid acrylic skin over fiberglass as an alternative to gel coat or paint was a novel and worthy concept. Over time, Rohm and Haas decided that they didn't want their Plexiglas cast sheet product associated with Bricklin and his SV-1, so they stopped all tech and development support. Malcolm then turned to a competitive cast acrylic product but it exhibited brittleness problems.
Eventually, Bricklin used an extruded sheet made from R&H's high-impact Plexiglas DR for later-production SV-1s. The sheet was made by a third party extruder and, therefore, R&H could plausibly deny direct involvement with Bricklin. Which was a good thing for them when his company went belly-up. (But the Plexiglas DR skin worked very well from a technical standpoint. It bonded better to the polyester/fiberglass underlayment than anything else and still offered the color depth and outdoor durability of acrylic.)
I hadn't seen Malcolm in many years. When I spotted the photos of him in the Detroit News article, my first reaction was - "Jeez! He's an old man now." But then, so am I. Malcolm Bricklin has left a large trail of unpaid debts and angry shareholders over the last 35 years. But Bricklin left a Subaru 'Legacy' of sorts - he established the company's headquarters in Cherry Hill, New Jersey - just across the river from Philadelphia.
Malcolm is long gone but Subaru of America is still located in Cherry Hill. (posted 1/3/05)
Update (11/24/06): The Detroit News reported that Malcolm Bricklin's plan to be the first U.S. importer of Chinese autos hit a snag as his Visionary Vehicles LLC said it ended a joint venture with Chery Automobile Co., the company that was to build the vehicles. Bricklin, 67, has began meeting other Chinese automakers during November's Beijing Auto Show.