Street Scenes & Discovery Plastics
---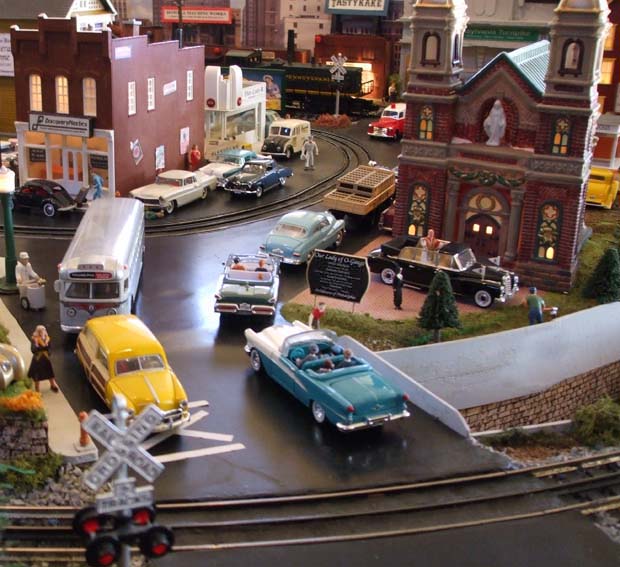 Too many model train layouts are filled with '57 Chevy convertibles, two-seat Ford Thunderbirds and Coca Cola trucks. The middle level of my layout has a variety of vehicles typical of the 1950s. Some are ordinary sedans with blackwall tires - the kinds of cars usually found in period photographs.
---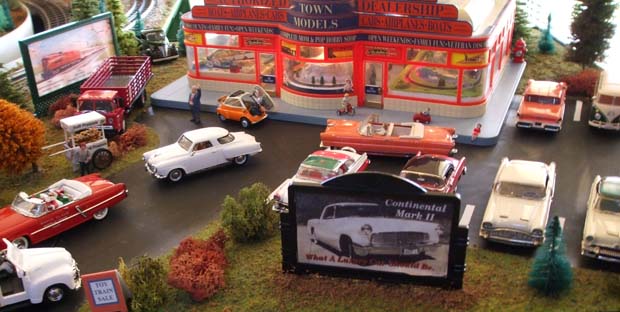 ---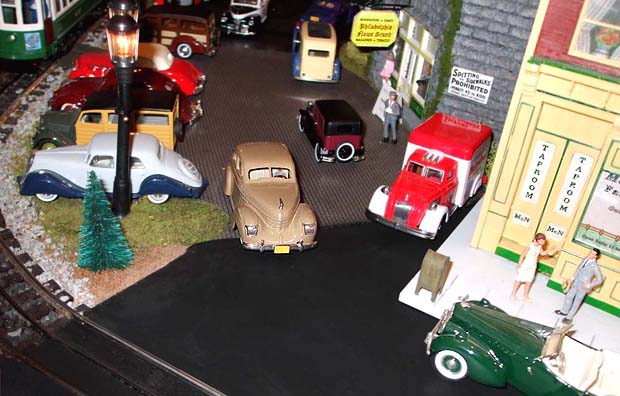 The lower level of my train layout is a pre-World War II setting. The streets are filled with cars from the era - a tan '39 Graham Paige Sharknose sedan, a maroon and black Model A Ford and a green 1940 Packard Darrin. The parking area contains a Cord, an maroon Chrysler Airflow and two Ford woodies - a '35 and a '40.
The cool, art-deco styled, gray and blue, full-skirted sedan behind the lamppost is a 1937 Panhard Dynamic Berline, something not often seen in the U.S. I placed it there because it looks very fancifully Thirties Aero, like you might see in a Disney or Merrie Melodies cartoon from the period.
Union Station has waiting taxis and a navy blue 1934 Chrysler Airflow. There's even a Christmas parade with Santa atop a 1930 Aherens-Fox fire engine.
---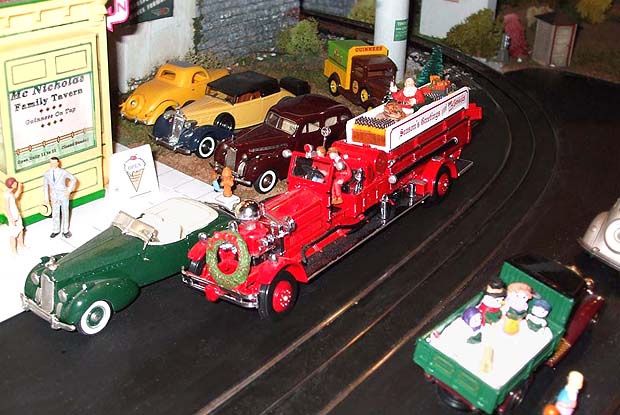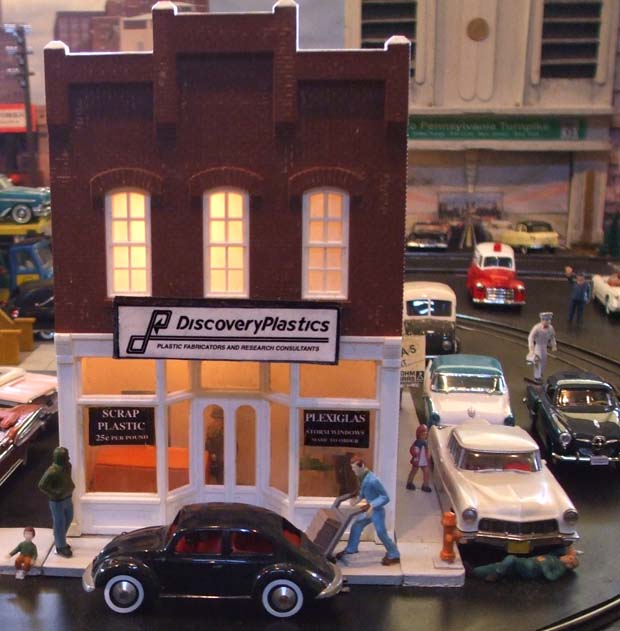 Discovery Plastics was a manufacturing company I once owned. While the firm
eventually grew to well over 100 employees
and was sited in an industrial park, as a start-up, it was located in a small storefront building which I've recreated on the layout.
During the time I owned the business, I had a black Volkswagen Beetle with a red interior like the one parked on the train layout. Around the corner is a 1957 white Continental Mark II being repaired by a mechanic. In real life, I owned one of those as well and it needed frequent mechanical attention.
---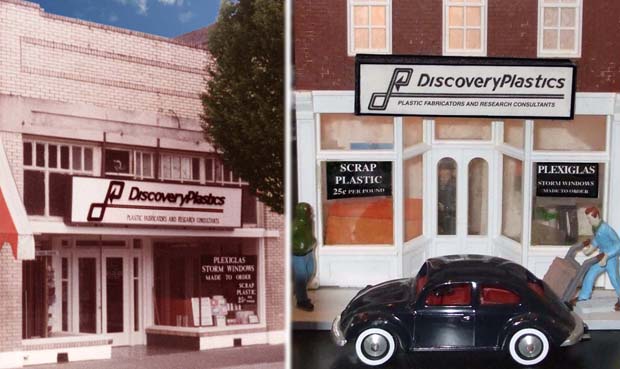 The real Discovery Plastics (circa 1978) is at left; the O-gauge recreation is at right. There is a second DP building on the layout. It can be seen here.
---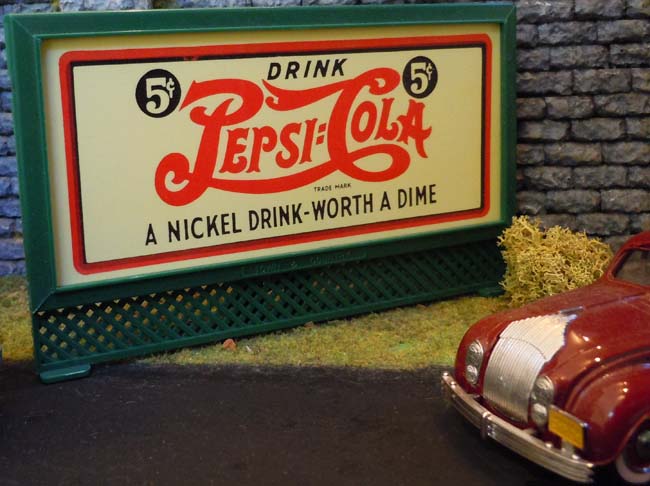 Until the 1960s, Pepsi was promoted as a value cola proposition, compared with Coke. In 1936 Pepsi introduced a 12-ounce bottle, for the same 5¢ price as a 6-ounce Coca-Cola. An early Pepsi slogan was, 'Costs a nickel, tastes like a dime'. An early radio jingle: "Pepsi Cola hits the spot. Twelve full ounces, that's a lot." This lighted billboard is on the middle level of my layout.
---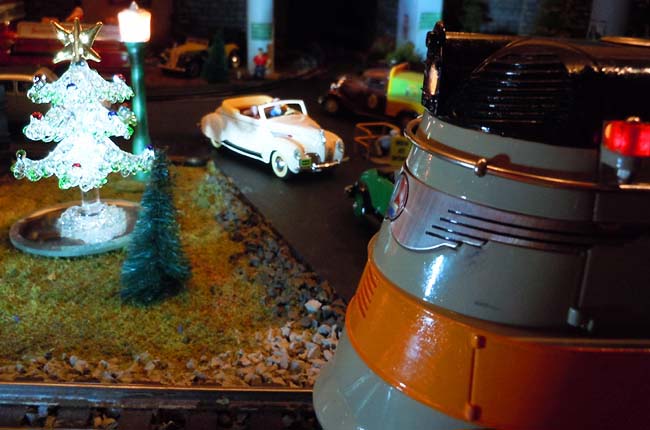 In 2007 or so, an old friend, who lives in Japan, sent me a Christmas gift: a four-inch tall glass Christmas tree - with colored ball-like ornaments - mounted on a mirrored base with a gold star on top of the tree. It was the perfect size for my model train layout and it has been on there ever since. The locomotive in the foreground is a Lionel Hiawatha. The cream-colored model car in the background is a Matchbox Yesteryear 1938 Lincoln Zephyr convertible. It is just behind a green and black Frobly 1932 Ford V8 Victoria which is partly visible. This scene is on the lower level of the model train layout. That level has a 1930s theme and the whimsical crystal tree fits right in.
---