---
Monday March 15, 2021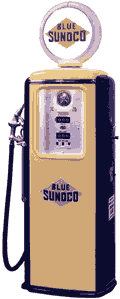 The Decline Of Gas Stations: You've probably noticed that there are far fewer gas stations than there used to be. They were once called service stations but today most of them offer little or no service - you pump your own gas (except in Oregon and New Jersey), clean your own windshield, check your oil yourself and pump up your tires, if needed.
These days, most gas stations have a convenience store where the wash and repair bays used to be. Until the late 1970s, auto repair was a good sideline for station owners. Cars needed frequent oil changes, chassis lubrication and engine tune-ups. Fixing flat tires was a brisk and steady trade until the advent of self-sealing tubeless tires. Many service stations also sold tires (as well as radiator hoses, fan belts and batteries) and some could even arrange for an engine or transmission rebuild through an affiliated local firm. Attendants and mechanics looked official with brand-centric work uniforms and caps - some were military-style.
Today's gas stations are of a similar generic design, with distinctive bright coloring to indicate the brand of fuel sold. In the 20th Century, starting in the 1930s through the 1960s, stations used eye-catching architecture to differentiate themselves from competitors. Some were shaped like teapots or jugs (there was a jug-shaped station which still dispensed fuel in 1980s Junction City, Oregon), and later some with tall lighted towers constructed of glass block.
Called programmatic architecture, these stations assumed the fanciful shape of animals, apples, tea kettles, tepees, windmills, castles, icebergs, and airplanes. Appealing to the curiosity of passing motorists, programmatic stations were inspired by local culture, distinctive local materials, or ... (more >>>)

One Hundred Eleven Grand Wagoneer: The new Jeep Grand Wagoneer is "a land yacht that tops out at $111,000 when fully loaded."
"The Grand Wagoneer, and its more affordable sibling the Wagoneer, are a shot across the bow at General Motors Co., whose Chevrolet Tahoe, GMC Yukon and glitzy Cadillac Escalade have helped it command more than 50% of the U.S. three-row SUV market for years. The Jeep SUVs will be available in dealerships this summer."
The Grand Wagoneer is bigger, pricier and heavier than the Caddy Escalade. It is powered by a 6.4-liter V8, making 471 horsepower and 455 pound-feet of torque and coupled to an eight-speed automatic transmission.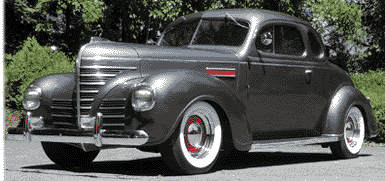 Delayed Gratification: It has been almost two months since I took a drive in my '39 Plymouth coupe. The primary reason is that the road leading past our development is being dug up and is partly closed during the week. This has been going on since mid-January with no end in sight (to the great displeasure of all who live in our development). On Saturday, the construction crews weren't working, so the road was open both ways, although it was rough going in spots.
At 12:30 pm, it was 55 degrees and mostly sunny with gorgeous pale blue skies. There was some traffic but I didn't care. I got a brief glimpse of snow-covered Mt. St. Helens to the north on my drive as well as the snow-capped Cascades to the east. There is much beginning bloom - a nice scenic mix. Spring is in the air.
It was a real treat to be behind the wheel, listening to the V8 rumble through the Glasspacks while 'The Joe Niagara Show: Cruisin' '57' blasted from the speakers. It made me feel like I was 16 again.
All in all, it was a most pleasant and much-missed drive in my old coupe. The Plymouth ran great. Life is good.
"That's A Cadillac?!" That was my wife's response when we were driving behind a white 2021 CT5 Cadillac recently. The rear taillights look very Asian - no more Caddy blade-style rear lamps. The geezer driving it was poking along at 15 mph below the speed limit, so I passed him with vigor. This alleged flagship sedan model doesn't look very distinctive from the side or the front. We were both unimpressed.
Old Friends: Recently, I was thumbing through a book and came across some information on old toys, including information on Manoil, a manufacturer of diecast toy vehicles. Memories came flooding back.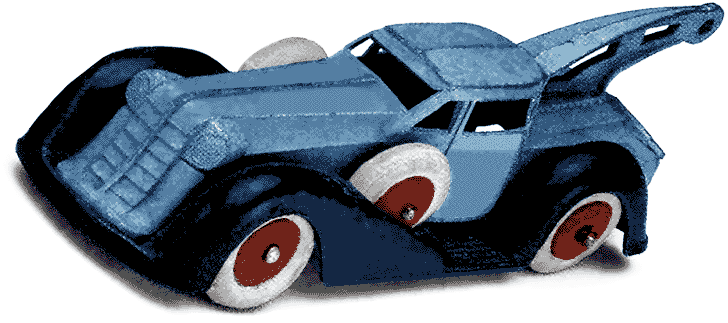 The first toy car I can remember was ... (more >>>)
Four-Star Fraud: The Infinity Q Diversified Alpha Fund, not a new Infiniti SUV model but a mutual fund with a high-ranking Morningstar 4-star rating and Gold rating, has ceased accepting money from and suspended redemptions by investors because its advisor has been cooking the books.
"James Velissaris, founder and CIO, apparently introduced an element of whimsy into calculations of the fund's NAV, assigning indefensible values to at least some of the fund holdings." The Chief Investment Officer of Infinity Q has been relieved of his duties.
Time To Defund The Conservative, Inc. Deep State: Donald Trump is now soliciting donations to the 'Save America PAC', which promises to support only real conservatives and oppose Mitch McConnell's RINOs.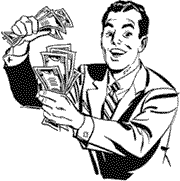 Book Review: 'The Amazon Jungle: The Truth About Amazon, The Seller's Survival Guide for Thriving on the World's Most Perilous E-Commerce Marketplace' by Jason R. Boyce and Rick Cesari
Over the past 50+ years, I've probably read almost a thousand business books. I used to spend several days each month on the road; I often spent my evenings reading books about business. Many books are written by people who are business writers and consultants. When you buy one of their books, you're buying a few hours of their time for a modest price. If you paid for personal, one-on-one meetings with these people, you might spend thousands of dollars. If you attended one of their speeches or seminars, you still might pay hundreds of dollars and only get to hear them for an hour or so. That's why, in my opinion, their books are bargains.
These authors have put their hearts and souls into their books and filled them with valuable information. They provide recommendations and ideas which are based on their experience and expertise. Oh sure, I've read a few books which were not so hot, but I never read a business book that didn't have at least one idea I could use. If the book was a real stinker, I'd tear out and keep the page with the one good idea and throw the rest of the book away. And I'd put that idea to use.
That said, do not throw any parts of this book away. This short book - 212 pages - offers a ton of powerful and practical suggestions about ... (more >>>)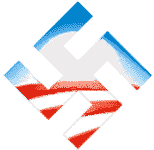 Keen Observation: Will Ricciardella wrote, "Let me get this straight: Troops loyal to Biden occupy DC. (With no end in sight.) Corporations are silencing dissent at behest of government. (Firing or punishing employees and vendors who exercise their free speech on their own time and dime.) The military continues to attack Tucker Carlson for his opinion. And Trump's a fascist?"
I don't think the Democrats realize how fascist they really are. And, President Trump was a strict constitutionalist and upholder of America's laws. But he made fun of Democrats and hurt their feelings - so, in their minds, he's the fascist.
More Segmented Editions Needed: NBC News now offers NBCBLK, described as "stories, issues and opinions from the African American perspective."
When will we get NBCMEX for Hispanics? Or NBCPAPE for Catholics? NBCPADDY for Irish? Or NBCDUM for idiots?
Happy Birthday, Dad: He would have turned 102 yesterday. I wish he were here today. If he was, I'd still be asking for his advice.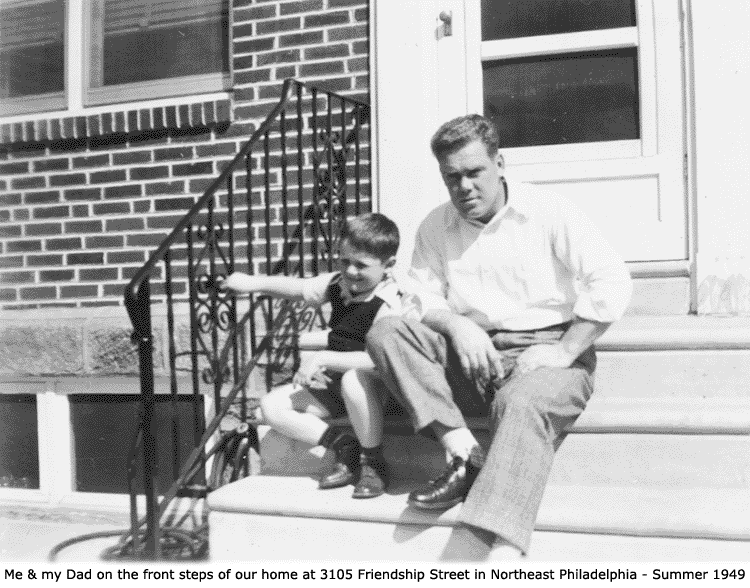 My wife and I toasted him at dinner last night.
Hidden Bank Fees: The Onion lists several that you may not have known about, including:
• Wells Fargo: $10 to speak to a human teller, $20 to speak to a cute one
• Chase: $2 fee if Chase Rewards debit card is placed next to a debit card from a competing bank
• Citibank: Customers who think Citibank has a 'y' in its name are penalized, monthly, on an increasing scale
• Bank of America: Safe deposit boxes now on coin-operated timers
Beware:

Too Bad He Didn't Have Auto-Reverse: Lou Ottens, the Dutch engineer credited with inventing the audio cassette, has died at age 94.
As head of product development for Philips in 1960, he led a team that developed the initial portable tape recorder; he then introduced the first cassette tape at a Berlin electronics fair three years later. The slogan back then: "Smaller than a pack of cigarettes!" Well, maybe Benson & Hedges.
Now he's been ejected. RIP.
Quote Of The Day is from Bennett Cerf: "The Detroit String Quartet played Brahms last night. Brahms lost."
---
Thursday March 11, 2021
Grand Opening: In November, 1964, Bob Brown took out full-page ads, proclaiming that he was the proud new owner of an Oldsmobile dealership at SE Grand Avenue and SE Yamhill Streets in Portland, Oregon.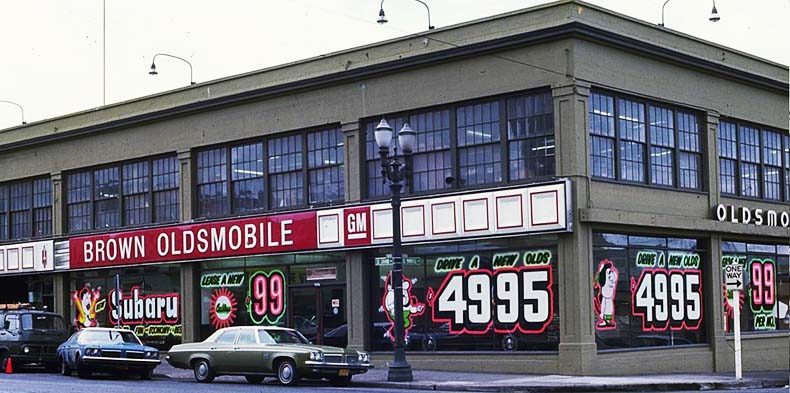 By the mid-1970s, Bob Brown Oldsmobile had added Subarus to its showroom. The exterior was ... (more >>>)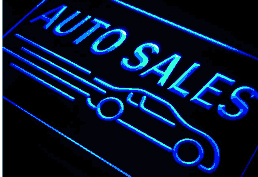 February Vehicle Sales: The Bureau of Economic Analysis reported sales of 15.67 million SAAR (Seasonally Adjusted Annual Rate) in February 2021, down 5.7% from the January sales rate, and down 6.6% from February 2020.
Extremely bad weather in February caused the drop in sales, according to most automakers. Yeah, but there's extreme weather in the U.S. every February, isn't there? And with all the global warming, there should be fewer snow storms, right?
Hyundai reported a sales drop of 9%; Kia sales fell 8%.Toyota sales declined 6%. Lexus sales increased 1%.
Ford sales dipped 14% in February, although it enjoyed best retail results in 20 years led by Bronco Sport, Mach-E and F-150. Volvo bucked overall trend posting 17% jump last month. Mazda reported its sales dropped 8% in February. American Honda reported sales of Honda and Acura vehicles fell 12% in February even though it set records for truck sales last month. Subaru sales also dropped 7%.
In Mexico, automobile production plummeted by nearly 29% in February to 238,869 vehicles, due in large part to weather-related power outages and the global microchip shortage.
Finally, A Book Review Is Published: In a typical year, I review 50-60 nonfiction books. This has been true since I began reviewing books almost 17 years ago. Last year, I only reviewed 40 books, because of pandemic-related publishing and release delays. In the first two-and one-half months of 2021, I've only reviewed two books. - one of them today. I expect to post two more reviews before the end of March.
Publishers have pushed back release dates for many new books, bookstores have been closed, book tours and festivals have been put on hold, and for a time, Amazon delayed shipment of books until recently to prioritize essential items, like cleaning supplies and food.
Not surprisingly, guidebooks and books about travel were hit particularly hard. I hope there will be more book releases as the pandemic ebbs.
Book Review: Corvette Stingray - The Mid-Engine Revolution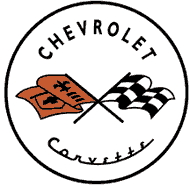 This just-published book lists Chevrolet as the author; it is a company-sponsored publication, with a foreword by General Motors president Mark Reuss. Don't let that scare you off - it is an honest book which reveals many of the trials and tribulations of trying to get a high-performance, mid-engined, reasonably-priced sports car to market.
It took 50-plus painful years to achieve and the book documents many of the pitfalls - the battles between Zora Arkus-Duntov and various Chevrolet managers and GM executives over the years, as well as the sidetracking caused by Ed Cole's fascination with the ill-fated Wankel rotary engine. (In the early '70s, I saw my first and only NSU Ro 80, the Wankel-engined, technologically-advanced German sedan parked in front of the General Motors Technical Center in Warren, MI.) Arkus-Duntov retired in 1975 at age 65 but he continued to consult for General Motors, after a brief fling with the ill-fated DeLorean automobile.
To keep the costs down, Chevy didn't use a supercar-like carbon fiber tub for the mid-engined Vette. Everything is made of aluminum (much of it high-pressure die cast), except ... (more >>>)
No Peugeot For You: Stellantis, formerly Fiat-Chrysler, has announced that Peugeot will not be returning to the U.S. The brand was sold in America from the 1950s through the early-1980s, but, being French-quirky and never a big seller here, will not be imported to America.
Instead, Stellantis' will focus "on growing Alfa's presence here." Good luck with that; Alfa only sold 18,294 vehicles here in 2020. "Despite the brand's relatively flat performance in a roller coaster 2020, prospects for the brand's future here have appeared bleak." Indeed.

My Rant Of The Month ... is about school buses at railroad crossings. Coming home from Portland, I must cross the tracks of the Columbia Basin Railroad at least three times.
This small railroad runs one lone train per week and the train travels at 5-10 miles-per-hour. Several years ago, every one of the three crossings had drop gates installed to meet a newly-enacted federal requirement.
Yet every #%&* school bus still stops at every #%&* crossing because of some stupid-ass law passed in 1912 or thereabouts. And, empty or not, they remain stopped for 20-50 seconds as traffic piles up and frustrations mount.
I don't understand this. I remember that, in my youth, buses stopped at RR crossings just long enough to open the doors and shift into first gear - about three seconds or so. The doors were opened while the vehicle was still moving and shut just after the bus was winding out in first gear - at 5 mph or so.
The current situation is exacerbated by the fact that we live one mile from a bus barn and we experience a long parade of buses every school day.
It is a colossal waste of time and it is not saving any lives or doing any good whatsoever. It just pisses off the poor souls stuck behind those huge yellow diesel smoke-spewing tortoises.
I'm so sick and tired of this crap that I'm thinking of running for President in 2024 with one lone item on my platform - the elimination of this moronic school bus law. I think there are enough other people who are angry about the tyranny of school buses that I might actually get elected. (permalink)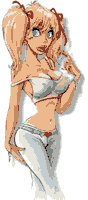 Blonde Joke: A young blonde woman was driving through the Florida Everglades while on vacation. She wanted to take home a pair of genuine alligator shoes in the worst way, but was very reluctant to pay the high prices the local vendors were asking.
After becoming very frustrated with the attitude of one of the shopkeepers, the young Blonde declared, "Well then, maybe I'll just go out and catch my own alligator and get a pair of shoes for free!"
The shopkeeper said with a sly smile, "Well, little lady, why don't you go on and give it a try?"
The blonde headed off to the swamp, determined to catch an alligator.
Later in the day, as the shopkeeper was driving home, he spotted the same young woman standing waist deep in the murky water, with a gun in her hand. As he brought his car to a stop, he saw a huge 9-foot gator swimming rapidly toward her. With lightning reflexes, the blonde took aim, shot the creature and hauled it up onto the slippery bank. Nearby were 7 more dead gators, all lying belly up.
The shopkeeper stood on the bank, watching in silent amazement. The blonde struggled mightily and managed to flip the gator onto its back. Rolling her eyes heavenward, she screamed in frustration: "Jeeeez! This one's barefoot, too."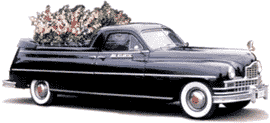 Key Question: Roger Mudd, a longtime political correspondent and anchor for NBC and CBS has died at age 93 from complications of kidney failure.
His finest moment was when he interviewed Senator Edward Kennedy, who was running for president. Mudd asked why he wanted to be president. Ol' Teddy mumbled, stumbled and finally answered with a string of political cliché non-sequitors.
This Defining Moment killed the Kennedy presidential campaign in one fell swoop. RIP.
Housekeeping: I've updated my three-page Fifties History site; you'll find it here.
Question Of The Day is from Tom McMahon: "In the anti-universe do you put some money under your pillow whenever you need a new tooth?"
---
Tuesday March 9, 2021
Postal Ugly: I'm old enough to remember those 'safety cars' of yore - from the 1950s through '70s - designed and underwritten by the government or some insurance company. I don't know whether they were actually safe, but all of them had one thing in common: they were butt-ugly. This is why cars should be designed by car designers, not disinterested ... (more >>>)
Happy Birthday, Sweet Sixteen: My wife's Toyota Avalon Limited has turned 16 years-old. It now has just about 77,000 miles on the odometer and it runs and drives well. We ran it through the car wash this week and it still looks almost new. The leather seats are in great shape and none of the plastic trim has faded or discolored.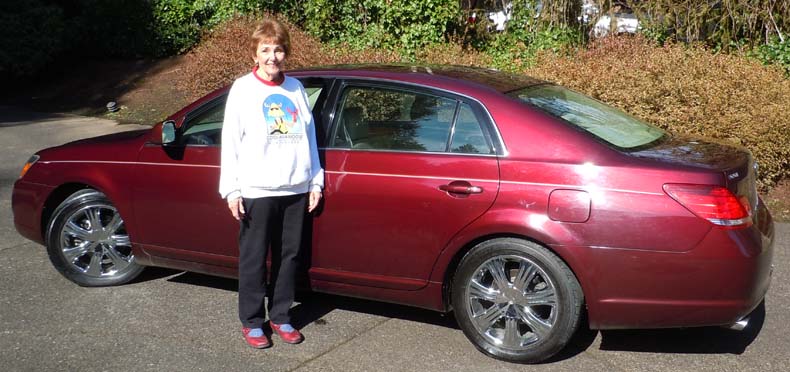 We generally keep vehicles a long time - 8 to 12 years and/or 80-100,000 miles, typically. Our record is 28 years and 156,000 miles on our ... (more >>>)
Don't Trust Tech: Dr. Simone Gold wrote, "Facebook just announced it "made a mistake" when it censored studies showing HCQ saved lives. Censorship is never "a mistake." Tech executives repeatedly made a calculated decision, month after month, silencing physicians worldwide. Censorship kills."
Facebook lied; people died. Why? Because President Donald Trump said something positive about HCQ (hydroxychloroquine) being effective in treating the China virus. And tech oligarchs wanted Trump gone.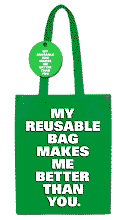 The Truth About Shopping Bags: Plastic shopping bags are 200 times less damaging to the climate than cotton hold-alls favored by environmentalists.
"Unpublished Government research suggests the plastic carrier may not be an eco villain after all ... A draft report by the Environment Agency ... has found that ordinary high density polyethylene (HDPE) bags used by shops are actually greener than supposedly low impact choices."
The study found that a paper bag emits four times the carbon dioxide as a plastic bag. So to make up for choosing paper over plastic, you'd have to reuse your paper bags at least three times instead of just tossing them into the recycling.
Even worse, you'd have to use an eco-friendly cotton shopping bag 171 times before it could even counteract the negative environmental impact from its production.
Furthermore, researchers at the University of Arizona say that reusable grocery bags are teeming with fecal matter and bacteria, often more than a typical bathroom.

When plastic bags became popular in the 1970s, they were claimed to be far more ecologically sound than paper ones, since paper plants were producers of dioxin, a toxic chemical and suspected carcinogen used in paper manufacturing.
Then the focus turned to the alleged evils of polyethylene plastic bags. Now the worm has turned again.
Today Is National Meatball Day: To celebrate, I had a couple of them for dinner, accompanied by pasta. Yum.
Quote Of The Day: "Congressmen should wear uniforms like NASCAR drivers so we could identify their corporate sponsors."
---
Wednesday March 3, 2021
Stylish Sampan: A two-tone lavender-over-purple 1939 Plymouth-based Sampan bus can be seen fourth from left in this photo from 1951.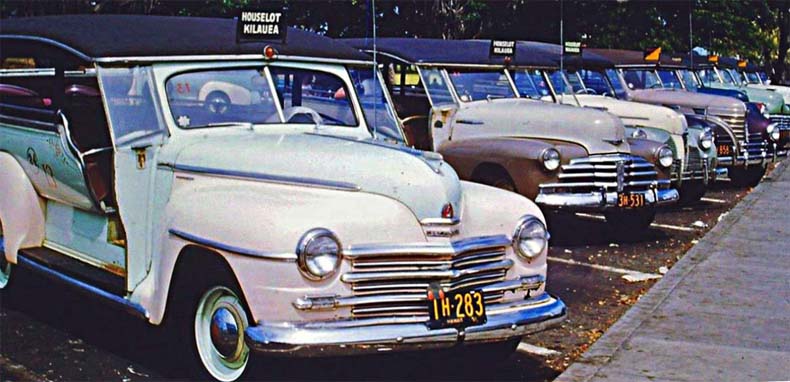 (photo courtesy Jesse Bowers)
Sampans were open-air jitney-style buses based on passenger automobiles and could be found on the streets of Hilo, Hawaii from ... (more >>>)

Who's Buying A Bentley These Days? Bentley began the year with 50% more orders than the start of 2020 and built more luxury cars in January than the year before as China boosted demand, said CEO Adrian Hallmark. "China, by far, is the most outstanding performance in the world in respect of level of orders compared with normal expectations."
"The Volkswagen-owned brand said it had not faced major disruption from Britain's exit from the European Union nor from a shortage of semiconductor chips, which has forced some automakers to halt or reduce production." Bentley sold 11,206 vehicles worldwide in 2020; 2,895 of them found buyers in the U.S.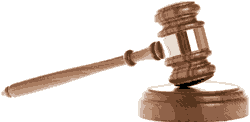 Paris Auction Results: RM Sotheby's livestreamed mid-February auction exceeded $11 million in total sales. Top seller was a recently-restored red 1971 Lamborghini Miura P400 SV; it fetched $2,918,800.
"Other top sellers were a 1993 Isdera Commendatore 112i, the only one of the Mercedes-Benz V12-powered gullwing cars ever built, that sold for $1,340,480, and a 1977 Lamborghini Countach LP400 Periscopio originally owned by rock star Rod Stewart, which brought $934,046."
Am I Blue? A friend recently asked me about blue-tinted auto glass. I have never seen any in a production car, probably because blue is not very good as an ultraviolet absorber and heat reflector.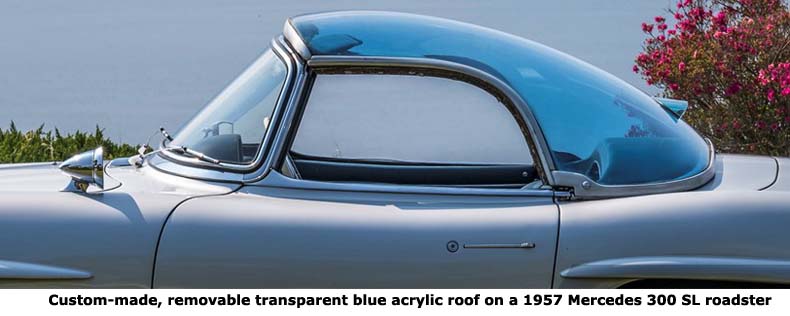 Back in 1981 or so, a guy named Mark, from somewhere on the Oregon coast, approached my plastics manufacturing company, asking if we would produce tinted-blue Plexiglas windows and windshields for his custom car. The vehicle was a one-off fiberglass creature that he had designed and had built. It was a very impressive-looking, two-seater, mid-engined sports car. The auto was to be finished in metallic blue paint and he wanted to carry the blue theme into the windows.
Mark made the molds; we modified them so they'd work better and we did the heating and forming. All parts were complex, three-dimensional curvilinear shapes, even the side windows. A couple of months after we completed the work, he came back with photos of the finished car. Mark was very happy with our work, commenting that we were the only people on the West Coast willing to tackle the job. But we never saw the guy or the vehicle again.
Forty years later, I wonder where the car is now? (permalink)
Your Government At Waste: Randall O'Toole wrote, "Secretary of Transportation Pete Buttigieg wants to make the United States the "global leader" in high-speed rail. That's like wanting to be the world leader in electric typewriters, rotary telephones, or steam locomotives, all technologies that were once revolutionary but are functionally obsolete today. High-speed trains, in particular, were rendered obsolete in 1958, when Boeing introduced the 707 jetliner, which was twice as fast as the fastest trains today."
Aside from speed, what makes high-speed rail obsolete is its high cost. "Unlike airlines, which don't require much infrastructure other than landing fields, high-speed trains require huge amounts of infrastructure that must be built and maintained to extremely precise standards. That's why airfares averaged just 14 cents per passenger-mile in 2019, whereas fares on Amtrak's high-speed Acela averaged more than 90 cents per passenger-mile."

Another Classmate Gone: Mike Harkins, a fellow member of St. Joe's Prep Class of 1961, has died, following a courageous fight with myelodysplastic syndromes. Mike was a fun guy to hang around with at the Prep. He had a great sense of humor and was an excellent athlete. Mike dominated in touch football at lunchtime - he played fiercely, could never seem to keep his shirt tucked in and often broke his glasses, which showed multiple makeshift repairs with Scotch Tape.
Michael J. Harkins, M.D. turned out to be a very talented ... (more >>>)
Ummm, Could I Get A Window Seat, Please? ... (more >>>)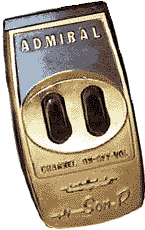 In Control: James Lileks has previously complained about overly-complex remote controls: "Today's remotes have more buttons than a Prussian lancer's dress uniform! Why, in my day remotes were the size of heirloom Bibles, and they had one button: on!"
I first saw a remote control in 1960 at the home of my friend Marty Hayes in Northeast Philadelphia. His dad was a well-to-do psychiatrist and the family always had the latest cars and gadgets.
Including an Admiral color television with a Son-R (sonar) remote control.
The handheld controller, with gold-tone finish and ivory buttons, could turn the television off or on, change any of the three available channels and adjust the volume to four different settings.
As creative, mischievous teenagers, we quickly found that a brass-finish, fabricated wire LP record album holder could, if the album separators were 'strummed' properly, create the sound necessary to change the channel and would override the signal from the Son-R.
We used this scientific discovery to torment Marty's younger sister whenever she had control of the remote. "Mom! Tell them to stop strumming the record rack! They're driving me nuts!" (permalink)
Quote Of The Day is from Steven Wright: "I used to work in a fire hydrant factory. You couldn't park anywhere near the place."
---
Monday March 1, 2021
There's Something About '50s Cadillacs: Whatever it is, I have always found these cars very attractive.

Last year, I posted ... (more >>>)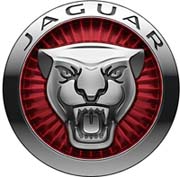 Doesn't Jaguar Make Another New Turnaround Plan Every Year? As part of an aggressive turnaround plan, Jaguar has now committed to making its entire product line electric by 2025, while its Land Rover stablemate will follow. The first battery-electric Land Rover will debut as a 2024 model, to be followed by five more in rapid fire within two years.
Jaguar Land Rover CEO Thierry Bolloré "admitted the company was likely to sacrifice volume for profit on the journey to a zero-emission target of 2039 for the two premium brands, and zero tailpipe emissions by 2036."
Jaguar sold only 21,786 vehicles in the U.S. last year, a decline of 30% from 2019. In 1999, Jaguar sold 35,039 cars. At the time, only three modes were offered: the large XJ sedan, the smaller S-Type sedan and the XK sports/grand touring coupe and convertible. Today, Jaguar offers more models but significantly lower sales.
The 21st Century question remains unresolved - what is a Jaguar anyway? I'm not sure anyone in the company knows the answer. But I don't think the answer should be 'just another electrified car' ... (more >>>)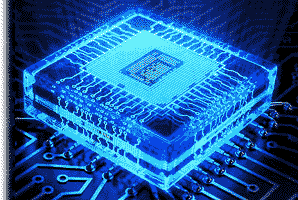 The Truth About Microchips: It's a well-known fact that automakers treat suppliers like crap. They are very demanding, slow-pay and prone to cancel contracts when business slumps.
The semiconductor market is big and broad and many chipmakers have decided they don't need the hassle of dealing with car companies. "The car sector has been used to the fact that the whole supply chain is centered around cars," said McKinsey partner Ondrej Burkacky. "What has been overlooked is that semiconductor makers actually do have an alternative."
Smartphones, video games and other consumer electronics applications require more sophisticated chips than automotive semiconductor applications and that means higher prices and more profit for chipmakers. The auto industry spends around $40 billion a year on chips - about ... (more >>>)

Fell Off A Cliff: Worldwide sales of Aston Martin plunged 32% in 2020 to only 4,150 vehicles. The company blames the pandemic.
The firm's annual revenue in 2020 declined to $863 million and the company suffered an operating loss of $455 million. In order to break-even last year, the company would have been forced to raise prices by almost 53% - an unsustainable amount.
Trump At CPAC: Great speech. Best line, as he was discussing Biden's incompetence, "In just one short month, we have gone from America first to America last." Big applause line (one of many): "The only reason that (kids are not back in school) is because Joe Biden sold out America's children to the teachers' unions."
By the way, Mr. Biden, where's that State of the Union address? Oh, wait. I guess Trump just gave it.
Trouble Ahead? The economy shrank 3.2% last year and the S&P 500 grew by 16%.Don Surber wrote, "There also is a derelict in the Oval Office who is letting the government run the government. The economy is in trouble with a capital T, and that rhymes with D and that stands for depression."
Remembering Larry Ferrari: People of a certain age, who grew up in the Greater Delaware Valley, will recall talented organist Larry Ferrari. The Larry Ferrari Show from 1954 to 1997 on WFIL (later WPVI) in Philadelphia, a weekly Sunday morning half-hour television program of organ music.
He played ... (more >>>)
Bad Pun Of The Day: What do you call a fish with no eyes? Answer: A fsh.