Tuesday December 31, 2019
Year In Review: 2019 is just about over and it was a pretty good year. Let's hope that 2020 is even better.
• Personal: 2019 was another cancer-free year for me; I hope it continues in 2020. In June, my wife and I celebrated 53 years of matrimony. And I turned 76 in August.
I reviewed 63 books in 2019. I've now had a drivers license for 60 years, although I started driving occasionally a few years earlier than that.
As retirees, we have no plans for large purchases in 2020; we buy only what we need. Our cars, while old, are in good shape and have plenty of miles left in them.

• Car Stuff: For me, 2019 was the year of many pleasant drives in my 1939 Plymouth coupe. Once again, Mercedes-Benz was the top-selling luxury brand in the U.S. - just ahead of BMW.
Tesla's Cybertruck electric pickup was introduced to hoots and catcalls. It remains to be seen whether Tesla will be in business five years from now. Same for Peleton, although its not in the car biz. In related news, Ford introduced its Mustang Mach E all-electric, four-door crossover which won't be available for at least a year. Fiat-Chrysler and Peugeot owner PSA are merging and creating the world's fourth-largest automaker.
Vehicles which are disappearing from the market in 2020 include: Audi TT, BMW 6-Series, 6-Series Gran Tursimo, Standard Wheelbase 7-Series, 2-Series Convertible, 8-Series Coupe and Convertible and Z4, Buick Cascadia convertible and LaCrosse sedan, Cadillac CT6 and XT5, Chevrolet Cruise, Impala and Volt, Fiat 500 and 500e, Ford Fiesta and Taurus, Infiniti QX30, Jaguar XJ sedan. Nissan Rogue Hybrid, Smart, Toyota Prius C, Volkswagen e-Golf, SportWagen and Beetle.
The mid-engined Corvette Stingray, rumored for over 40 years, has finally arrived. Even though you can't buy one yet, he 2020 Corvette was named Motor Trend's Car of the Year. Deliveries to customers begin in a few months. And Roger Penske purchased the Indianapolis Motor Speedway as well as the Indy Racing Series.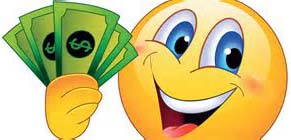 • The Economy: By almost every measure, the U.S. economy continues to grow. There are 10,000 more factories in America today than on Election Day 2016. Since Donald Trump's election, more than 6.9 million jobs have been added in the U.S. A record 158.5 million are now employed. The USMCA trade deal has been approved and signed, Phase I of an agreement with China has been agreed upon. Real GDP continues to be in the 2-4% range. Whatever you feel about President Trump personally, it is difficult to criticize his many accomplishments. The USA now makes up a quarter of the world's GDP – the largest share of the world's economy since 2007. The U.S. share of global GDP is 3.6% higher than halfway through Barack Obama's presidency in 2011. The United States is the only Group of Seven country that will post growth above 2% this year
The stock market is now higher than Jerry Nadler's belt. The Dow-Jones Industrial Average was up more than 22% for the year and the S&P 500 rose almost 29%, while the NASDAQ increased over 35%, rising above the 9,000 mark for the first time in history. The largest S&P tracking index mutual fund (Vanguard Admiral 500 Fund) was up almost 32% (with dividends reinvested). On the other hand, Bitcoin, which hit its highest price ever two years ago, reaching $19,783, is now trading around $7,150.
The top toy of 2019 was LOL Surprise! dolls; sales exceeded $500 million this year.
• Passings: Deaths in 2019 included two rips, flamboyant comedian Rip Taylor and actor Rip Torn. Other deaths included financial columnist Malcolm Berko, smart and witty teacher Joe Bloh, mutual-fund legend John C. Bogle, political pollster Pat Caddell, comedian Tim Conway, actress Carol Channing, car racer Jessi Combs, car and toy train buddy Steve D'Ambrosia, actress Doris Day, Bob Einstein (aka Super Dave Osborne), actress Georgia Engel, actor Peter Fonda, car salesman, author and inspirational speaker Joe Girard, former president and CEO of the former Rohm & Haas Co. Vincent L. Gregory Jr., blogger Charles G. Hill, legendary shock jock Don Imus, auto icon Lee Iacocca, musician Doctor John, famed NASCAR racer Junior Johnson, DJ and Friend-of-Elvis George Klein, strangely-dressed fashion designer Karl Lagerfeld, actor Bill Macy, football legend and fast-food pioneer Gino Marchetti, lawyer and host of 'The Property Man' Bob Massi, neofuturistic artist, auto stylist and industrial designer Syd Mead, original Mouseketeer Karen Pendleton, conductor and musician André Previn, singer-songwriter and guitarist Leon Redbone, Canadian rocker Jack Scott, racer and imported car dealer Monte Shelton, Vancouver banker Lee Stenseth, television journalist Sander Vanocur and former Fed Chair Paul Volcker.
• Business Demises: The move to internet shopping has devastated brick-and-mortar stores. In 2019, 9,302 stores were reported to have been shut down or were going to be shut down - a 59% increase over 2018.
Companies that went bankrupt or out of business in 2019 included children's clothing company Gymboree, Payless Shoe Source (which shuttered 2,100 locations), Dressbarn (650 stores closed), Fred's Super Dollar (557 locations), women's clothing chain Charlotte Russe (512 stores), old time discounter Family Dollar (390 stores). Chico's, while still around, is gradually moving online and is closing at least 250 stores. Mall-centric engraving emporium, Things Remembered filed bankruptcy and is closing over 200 stores. Amid widening losses, GameStop is closing about 200 stores.
Proving that nothing is forever, Forever 21 is closing about 200 locations after a bankruptcy filing Upscale furniture retailer Z Gallerie has filed for bankruptcy and is closing 44 locations - almost 60% of its stores. Lord & Taylor, America's oldest department store company (dating back to 1826), closed its iconic flagship store on New York's Fifth Ave. and planned to put several more of its department stores out of business. L&T is hoping its survival will come via a unique new partnership with Walmart. Good luck with that.
Money magazine and the print version of Ward's Automotive Reports ceased print publication. Other magazines ceasing production include 4-Wheel & Off-Road, Automobile, Car Craft, Chevy High Performance, Classic Trucks, Diesel Power, Hot Rod Deluxe, Jp, Lowrider, Mopar Muscle, Muscle Car Review, Muscle Mustangs & Fast Fords, Mustang Monthly, Street Rodder, Super Chevy, Super Street, Truck Trend and Truckin'.
Thomas Cook, one of the big names of the travel industry and the firm that pioneered the tour-operator concept more than 150 years ago, has closed up shop. Germania Airlines declared bankruptcy in Germany. California Pacific, a regional airline that operated mainly within California with ERJ145 jets has gone broke. Fuse Vapor, a southwest Washington state vaping store, closed, along with many others. Sinclair Estates Vineyards of Walla Walla shuttered its doors. Ironically, Seattle firm Collapse Impossible Inc. collapsed, filing for bankruptcy in May. Naked City Brewing of Seattle filed liquidation bankruptcy in May. Tommy O's Pacific Rim Bistro in downtown Vancouver, WA closed just before Christmas. Restaurant Pasta Gigi's of Battle Ground, WA finally closed. I'm surprised it stayed open as long as it did.
• Everything Else: The biggest news story of the year continues to be President Donald Trump who made the news - bigly - just about every single day. Arguably, the hardest-working president in my lifetime, he continues to sweep through the Washington swamp like a hurricane. God bless him.
All of us were introduced to military hero dog, Conan. And the iconic Union Pacific Big Boy, a 4-8-8-4 steam locomotives is back on the rails after a full restoration.
And there's more proof that the 21st Century is not turning out as I expected: Doctors are now giving 8 year-old girls testosterone, claiming they're 'Transgender'. And, a 61 year-old Nebraska woman gave birth to her own grandchild for gay son and his husband.
And I learned about things I never knew existed before, like Greta Thunberg. And wine caves. And Pete Buttigieg's fake and bizarre biblical interpretations. And Jeffery Epstein's possibly-fake suicide. And Peleton Wives (kinda like those 1970s Stepford Wives but leaner). By the way, what ever happened to that fake-Mexican, Irish-American candidate Robert Francis 'Beto' O'Rourke? Haven't heard anything from him in over a month.
On the other hand, 2019 brought some great news: The number of new patients diagnosed with cancer is relatively flat, which is very good news, and the number of survivors is growing exponentially which is fantastic news.
Wars have become less common and less deadly (though better publicized), while vaccines and medicines have reduced sickness and death. And, who would have ever thought that Donald Trump would turn out to be more pro-life than the pope?
Furthermore, global poverty reduction continues in 2019, thanks to technology, the spread of democracy and capitalism. The world is expected to reduce extreme poverty by almost 40 million people next year. Global poverty fell below 10% for the first time ever. Twenty-five years ago, over a third of the global population was impoverished.
Global inequality has been plunging as Africa and Asia experience faster economic growth than Europe and North America; child mortality has fallen to record low levels; famine virtually went extinct; malaria, polio and heart disease are all in decline.
There are many reasons to celebrate this year.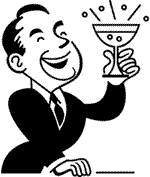 Happy New Year!
---
Wednesday December 25, 2019
The Wexford Carol: This Irish Christmas song comes from County Wexford in the southeast corner of the country, where my Sherlock ancestors settled in the 11th Century. In the 1640s, Sherlock Castle was seized by the English and destroyed because it had sheltered the rebels, during the Irish Rebellion of 1641.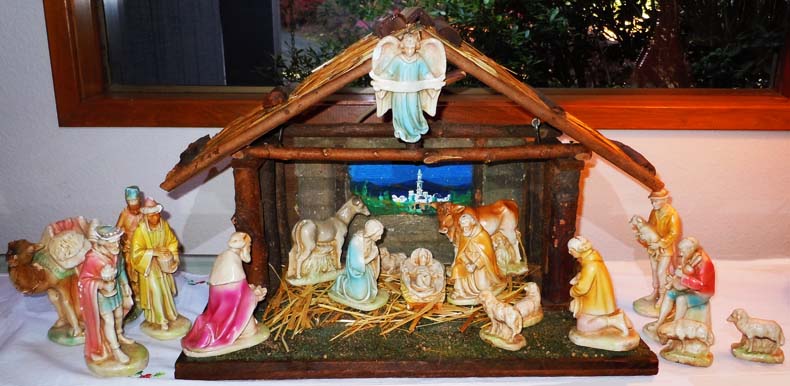 Some claim that 'The Wexford Carol' dates from the 12th Century. Here is an excerpt:
Good people all, this Christmas time,
Consider well and bear in mind
What our good God for us has done
In sending his beloved son
With Mary holy we should pray,
To God with love this Christmas Day
In Bethlehem upon that morn,
There was a blessed Messiah born.
Watch Yo-Yo Ma and Alison Krauss perform 'The Wexford Carol' with bagpipes, violin and bodhrán (Irish frame drum) here.
---
Tuesday December 24, 2019

Losing Its Luster: Mark Baruth wrote, "The modern S-Class is a marvel, to be sure, but it doesn't have the same cachet that those Benzos of your youth did. In those times, Mercedes were a symbol of class and social strata, especially if you were impoverished (as I was) during that time. The second-gen W126 were significantly better and more glamorous than the American and Japanese competitors of that era.
Today? Eh. I don't think they're appreciably better than the comparable Lexus."
A TTAC commenter added, "I work in the automotive sector and I feel you should probably know, all high end German dealerships I visit have to same policy. If it's traded in and it's over 3 years old, immediately wholesale it and auction it off. Maintenance costs become so expensive at that point, it isn't worth keeping it to sell retail. Modern ones are simply so over-engineered that they're usually too much of a hassle to properly maintain."
Panic Sale? Bloomberg reported that Fiat Chrysler Automobiles NV is making an all-out push to clear away tens of thousands of vehicles that its dealers haven't ordered.
One-Of-A-Kind 66 Year-Old: A posting at Mac's Motor City Garage provides a history of the Corvair-based 1963 Bertone Testudo is said to be a personal favorite of famed Italian coachbuilder Nuccio Bertone.
The car's design "was actually the work of a young Bertone staffer, Giorgetto Giugiaro. … In 1967, Giugiaro would found his own studio, Italdesign, which soon became one of the most successful and prolific design houses in the industry."
Familiar Giugiaro designs include the Volkswagen Golf and Scirocco, the DeLorean, the Fiat Panda and countless more. "Giugiaro says the Testudo was the first car in which he was given a totally free hand, and he used elements of his design in the Ferrari Daytona and other projects."
I have photos of my 1:43 scale model of the Testudo posted here.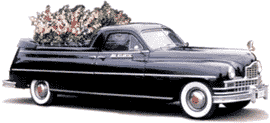 Now Racing On The Big Oval In The Sky: Famous NASCAR personality Junior Johnson, Hall of Fame driver and team owner, has died at age 88. He rose from humble beginnings as the son of a North Carolina bootlegger to become one of the country's best known drivers, mentioned even in a Bruce Springsteen song.
Johnson began his NASCAR career in 1955. He is credited as the first to use the drafting technique in stock car racing. Recently, Junior had been in declining health.
The Church Of Climate Charge: Recently Jack Baruth wrote, "This irrationality has all the characteristics of a religion. It has saints (Saint Greta!) and tithes (the carbon taxes levied against automobiles) and churches (the various meetings and institutions devoted to climate change) and an apocalypse myth. And as with many religions, it has no shame about killing for the faith."
The Christmas Spirit By Another Name: CONFELICITY is joy found in seeing other people's happiness.
Bad Pun Of The Day: Santa's helpers are subordinate clauses.
---
Friday December 20, 2019
Christmas Treat: The 1947 Sears Christmas catalog offered this Steelcraft pedal car, loosely based on the 1941 Chrysler:

Sears sold the same model for $15.72 in 1946 although the '46 model had a working horn. I can personally confirm that it was a great little pedal car - mine was a maroon color: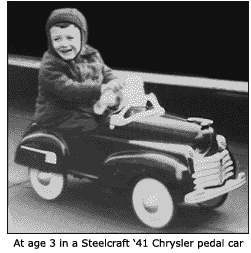 "Ask the man who owned one." (permalink)
Taking The Long Way Around: Travelers broke a world record driving through 19 countries in 24 hours. They started in Greece and ended in Switzerland.
Inoffensiveness Über Alles: David Warren recently wrote, "Every large corporation - even a chicken sandwich franchise - must pursue uniformity thanks to economies of scale. All, without exception, soon embrace Leftist drivel, to level obstacles to their mass-market spread. This is because, in present conditions of dollar worship, it is essential for management to be morally gutless. To oppose any trend might slow their cashflow."
Welcome to corporate culture. It has been this way for as long as I can remember.
Lawyers - Is There Anything They Can't Do? Headline: 'Lawyers ransack Pakistani hospital in row with doctors, patient dies'.
More than 100 attorneys stormed and ransacked a hospital in Lahore, Pakistan "to avenge what they said was an assault by doctors there on a fellow advocate, and an elderly patient died during the disturbance."
"The Devil knows this, and will always assist in the promotion of gutless people, right to the top. Those who resist 'the politically correct' will be sidelined. They will be persecuted by their social superiors, inevitably. This is because they are perceived to have guts."
Another Reason To Avoid Portland: An Oregon panhandler was sentenced to 20 days in jail after wreaking havoc on five businesses in Portland because she said no one was giving her money. Marlena Rochelle Neely, 30, told authorities she was homeless and had been asking people for $5. Neely said she would shatter a window every time they failed to give her money because she was tired of people not helping her out. Neely pleaded guilty to one count of first-degree criminal mischief and was ordered to pay about $10,500 in restitution, in addition to the jail time.
She's just another crazy liberal who thinks others should just give her everything for free. "As part of the plea agreement, her cases in May and August were dismissed." This is what is wrong with the liberal justice system. Maybe the law should be three strikes and you're lobotomized.
Businesses she attacked included the Citizen Baker cafe at Hotel Eastlund, Red Robin, the Inn at the Convention Center, Action Sport and Denny's restaurant. She was also sentenced to three years of probation and mental health, drug and alcohol treatment if deemed necessary.
This is another example of why we don't visit, shop or dine in Portland anymore.
Word Of The Day ... is from Iceland: GLUGGAVEDUR means "weather that looks appealing from inside, but would be unpleasant to be outside in. It literally means 'window-weather'."
Four Stages of a Man's Life: 1. You believe in Santa Claus. 2. You don't believe in Santa Claus. 3. You are Santa Claus. 4. You look like Santa Claus.
---
Wednesday December 18, 2019

Worst Selling Car Of The Decade … is the Alfa Romeo 4C, which managed to sell only 1,993 examples in the U.S. during the past five years.
Buh-Bye: TEN Publishing will close down 19 of its 22 automotive magazines (including Automobile and Car Craft), leaving Motor Trend, Hot Rod, and Four Wheeler as the only titles in print.
Here's a full list of discontinued titles: 4-Wheel & Off-Road, Automobile, Car Craft, Chevy High Performance, Classic Trucks, Diesel Power, Hot Rod Deluxe, Jp, Lowrider, Mopar Muscle, Muscle Car Review, Muscle Mustangs & Fast Fords, Mustang Monthly, Street Rodder, Super Chevy, Super Street, Truck Trend and Truckin'. I've never heard of most of these titles.
Book Review: 'Mickey Thompson: The Untold Story of the Original Speed King' by Tom Madigan
When I was in high school and was dreaming of becoming an engineer, Mickey Thompson was my hero. In 1960, he developed and built the unconventional Challenger I streamliner, powered by four Pontiac V8 engines, and used it to set a one-way top speed of 406.6 mph at the Bonneville Salt Flats. Thompson was the first American to break the 400-mph barrier and Challenger I remained the fastest piston-powered car. Photos of Mickey and his Challenger were on the cover of just about every car buff magazine of the period.
This book is a biography of the man, based on interviews done by the author (the late motorsports writer and former drag racer, Tom Madigan) in the early 1970s. The book covers Mickey's hardscrabble childhood, his early entrepreneurial endeavors, his ability to do more with less and his evolution from just another racer to ... (more >>>)
Shrinking List: Our Christmas newsletter list has declined by three friends who have died: Joe Cunningham (my cousin, died last year at age 88), car and model train buddy Steve D'Ambrosia and Bob Lint (my former plastics colleague at Rohm & Haas Co.). The list is now down to 90 people.
Holiday Train Report: I've been sidelined with back troubles and my wife has been suffering knee problems, so we didn't put up our three-level O-gauge train layout this year. Both of us have been treated and given physical therapy sessions and I'm pleased to report that we are much improved and on the mend.
Last week, I put two loops of floor track under the Christmas tree, so I can still run my trains.
I'll Miss Them: Sinclair Estate Vineyards of Walla Walla was a boutique wine producer with outputs of between 1 to 15 barrels of each selection annually. We always enjoyed their Cabernet Sauvignon. I just found out that the winery closed their doors earlier this year. We have one bottle left, which we'll open and consume on New Year's Eve.
Sounds About Right To Me: California Globe editor Katy Grimes tweeted, "Everything we are witnessing is the culmination of 8 years of the Obama administration: Russia, Ukraine, Impeachment, Comey, Brennen, Clapper, Hillary, Biden, Rice, Schiff, Pelosi, Nadler & their underlings. They were counting on another 8 years and got caught flatfooted."
I'll Be Home for Christmas: As I grow older, I find that various ornaments on our Christmas tree bring back pleasant memories. Each one has a story to tell.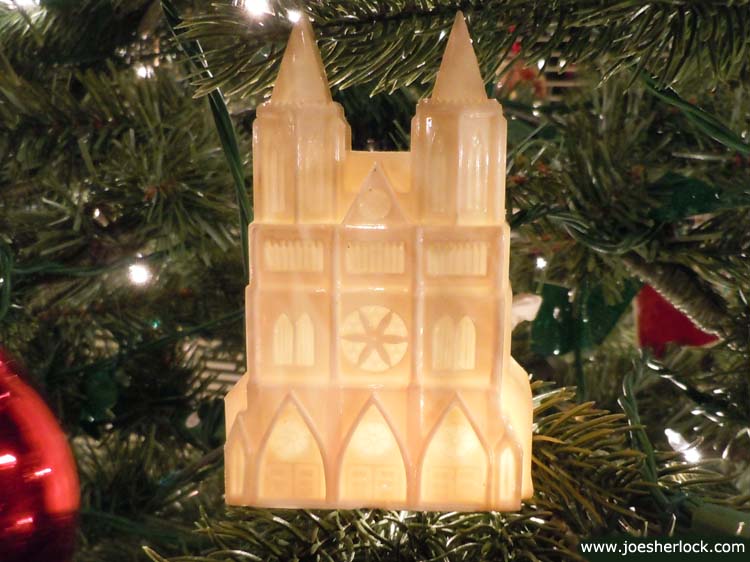 The oldest decoration is an injection molded, ivory-colored, translucent polystyrene cathedral. Mass-produced shortly after World War II, it was probably a dime-store purchase by my mom. The little cathedral has a large rounded slot on the bottom so that it can fit over a tree light and be backlit.
The church itself is a generic design, adapting elements of the great cathedrals of Cologne, Notre Dame, Truro and Washington's National Cathedral. At age 70+, it remains in fine shape - aging gracefully - and has been accorded a place of honor on our tree.
Just looking at the little plastic church evokes pleasant memories of my long-gone childhood. Which brings me to that old song, 'I'll Be Home For Christmas'. This ballad was first recorded in 1943 by Bing Crosby, who scored a top ten hit with it. While not as successful as Crosby's earlier work, 'White Christmas', which remains the best-selling single of all time with estimated sales in excess of 50 million copies worldwide, 'I'll Be Home for Christmas' has since gone on to become a Christmas standard, recorded by over 100 artists.
There was a lawsuit over... (more >>>)
Holiday Fact: The main reason Santa is so jolly is because he knows where all the bad girls live.
---
Monday December 16, 2019

But Is There A Market? GM CEO Mary Barra said definitively that GM is switching over to electric cars because of "climate change." Recently, GM announced the spending of $2.3 billion and the creation of 1,100 jobs in Lordstown, Ohio - a necessary move to supply the automaker with battery packs for its electric vehicle push. The new operation is a joint effort between GM and South Korean battery-maker LG Chem. The lights had been turned off at GM's Lordstown Assembly, in Spring 2019 after the discontinuation of the Chevrolet Cruze.
"Recipients of the battery cells produced at the facility include the upcoming midsize Cadillac EV crossover, as well as an electric pickup slated for production in Detroit in 2021. Other EV models, including a commercial van and Bolt-based Chevrolet crossover, will soon join the automaker's product ranks."
Who will buy these electric vehicles? It's anybody's guess but Jeff Flock at Fox Business pointed out that in the most recent quarter GM sold:
• 115,482 Chevy Silverado pickup trucks, powered by internal combustion engines.
• 9,638 Chevy Impala sedans, powered by internal combustion engines. The Impala will be discontinued in early 2020 due to "poor sales."
• 4,830 Chevy Bolt five-door subcompact hatchback powered by electricity only. Battery range is less than 260 miles. The Bolt has been on sale since late 2016 and sales have always been below GM forecasts.
Based on these figures, it's hard to see a business case for battery-electric vehicles in North America.
Orange Is The New Black: I've seen several orange cars this week, including a new Nissan SUV. Suddenly it's 1974, when the roads were full of orange Beetles, Pintos and Chevy Vegas. I think 50% of the Porsche 914s I've seen were orange. And there were a lot of orange 911s and Dodge Darts. And a few Lamborghinis, too.
It's only my opinion, but I think orange paint generally uglifies a vehicle. But, obviously, some people think otherwise.
Why Does Anyone Live There Anymore? A California Department of Motor Vehicles' (DMV) document reveals the government agency is generating $50 million a year by selling drivers' personal information to private companies.

"I Know A Boy Who Was Never Blue; Now He Lives In Cellblock Two …" Canadian rocker Jack Scott has died at age 83 of congestive heart failure. He had several hit songs in the late 1950s, including 'My True Love', 'Goodbye Baby', 'What In The World's Come Over You' and the great 'Jailhouse Rock' alternative: 'Leroy's Back In Jail Again'. RIP.
Defrauding The Faithful: Every year, Catholics around the world donate tens of millions of dollars to the Pope. Bishops exhort the faithful to support the weak and suffering through the Pope's main charitable appeal, called Peter's Pence. What the Catholic Church doesn't advertise is that most of that collection, worth more than $55 million annually, goes toward plugging the hole in the Vatican's own administrative budget, while as little as 10% is spent on charitable works.
"The use of Peter's Pence donations mostly to plug the budget deficit is particularly sensitive for Pope Francis, who began his pontificate by calling for a "poor church for the poor," and has continually emphasized the church's mission to care for and advocate on behalf of the most vulnerable."
Meanwhile .... (more >>>)
Quote Of The Day is from Jay Leno: "The Supreme Court has ruled that they cannot have a Nativity scene in Washington, D.C. This wasn't for religious reasons. They couldn't find three wise men and a virgin."
---
Thursday December 12, 2019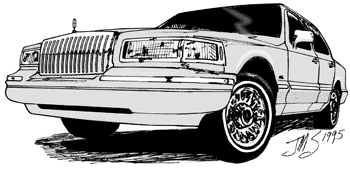 Ersatz Luxury; Faithful Fans: Mike Seely of The New York Times wrote an article on the cult of the mythical Lincoln Town Car, a model discontinued in 2011.
"Even with the predominance of Uber and Lyft, plenty of Americans still ask to be driven someplace by a "town car." But with every passing year, the odds become slimmer that they'll be ferried to their destination by an actual Town Car, a model Lincoln ceased manufacturing in 2011, and which is now too old to qualify for Uber and Lyft's luxury offerings - or, in some major cities, their standard level of service."
Lincoln introduced the Town Car as a trim option in 1976. Beginning in 1977, the Town Car acquired its distinctive mock-Rolls-Royce grille. It sold like spare electrical parts at a British car meet. Lincoln sales rose from 101,843 in 1975 to 191,355 in 1977. More importantly, it gained Lincoln market share against Cadillac. Lincoln's sales continued to grow and, in 1988, it actually outsold the Cadillac brand. The Town Car made no pretensions of being a Mercedes or a Bentley. It was America's idea of sensible luxury. It was built to a price using Ford's versatile Panther platform, the same one that underpinned Crown Victorias, whether they were passenger cars, cop cars or taxis.
I rented many a Town Car during my travels from the mid-1980s to mid-90s. They were ... (more >>>)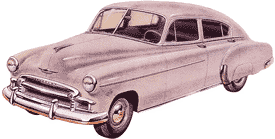 Coupe This: Four-door coupes are still big sellers, even though the rear seat area only has headroom for small children, dachshunds and midget corpses with broken necks.
I would remind people who think these vehicles are trendy, that this style has been around for over 75 years.
In the 1940s they were called Torpedo sedans. In 1950, Chevrolet was still offering the Chevy Fleetline fastback.
Or consider the sleek-backed 1936 Lincoln Zephyr. Or the Pierce Silver Arrow which made its debut at the Chicago 1933 Century of Progress. Everything old is new again. (permalink)
Book Review: Those Were The Days … Buick Riviera 1963-73' by Norm Mort
"Those Were The Days …" is a series of small (7.5 x 8 inches), 100 or so page, softcover books from Veloce Publishing about specialty automotive subjects. The books are moderately-priced ($25) and chock-full of photos, mostly in full color. Norm Mort's Buick Riviera book is knowledgeably-written and has many photos, some factory images, as well as color ones from members of the Riviera Owners Association.
Surprised by the success of the four-seater Thunderbird, General Motors decided that it needed a personal luxury car offering. A clay model was rendered and presented to Cadillac, to be called ... (more >>>)
People Have Too Much Money: Thor24, a 24-cylinder, 12-supercharger, 3,424-horsepower big rig truck with a cowcatcher-like front, was recently auctioned off for $12 million.
People Have Too Much Money (Part II): A banana duct-taped to a wall sold for $120,000 at Art Basel Miami.
"The humorous minimalist artwork comes from Italian artist Maurizio Cattelan and is titled 'Comedian'."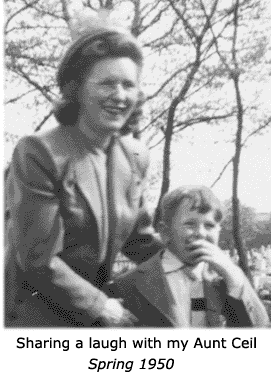 Remembering Aunt Ceil: My godmother and favorite aunt died 65 years ago today at the young age of 38. She suffered many health problems in her lifetime and endured a lot of pain especially in her final battle with breast cancer but always had a smile and a kind word for me. And others.
She was a generous woman and my best presents - toys, books, etc. - came from Aunt Ceil.
She worked for a fur broker. The firm handled shipments from all over the world. Most were mailed by trappers and were sent by parcel post. Like many kids in my day, I collected stamps. My aunt provided me with many exotic issues from far-away lands. My friends were sure envious.
The fur business had a big warehouse and the storage carts and pallet jacks became my personal playground on many Saturday mornings while my aunt finished up paperwork. There was also a big Rube-Goldberg machine - a letter-folder and envelope stuffer - in the office which one could load and watch the paper zip through and get folded. And - sometimes - get spectacularly mangled and destroyed by the belts and pulleys. I was fascinated by it.
Aunt Ceil owned a green 1949 Chevrolet which was driven carefully and garaged every night.
Ceil was loved by those who knew her. There were so many floral arrangements at her funeral that the undertaker had to order up a flower car from ... (more >>>)
Quote Of The Day is from Frank J. Fleming: "Due to rising energy costs, Santa will no longer leave a lump of coal in your stocking if you're naughty and instead just punch you while you sleep."
---
Tuesday December 10, 2019
Bookies: The Old Motor recently published a photo of Jean and John M. Taxin, owners of the famous Old Original Bookbinders Seafood Restaurant, posing in their near new 1953 Cadillac Eldorado.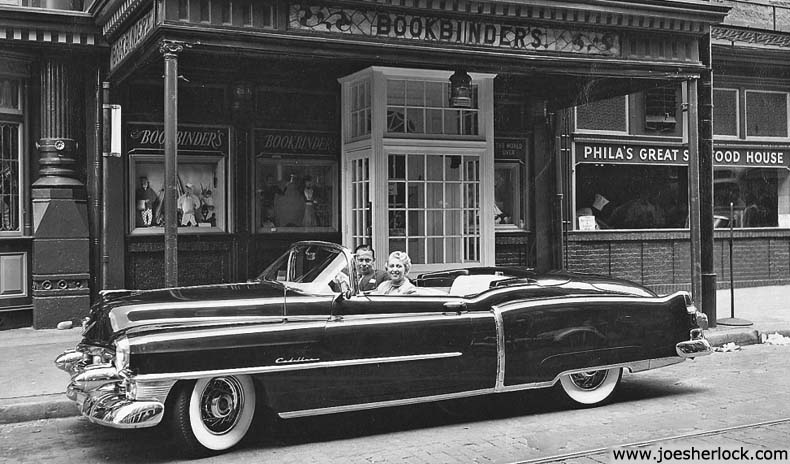 "The first year Eldorado of which 533 were built was essentially a restyled 1952 Cadillac GM Motorama dream car based on a 126-inch wheelbase chassis powered by a 210 horsepower, 331 cubic-inch OHV V-8 engine backed up by a four-speed Hydra-Matic automatic transmission. The suspension system consists of a coil-spring independent front suspension, and live rear axle with semi-elliptic leaf springs, equipped with four-wheel hydraulic drum brakes."
Old Original Bookbinders opened in ... (more >>>)

More Bling Than A Tricked-Out Navigator: The 2021 Mercedes-Maybach GLS 600 SUV has lotsa chrome.
"The GLS 600 receives the twin-turbocharged, 4.0-liter V8 engine that's omnipresent in the Mercedes range. It delivers 550 horsepower from 6,000 to 6,500 rpm and 538 pound-feet of torque between 2,500 and 5,000 rpm in this application, and it spins the four wheels via a nine-speed automatic transmission and 4Matic all-wheel drive. Mercedes pegs its zero-to-60-mph time at 4.8 seconds."
Made in Alabama, the 2021 Mercedes-Maybach GLS 600 will arrive in American showrooms by the end of 2020. Pricing hasn't been released yet, but it could start in the vicinity of $200,000.
What A Sports Car Should Look Like: Ferrari's newest model, the Roma, "mixes historic design with new technology for a stunning grand tourer putting out 612 hp and speeding from 0 to 62 mph in just 3.4 seconds and topping 200 mph." Note the lack of odd creases, off-putting bulges and strange scoops that seem to plague other sports cars these days.
Silver Bells: Last week, as I was headed home from a physical therapy session, I spotted a late-1950s. silver-colored Rolls-Royce Silver Cloud coming my way. Interestingly, my Christmas CD was playing 'Silver Bells' at the time. Coincidence? Or what?!
As I listened to my custom CD mix of Christmas songs, I realized that almost every performer on it is now dead: Judy Garland, Bing Crosby, Perry Como, Nat King Cole, Elvis Presley, Burl Ives, Gene Autry, Jimmy Durante, Lena Horne and others. But, for me, old Christmas music is the best music.
Speaking of old music, while I was at physical therapy, a radio was playing in the background and its music was being piped into my treatment room. An announcer proudly informed listeners that the station features "classic oldies." Songs I heard included: 'Sharp Dressed Man' - ZZ Top (1983); 'Girls Just Want to Have Fun' - Cindi Lauper (1983); 'We Are the Champions' - Queen (1977) and 'Get Down Tonight' - KC and the Sunshine Band (1975).
Well, the announcer was technically correct since all the music was 36-44 years old. But, as a geezer, I was waiting for some Little Richard, the Beach Boys, Connie Francis, the Coasters or Bobby Darin.
Sign Of The Season: From our Christmas tree ...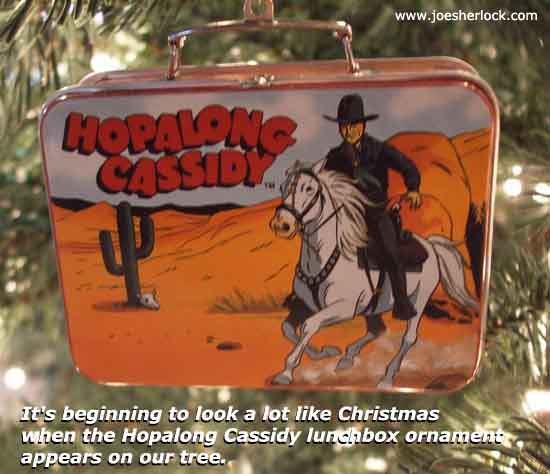 Biden Campaign Update: Dave Burge tweeted, "In fairness, 'Vote For Me, You Fatass' is a better campaign slogan than 'No Malarkey'."
In Related News ... His Pompousness John Kerry has endorsed fellow-geezer, Joe Biden, for president and joined Joe on the 'No Malarkey' bus tour over the weekend. This reminded me of a couple of John Kerry jokes:
Q: How many John Kerrys does it take to change a lightbulb?

A: At least four: One to unscrew the old lightbulb. One to simultaneously announce his courageous commitment to replacing the old bulb. One to vote against funding the new light bulb. And one to denounce Donald J. Trump and America's Benedict Arnold CEOs for leaving everyone in the dark.

Q: Why did John Kerry cross the road?

A: He didn't cross the road. He crossed to the middle to demonstrate his grasp of the nuances and subtleties involved in crossing the road, and was still explaining them to the New York Times reporter when the logging truck hit him.

Finance Guru: Paul Volcker has died at age 92 from prostate cancer. He was chairman of the Federal Reserve during the key period from 1979-87 when inflation was wrung out of the American economy, a painful, though necessary move whose long-run benefits we are still experiencing today.
Under his reign, the prime rate climbed to a record 20.5% by May 1981. Unsecured personal loans were actually cheaper at Household Finance Corporation than small business loans were at my local banks in those days. The unemployment rose to 11% nationally (it peaked at 27% in my neck of the woods - Linn County Oregon where my business was then located) and the country was steeped in economic malaise. Yet between 1980 and 1983, inflation fell from nearly 15% to a far more manageable, single-digit number, averaging 3.6% for the remaining seven years of the Reagan presidency.
Working with Ronald Reagan, the pair saved the U.S. economy and rebuilt the mighty economic engine of America. RIP.
Quote Of The Day is from Steven Wright: "I didn't get a toy train for Christmas like the other kids, I got a toy subway instead; you couldn't see anything but every now and then you'd hear this rumbling noise go by."
---
Friday December 6, 2019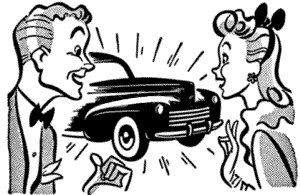 November Vehicle Sales: Total light-vehicle sales reached a seasonally-adjusted annualized rate (SAAR) of 17.5 million in November, a touch better than 17.4 million a year ago, according to LMC Automotive and J.D. Power.
American Honda set a new November sales records for total vehicles (up 11%) and trucks (up 18%) and Acura brand increased 3%, mostly SUVs/CUVs. Toyota Motor North America reported November 2019 sales of 207,857 vehicles, an increase of 9%. The RAV4 led the way with a sales increase of 26%, marking a best-ever November. Lexus division posted its best-ever November with 30,093 vehicles sold; an increase of 14%.
Hyundai Motor Co. reported a solid 6% rise in November sales to 60,601 vehicles. It was the company's 15th gain in the last 16 months. The firm's retail sales jumped 19% last month. SUVs including the compact Tucson and mid-size Santa Fe and Palisade models led the way, but its hybrid and electric vehicles are also on the ascent, soaring 78% for the month.
Nissan didn't fare as well: Nissan brand sales dropped 13% and Infiniti brand sales dropped by 33%. Deliveries of Nissan's top seller, the Rogue SUV, sank 25% and demand for the Murano crossover and Frontier pickup also declined by double digits. Only three Nissan models notched gains in the month, led by a 37% surge in sales of the Altima sedan. Audi saw its sales rise 21% to 20,618 units from 17,082 last November. Audi's increase was led by its SUV line-up. Volkswagen posted a 9% gain, buoyed by sales of its mid-size Tiguan and three-row Atlas SUVs.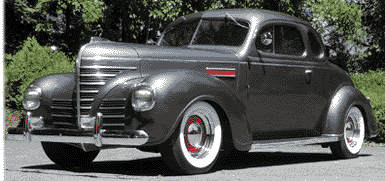 Feels Like December: Yesterday, the temperature was 47 degrees at 11:30 am, so I fired up my '39 Plymouth coupe and went for a drive. The roads were dry - important because rain is forecast for the foreseeable future. The sky was very cloudy to the north - no Mt. St. Helens to be seen - and partly sunny to the south, with a blue sky that was so pale it looked almost gray. It may not officially be winter yet, but it certainly looks and feels like it. It felt colder than it was - as we used to say back east, the weather felt raw.
Nevertheless, I had a good drive on the lightly-traveled back roads of North Clark County, partly because I wore gloves and dressed warmly, since I have 23 seasons of experience with the Plymouth's original, anemic heater. Afterward, I carefully parked the Plymouth in the garage, based on the assumption that I won't be taking any more rides for a while.
Happy Birthday: My 2008 Lexus LS 460 turned 12 years old today. It still looks like new inside and out.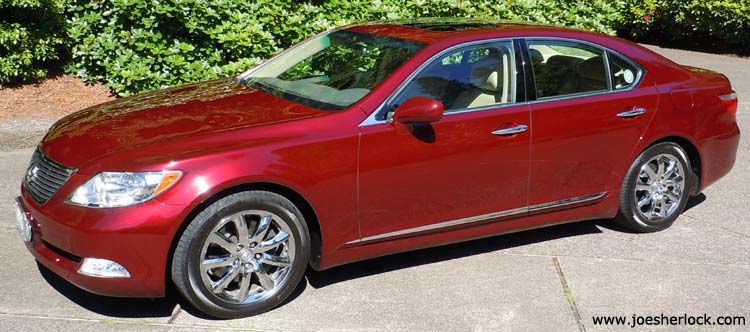 Everything still works, too. It lives a generally gentle life, is garaged regularly and has a mere 39,121 miles on its odometer. This week I installed a Christmas CD, signaling the official start of the Season. (permalink)
Motor Trends: Car windows keep getting smaller, all-wheel-drive is becoming ubiquitous, people buy SUVs to get more ground clearance, tires are becoming larger and pedestrian crash requirements are making front ends blunt and more massive.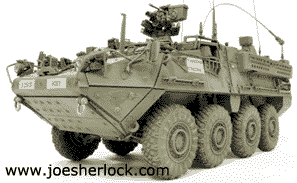 Jeeez. In five years, we'll probably all be driving Stryker combat vehicles. (permalink)
Impeachment Hoax: Conservative writer Michael Anton gave four reasons why President Trump committed no impeachable offense:
A. No aid was actually withheld.
B. No investigation was actually launched.
C. The American people don't care about Ukraine and would probably prefer to get their $400 million back.
D. They would inevitably ask: so were, in fact, Joe Biden and his son on the take from a foreign government? And if it looks like they might have been, why, exactly, was it improper for the president to ask about it?
"A Date Which Will Live In Infamy ..." On December 7, 1941, Pearl Harbor was attacked by the Japanese. This event galvanized our nation and made us officially part of the Second World War, even though we had already been involved in assisting England - and other nations - against the Nazis.
Family legend has it that my dad and a couple of his brothers hitchhiked down to a recruiting office the following day and put their names on the enlistment roll. My dad chose the Navy but wasn't called to active duty until 1944. Probable reasons were not enough ships available plus his critical worker status as an experienced freight railroader.
His supply ship, LSM 448, was commissioned in January 1945; he had received special training to be a radar operator. While he didn't talk much about his wartime experiences, I know that he traveled to Guam, the Philippines and to Japan. Just after the atomic bomb was dropped, his ship delivered a company of Marines who were part of the occupying forces. He had a map of Nagasaki, showing the areas to avoid - too radioactive.
LSM 448 usually carried supplies, tanks, half-tracks, fuel and other supplies to wherever they were needed.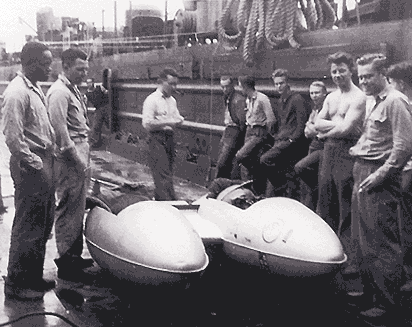 The crew of LSM 448 once made a 'boat' out of some scrap gas tanks. That's my dad on the right, holding a cigarette.
---
One of his shipmates told me of a typhoon the LSM 448 experienced "at Okinawa in October 1945. It was the most violent and destructive storms of the century. When the storm approached the island, we were ordered to put to sea to ride out the storm. The wind was blowing about 200 mph and the rain was so heavy you could not see anything in front or to the side." The LSM came very close to sinking.
I was born in 1943, so I have no memories of World War II or of my dad's absence from home. I still have a pristine 1944 Hawaiian dollar which he brought back for me as a souvenir.
My dad got out of the Navy around May 1946 and, like most vets, quietly returned to normal civilian life.
On this somber anniversary, let us give thanks to all who serve or have served. (permalink)
Quote Of The Day: Politicians are like Christmas lights. They all hang together, half of the suckers don't work and the ones that do aren't that bright.
---
Wednesday December 4, 2019
Dead? Or Just Hibernating? For the past five years, I've been reading about the death of the sedan now that we're living in an SUV world.

Nissan begs to differ. It introduced an all-new Sentra at the LA Auto Show last week and claimed that 80% of buyers under 50 are considering a sedan for their next purchase. The new Sentra is even available in purple, something you couldn't get on a 1947 Mercury sedan.
Worst Metaphor Ever: Robert Farago once wrote, "Testing a Lamborghini Gallardo SE in Miami is like sipping Chateau Lafite Rothschild in a public urinal."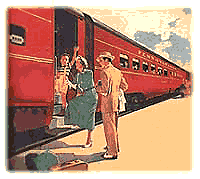 Off The Tracks: AMTRAK's total annual revenues (less subsidies from states): $2.432 billion. Total losses $2.7 billion. This means that AMTRAK would have to more than double the price of its train tickets just to break even.
Randall O'Toole commented, "But with losses of $2.7 billion, $1.1 billion of which was from operations, there is no way that Amtrak trains will ever earn a profit."
Per capita rail passenger miles peaked in 1919 and fell by half during the Roaring '20s. There was a brief resurgence of passenger railroading during World War II due to gas rationing. Once the war ended, it was all downhill. By 1949, per capita passenger miles had fallen to 1929 levels.
Book Review: 'Tracks Through Our Lives … Stories Told On Philly El Trains' by John A. McCabe
This is a 180-page softcover book, containing 17 short stories sort-of-built around various El stops on Philadelphia's Frankford-Market Street Elevated train line. Some may be true, some allegorical, others hyperbole, still others fictional. Some of the stories seemed cliched and boring, others poignant. Some were hard to follow, narrated in an almost stream-of-consciousness fashion.
I grew up in ... (more >>>)
I Always Thought Cloud City Seemed A Little Off: Star Wars actor Billy Dee Williams has come out as gender-fluid. What do you expect from someone who plays a character named 'Lando'. On the other hand, it doubles his chances for a date on Saturday night, which is important if you're 82 years old.
Back in the 1970s, gender fluidity was known by a less-PC moniker: switch hitting.
Quote of the Day is from Victor Borge: "Santa Claus has the right idea. Visit people only once a year."
---
Monday December 2, 2019
Best-Looking American Production Cars: Beauty is, of course, in the eye of the beholder.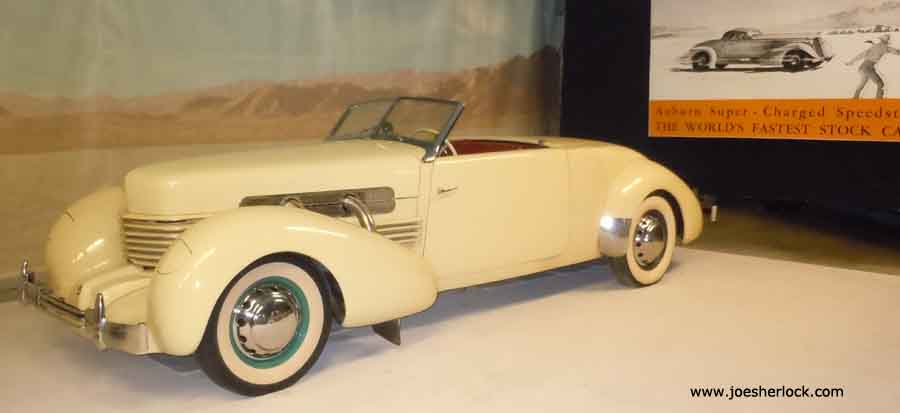 That qualification aside, I hereby announce my choices for the ten best-looking American production (no concepts, no one-offs, no customs) cars (no trucks or SUVs) ever manufactured ... (more >>>)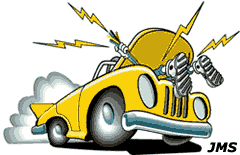 Small, Expensive Niche: Roger Penske's Penske Automotive Group operates more than 150 dealers across the U.S. and he "isn't very excited about electric vehicles, as he's seen how easily they sell."
During the most recent quarter, battery-electric vehicles represented only 1.9% of U.S. sales. 79% were Teslas.
In general, EVs "have not had the lift that [the industry] expected," Penske said. He added that he's aware of many Audi E-Tron pre-orders cancelled in the interest of affordability. "I think there is some sticker shock. The customers that thought these would be more affordable, like a Q5," Penske said. "But when you're looking at an $80,000 vehicle in a $1,500 payment, it gets - it's really aggressive from the OEM standpoint."
"Never Give Up, Never Surrender!" That's what they said on 'Galaxy Quest'. Michael Lamm is a respected auto writer. I've read much of his stuff and purchased his wonderful book, 'A Century of Automotive Style', over 20 years ago. I recommend it highly. It's probably the best tome on car design and covers everything from the coachbuilders of the 1920s and '30s to the in-house design stories at automobile manufacturers.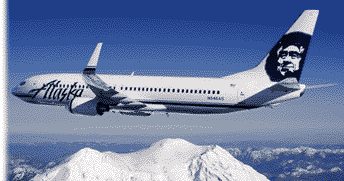 How Boeing Lost Its Way: The airplane company was once the Province of Engineers seeking technical excellence; now its run by a bunch of MBAs who've never spent a minute riveting or welding.
Glenn Reynolds wrote, "Move your company HQ to Chicago, a city run by grifters and crooks, then lose your bearings and values? Who could have seen that coming? Executive offices should be in the factories, and you should have to walk through the shop floor to get to them."
Jerry Useem wrote in The Atlantic: "For about 80 years, Boeing basically functioned as an association of engineers. Its executives held patents, designed wings, spoke the language of engineering and safety as a mother tongue. Finance wasn't a primary language."
And: "When the headquarters is located in proximity to a principal business - as ours was in Seattle - the corporate center is inevitably drawn into day-to-day business operations," a senior Boeing executive explained at the time. "And that statement, more than anything, captures a cardinal truth about the aerospace giant. The present 737 Max disaster can be traced back two decades - to the moment Boeing's leadership decided to divorce itself from the firm's own culture."
Global Warming Alert … from the blog Borepatch (via The Woodpile Report): "We haven't seen a record high temperature set in any of the fifty States in over 20 years despite the run of reported Hottest Year Ever."
Bad Pun of the Day: Sign at a nudist camp: 'Sorry - Clothed for Winter'.