I'll Be Home for Christmas
As I grow older, I find that various ornaments on our Christmas tree bring back pleasant memories. Each one has a story to tell.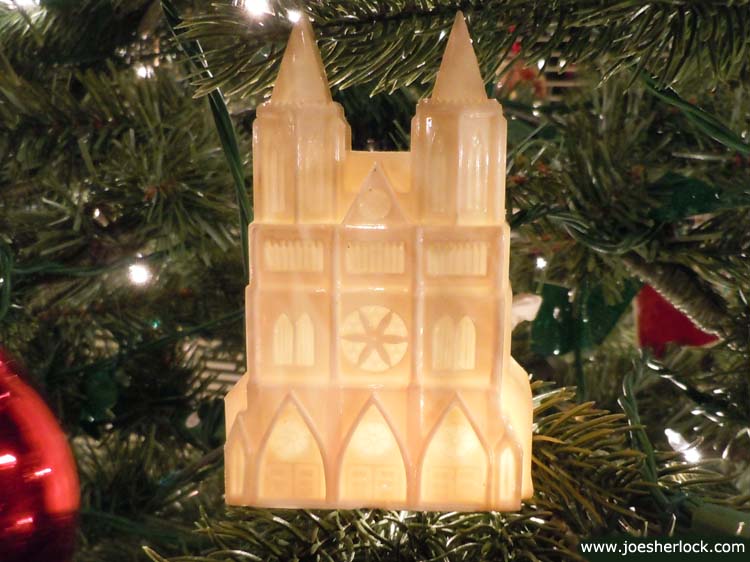 The oldest decoration is an injection molded, ivory-colored, translucent polystyrene cathedral. Mass-produced shortly after World War II, it was probably a dime-store purchase by my mom. The little cathedral has a large rounded slot on the bottom so that it can fit over a tree light and be backlit.
The church itself is a generic design, adapting elements of the great cathedrals of Cologne, Notre Dame, Truro and Washington's National Cathedral. It remains in fine shape - aging gracefully - and has been accorded a place of honor on our tree.
Just looking at the little plastic church evokes pleasant memories of my long-gone childhood. Which brings me to that old song, 'I'll Be Home For Christmas'. This ballad was first recorded in 1943 by Bing Crosby, who scored a top ten hit with it. While not as successful as Crosby's earlier work, 'White Christmas', which remains the best-selling single of all time with estimated sales in excess of 50 million copies worldwide, 'I'll Be Home for Christmas' has since gone on to become a Christmas standard, recorded by over 100 artists.
There was a lawsuit over the song-writing credits but one of the creators claimed to have based it on a poem he wrote while a lonesome 16 year-old student away at school. When issued in the midst of the Second World War, it became a melancholy anthem for soldiers, sailors and others separated from their families at Christmas time.
I'll be home for Christmas;
You can plan on me.
Please have snow and mistletoe,
And presents on the tree.
To today's listener, the concept of presents "on the tree" seems odd but was not unusual in the war days of shortages and lingering fears of another Great Depression. Gifts tended to be small and would easily fit in a small package affixed to a Christmas tree. Lionel trains, TootsieToy cars, bikes and other metal toys were not manufactured during the war; toymakers were busy producing bombsights, binoculars, ammo cases and other military hardware.
Postwar listeners may interpret the song differently. We may have happy, fulfilling lives and spend our days with our loved ones but there remains a longing for those innocent Christmases of childhood - gauzy, nostalgic memories of wonderful moments with friends and relatives - some now deceased. Such times can never be recaptured - only recalled with fondness mixed with a sense of loss.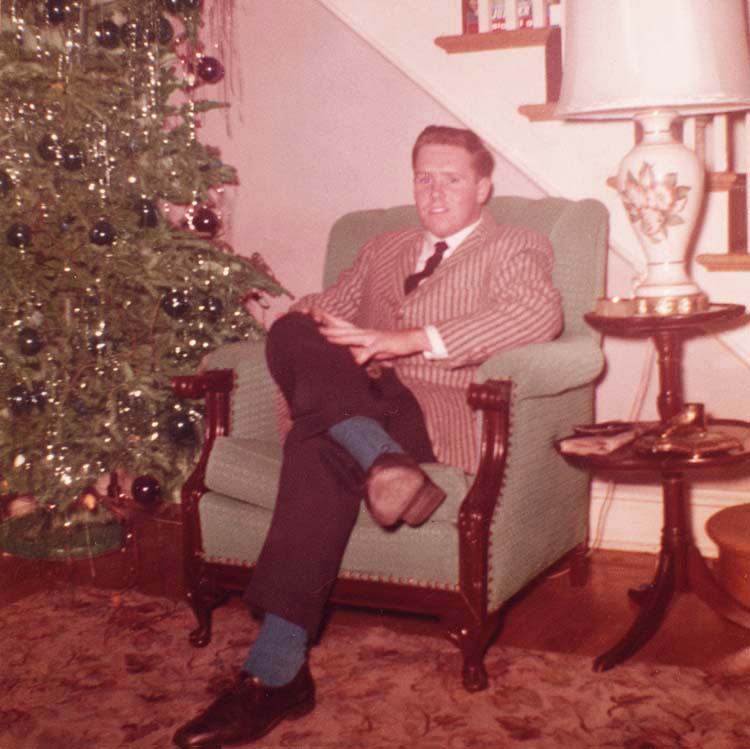 This photo of me was taken in December 1958, in the Northeast Philadelphia home where I spent most of my time growing up. Except for my brother, all the people who were living there in '58 are now dead. The last time I visited Philadelphia, the old Foulkrod St. house wasn't looking so good either. All of our old neighbors have moved away or passed away. The neighborhood itself has gone downhill. You really can only return to your old home for Christmas in your dreams.
---
For many of us, the homes we lived in as children have either been demolished, become neglected under the disinterested stewardship of subsequent owners and/or are now located in unrecognizable, declining neighborhoods. You can't go back home anymore.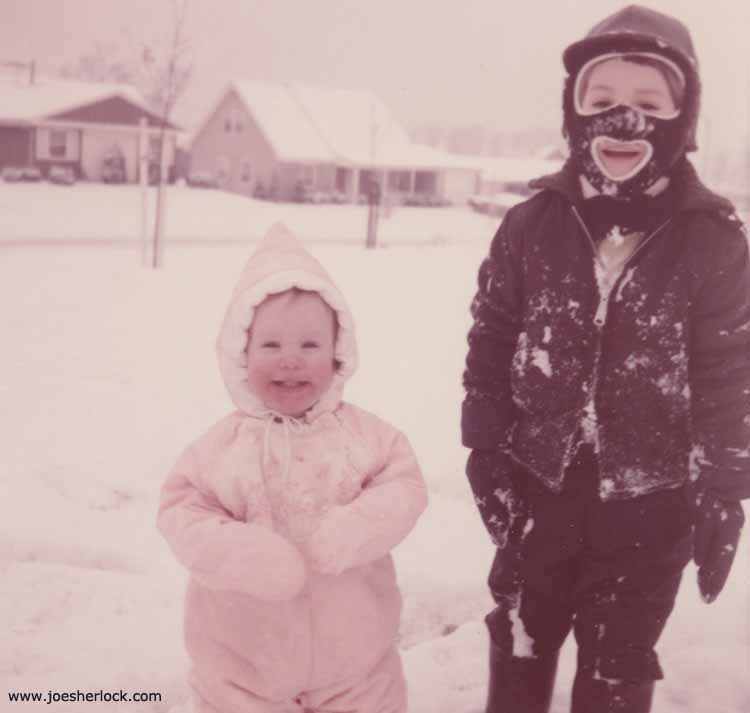 My two year-old daughter and five year-old son play on the snowy front lawn of our Willingboro, NJ Cape Cod home in 1972.
---
No matter. The warm memories of these dwellings and of those we love return during every holiday season. We acknowledge these memories with a heavy heart, before we shake our heads, brush away the pensive mental cobwebs and rejoin our living loved ones for this year's festivities.
Nevertheless, poignant reminiscences linger quietly in the background:
I'll be home for Christmas,
If only in my dreams.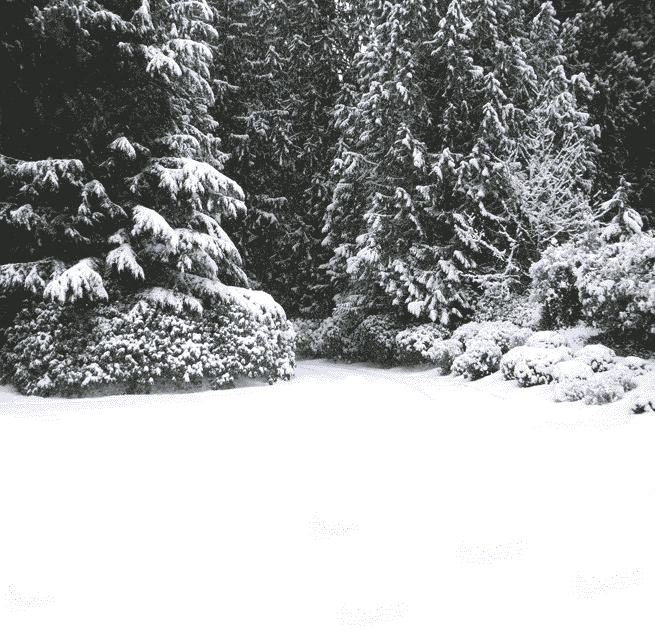 The view from our front doorway - December 2008
---
Merry Christmas.
(originally
posted 12/25/13
)
---
Other Pages Of Interest
| blog: 'The View Through The Windshield' |
| greatest hits: various essays & articles | blog archives | '39 Plymouth | model train layout |
| about me | about the blog | e-mail |
copyright 2013-19 - Joseph M. Sherlock - All applicable rights reserved
---
Disclaimer
The facts presented in this blog are based on my best guesses and my substantially faulty geezer memory. The opinions expressed herein are strictly those of the author and are protected by the U.S. Constitution. Probably.
Spelling, punctuation and syntax errors are cheerfully repaired when I find them; grudgingly fixed when you do.
If I have slandered any brands of automobiles, either expressly or inadvertently, they're most likely crap cars and deserve it. Automobile manufacturers should be aware that they always have the option of trying to change my mind by providing me with vehicles to test drive.
If I have slandered any people or corporations in this blog, either expressly or inadvertently, they should buy me strong drinks (and an expensive meal) and try to prove to me that they're not the jerks I've portrayed them to be. If you're buying, I'm willing to listen.
Don't be shy - try a bribe. It might help.
---