Restaurant Reviews - 2014
by Joe Sherlock, The View Through The Windshield
---
2015 restaurant reviews can are posted here.
---
A collection of restaurant impressions (listed alphabetically):
Acqua Pazza; Rancho Mirage, CA: Describing itself as a California bistro, this establishment's menu options are many, and the food quality and service are very good. You can dine outside at the water's edge at The River shopping center or enjoy the air-conditioned inviting decor indoors. We've been here three times and left full and satisfied on each occasion. (2/24/14, permalink)
Update: Closed in early 2015.
Elmer's Restaurant; Vancouver, WA: This Portland-based 25-unit mini-chain of casual sit-down restaurants offers a Denny-like menu, except that the food quality, general ambience and helpfulness of wait staff is much better.
Founded in 1960 and originally known as Elmer's Colonial Pancake House, Elmer's can be found in Oregon, Washington and Idaho with an outlier in Palm Springs, CA.
A recent breakfast confirmed that Elmer's is still above par. My pancakes were hot and delicious and my wife really enjoyed her French toast.
We've been to Elmer's for lunch and dinner as well and have never been disappointed. Recommended. (10/28/14, permalink)
Hockinson Kountry Cafe; Battle Ground, WA: Once a local favorite in rural Hockinson, this restaurant moved to west Battle Ground in 2010. We've dined here often and are almost always pleased with the food and service, although the turkey platter is spoiled by a gravy that is both heavy and flavorless.
Friendly waitresses deliver food to your table quickly. Offerings are homemade, comfort in style and generous in portion. Prices are small-town reasonable. HKC's pies are legendary, if you happen to have room left for dessert.
The small parking lot fills up quickly, so get there early. Open for breakfast and lunch daily, the restaurant closes at 3:00 pm.
The Hockinson Kountry Cafe has rebuffed the 'Location of Death' aura and is not haunted by the ghosts of other, failed restaurants from its location. If you want details of that story, check out my earlier posting. (3/10/14, permalink)
Jorge's Marguerita Factory; Vancouver, WA: Twenty years ago, we visited this location weekly when it was Salcido's. It's had several other owners and names since then - always Mexican-themed.
We enjoyed our lunch at Jorge's. The waitstaff was friendly and attentive. The warm fresh tortilla chips and tasty, spicy salsa arrived promptly. Our entrees were plentiful in portion size, well-prepared and delicious.
The only negative was the unimaginative and a dated decor. Nevertheless, Jorge's earned our 'recommended' rating. (11/11/14, permalink)
Julie's Cottage Kitchen; Dollars Corner, WA: This little dining spot establishment has been around for over 20 years, serving fine homemade, comfort-style entrees.
The staff is friendly, fast and attentive; the portions are plentiful and flavorful. I usually order the patty melt which is one of the best in the U.S. Julie's onion rings are far above par, as well. The breakfast items are outstanding too. The restaurant is small and the atmosphere is cozy.
But be warned - the parking lot tends to fill up early because, it seems every patron drives his/her own rig. Arrive fashionably late for lunch and you may be unable to find a parking space. (10/20/14, permalink)
LG's Steakhouse; La Quinta, CA: Best steaks in the desert can be found here. Beef is aged on premises. LG's is a much better choice for serious beef eaters than Ruth's Chris, Sullivan's or Mortons. (2/24/14, permalink)

Little Italy's; Vancouver, WA: In 2013, I wrote a review of this establishment's downtown Vancouver location.
Recently, I had the opportunity to dine at Little Italy's eastside location in a modern multi-use professional office park. The decor is a big step up from the downtown establishment and off-street parking is abundant.
The service was excellent and the food was just as tasty as the downtown location - a good thing.
One complaint: I wish the lasagna had more cheese and less meat. Recommended. (9/8/14, permalink)
Los Jalapeños; Vancouver, WA: We've been dining at this locally-owned Mexican restaurant for almost 20 years and have never had a bad experience. The service is polite and generally fast. The quality of the food is above par and has improved inrecent years. Highly recommended. (1/15/14, permalink)
Mario's; La Quinta, CA: This local chain has five locations in the desert. The food is bodacious, portions are plentiful and staff is attentive. I really liked the minestrone soup. The meatball parm sub may be the best on earth.
Beware - Mario's can get pretty busy during peak hours with a line out the door. (2/24/14, permalink)
Mill Creek Pub; Battle Ground, WA: This restaurant is rated by TripAdvisor as one of the top dining establishments in Battle Ground and rightly so. The pub-style food is very tasty and the service is quick and friendly.
Be warned that the decor of the place is tacky - jewelry as well as bears carved from logs are for sale are on display in the restaurant and the decor consists of rustic 'stuff' combined with corrugated tin indoor overhangs. There's also a very large wooden water wheel which revolves in a large, shallow tank of water. A not-very-pleasant wet wood smell sometimes is emitted from the wheel, reminding me of a New Jersey shore boardwalk after a Nor'easter or a half-sunken rowboat at an abandoned Pocono Lake resort. Try not to sit too close to the wheel.
Verdict: Recommended as long as you wear dark glasses. Or blinders. (8/25/14, permalink)
Mimi's Cafe; La Quinta, CA: Offering flavorful roast turkey dinners, the menu states, "Any day can be Thanksgiving."
The non-turkey menu items are also very good. The portions are large, the prices are very reasonable and the place fills up quickly with dangerously hungry geezers armed with canes and walkers. Go early to get a good table.
The decor is country French with a dash of New Orleans, if you care about such things.
In 1982, we dined at a Mimi's Cafe in Anaheim, California - the original one. It was a memorable and enjoyable meal. Mimi's can now be found in 22 states. (2/24/14, permalink)

Olive Garden; East Vancouver, WA: It's easy to mock the Olive Garden chain. Just as Domino's and Pizza Hut blanderized the pizza pie in an effort to offend no one in Iowa or South Dakota, Olive Garden once specialized in inoffensive and forgettable dishes approved by focus-groups somewhere in the U.S. where the Italian demographic was low.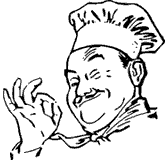 In the 1950s and '60s, there were thousands of wonderful mom-and-pop Italian eateries (mostly in the Northeast and West Coasts plus Chicago), ranging from plain-jane places with linoleum-topped tables to fancier establishments with indirect lighting and wall murals showing Venetian gondolas and Tuscan hill towns. All offered wonderful Italian food. But the owners got old and wanted to retire.
Unfortunately, their children - having gone to college and now working in high-paying, dress-up desk jobs - had no interest in slaving over a hot kitchen stove. Most of these neighborhood establishments closed. And Olive Garden moved in.
The Vancouver Mall Olive Garden once provided us with one of the worst dining experiences ever. Bland food, terrible teenybopper service in an atmosphere reminiscent of a low-end retirement home dining hall.
Several years ago, the Darden Restaurants empire, owner of Olive Garden, Red Lobster, Capital Grille, LongHorn Steakhouse and other chains, wised up, redecorated its restaurants and substantially improved the menu, as well as the dining staff, now comprised of post-teen, responsible folks.
Today's Olive Garden is better than Tony's Junior Villa, Angelo's Little Italy, Spaghetti Eddie's or The Villa Napoli of mom-and-pop yore.
We recently dined at the East Vancouver location several times and found the decor to be warm and inviting, the food to be tasty (I'm particularly fond of the Lasagna Classico), the wine selection more than adequate. On my most recent visit my buddy Dennis and I shared a bottle of 2010 Rocca delle Macie Chianti Classico which, while overpriced (OG charges $37, it retails for under $10), was just outstanding.
The service here is problematic - it has ranged from exceptional (from our waiter, Joe) to sub-par (where we had multiple servers and no one seemed to be in charge).
Recommendation - be patient, enjoy your wine and, if the service is a 'fail', tip accordingly. (10/10/14, permalink)
Pasta Gigi's; Battle Ground, WA: Recently, this establishment moved to larger quarters and now serves lunch and dinner. We tried it for lunch and found the food and service OK - important because it's the only half-decent Italian restaurant in Battle Ground.
My initial complaints were that the decor leaves something to be desired and the meatballs, while huge, lacked flavor. They need more spices, a little breading and should simmer in sauce for a longer period.
A few weeks later, we tried Pasta Gigi's for dinner. The place is acoustically bad - sound carries and it doesn't help when children of the staff are yelling and screaming upstairs. During our two visits, we did not see the owner or her appointed manager. Hence, there was an Inmates Running The Asylum vibe to the establishment, including the overly-personal ("And what's your name?"), somewhat overbearing waitress. She came by a few minutes after serving our entrees and asked, "How's your food?" When I replied that I hadn't tasted mine yet because it was still too hot to eat, she replied haughtily, "Well ... it's supposed to be hot" as the steam from the plate rose toward her face.
I didn't like the cucumber-lemon water the restaurant served (I called it pickle-fetus water) and the establishment seems to be out of items - very unprofessional. At 5:00 pm, they "only had one lasagna serving left" and a nearby table (don't forget - sound carries there) couldn't get the beer they wanted because "we won't be getting any until Thursday."
I had that one remaining lasagna and it just wasn't that great; I can think of at least four restaurants in nearby Vancouver with better lasagna. My wife's chicken parm was large in size but unexceptional in taste.
We won't be returning to Pasta Gigi's. (9/2/14, permalink)
The RingSide East; Portland, OR: Pick up any airline magazine and you'll find several ads listing 'Top 10 Steak Houses in America' or the like. The RingSide in Portland always seems to be listed in one of them. Opened in 1944, the westside downtown RingSide is small, dark and crowded - plus it's tough to find a parking space nearby. I haven't been there in 25 years.
I've been to the eastside location dozens of times. In the 1980s, it probably was the best steakhouse in Portland. Then competition proliferated while the RingSide lost its way. In 2009, we had a particularly bad dining experience and quit going there.
We returned a couple of years later and found that the RingSide East had cleaned up its act and was back at the top of its game. A recent Saturday night dinner was superb.
The RingSide is famous for its onion rings but all appetizers and entrees we sampled were above par. Now reinstated as highly recommended.
Update: Closed - August 2017 (8/11/14, permalink)
Ristorante Mamma Gina; Palm Desert, CA: This establishment has some of the best Italian cuisine I've sampled since the demise of Gaetano's in Philadelphia. Dining there has become a desert tradition for us. It's fun to sit at a front window table and watch the people and expensive cars cruise by on El Paseo Drive.
Mama Gina has two locations - Palm Desert, CA and Florence, Italy. (2/24/14, permalink)
Salty's on the Columbia; Portland, OR: This has been generally one of the most consistent restaurants we've ever experienced. The food is always well-prepared and delectable. Salty's specializes in seafood but the steaks are some of the best in town. The view of the Columbia River is spectacular.
Self-parking is limited, so arrive early unless you want to have a valet park your car. On Friday evenings, Salty's often features the Mel Brown Quartet, an exceptional mainstream jazz group with a strong Portland-area fan base - including me.
This is the place where we usually take out-of-towners when we want to knock their socks off. I hope that we can continue to do so.
One major complaint - Salty's is getting very pricey. In the past year, the price of a six ounce filet mignon entree - without soup or salad - had risen from $39 to $52. Shocking. The nearby RingSide East sells the same dish for $34.50. And, the Castaway Cafe in Cape May County, NJ still offers Surf & Turf for $19.95. (8/19/14, permalink)
Solano's Bistro; La Quinta, CA: Located in Old Town, this restaurant features menu items utilizing food from the local vendors. Our lunch was very tasty; we dined outdoors so we could people watch.
The food was far above par and the service was properly attentive We'll be back. (2/24/14, permalink)
Shugrue's Restaurant; Lake Havasu City, AZ: Overlooking the lake at the end of London Bridge, this establishment is a favorite with locals.
Specializing in steak and seafood, the fare was most satisfactory; the service was excellent and the view of Lake Havasu and London Bridge was as good as it gets. (2/24/14, permalink)
---
Restaurant Reviews from 2013 can be found here.
---
My article, 'How to Run a Successful Restaurant', is posted here.
---
Other Pages Of Interest
| blog: 'The View Through The Windshield' |
| greatest hits: essays & articles | blog archives | '39 Plymouth | model train layout |
| about me | about the blog | e-mail |
copyright 2014-20 - Joseph M. Sherlock - All applicable rights reserved
---
Disclaimer
The facts presented on this website are based on my best guesses and my substantially faulty geezer memory. The opinions expressed herein are strictly those of the author and are protected by the U.S. Constitution. Probably.
Spelling, punctuation and syntax errors are cheerfully repaired when I find them; grudgingly fixed when you do.
If I have slandered any brands of automobiles, either expressly or inadvertently, they're most likely crap cars and deserve it. Automobile manufacturers should be aware that they always have the option of trying to change my mind by providing me with vehicles to test drive.
If I have slandered any people or corporations, either expressly or inadvertently, they should buy me strong drinks (and an expensive meal) and try to prove to me that they're not the jerks I've portrayed them to be. If you're buying, I'm willing to listen.
Don't be shy - try a bribe. It might help.