---

1960 Valiant - Chrysler Corp. Goes Compact

The 1960 Valiant was part of a new wave of American compact cars, most of which debuted in the Fall of 1959 as 1960 models. But before discussing the Valiant, it is important to look at the history of small cars in America. Small cars have been around since the dawn of the auto age, beginning with early 20th Century cycle cars. The diminutive American Austin/American Bantam of the 1930s was another example. Then there was the diminutive, 145-inch long Crosley which was produced from 1939 to 1952.
General Motors, Ford and Chrysler all had small car programs at one point or another in the early to mid 1940s. Just prior to WW II, the U.S. economy was still in a slump, having never recovered from the worldwide depression of the 1930s. Many feared that the cost of the war would result in a very sour postwar economy.
Seeing the success of the light-weight and economical Studebaker Champion (introduced in 1939), the Big Three began to develop smaller, lower-priced cars for the postwar period. But President Truman's expansionist postwar economy policy and pent-up consumer demand for 'stuff' after the war years of scarcity, rationing and non-availability changed the game. Furthermore, rising costs of materials and labor made small cars less economical than initially calculated - compared with their larger brethren.
The cost of little Chevrolet Cadet was not much less than a full-size Chevrolet and had a breakeven point of 300,000 units - quite a large quantity in those days. (Sales of full-size Chevrolets were only 330,000 in 1946.) So, GM abandoned the Cadet program and handed off the development drawings and prototypes to its Holden Division.


1948 Holden 215 (FX)
The result was the 1948 215 (FX), Holden's first all-Australian automobile, a very successful model.
Ford had less success. Its domestic small car program was also shut down and the car became the 1948 Vedette, a French Ford. Sales were mediocre but the French economy of that era wasn't much to write home about either. Chrysler's small car program was less developed and was simply dropped.
The graveyard of postwar America is littered with the bones of little cars that the public rejected: Henry J, Hudson Jet, Crosley, Davis, Aero-Willys, etc. People were flush with money and wanted the biggest and the best.
In 1950, the little Nash Rambler was introduced. A three-speed manual transmission came standard, with overdrive as an option. The new Nash Rambler weighed in at just 2,430 pounds and with its 82 horsepower, L-head six, was reasonably peppy for the era. This small, light car was a gas sipper too; owners reported 20-25 mpg in normal use. The 100-inch wheelbase gave the Rambler maneuverability and nimbleness. At 178 inches, the little Nash was more than 21 inches shorter than a 1950 Chevrolet.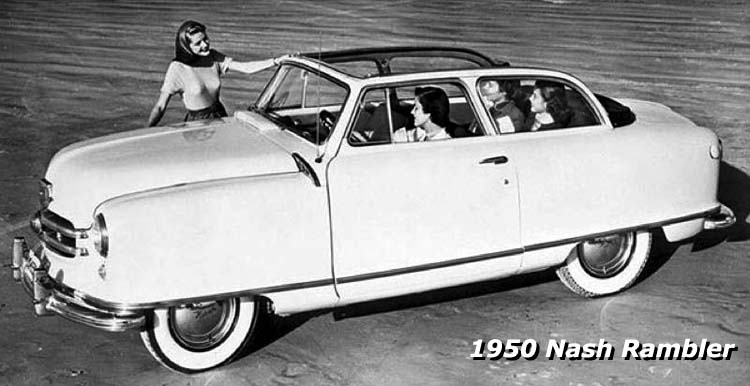 Sales got off to a slow start, partly due to Korean War material restrictions. In 1950, only 11,422 Ramblers were sold. But in 1951, sales exceeded 70,000 units. In 1951, the Rambler convertible and station wagon were joined by a handsome Country Club two-door hardtop in Custom trim, priced at $1,968. Also joining the line was the Suburban, a family station wagon in Super trim priced $108 less than the fancier Custom wagon.
In 1952, sales topped 80,000. With modest restyles, the original design soldiered on until the 1956 model year, when a new, larger Rambler was introduced. By the 1958 model year, the Nash brand had gone to the great junkyard in the sky, while the Rambler was restyled and took front and center at the company then known as American Motors. George Romney, the company president, used the old Nash Rambler tooling to produce a 'new' model - the Rambler American. In 1958, over 30,000 Americans were sold; in '59, sales topped 90,000 - a testament to a sound, near-timeless design.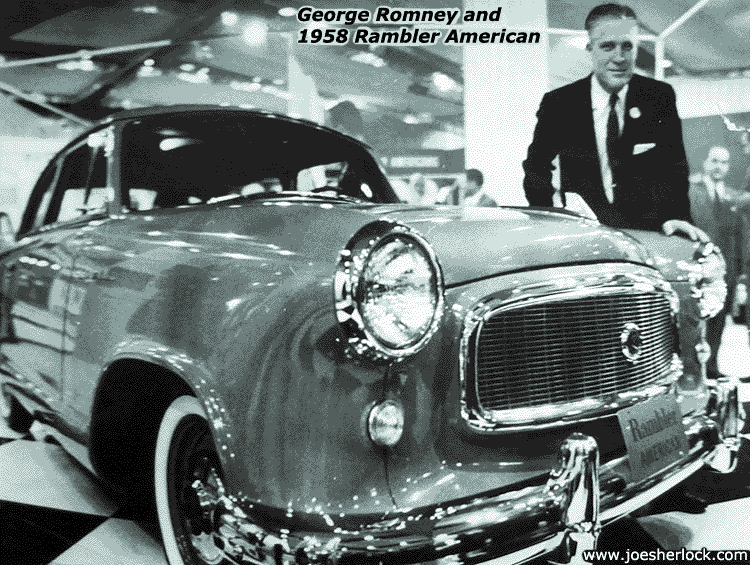 The relative success of the Nash Rambler as well as the ever-increasing sales of imported small sedans demonstrated that there was a market for small cars in America. Ford Motor Company, General Motors and Chrysler began developing small car programs in 1956 and '57 with a goal of introducing them as 1960 models. In 1955, only 58,000 foreign autos were imported into the U.S. Two years later, imports topped 200,000. By 1958, 11.5% of total new car sales in the U.S. were foreign imports, led by Volkswagen. In 1959 alone, over 150,000 Volkswagens were sold in America.
Meanwhile, in the middle of the 1957 model year, financially-distraught Studebaker introduced the Scotsman, a cheap version of the Champion. Offered only as a two door sedan or station wagon, the Studebaker Scotsman had painted hubcaps and grille. Only the bumpers were chrome-plated. On two-door models, the rear windows were fixed without winders. Interior panels were gray-painted cardboard, color matched to the gray vinyl seats. Priced below the competition from $1,776 for the two-door sedan, about 4,000 Scotsmans were sold as 1957 models. In 1958, 20,870 found buyers - a relatively small number indicating that most American buyers didn't want stripped-out, cheap cars.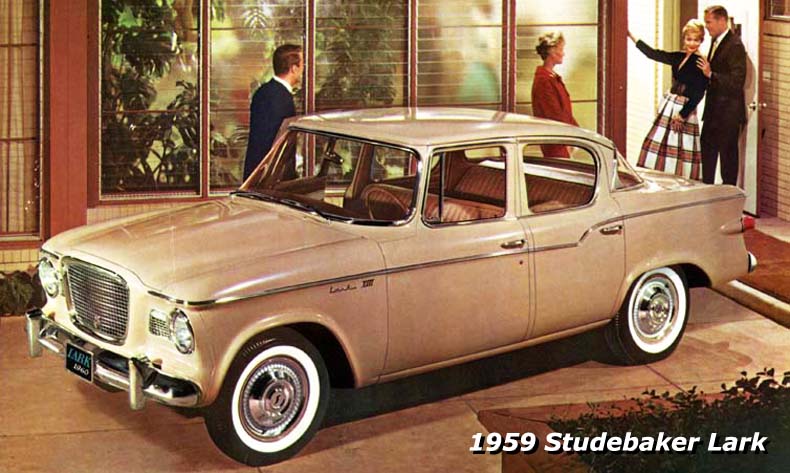 In 1959, Studebaker introduced the compact Lark model. Based on the core body shell of the full-sized 1953-58 Studebakers it had shortened front and rear overhangs to give it an compact overall length of 175 inches. The Lark could still seat six people comfortably and hold a surprising amount of luggage yet be sensibly-sized and nimble. It was a big success - over 120,000 Larks were produced in the 1959 model year.
Meanwhile, full-size American cars started to grow in length. From the late 1940s trough 1957, Chevrolet sedans were just under 200 inches long. In 1958, Chevrolets grew to 209 inches; in 1959 they were 211 inches long. Americans began complaining that cars were becoming too big and too hard to park. For the 1960 model year, the Detroit three introduced all-new compact models to their line.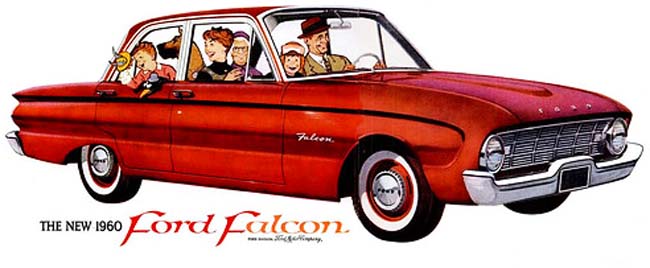 The Ford Falcon offered comforting familiarity to traditional Ford buyers. It was conventional in design - front-engine, rear drive, powered by a smaller version of Ford's overhead-valve, inline six and had coil springs in front and leaf springs at the rear. And it had Ford's iconic round taillights.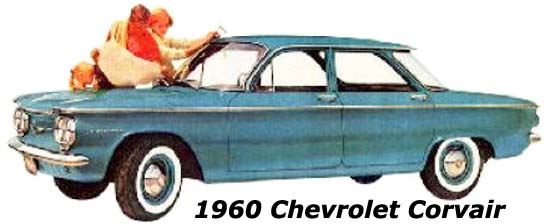 The Chevrolet Corvair was nothing like any other GM car. It was powered by a unique six-cylinder boxer engine mounted in the rear and hooked to a transaxle with rear swing-axle suspension - ala Volkswagen. It had no front grille although the four-door sedan had the familiar GM flat-top roof with wraparound rear window.
The Valiant, Chrysler Corporation's all-new compact offering for 1960, was not originally badged as a Plymouth. (It became a Plymouth Valiant in the 1961 model year.) Valiant was originally sold and serviced by Chrysler-Plymouth and DeSoto-Plymouth dealers, which chose to take on the Valiant franchise. Around half the dealers did so. Chrysler originally chose to market its new compact as a stand-alone brand with the tagline, 'Nobody's kid brother':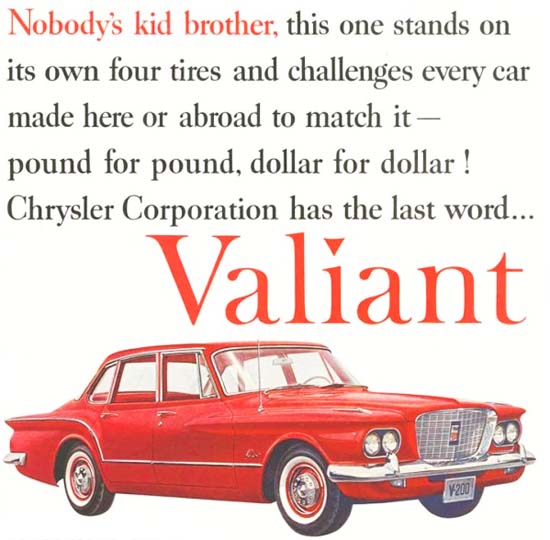 The Valiant featured a brand new six-cylinder engine, the famous Slant-Six. Its inline engine was uniquely canted 30° to the right, which allowed a lower hoodline, shorter engine length - the water pump was shifted from front to alongside - and efficient long-branch individual-runner intake manifolds, an advance that benefited from Chrysler's pioneering work in tuned intakes. The Slant-6 produced both more power and better economy than other American made offerings.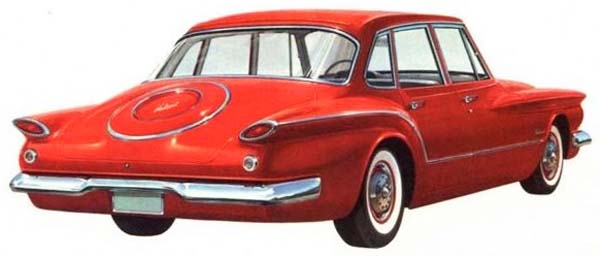 Styling of the 1960 Valiant was more aesthetically daring than its compact competitors. It looked almost-European in the front and in profile. The rear end had little continuity with the rest of the car and carried the stamped fake spare tire - often referred to as the toilet-seat lid - on the trunk. The overall look was dramatic and Valiants were easy to spot.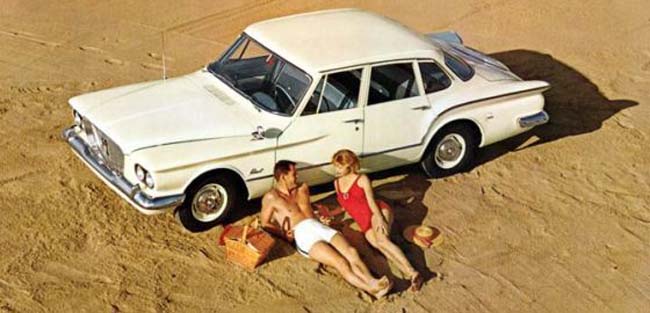 Unlike some Detroit compacts, which were intended as second cars for their customer families, the Valiant was engineered from the start as a "prime vehicle," the only car a family would need with full seating for six. For the inaugural model year, body styles included a four-door sedan, a six-passenger wagon, and a nine-passenger wagon. A two-door would not be added until the following year.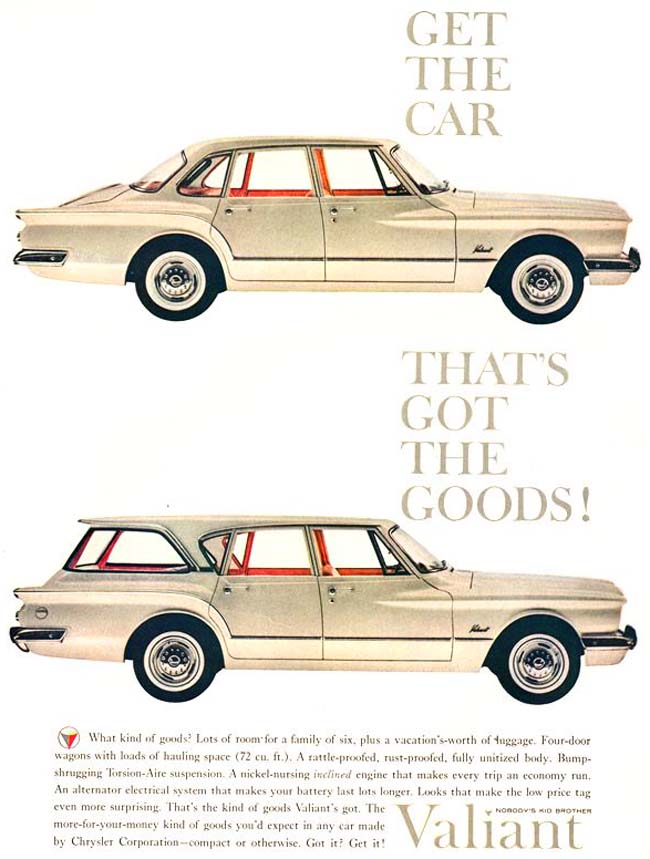 There were two trim levels: the base V-100 and the V-200, which added a little more chrome and some upgraded interior materials. Neither was flashy as the Valiant's original focus was on function and practicality.
Here's a chart comparing Valiant with some of its competitors:
1960 Make
& Model
Base
Price
Wheelbase
(inches)
Overall
Length
Horsepower
(base engine)
Weight
(dry)
Pounds per
Horsepower
1960 U.S. Sales
(units)
Valiant
$2,053
106.5
183.7 in.
101 hp.
2,063 lbs.
20.3
194,292
Chevrolet Corvair
$1,984
108
181 in.
80 hp.
2,270 lbs.
28.4
250,045
Ford Falcon
$1,974
109.5
180 in.
90 hp.
2,259 lbs.
25.1
435,676
Studebaker Lark
$2,330
108.5
175 in.
91 hp.
2,690 lbs.
29.5
120,465
VW Beetle
$1,565
94.5
160 in.
36 hp.
1,600 lbs.
44.4
159,195
The Valiant was quite light for a car of its size, due to its unibody construction and extensive use of aluminum. The 1960 model contained as much as 60 pounds of aluminum in structural and decorative forms, with the majority of the material used in cast form as chassis parts. It has been said that if the grille and surround assembly had been made of die-cast zinc, as many grilles of the era were, it would have weighed an estimated 13 pounds. The Valiant's grille assembly weighed only three pounds.
Chrysler Corporation's new compact was quite peppy - it had the best power to weight ratio of any of its competitors when each was equipped with the base engine. And, it won races, too. NASCAR's new Compact Car category debuted at the Daytona International Speedway on January 31, 1960. Valiants used a new, optional Hyperpack Slant Six engine. Modifications included cast-iron, split headers and a Carter AFB carburetor hung off the end of a two-foot-long intake manifold. The Hyperpak option was soon made available to the public for $403.30 (nearly 25% of a base Valiant's sticker price).
In the first nationwide broadcast of live auto racing, 35 million Americans - including a 16 year-old me - tuned in to watch the race with motorsports enthusiast and amateur racer Walter Cronkite doing the narration for CBS. A diverse, internationally flavored field of 28 entries included five Corvairs, three Falcons, eight Volvos, and one-each Studebaker, Rambler, Morris, and even Simca.
The first of two races was a road course, which used a 1.5 mile portion of the high-banked tri-oval together with a twisting infield road for a lap distance of 3.8 miles. The race length was 10 laps. Averaging a speed of 88.134 mph, Marvin Panch drove his Hyper-Pak into first place; all the Hyper-Paks swept the field taking the first seven places.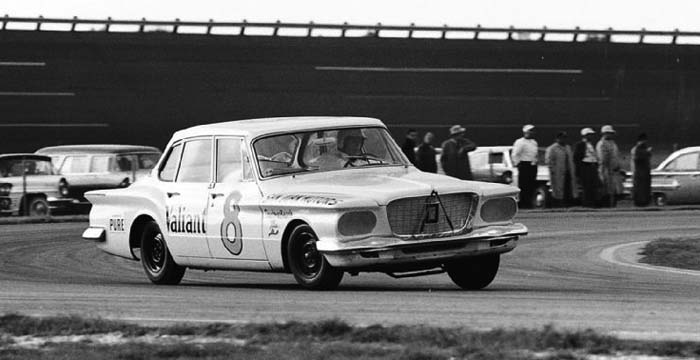 The second race of the day used only the tri-oval track 20 laps on its full 2.5 mile length totaling 50 miles. A multi-car accident on the fourth lap took out the four Valiant leaders, including one driven by Richard Petty. Panch was not among them because car trouble delayed his start and he was busy passing slower cars from the rear of the field when the leaders crashed. After a restart, Panch worked to first place and stayed there averaging a speed of 122.282 mph. The remaining Valiants placed 1-2-3 and Panch again went into the winner's circle. The Valiants finished first through seventh. The cars were so fast that NASCAR never did that type of race again.
While the clear compact sales winner for 1960 was Falcon, with over 400,000 little Fords sold, Valiant - with a smaller dealer network than Ford or GM - finished a respectable third with almost 200,000 Valiants finding buyers during the 1960 model year.
As time passed, all of the compacts got more models, more power and more competition from compact and mid-sized offerings from their own companies. Despite changes and challenges, the Valiant soldiered on and outlasted the Chevrolet Corvair, Ford Falcon, Rambler, Studebaker and other competitors. It was produced from model years 1960 through 1976. (posted 9/30/20)
Remember When: 1960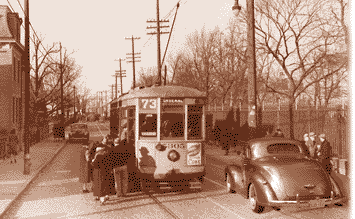 In 1960, France tested its first nuclear bomb with an explosion in Algeria. In May, Nikita Khrushchev announced the capture of an American U-2 spy plane piloted by Gary Powers of the CIA - a big embarrassment for the U.S. and the Eisenhower administration.

Following four televised debates, John F. Kennedy narrowly defeated Richard Nixon in the 1960 U.S. Presidential election.

The U.S. nuclear sub Triton completed the first underwater circumnavigation of the world in 84 days. In Chicago, men lined-up around the block to join the first Playboy Club. The American Dental Association made its first endorsement - of Crest toothpaste. Within a year, sales double. The number of U.S. car registrations surpassed 75 million.

New products included the anxiety drug Librium. The FDA approved the first oral contraceptive. In Japan, Toyo Kogyo Co. produced its first car, an R-360 Mazda coupe. In 1960, the U.S. put 17 probes and satellites into space. Newspaper comic 'The Family Circus' made its debut. Digital Equipment Corp. introduced its first minicomputer. Some new words for '60 were anchorman, area rug, sit-in and docudrama.

Best-selling books included Harper Lee's 'To Kill A Mockingbird', Ian Fleming's 'For Your Eyes Only' and John Updyke's 'Rabbit, Run'.

In March, Elvis Presley got out of the Army and restarted his singing and movie career. Top 1960 records included 'Theme From A Summer Place', Elvis' 'Stuck On You', 'Georgia On My Mind' by Ray Charles, 15 year-old Brenda Lee's 'I'm Sorry', 'El Paso' by Marty Robbins, as well as The Drifters' 'Save The Last Dance For Me'.
In October, 19 year-old Chubby Checker introduced 'The Twist', starting a dance fad which continued for years. In England, an obscure British group, The Moondogs, renamed themselves The Beatles.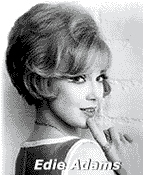 New television shows included 'The Andy Griffith Show', prime-time's first animated sitcom: 'The Flintstones', 'My Three Sons' and 'Route 66'. Edie Adams vamped it up for Muriel cigars in television commercials: "Hey, big spender, spend a little dime on me."
Television kiddie icon Howdy Doody went off the air on September 24th.
Movies for 1960 included 'The Apartment', 'Elmer Gantry', 'The Magnificent Seven' and 'Psycho'. In 1960, a movie ticket cost 75¢.
The Academy Award for best picture went to 'Ben Hur'.
Deaths included novelist Albert Camus (killed while riding in a Facel Vega which crashed into a tree), etiquette expert Emily Post, John Kelly, former Olympic rowing champion and father of Princess Grace of Monaco, leading man Clark Gable and silent movie legend Mack Sennett.
The Pittsburgh Pirates won the World Series, defeating the New York Yankees 4-3. It was the only time a winner-take-all World Series game has ended with a walk-off home run.
More AutoSketch car drawings can be found here.
---
Other Pages Of Interest
| blog: 'The View Through The Windshield' |
| greatest hits: various essays & articles | blog archives | '39 Plymouth | model train layout |
| about me | about the blog | e-mail |
copyright 2020 - Joseph M. Sherlock - All applicable rights reserved
---
Disclaimer
The facts presented on this website are based on my best guesses and my substantially faulty geezer memory. The opinions expressed herein are strictly those of the author and are protected by the U.S. Constitution. Probably.
If I have slandered any brands of automobiles, either expressly or inadvertently, they're most likely crap cars and deserve it. Automobile manufacturers should be aware that they always have the option of trying to change my mind by providing me with vehicles to test drive. I'll dutifully report my road test impressions on this car blog.
If I have slandered any people or corporations, either expressly or inadvertently, they should buy me strong drinks (and an expensive meal) and try to prove to me that they're not the jerks I've portrayed them to be. If you're buying, I'm willing to listen.
---
---