---

1958 Packard - Why Bother?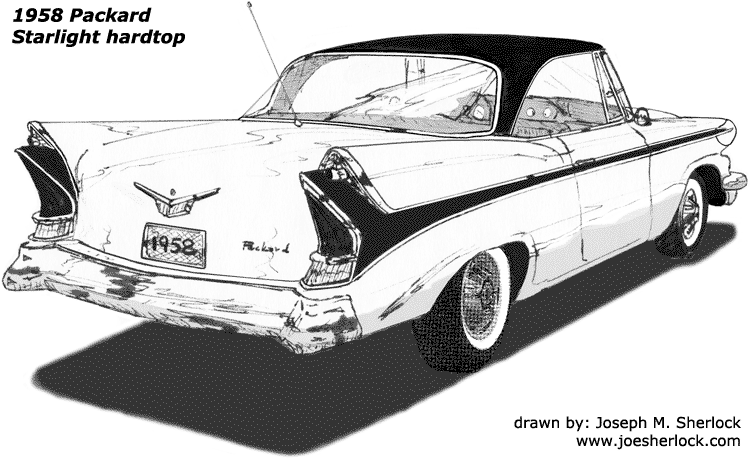 Let it be known that Packard was once the world's premier luxury auto brand. The first Packard automobile was produced in 1899. In the 1920s, Packard exported more cars than any other in its price class. When the ticker tape rained down on Charles A. Lindbergh during the New York City parade celebrating his historic flight, he was riding in an open Packard.
Packard quickly became the most well-known of the premium brands. From the very beginning, Packard featured innovations, including the modern steering wheel. The marque developed a following among wealthy purchasers both in the United States and abroad. Early in the 20th century, a Packard cost four times the price of an Oldsmobile Runabout.
In 1916, Packard sold 10,645 vehicles. In the 1920s, Packard exported more cars than any other in its price class. In 1927, Packard sold over 36,000 cars; the following year, over 50,000 were sold. By the end of the 1920s, Packard was outselling every other luxury car in the world.
Then came the Great Depression, which caused the demise of many upscale marques, including Cord, Duesenberg, du Pont, Franklin, Jordan, Marmon, Mercer, Locomobile, Peerless, Pierce Arrow and Stutz. Packard survived and spent the 1930s duking it out with Cadillac for the luxury brand sales crown.
During the early post World War II era, automakers could sell almost everything they produced. Packard did well initially, although its first postwar vehicle, the bulbous 'Bathtub Packard', was not well received.
In 1951, Packard finally rebodied its line of cars - a pleasantly modern but undistinguished design, still powered by Packard's ancient prewar L-head engines. One would expect that the lack of a modern powerplant combined with styling misfires would have sunk Packard. These shortcomings didn't seem to bother Packard's loyal cadre of aging customers in the early 1950s. What killed Packard was mismanagement and it caused a dramatic sales slide beginning in 1954.
Packard president James J. Nance, a former appliance man - described as having "a wildly-exaggerated notion of his skills as an automotive leader," made several critical mistakes. He decided to produce more components in-house. This led to production problems, which reduced the supply of finished vehicles to dealers. He rejected a merger with Nash, then a relatively healthy auto company, in favor of a merger with Studebaker, a disaster of a car firm. Studebaker was losing money, although Packard's management failed to discover, during its due diligence, that the financial disclosures presented by Studebaker were essentially fraudulent.
The 1954 acquisition of Studebaker and resultant cash problems forced Packard to delay the introduction of its all-new models for a year, leaving 1954 as a year of stale Packard offerings - compared with Cadillac, which sported an all-new body for 1954 and an even more-powerful V8 than before.
After the last 1954 Packard rolled off the line, the company relocated to a new assembly plant, which caused production difficulties and raised quality issues. The big changes in design of the '55 Packard exacerbated problems. Dealers were becoming fed up with Packard and begun deserting the firm, especially when the all-new 1955 models were fraught with quality, reliability and supply problems. In early 1955, there were 4,000 Studebaker-Packard dealers; by early 1956 there were only 3,000 remaining.
In July 1956, desperate for cash, Studebaker-Packard was effectively taken over by aircraft manufacturer Curtis-Wright. Nance left Studebaker Packard in 1956 when the company was on the verge of insolvency and, ironically, was soon named vice-president of Ford's new division in charge of producing Edsels.
The planned 1957 Packard models were scrapped, replaced by a smaller Studebaker-based Clipper model. When former Packard dealers were shown previews of the '57 Packardbakers (as detractors called them), many ripped up their franchise contracts in disgust. Customers weren't impressed, either.
The 1957 'Packardbaker' was cleanly styled compared with the 1958 model.
The 1958 models were even worse. Designer Duncan McRae was ordered to hastily modernize the design - taller fins, quad headlights, etc. - and was given almost no money to do so.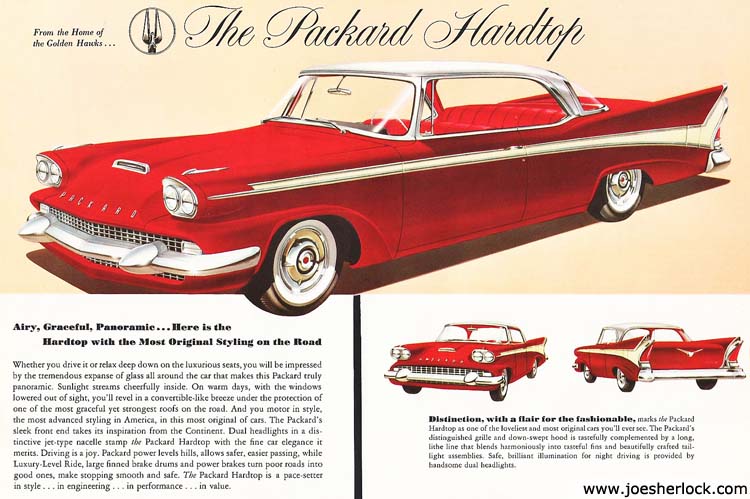 The result was a fish-mouthed mess of a car, with awkward, pod-mounted headlights. Since the brand was obviously on its deathbed, one wonders why the company even bothered to introduce such a hideous last statement of a vehicle. (McRae went on to redeem himself by designing the successful 1959 Studebaker Lark.)
New for 1958 was a hardtop coupe, shown in the sketch and priced at $3,262 - 30% higher than the similar, top-of-the-line Studebaker President hardtop coupe, which had a more powerful V8 than the Packard. Both cars rode on a 116.5-inch wheelbase. Despite being available in 13 solid and 32 two-tone colors, the '58 Packards found few buyers.
Sales were dismal with a total for the 1958 model year of 1,200 sedans, 675 hardtops, 159 station wagons and 505 examples of the Packard Hawk, a model based on the sporty Studebaker Hawk. Total 1958 Packard output was 2,622 cars versus almost 48,000 for Studebaker. Production of 1958 models was stopped on July 13, 1958 and no more Packards were ever made. Sales history clearly illustrates Packard's rapid decline:
Year

Packard
sales (units)

1951

100,312

1952

62,921

1953

89,720

1954

30,965

1955

55,517

1956

28,799

1957

4,089

1958

2,622
The car which once carried the proud slogan 'Ask the man who owns one' now belongs to the ages. (3/30/15)
Remember When: 1958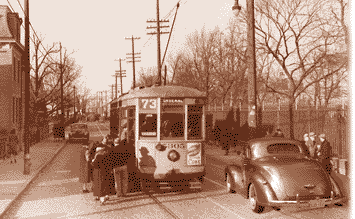 In 1958, the U.S. experienced the worst recession since World War II. Jimmy Hoffa took over the Teamsters Union; Nikita Kruschev took over the USSR.

At Arlington Cemetery, the Tomb of the Unknown Soldier was completed. In March, Elvis Presley was inducted into the U.S. Army and became a Very Well-Known Soldier.

First-class letter postage increased from 3¢ to 4¢. Explorer I, the first U.S. satellite, was launched.

Starting in 1958, automobile manufacturers were required to post factory sticker prices in the windows of all cars sold in the U.S.

New products included Sweet 'n Low and Bic pens. The hula hoop was introduced; 25 million were sold in the first four months. The first Pizza Hut opened in Wichita, Kansas.

New TV shows included 'Peter Gunn', 'The Rifleman' and '77 Sunset Strip'.

'Volare' was awarded record of the year at the Grammys. Other hits included 'At The Hop' by Danny and the Juniors, Frank Sinatra's 'Witchcraft', Chuck Berry's 'Johnny B. Goode', Jerry Lee Lewis' 'Great Balls of Fire', Get A Job' by The Silhouettes and 'Tom Dooley' by The Kingston Trio. Rock and roller Little Richard quit the music biz and enrolled in preacher school at an Alabama Negro college run by Seventh Day Adventists.
Famous people born in 1958 Include Michael Jackson, Ellen DeGeneres, Madonna, Prince, Kevin Bacon, rapper Ice-T, Drew Carey, rocker Joan Jett, Jeff Foxworthy, Jamie Lee Curtis, Sharon Stone and Andrea Bocelli.
New movies included 'Gigi', 'South Pacific' and 'Cat on a Hot Tin Roof'. In 1958, an unknown named Steve McQueen appeared in a B-grade horror flick, 'The Blob'. The title song became a minor hit that year; it was written by another unknown, Burt Bacharach. In 1958, a movie ticket cost 65¢.
Tropical fish were the most popular pet for Americans in 1958; 120 million of them resided in tanks in American homes. (On any given morning, a million or two were found floating upside down.)
Lana Turner's daughter, Cheryl Crane, fatally stabbed her mother's mobbed-up boyfriend, Johnny Stompanato, in Lana's Beverly Hills mansion.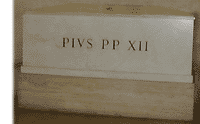 Pius XII tomb
Other deaths included Pope Pius XII, songwriters Lew Brown and Harry Revel, blues composer and musician W. C. Handy, actor Tyrone Power, radio and television actor Tim Moore (he played The Kingfish on 'Amos 'n' Andy'), rocker Chuck Willis who performed 'C.C. Rider' (a #1 R&B hit as well as a #12 pop hit in 1957. Willis' version of the old blues song gave birth to the dance craze The Stroll), Elvis' mom, Gladys Presley, and movie producer Mike Todd, killed in an New Mexico air crash (he was married to Elizabeth Taylor).
The NY Yankees won the World Series, beating the Milwaukee Braves 4 to 3.
---
More AutoSketch car drawings can be found here.
---
Other Pages Of Interest
| blog: 'The View Through The Windshield' |
| essays: greatest hits | blog archives | '39 Plymouth | model train layout |
| about me | about the blog | e-mail |
copyright 2014-21 - Joseph M. Sherlock - All applicable rights reserved. Drawing copytright 1997-2014
---
Disclaimer
The facts presented on this website are based on my best guesses and my substantially faulty geezer memory. The opinions expressed herein are strictly those of the author and are protected by the U.S. Constitution. Probably.
Spelling, punctuation and syntax errors are cheerfully repaired when I find them; grudgingly fixed when you do.
If I have slandered any brands of automobiles, either expressly or inadvertently, they're most likely crap cars and deserve it. Automobile manufacturers should be aware that they always have the option of trying to change my mind by providing me with vehicles to test drive.
If I have slandered any people or corporations, either expressly or inadvertently, they should buy me strong drinks (and an expensive meal) and try to prove to me that they're not the jerks I've portrayed them to be. If you're buying, I'm willing to listen.
Don't be shy - try a bribe. It might help.
---
---