2005: The 2005 Auto Show Season has begun. Los Angeles ... Detroit ... then Chicago and New York. Somehow, these auto shows and the cars don't seem nearly as exciting as they used to.
Oh, the Jaguar XK lightweight coupe concept will get some hearts pumping. And the 2006 Dodge Charger has been revived. I'm sure that it will sell well. Yes, it has a Hemi and it's Magnum-based ... that's good ... but it's not a hot coupe like the original Charger. It's a fastback four-door sedan. Big deal. Does no one remember the '78-'80 Buick Century Aerodeck sedan? (Aka - Aero Dreck.) And, speaking of "Ho Hum," the Ford Fusion is the Ford Forgettable in my book. 2006 Pontiac Torrent - just another one of those compact GM SUVs: one body - many badges. The new fifth-generation VW Jetta? Anonymous aero, except for that odd chrome horseshoe in the front.
The new Pontiac G6 GTP retractable hardtop is very nice but not a breakthrough car. (The G6 coupe is pretty cool-looking, though.) The Corvette Z06 is cool but was expected all along - and it won't hit the streets until September. The Cadillac STS-V is a nice car, I'm sure (although we won't know until it becomes available in November), but am I the only one who thinks these bright wire mesh grilles on performance cars are overdone? It's a ripoff of Jaguar, which was a rip-off of a 1929 Blower Bentley.
The 2006 Chevrolet Impala SS sedan and Monte Carlo coupe can be had with a 5.3-liter V-8 engine, like the Pontiac Grand Prix GXP. Like the Chrysler Hemi V-8, it features GM's displacement-on-demand technology that saves fuel by deactivating cylinders when power demands decrease. The cars have the old four-speed (not five-speed) automatic transmissions. But the front-drive Impala won't be available for sale until sometime in summer and the Monte Carlo in fall.
The new Chevy HHR - which stands for Heritage High Roof (Is that a dumb designation or what!?) debuted at the LA Auto Show. The Detroit News says that it "resembles a cross between a 1949 Chevrolet Suburban and the current Chevy SSR roadster. Joe Barker, sales analyst for consultants CSM Worldwide, admires the HHR's styling, but he questions GM's decision to give it a retro design four years after the PT Cruiser's entry into the marketplace." And you can buy a new, entry-level PT Cruiser for $10,000 less than the HHR. Too expensive, too late. The HHR has all the marks of a loser. It will go into production later this year. The Lincoln Zephyr is a disappointment; the production version has been softened and dumbed-down from the prototype shown at the New York Auto Show in April.
Major technical innovations for 2005 are few ... and minor in nature. And there are too many long lead introductions ... 2006 models ... even 2007 models. Not enough introductions of vehicles that you can buy right now. Last year, well-known auto writer Jerry Flint lamented: "Remember the Solstice. It was a major hit. Any Japanese or Korean company would have been halfway through the tooling already. General Motors says it still is studying the car. The Solstice could be dated by the time it comes out. Chrysler showed a handsome two-door PT Cruiser at the Paris auto show. But it is years away from production. There is no excuse for that. The California Cruiser would be in the showroom next fall if Nissan were building it. Intolerable." Kudos to Toyota which is introducing its new 2005 Avalon at the Detroit show. Deliveries begin a month later.
Concept cars? Well, the Chrysler Firepower concept looks good. But the Mercury Meta One concept vehicle seems like a real yawner. The twin-Hemi Jeep Hurricane captures the spirit of the old-time concept cars in their most outrageous form - 16 cylinders, 670 horsepower and spins on its own axis like a turntable! But many other concepts are not so exciting ... nor practical ... nor particularly futuristic ... just odd. An example is the Ford SynUS, which is butt-ugly in ways far deeper (and more troubling) than other utilitarian boxes on wheels. With its small windows and armor protection, it looks like a miniature version the Raymond Burr's converted armored truck from the old TV series, 'Ironside.' Ford considers it "a prototype of the American city cruiser of the future." Ford must be envisioning a very grim future. The Lexus LF-A sports car concept is no beauty queen either.
The Saturn Aura sedan and Saturn Sky two-seat convertible roadster look promising. They're called "concepts" but are more like product previews - both are expected to go on sale within 12 months or so.
1955: Look backward to an auto show season of the past - say, 50 years ago - 1955. It makes the 2005 show is lame by comparison. The technical and styling innovations introduced on 1955 models and showcased at the various auto shows were profound:
1.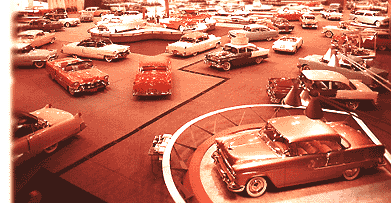 General Motors produced its 50 millionth car - a gold Chevrolet Bel Air hardtop coupe (photo right).
2. The first production Chrysler 300 is introduced - so named because it had a 300 horsepower Hemi engine under it's hood. The 300 is, arguably, the first muscle car.
3. Wraparound windshields became almost universal.
4. Chevrolet and Pontiac sported all-new bodies. Including trendsetting and legendary stylized hardtop station wagons - the Chevrolet Nomad and the Pontiac Safari.
5. Chrysler Corporation set a new styling trend for Detroit with its 'Forward Look' which looks vastly different from the upright, uninspiring looks of the '54 models.
6. GM introduced four-door pillarless hardtops. By the following year, most of Detroit followed suit.
7. All straight-engines disappeared. Replaced by new V-8 engines, even at stodgy Packard.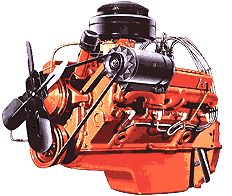 8. Chevrolet got its first small-block V-8 (pictured at left) - an engine design that spawns/inspires other engines - both inside and outside General Motors. And replaces the old flathead Ford V-8 as the hot rodder's engine of choice.
9. Imperial becomes a separate brand, rather than just a Chrysler model name.
10. Three-toned cars were introduced - at Chrysler, Packard and, later, Buick.
11. The two-seater Ford Thunderbird debuted as a production vehicle. (It was exhibited as a concept car at the 1954 Detroit auto show.)
In 1955, concept cars were stunning - in futuristic looks, variety and quantity. General Motors introduced eight of them in 1955 and showcased all in its traveling Motorama Show. They included: the Cadillac Eldorado Brougham (which was a thinly disguised version of the 1957 production model), the Pontiac Strato-Star futuristic two-door coupe with wrap around side quarter glass, the Chevrolet Biscayne pillarless suicide-door, four-door hardtop with panoramic roof-wrapped windshield, the Buick Wildcat III two seater convertible, the swoopy Oldsmobile Delta 88 - a low-slung hardtop coupe with wraparound taillights, two LaSalle prototypes - a pillarless four-door and a sports roadster (both were powered by a then-novel overhead-cam V-6 engine) and the GMC L'Universelle, a sleek predictor of the COE-style, snub-nosed vans of the 1960s and '70s.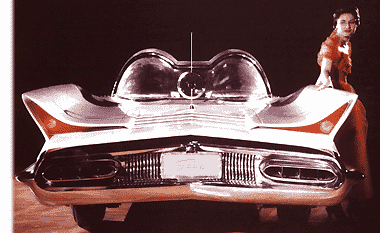 Packard showed a concept hardtop with a '30s-style retro grille - the Request. Ford introduced the spectacular, bubble-topped Lincoln Futura at the Chicago Auto Show. (Built by Ghia, it cost over 250,000 1955 dollars. Photo at right.) Plymouth displayed an operating 1955 sedan with a turbine engine; DeSoto offered the Italianesque Adventurer II. Chrysler exhibited the Corsaire, Flight-Sweep II and the Falcon - all sporty convertibles. Dodge unveiled the Firearrow IV, built in Italy.
There was also the ultra-luxury 1955 Gaylord - from a new American manufacturer. (It never went into production; only six Cadillac-engined examples were built.) European one-off concepts included the futuristic, very-aerodynamic Alfa-based Bertone BAT 9, the Ghia Streamline, the Rayon d'Azure on a Lancia chassis and the over-the-top British 'Lady Docker' Daimler (upholstered in tiger-hide) to name several.
Manufacturers didn't need to "preview" 1956 or '57 models to build-up hype. The 1955 vehicles stood on their own merits. And the car companies didn't want to cannibalize '55 sales by revealing what was could be purchased if you'd just hold off buying a car for a year or two. They wanted to close deals now! (permalink - 1955)
Possible Explanation: Kris, a car buddy of mine, is more forgiving about the current blandness: "Rather than blame the industry for its lack of originality, I'm now inclined to think that automotive design is a perfected art form for which no significant improvement is now possible.
Just as with film 60 years ago (Citizen Kane), symphonic music 200 years ago (Beethoven's 9th), opera (100 years ago) and rap (last year), everything that follows will be derivative, incremental or imitative. So, you can't blame anyone because I think it's just the natural order of human progress in any given field of endeavor. ... ultimately, in my mind, it's hard for me to top the ultimate beauty of two cars from the 1960s, the 1961 Lincoln Continental and the 1961 Jaguar E-Type.
By way of example, in the field of firearms, they keep making the same, successful guns over and over and over. The 1911 Colt .45 ACP has never been topped. Nobody tries to deny it. Instead, the manufacturers of this gun compete on the basis of finer tolerances, manufacturing quality, custom finishes, etc. all blatant and respectful incrementaliztions."
Kris may well be correct. And cars are better than they used to be. Nevertheless, I miss the raw excitement and anticipation of the old days. (posted 1/11/05)
For my report on the 2005 Portland Auto Show, go here.