According to Walter P. Chrysler, Plymouth was so named because it typified "the endurance and strength, the rugged honesty, the enterprise, that determination of achievement and freedom from old limitations of that Pilgrim band who were the first American colonists."
Beverly Rae Kimes, Automobile Quarterly, Vol. 5, No. 2 (1966)
---
1939 Plymouth Facts
Making '39 Plymouths
417,528 Plymouth vehicles were made in the 1939 model year. The Deluxe (P8) model far outsold the entry-level Road King (P7) model. Almost half of the Plymouths produced were 4-door sedans.
There were 5,976 convertible coupes manufactured along with 387 4-door convertibles, 1,777 woody wagons and 1,850 limousines with a 20" stretch.
| | | |
| --- | --- | --- |
| | | |
| Here's a four-door sedan coming together at the body drop station. 1939 Plymouths had an 82 horsepower L-head six engine. | | Final inspection happens here. There are '39 Plymouths as far as the eye can see. Plymouth offered several different models including a business coupe, two-door sedan, four-door sedan, convertible coupe, convertible sedan, woody wagon, a panel delivery, pick-up truck - even a limousine. Prices started at $645 for the stripped Road King model. |
The copy in the 1939 Plymouth sales brochure says it all:
"You will marvel that a Low-Priced Car can give you the Extra Size and Room, the Sumptious Luxury of this new DeLuxe Plymouth ..."

"Extra inches of seat room, of head room, of leg room in the big, beautiful 1939 DeLuxe Plymouth mean restful relaxation in place of being cramped and crowded."

"And in the roomy new Plymouth interior, you find lavish provision for pleasing your sense of beauty and luxury."
No wonder no one believes advertising copy.
---
More '39 Pages
| Facts & History | Owner Testimonials |
| My First '39 | My Latest '39 |
| Famous 1939 Plymouths | Frequently-Asked Questions |
| The Death Of Plymouth |
| '39 Plymouth Musings | The End |
---
Other Pages Of Interest
copyright 1997-2013 - Joseph M. Sherlock - All applicable rights reserved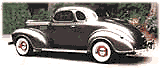 44840