Friday February 28, 2014
AutoSketch: 1977 Lincoln Continental Mark V - A Big Winner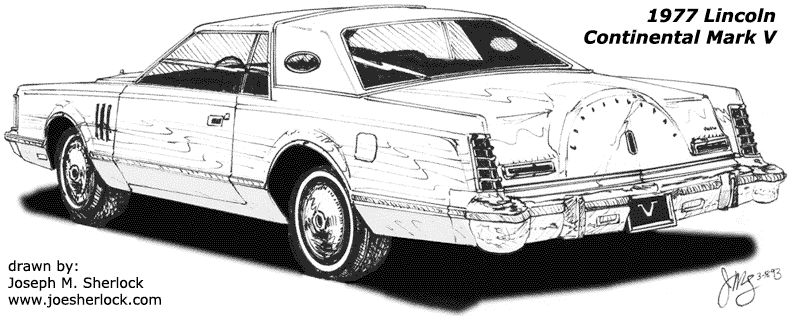 For 1977, Lincoln completely reskinned the Mark series, renaming it the Mark V. The external dimensions were almost identical to its Mark IV predecessor but due to the angular styling the car appeared to be longer and lower. The Mark V offered more trunk space and weighed 500 pounds less than the IV, tipping the scales at 4,650 pounds. The V rode on a 120 inch wheelbase and was 230 inches long overall. An AM/FM radio was now standard, as was a Cartier day/date clock. For the first time, a CB radio was offered as an option.
The Mark V's standard engine was ... (more >>>)

Laugh Of The Day is from a Fark blurb, courtesy of Charles G. Hill: "Kim Kardashian denies butt implant rumors, even though she has one of the biggest asses in the world. But enough about Kanye West."
Dennis Miller once observed that the Kardashian clan "are charming grifters ... they know that we're an off-the-rack culture that likes to ogle a train wreck. And, in this case, that train has the biggest caboose of all time."
Thomas Edison Is Spinning In His Grave: Gregory Sullivan is on to something about some of today's 'inventions'.
"I don't think anyone's inventing anything much lately. Not in any meaningful way. I see everyone fumbling around with the most misnamed thing in the history of the universe, the smartphone, and they're busy as beavers with a loose tooth, apping this and texting that ... In my heart I knew my Palm Pilot couldn't do anything a geezer's battered daytimer and a pencil couldn't do - except run out of batteries. A variation on a theme isn't an invention. But variation is all that matters now. Google's just the Yellow Pages, with those nasty ads from the back page of the indie newspaper thrown in. Craigslist is just the classifieds."
I hate to admit this but I still use my Daytimer to schedule stuff. I have to buy a new insert every year but it's probably cheaper than batteries.
No Diversity Here: Trader Joe's grocery-store chain has dropped a plan to open a new store in the heart of Portland's historically African-American neighborhood after liberal activists said the development in a run-down part of northeast Portland would gentrify the area, driving up retail prices and price black residents out of the area.
Trader Joe's would have built a store on a lot at Northeast Alberta Street and Northeast Martin Luther King Jr. Boulevard which has been vacant for years.
The Portland African American Leadership Forum and other progressive activist groups said the development would displace residents and perpetuate income inequality in one of the most rapidly gentrifying ZIP codes in the nation. It sent the city a letter ... (more >>>)
Ever Wonder Where Those Obamacare Navigators Come From? A terrorist from Jordan worked as an Obamacare navigator in Illinois while authorities remained unaware of her conviction for involvement in a deadly grocery store bombing and two other attacks.
"Rasmieh Yousef Odeh was convicted in Israel for her role in several bombings, including the 1969 attack on an upscale Shufersol grocery store, which killed two Hebrew University students who had stopped in to buy groceries for a hiking trip in the Jerusalem hills."
Odeh, who has as many as nine aliases, was indicted in October for allegedly lying on her U.S. immigration and naturalization application papers.
Quote Of The Day is from the proprietress of the Ayn Rand School for Tots (a daycare facility in which preschoolers are trained to fend for themselves, not to depend on others) on 'The Simpsons': "Do you know what a baby is saying when she reaches for a bottle? She's saying, 'I am a leech!' Our aim here is to develop the 'bottle within'."
---
Wednesday February 26, 2014
Model Car Madness: Billy Karam of Beirut, Lebanon has a collection of over 30,000 model cars and 400 dioramas. It is certified by the Guinness Book of World Records as the world's largest collection of car toys.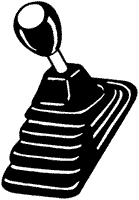 Don't Give A Car To Top Gear Until You've Sorted It Out: Denmark's supercar, the Zenvo ST1, caught fire during its time with Jeremy Clarkson. On a cold, wet track, The Stig recorded a lap time of 1:29.9 - slower than a Ford Focus ST - in this very expensive, orange, mid-engined machine.
Aside from the fire, "the car broke. Twice. The rear brakes weren't functioning correctly and the clutch failed." Oops.
Out And About: Tuesday was an unusual day - dry, sunny with the temperature eventually hitting 52 degrees. While driving around, I saw a new Jeep Cherokee. To my tired eyes, it looked even uglier than in photos.
On the other hand, I got a glimpse of snowy Mt. St. Helen's which was gorgeous with blue sky as a backdrop.
I also passed a Mini Cooper Countryman on the freeway. It was huge ... for a Mini. I thought all Minis were little cars.
Book Review: 'Duty: Memoirs of a Secretary at War' by Robert M. Gates
The author served as Secretary of Defense from 2006 to 2011, under Presidents Bush and Obama. He had worked at both the CIA and the National Security Council. In this memoir, Gates provides candid assessments of those he worked with as well as detailed stories about the management of two wars, the battles with Congress and the behind-closed-doors politicking at the White House.
He seems to have a particular beef with Joe Biden, stating that the VP has been wrong on every major decision. He has no respect for Harry Reid and Nancy Pelosi either. He offers praise for Barack Obama, although he dislikes many of his staffers and observed that the President's noncommittal attitude toward Afghanistan - "his heart didn't seem to be in it" - was disturbing. You shouldn't be sending our soldiers into lethal situations - almost 2,300 U.S. deaths in Afghanistan so far and 19,080 wounded - if your heart isn't in it.
Reading this book makes me more angry at our futile attempts ... (more >>>)
All On Your Dime: While we were in California, President Barack Obama flew to the Palm Springs on Valentine's Day afternoon, apparently to escape chilly Washington and to play golf. The Sunnylands estate was closed to visitors while he took it over. Several main roads were closed until he left Monday. Two of the key roads around Palm Springs airport were shuttered during his entire visit causing big problems for arriving/departing visitors. But Barry O. doesn't care - he's the King.
Alleged Valentine/spouse Moochele was notably absent; she and the daughters usurped another government airplane to go skiing in Aspen, CO.
Your tax dollars at waste.
Never Advertise On Facebook: An advertiser disputed his bill with Facebook. "He wanted his clicks audited by a third party, to see how many were genuine. Then he discovered that Facebook's terms of service forbid third-party verification of its clicks."
Data from Facebook indicated "his ads had delivered 606,000 clicks but the website itself registered only 160,000 incoming clicks from Facebook."
Saving Energy To Prevent Climate Change Is Baloney. What America needs is more jobs: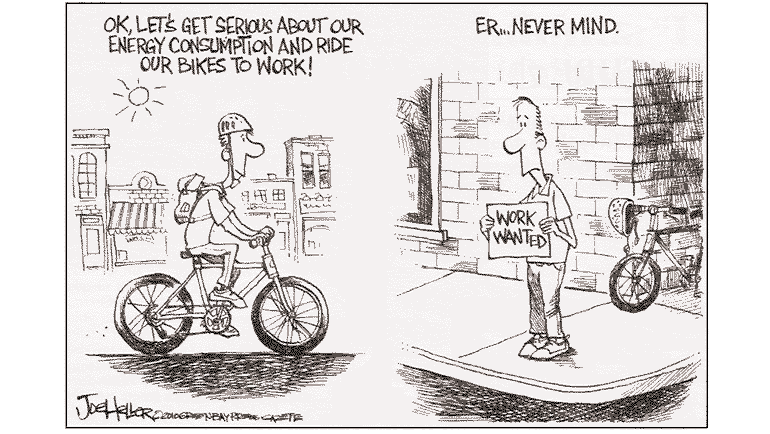 Bad Pun of the Day: Sign in an Egyptian funeral parlor: "Satisfaction guaranteed or your mummy back."
---
Monday February 24, 2014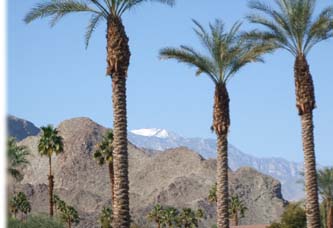 Trip Report: We have just returned from a relaxing two week trip to the California desert. On the day of our departure, it began to snow. Within two hours over an inch had fallen. Luckily our car service managed to pick us up two hours early in a four-wheel-drive Cadillac SUV. We arrived at the Portland airport quite early but without incident. Our 737 had to be deiced twice but the flight to Palm Springs was otherwise uneventful.
In a few hours we were transported to the Land of Warmth while back home, Battle Ground received over 7 inches of snow by nightfall with even more white stuff the following day. It was a good time to head south.
During our stay in the resort town of La Quinta, we experienced daytime temperatures ranging from the mid-70s to the upper 80s. Blue skies and bright sunshine were a daily occurrence.
On First Friday - an event held in the tony shopping restaurant district on El Paseo Drive in Palm Desert, there was El Paseo Cruise Night, which began in the late afternoon and featured quite a few examples of old automotive iron rumbling down the street:

El Paseo was also decorated with lots of art: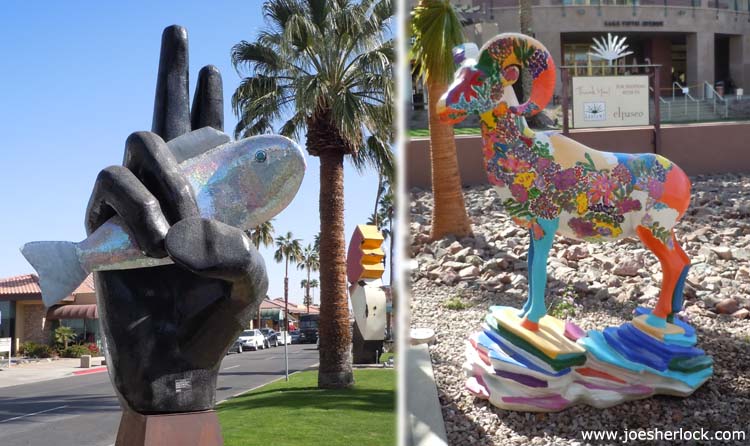 The annual Dr. George Car Show at the Indian Wells Tennis Garden featured almost 1,000 vehicles, including a numerous street rods and customs. Show proceeds benefited the non-profit Desert Cancer Foundation. I've posted two pages of vehicle photos starting here, including ones of the Decopod motor scooter, created by Randy Grubb. It features a hand-formed, polished aluminum body weighing a mere 30 pounds: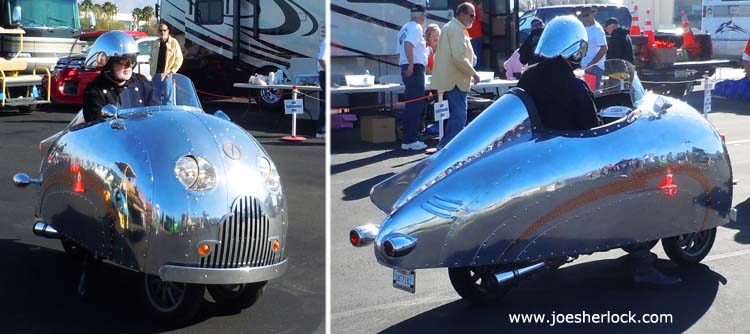 It looked like something from a 1930s sci-fi film.
While the Palm Springs metro area is looking more prosperous than a few years ago, there are still lots of empty stores with 'For Lease' signs in the windows. This may be due, in part, to the overall decline in brick-and-mortar establishments in favor of online retailers. Interestingly, a recent study of U.S. Census data by the Institute for Local Self-Reliance showed that brick-and-mortar retailers employ forty-seven people for every ten million dollars in revenue earned, while Amazon employs fourteen. This is another reason why the 'recovery' is relatively 'jobless'.
On order to accommodate the seasonal tourist binge, the desert is chock full of hotels. I remember when hotel lobbies had classical or lite jazz as piped-in background music. Times have changed. Our hotel featured a selection of hits from the 1950s to the '80s. I was sitting in the lobby reading a book when I heard Little Richard warbling' 'Good Golly, Miss Molly'. Followed by Queen's 'Another One Bites The Dust'. As I traipsed in and out during that day, I heard everything from Fats Domino to ABBA. The next day, walked through the lobby to the tune of 'Rapture' by Blondie. Disconcerting.
While we were unplugged and basking in the sun, the world didn't stop. During our time away from home, Shirley Temple died. As did Sid Caesar. And the actor who played Gibb's dad on 'NCIS'. And embarrassingly, the new Chevy SS pace car caught fire - captured on live television - at Nascar's Daytona Sprint Unlimited.
During a bargain hunting expedition, I felt like I was performing some modern day reenactment of the WW II Pacific Theater, fighting all the rude, pushy Japanese at the Coach outlet store in Cabazon. I ran back outside to see if there was some kind of special sign like this posted outside the store:

But there wasn't. During the same outlet store campaign, I learned that G.H. Bass shoe polish is made in Malaysia.
We visited the imposing 26 foot-tall Marilyn Monroe statue on display in downtown Palm Springs. In somewhat-related dead celebrity news, Frank Sinatra's 10 acre residential compound in the hills above Palm Desert is now listed for sale at $4.4 million.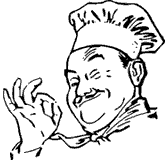 Dining: We had numerous restaurant encounters during our trip. I've posted reviews on the following establishments:
• Acqua Pazza; Rancho Mirage, CA

• LG's Steakhouse; La Quinta, CA

• Mario's; La Quinta, CA

• Mimi's Cafe; La Quinta, CA

• Ristorante Mamma Gina; Palm Desert, CA

• Solano's Bistro; La Quinta, CA
In other restaurant news, the former upscale Bing Crosby restaurant is now the location of a decidedly downscale Old Spaghetti Factory. The Homestead in La Quinta has closed its doors since our last visit two years ago.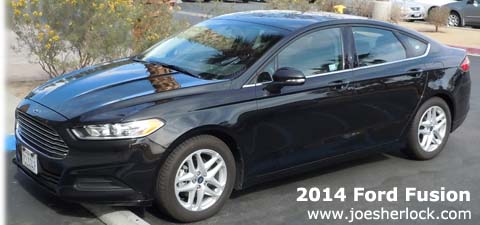 Rental Car: Our Alamo 2014 Ford Fusion was a sharp-looking car and seemed to be quite well made. It was black with a black interior. Why do they rent this color in the desert?
The Fusion had 10,000 miles on the odometer and got about 24 mpg in mixed driving over a 700 mile period.
Thankfully, it did not have the inscrutable MyFordTouch, so it was a pleasant car to drive. The transmission sometimes produced jerky, choppy shifts but, overall, the Fusion left me very impressed.
Car Sightings: The most popular luxury marques in the desert seem to be Mercedes, followed by Lexus. There were some Jaguars around but few were new models. I did photograph a new Jaguar F-Type parked in a handicapped spot at the La Quinta Resort.

The sporty two-seater looks much better in person than in photographs.
Audis seemed to be fairly rare and Acuras almost nonexistent. Saw the usual contingent of Bentley Continentals and a surprising number of Maseratis - mostly coupes and convertibles. I encountered several new Corvette C-7s during our travels - they look nice in person. Spotted a nice British Racing Green MG TD on El Paseo Dr. Spotted a truly hideous Cadillac XTS with dubs, a cheesy mesh grille with oversized gold Caddy emblem and topped off with faux canvas boat-sail padded roof. What a bulbous land yacht! Ahoy, matey!

The Caddy also sported gold license plate frames with 'Indian Wells' engraved on the top so that you know where the owner lives.
This is the land of wheel bling and I saw a new black Prius sporting chrome rims - something I've not seen on a Prius before - parked in front of Mama Gina's.
During our stay, I spotted two Ferrari 458 Italias - one red, one black. As the red one passed me, I quickly lowered my window so I could listen to the engine make music. Delightful.
There are several photos from our trip posted here.
All in all, it was a very good trip - a welcome respite from a dreary Pacific Northwest winter. When we arrived back at the Portland airport, it was cold and raining. I wasn't surprised. (permalink)
---
Wednesday February 5, 2014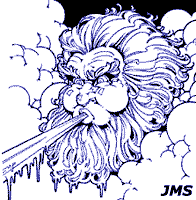 January Auto Sales: The new year was off to a slow start. Light vehicle sales were at a 15.14 million SAAR in January - down slightly from January 2013 and down 2.5% from the December's sales rate. Some automakers and dealers reported January sales were impacted by the unusually cold weather.
The three largest vehicle sellers in the U.S. by volume, GM (-12%), Ford (-8%) and Toyota (-7%) all posted declines for the month compared with a year earlier. So did American Honda (-2%) and Volkswagen (-19%). On the other hand, Subaru sales soared 19% to 33,000 vehicles sold in the frigid, snow period.
Fiat Chrysler Automobiles bucked the trend - lead mostly by Jeep (+38%) - reporting an 8% overall increase, as did Nissan NA which posted an 12% gain. Hyundai said its sales rose less than 1% from a year earlier, while Rolls Royce was up 2%, selling 86 Rollers in January. Maserati sales jumped 230% to 567 vehicles last month - and that was before its Superbowl ad.
BMW sales jumped 11% while rival Mercedes-Benz rose only 1%. Lexus sales were up 9%. Cadillac sales dropped 11% to 11,386 vehicles, Audi remained stagnant at 10,101 units while Lincoln sales jumped 43% to a mere 5,973 units - helped by hot deals and lease offerings on its MKZ entry-level model. Sales of the MKZ sedan leaped a whopping 368% to 2,122 sedans. Acura sales were up 14%, while Infiniti experienced a 26% increase. Maybe those confusing model designations actually attract puzzled buyers.
Volvo sales were down 22% to 3,792 vehicles - you'd think the Arctic weather would have helped the 'Scandinavian' marque. Mini sales were down 31% - proving perhaps, that you can only line-extend a brand so far, regardless of the weather.
These days normally agnostic auto dealers are praying for warmer weather.
Build Something Good And They Will Come: It has been said that capitalism is the process of creative destruction. The best (cleverest) businessperson wins. New and improved trumps the old and stodgy. The consumer is king.
QuarkXPress desktop publishing software is a good example of this. It was the next big thing in the '80s. I tried it and found it clunky and non-intuitive. I bought Adobe PageMaker and found it far easier to use, producing newsletters for my car club and promotional pieces for my consulting business. Large printing firms seemed to be set up exclusively for Quark but Apple people like me found PageMaker more friendly and the smaller printing firms I used had no trouble handling PageMaker files, especially when Adobe Acrobat conversion software came along in the mid '90s. Once I got internet (1997), I could send files electronically to printing houses.
Later, I used other Adobe products, InDesign, Photoshop and Acrobat to produce several of my books. I did all the pre-press work and contracted the bookmaking out to a digital publisher.
Nevertheless, in the early 1990s, Quark boasted 95% market share.
Dave Girard chronicled the downfall of QuarkXPress and the business lessons to be learned. He wrote, "Anecdotal evidence is not the best way to objectively study anything, but ask anyone what caused them to leave XPress for InDesign. Overwhelmingly, it all boils down to those personal stories of neglect that eventually eroded Quark's appeal and made a potentially painful transfer to another product the lesser of the evils."
When Apple released OS X, "Quark repeatedly failed to make OS X-native versions of XPress - spanning versions 4.1, 5, and 6 - but the company still asked for plenty of loot for the upgrades. With user frustration high with 2002's Quark 5, CEO Fred Ebrahimi salted the wounds by taunting users to switch to Windows if they didn't like it, saying, "The Macintosh platform is shrinking." Ebrahimi suggested that anyone dissatisfied with Quark's Mac commitment should "switch to something else.""
Quark interpreted increasing growth in Windows sales as a sign that the Mac publishing market was dwindling. However, what they were probably seeing was new computer users, rather than migration from Mac to Windows. Mac owned the publishing and graphic arts markets. And Adobe's offerings, PageMaker and, later, InDesign were tailored to Mac hardware.
"Adobe wasn't just copying Quark's approach or feature set - it made a program that was both for production nuts who needed to work efficiently and creatives who were shown how digital typography and layout was meant to be."
Meanwhile, in the face of technical and feature innovation and competitive pricing from Adobe, "Quark blindly continued to charge too much for upgrades, pretending like nothing had changed. The company offered more meager upgrades at too-high prices and still charged a ridiculous amount for a multi-language version." Additionally, Quark offered very poor customer service.
The Lesson: "QuarkXPress' demise is one big lesson that all software publishers, no matter how dominant, have internalized: listen to your users and respect them." It's a lesson that every business needs to learn.
'Fair And Balanced' Wins The Day: MSNBC's string of conservative-bashing gaffes has taken a toll. Liberal polling organization Public Policy Polling finds that MSNBC is now America's least trusted news source, tied with its parent NBC and – believe it or not – Comedy Central. PPP asked respondents which network they trust the most. The results:
• Fox News: 35%
• PBS: 14%
• ABC News: 11%
• CNN: 9%
• CBS News: 6%
• NBC News: 3%
• Comedy Central: 3%
• MSNBC: 3%
Remember how positively awful television news used to be before Fox came along? (permalink)
Book Review: 'You Only Rock Once' by Jerry Blavat

If you're of a certain age and lived in the Philadelphia area, you'll know exactly who Jerry Blavat is. The self-styled 'Geator With The Heater' and 'Boss With The Hot Sauce' has been rockin' Philly for decades. His music career began at age 13 when he appeared on the original (pre-Dick Clark) Bandstand televised dance show. Later he became a radio DJ, television host and dance party platter spinner.
Blavat is an acquired taste - a self-promoting, name-dropping, almost-famous egomaniac with a lot of connections to the Philly mob, although he protests that all were "just friends." Nevertheless, he spins a lot of entertaining stories of his encounters with Dick Clark, Walter Annenberg, Cardinal Kroll, Frank Sinatra, Sammy Davis, Jr. (the Geator claims to have been in the room when Sammy took his last breath) and others.
This autobiography gives an insider's look at ... (more >>>)
Bad Joke Of The Day is from John Derbyshire: "Did you hear about the dyslexic insomniac agnostic? He used to lie awake all night wondering if there really was a dog."
---
Monday February 3, 2014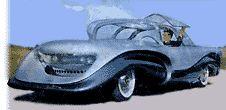 Fifties Ugly: A bizarre concept car from the 1950s that has been dubbed the 'ugliest automobile in the world' is back on the road.
The unique Aurora, built by an eccentric New York Catholic priest as the ultimate safety vehicle, is now turning heads again. It has been restored and is on display at a museum in Great Britain.
Father Alfred Juliano bankrupted himself creating the prototype. But Hyundai created a vehicular separated-at-birth moment when it unveiled the Aurora-like Hyundai BLUE-WILL gasoline-electric hybrid concept car in 2009.
I remember reading about the Aurora in a Motor Trend issue purchased in 1956 with my hard-earned, pre-teen, grass-cutting money. I had often wondered what became of the car. Additional details and photos about the Aurora can be found here.
Worth More Than The Real Car: Recently, a 15-inch long tin toy model of a 1962 Imperial, made by the Japanese toy firm Ashai, sold for an astounding $17,500 at auction. The model was neat mint with slight surface wear on the roof and came with the original box which was slightly scuffed and worn.
Japanese-made tin toys from the 1950s and '60s have been steadily rising in price. Most of these items are not truly scale; they are toy-like with oversized lettering, hood ornaments and emblems. Originally, they were sold in toy shops and five-and-dime stores for a couple of bucks each.
Hemmings noted, "When it comes to collectible toys, rarity, condition, and the presence of original packaging are generally the three biggest factors affecting value. Combine a rare model, appraised in "very good" condition, with its original packaging showing little more than scuffs to the printed label and wear at the corners, and the net result is a "perfect storm" of desirability among collectors."
Goin' Asian: Recently, I received a catalog from Oriental Trading, a firm which sells party supplies, novelties, toys, favors, crafts and assorted detritus. It has a surprisingly long history - founded in 1932 - and was recently acquired by Berkshire Hathaway.
Its catalog offers an assortment of 50 diecast cars, each with extensive decoration stripes or decals, for only 40¢ each - a true bargain. Naturally, they are made in China.
In 1950, Tootsietoy diecast cars were manufactured in Chicago and sold in most five-and-dime stores for 10¢. In 2014 dollars, that would now translate to 95¢ each. That's why you can only find Tootiesietoys in antique shops these days.

It's fair to assume that Chicago's diecasting machine operators and painters were paid more than the minimum wage, but it's worth noting that, in 1950, the minimum wage in the U.S. was 75¢ per hour. That translates to $7.10 in today's dollars.
The minimum wage in Washington state is now $9.32/hr and Obama wants to raise the federal minimum raise across the board to $10.10 an hour from $7.25. This helps explain why everything done in America costs so much and why so much manufacturing has moved to Asia over the last 30 years.
Hopefully, as China wages increase (and they've been doing so rapidly in the last couple of years), the exporting of jobs will abate and possibly begin to reverse. Or maybe that's just wishful thinking on my part.
This Headline Made Me Laugh ... from Ace of Spades: 'Henry Waxman To Retire, Saying He Wants to Spend More Time With Children, Frightening Them With His Monsterface'.
You gotta admit that the Democratic congressman from California has - at the very least - intimidating nostrils.
Time to Scout For A New Cookie Supplier: At least one pro-life group is recommending that the Girl Scouts and their cookies be boycotted.
A few weeks ago, the Girl Scouts designated professional liar and wannabe governor of Texas Wendy Davis (aka - Abortion Barbie) as an "incredible woman" who deserved to be on the list of 2013 Women of the Year. Only a month earlier, the organization promoted HHS head Kathleen Sebelius as a woman of "courage" on its Facebook page.
In 2003, Girl Scouts USA CEO Kathy Cloninger admitted that the organization works with Planned Parenthood groups around the country, a statement that has bedeviled the Girl Scouts since then. "Since that time, the Girl Scouts has been on a remarkable slide. Its membership is down 7% from 2.8 million members to 2.2 million. It has had to consolidate councils from 312 to 112. From 2007 to 2011, donations dropped 29% from $148 million to $104 million, and a once $150 million in the black pension fund is now $347 million in the red."
By the way, "the cocoa used in the cookies is 'conflict free', and no cookie can be made with genetically modified crops. It even promises its cookies are made with 'corporate sustainability' and 'social responsibility' in mind.
When it comes to pro-life concerns, however, the Girl Scouts lines up opposite the wishes of millions of former Girl Scout members who have walked away over that issue in recent years."
Sad News: James Lileks has announced that his beloved dog Jasper has died at age 19. Regular Lileks readers came to know Jasper from the many Bleat postings and photos over the years. Condolences to James and his family.
Superbowl XLVIII: Way to go Seahawks ... 43 - 8. Eli, the 'psychic' ape from Salt Lake City, was right! And now for the ads:
• Most Memorable: Audi's Doberhuahua, although I don't remember how it applied to Audi vehicles.
• Made Me Laugh Out Loud: Muppets/Toyota and Doritos ('Time Machine' and 'Cowboy Kid'). I laughed hardest at 'Cowboy Kid'.
• Well Done: Jaguar's 'British Villains' but it certainly cost a lot of money to make.
• Pretty Good: M&M's villainous 'Delivery'

• Effective Message: Weathertech's 'Made in America' and Radio Shack's 'The '80s called, they want their store back.' The problem is that our local RS store just closed. Maybe the 1980s actually took it back ... along with a truckload of TRS-80 computers.
• Lame: Both Chevy Truck commercials, every Ford Fusion Hybrid 'Nearly Double' commercial and Maserati Ghibli's ad
• Dumbest: Turbo Tax 'Prom Night' and Jeep's 'Built Free'
Quote Of The Day is from Richard Porter, author of 'Crap Cars', who wrote that the DeLorean DMC-12's engine was "so weak it would struggle to pull a hobo off your sister."