Monday October 5, 2009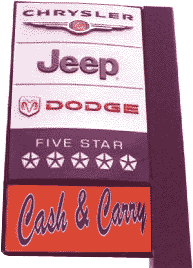 Pentastar Mess: Douglas A. McIntyre has written that Chrysler may not make it another year, due to its tumbling sales and growing financial losses at partner Fiat.
Chrysler only sold 62,197 cars in September - down 42% from the same month last year. Chrysler is being handily outsold by GM, Toyota, Ford and Honda. Nissan and Hyundai are nipping at Chrysler's heels. The only five-digit monthly seller at Chrysler is the Dodge Ram pickup - Chrysler's sole model in the list of top 20 vehicles by sales volume. 13,452 Rams were sold in September, compared with 33,877 Ford F-Series.
I was pessimistic about Chrysler's survival when it first filed for that bizarre banana-republic bankruptcy, which I now refer to as Obamaruptcy. And the subsequent shotgun marriage to Fiat - a nuptial which only made sense after a lot of drinking or a severe head injury.
But - drunk or brain-damaged - you and I are on the hook for Chrysler, since we have become Involuntary Stockholders. The $14.3 billion we taxpayers put into Chrysler is more and more likely to be lost completely. Getting our money back is as probable as winching a '58 Crown Imperial limo out of a bubbling tar pit which has just been declared a National Historic Site.
McIntyre concluded, "Chrysler is going out of business. The company just hasn't made it official." (permalink)
Another One Bites The Dust: According to information posted on TTAC, Carr Cadillac of Vancouver, WA is scheduled for termination by GM.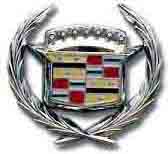 If so, that will mean there will be no Cadillac dealers in Clark County - an area with a population of almost 425,000. Within 90 miles of me, there will soon be only one Cadillac dealer. The ones in Longview, WA, McMinnville, OR and Salem, OR are also being terminated, leaving only one Caddy dealer (Vic Alfonso of Portland, OR) to serve a population of about 2.7 million.
This speaks volumes about the diminished appeal of Cadillac - once The Standard of the World. Based on my observation, the preferred rides of luxury car owners around here are Lexus and BMW.
For what it's worth, the only TGI Friday's in Clark County has closed - one of 10 franchised restaurants in Washington, Oregon and Sacramento that have been shuttered.
Like Cadillac, it's another tired brand that's been sliding downhill for decades.
Asleep At The Wheel: A 27-year-old Corvallis, OR, man is facing DUI charges after he fell asleep in the drive-thru lane at a local McDonald's. Authorities say the man, whose blood-alcohol content was 0.18, passed out "after a night of partying."
The Recession Continues: September 2009 consumer bankruptcy filings reached 124,790 - a 41% increase over last year. "Bankruptcy filings continue to climb as consumers look to shelter themselves from the effects of rising unemployment rates and housing debt," said American Bankruptcy Institute Executive Director Samuel J. Gerdano. "The consumer filing total through the first nine months is consistent with our expectation that consumer bankruptcies will top 1.4 million in 2009." Ouch.
But ... but ... (more >>>)
Friday October 2, 2009
Steve Martin, You'll Kill Us All: When I saw the headline about the Great Toyota Recall - 3.8 million vehicles indicted for floor mats that may cause the accelerator pedal to get stuck in a wide open throttle position - I read further and found that my wife's 2005 Avalon was on the list.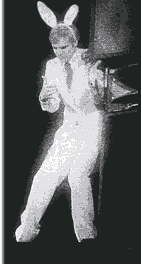 We've never experienced such a problem with the car. Nevertheless, I carefully examined the Avalon's driver side mat. It is anchored to the floor with a hole-and-hook thingie. The underside of the mat has molded rubber spikes. These two features make the mat almost impossible to move.
In trying to figure out what conditions would be required to make the mat slide, I came up with three that would have to be simultaneously present: a ton of slippery dirt beneath the mat, cleated soccer shoes and a severe case of Happy Feet.
When it came to factory mat-sliding, the worst car I've ever owned was a Lincoln '84 Mark VII. The mats had no hook-n-hole anchor and had an ineffective waffle pattern on the back of the mat. I'd have to adjust the mat every three days or so; otherwise, it would bunch up under the brake.
Of course, the Lincoln also had the dreaded runaway cruise control common to Ford products of the '80s and 90s - an issue FoMoCo never got around to solving during my eight years of ownership, despite an avalanche of customer complaints. On the other hand, the customer fix was simple: either hit the coast button, turn the cruise control off for 30 seconds, or tap the brake pedal once. Presto - no more unintended acceleration.
Up 'n' Down: Ford's sales were down 5.1% over September 2008. (Ford Canada sales were up 24%.) Lincoln & Mercury sales declined by 21% and 16% respectively. The recently-introduced Lincoln MKS "flagship" is down 28%, selling slightly over only 1,300 units in September. The ancient Grand Marquis is now Mercury's biggest seller; only 92 Sables were sold last month.
But GM and Chrysler took a much bigger hit, dropping 45 and 42% respectively. Meanwhile Hyundai was up 45%, Kia 24%. Honda was down 20%, Toyota 16%, Nissan 18%. Toyota Avalon sales were off by 39%, with 1,939 units sold. (During the same period, Ford sold 5,077 of its new Taurus.) 777 Lexus LS models were moved out in September - a drop of 37% from September 2008.
The GM hit was especially brutal, considering that it had a lot of new and refreshed models in the lineup. Buick was down 33%, Chevy dropped 40% and GMC fell 53%. I guess all those disappointed Pontiac prospects are taking their business elsewhere.
Chrysler is more of an expected disaster, with no new products to offer - just last year's dreck with 2010 titles. The Chrysler Sebring shed 73% of its sales, while PT Cruiser and Aspen dropped 89% each. "Nothing to see here, folks, just hosin' the blood off the sidewalk."
Total estimated sales, seasonally-adjusted annual rate, based on September: 9.22 million, according to Autodata Corp.
Coincidence ... Or What? 37 days after Cash for Clunkers ends, Saturn is goin' outta business. Saturn sales were down 84% in September. Roger Penske threw in the towel and poured himself a large snifter of Hennessy Paradis, realizing that he had dodged a Big One.
Another Reason Why Government Is So Expensive: The average federal civilian wage in 2008 was $79,197, more than 50% greater than that of the average private sector employee's wages of $49,935, according to the Cato Institute's analysis of data from the U.S. Bureau of Economic Analysis. ... "When wages and benefits are combined, federal civilian workers averaged $119,982 in 2008, twice the amount of $59,909 which workers in the private sector averaged in their wages and benefits combined."
And furthermore: "Pay growth in the public sector has been much higher than growth in the private sector over the years, too. Between 2000 and 2008, wages for federal civilian workers climbed 53.7%, while wages in the private sector went up 28.5% over the same time period."
"The disparity between the public and private sectors is present even in employment statistics. Between July 2008 and July 2009, the private sector lost some 5.2 million workers while government grew by 238,000 workers, according to the U.S. Bureau of Labor Statistics."
Suddenly It's 1890! A San Antonio School District Aquatics Center said it has replaced its U.S. flag after someone pointed out it had only 43 stars, which would have been correct during the Benjamin Harrison administration in July, 1890.
On July 3rd, Idaho was admitted as the 43rd U.S. state; on July 10th, Wyoming became the 44th state.
Allied Advertising, which replaced the flag at no cost, said the flawed flag was created by a designer who is no longer with the company.
The artist was last seen pedaling away on a high-wheeler bicycle.