Wednesday January 16, 2008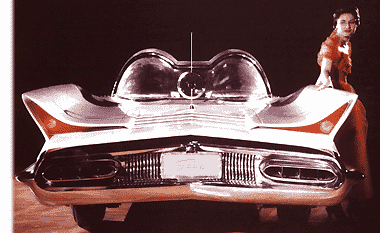 Showtime! The '08 Detroit Auto Show opens this week but much of the drama of the days of yore will be missing. The past month has been full of press releases, leaks and 'official leaks' (a new oxymoron) about new models and concept cars.
Many have previously been seen elsewhere; the Buick Riviera concept - a coupe with gull-wing doors - was introduced at the China Auto Show. The Honda CR-Z hybrid sport concept vehicle, Honda FCX Clarity fuel-cell car and Nissan Forum debuted elsewhere. The cool-looking Ford Verve was already shown in Frankfurt and Shanghai. The Cadillac Provoq E-Flex fuel-cell vehicle was exhibited at the Consumer Electronics Show.
The Cadillac CTS coupe is verrrry slick ... but - damn - it's a diesel. Mating the words 'Cadillac' and 'diesel' brings forth nightmares from the late '70s and early '80s. The strange Lincoln MKT (aka - bustle-backed mess) is a miss - big time. Mitsubishi Concept-RA looks nicely styled but it's not ground-breaking.
The Detroit Show had the lowest number of concept cars in 20 years, at least. Yes, there is Toyota's A-BAT small hybrid pickup concept, Chrysler ecoVoyager fuel cell hybrid (featuring a mix of cough drop and suppository styling cues), odd-looking Dodge Zeo and some Hummer concepts but nothing exciting enough to make my heart go a-flutter. Of course, I take pills to prevent that.
I took an extra one after I saw the Detroit Fish by Bei Jing Li Shi Guang Ming Automobile Design Co.
Then there is the Leopard CS6 from the Chang Feng Automobile Corporation. It's the first urban SUV which "has whole self-dominated Intellectual Property." And "glass diamond light which is like eyes of leopard, the car emanates charm of unrestrainedness, nature, and enthusiasm." It also "achieves the perfect combination of military industry performance and urban fashion." So there ya go.
There are some new 2009 models on display. Regular readers already know how I feel about the Nissan GT-R (scroll down to my January 4th posting). The mega-hyped 2009 BMW 1-Series is a tight little package for a lot of money; the 2009 Cadillac Escalade Hybrid answers the question no one asked. The 2009 Chevrolet Corvette ZR1 is very nice but I've been seeing camo-shots for - what - two years now and the print media has been showing factory pix for over a month. The 2009 Toyota Venza Crossover Sedan is what happens when a Toyota Avalon and Ford Edge get drunk and rent a room.
I'll believe in the 2010 Fisker Karma hybrid when I see one in a showroom. Otherwise its just more wondercar vaporware (Tesla, Volt et al) outfitted in a different dress. Even though the endeavor is reportedly backed by Silicon Valley VC firm Kleiner Perkins Caufield & Byers, which has previously invested in Amazon.com and Google. The price of the Karma is said to be $80K; I don't know whether that's in 2008 dollars on 2010 ones. Or if batteries are included.
The new 2009 Toyota Matrix looks ugly; its fraternal twin, the '09 Pontiac Vibe, has better lines - both are displayed at the show. Acura, Nissan, Infiniti and Suzuki didn't even do press intros this year. The non-groundbreaking Lincoln MKS sedan - based on the same platform as the Taurus/500/Sable - already debuted in LA. I like the forward-slant look of the new '09 Dodge Ram's front end, but it's evolutionary, not revolutionary. And I've heard that the interior is kinda cheesy and not class-competitive. The '09 Ford F-150 looks properly trucky - but I'm not a truck guy, so my opinion means naught. I don't care for the front-end styling of the '09 Honda Pilot. The front end has too much of that armor-plated Mad Max look.
The "latest" Ford Mustang Bullitt was presented and marked Exhibit #237 as evidence that Detroit has run out of ideas.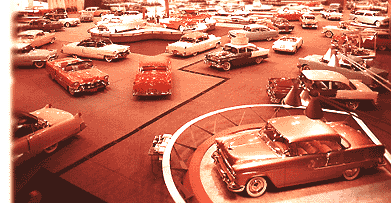 It didn't used to be this way. Take the 1955 Auto Show. Click here and read of the many innovations unveiled at that show as well as the large list of cool, outrageous and wonderfully-impractical concept cars. In those days, America car companies ruled the world.
Things (including auto shows) were simpler in 1955. There were only a few shows of major significance - London, Paris, New York and Detroit. Today, there are significant auto shows everywhere, even in China and India. It's tough for U.S. automakers to stand out, what with major four large domestic shows (Chicago, Detroit, Los Angeles and New York) to cover, combined with falling market share.
In 1955, there were a lot of poorly-built rustbuckets made by Detroit. Today's domestic offerings are sturdy, durable and reliable. It's hard to buy a truly bad new car in 2008. But Detroit is spending its limited resources on consolidating, cost-cutting and meeting future regulations. Style and innovation are lower priority objectives. As are showcars.
These days, the wildest concepts and most exciting innovations seem to be found at the Tokyo show.
Jake & Elwood Reincarnated As Chinamen: Great tale told about the only unscripted event at the Detroit Show by Matt Hardigree at Jalopnik.
Caboose Story: On the mountain section of my train layout, next to the HO trolley tracks, is a lone Reading caboose. This sturdy, red HO scale car was made by A.C. Gilbert Co. and is the only remnant of an HO freight set my dad bought for me in 1951.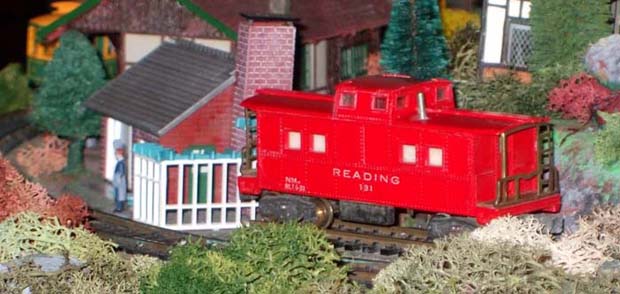 The lighted interior has the original bulb and it still works - 57 years later. (permalink)
Light Rail Boondoggle: "Three light-rail lines have been added to L.A. county's transit system in the last 20 years. Together, these cost $2.5 billion in capital costs, they serve about 125,000 passengers per day and account for a fiscal loss of approximately $252 million per year - if one acknowledges that capital costs are real, something that transit operators and boosters often neglect."
"So if you do the math, the capital costs alone come to $20,000 per daily rider (and that's making a generous assumption about how many "regular" riders there are). Add in the annual operating loss, and it would have been cheaper to buy each rider a compact car and a full tank of gasoline each week for the rest of his life."
All of this for a negligible decrease in traffic congestion: In no city in the country does light rail ridership equal more than 1.2 percent of travel.
How much does it cost taxpayers to move one person one mile? About six cents for freeways and $2.75 for light-rail. Therefore, light rail costs 40 times more than freeways. The person-mile cost of buses is $1.59 - still much more than roads but considerably less than rail. (permalink)
Best Guinness Commercial Ever! Right here.
Tax 'N Spend: Nothing worries financial advisers more than the prospect of a Democrat's being elected president in November, according to a quarterly poll by Brinker Capital, Inc.
"[Departing from] the Bush administration's approach to taxation will have a large impact on advisers and their clients," said John E. Coyne, president of Berwyn, PA-based Brinker Capital, which manages $9.4 billion in assets. "When taxes begin to erode returns, equities remain less attractive."
The results jibe with a poll that Brinker conducted last summer in which 60% of advisers said that Democratic presidential candidate Sen. Hillary Clinton would be the worst choice in terms of the economy and investing.
On the flip side of that poll, 36% of advisers said they thought that Republican presidential candidate Rudolph W. Giuliani would have the most positive effect on the U.S. economy and investing.
Holy Pee! Madonna spends $10,000 a month on specially blessed Kabbalah water. The singer reportedly can't get enough of the $5-a-bottle beverage, and makes sure she always has a regular supply at hand. A description of the blessed water on kabbalahwater.com reads: ''The Kabbalistic blessings and meditations that are used to create Kabbalah Water bring about elegant and balanced crystalline structures in water, while negative consciousness has an opposite effect." M-kay.
I thought crystalline structures in water were called ice cubes. And, if you drink holy water, do you have to pray when you pee?
Quote Of The Day is from Thomas Sowell: "In his book 'Income and Wealth', economist Alan Reynolds says that people often form "strong opinions" based on "weak statistics." Unfortunately, that is also true of a wide range of other issues, from "global warming" to "gender bias.""
---
Monday January 14, 2008
A Century Of People's Cars: Tata Motors has introduced a new car for the masses in India. The four-door subcompact Nano sells for making it the world's lowest-priced. It "may yield a transportation revolution with as great an impact as Henry Ford's Model T, which rolled off an assembly line one century ago."
People familiar with the car describe a $700 rear-mounted engine built by the German company Bosch, measuring 600 cubic centimeters, with 32 horsepower. Tata apparently plans to sell a version of the Nano in Europe. There are no plans to offer the little car on American shores.
Comparisons have been made to the Model T of 100 years ago but I think it is equally important to look at the Volkswagen Beetle of 50 years ago as well:
1908 Ford Model T

1958 Volkswagen sdn.

2008 Tata Nano

Price (at factory)

$850

$1,154

$2,500

Price (2008 dollars)

$19,000

$8,400

$2,500

Engine

front, 4 cyl.
45 hp

rear, 4 cyl.
32 hp

rear, 2 cyl.
33 hp

Transmission

2-spd. planetary

4-spd. manual

CVT

Top speed

45 mph

68 mph

60 mph

Top cruising speed

35-40 mph

68 mph

45 mph

Mileage

15 mpg

30 mpg

50 mpg

Windows

what windows?

manual winders

manual winders

Windshield wipers

0

2

1

Wheels/tires

tall 'n narrow

5.60x15

roller skate
I'm giving the final word on the new car to Unconfirmed Sources, which posted this headline: 'Nano Nose Bra Makes For Bodacious Tatas'. (permalink)
Flower Power: I have a funeral home on my model train layout and, while I have a Cadillac hearse parked in front, I wanted to add a flower car. So, I wasted another portion of my life scratchbuilding a flower car insert for a 1:43 model 1959 Chevy El Camino (a metallic charcoal one from Brooklin Models). I used scale flowers from hobby supply outlet.
The rack itself is made from card stock which has been cut, glued with epoxy, sanded and painted with several coats of matte silver to imitate the appearance brushed stainless steel. My El Camino conversion has a basis in reality, though ... (more >>>)
The Great Race: Which is growing faster? Technology? Or bad taste? (Think: Moore's Law vs. Dogg's Law) Presenting PimpStar LED wheels. Using full color LED lights, a microprocessor and wireless modem, these chromey dubs can display any images you like.
Images can be changed on the fly even as you're driving. You can shift, say, from a photo of the Palace at Versailles to an image of the Sistine Chapel ceiling. Or from the Playboy bunny symbol to a flashing red neon message for streetwalkers, "Call me, bitch ho!"
Ghetto fabulous and yours for only $12,000.
New Words: Courtesy of Don Luskin, here are some nominations for The American Dialect Society's 2007 Word of the Year:
• Wrap Rage: Anger brought on by the frustration of trying to open a factory-sealed purchase.

• Quadriboobage: The appearance of having four breasts caused by wearing a brassiere that is too small.

• Connectile Dysfunction: Inability to gain or maintain an internet connection.

• Locavore: someone who eats food that is grown or produced locally.

• Googlegänger: Person with your name who shows up when you google yourself.

• NINJA: No Income, No Job or Assets.
I offer another nominee - a self-developed phrase involving a situation familiar to older males:
• Candygram for Mongo: An urgent telegram from your bowels telling you to get to the bathroom very quickly as an explosion is imminent.
Headline Of The Week: 'Octopus In Love With Mr. Potato Head'. "Louis the octopus clearly thinks two heads are better than one when it comes to toys.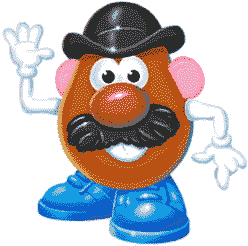 The 6-foot wide creature is so attached to Mr Potato Head that he turns aggressive when aquarium staff try to remove it from his tank. The giant Pacific octopus was given the toy for Christmas and has even learned to dig out food hidden in a secret box at the back of it."
Quote Of The Day is from Alan Sullivan: "One of the few good things about old age is outliving people you despise."
---
Friday January 11, 2008
'Take Me To The River': I'm still learning all the controls on my new car. Like most luxury cars, it has an array of features - many of which I'll probably never use. I'm glad that it has a comprehensive owners manual which I've been semi-diligently reading. I still don't know what every button does; it's a bit embarrassing when passengers ask.
Yesterday, I opened the middle console to get a pen and accidentally triggered the rear window sunscreen. It took me a while to find the switch and lower the screen. I felt very much like the befuddled geezer I am becoming.
All this made me wonder if those fish-mouthed Audis have a button that causes the front end to swing sideways and sing while the tail wriggles.
Self-Driving Cars: At the Consumer Electronics Show, GM CEO Rick Wagoner says that the company will be testing driverless cars by 2015 and have cars on the road by 2018.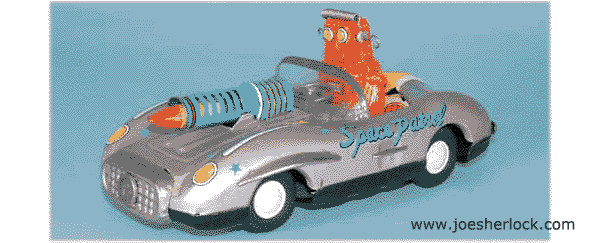 That's later than I had guessed.
In September 2006, I pointed out that people love to multi-task and won't give up their cell phones. Or eating in cars. Or shaving. Or putting on makeup. Or reading. Or other nonsense which distracts people from the task at hand - driving. That's why we're headed toward the self-driving car. "I believe it will happen within 10 years. We've already got vehicles with lane change warning devices and 'smart' cruise control. Mercedes has demonstrated a self-braking car. Self-driving cars are the logical extension of these technologies."
Frankly, that's fine with me. I certainly enjoy driving on near-empty back roads but take no pleasure in navigating city traffic. Nor do I look forward to rush-hour driving. I'd rather read a book. Or watch television. Or talk on the phone. With a self-driving car, I can do any - or all - of these things. Just tell the car your destination and it will get you there, using sensors, navigation software and a GPS.
Of course, a self-driving car would change everything. How can the police arrest one for being drunk if the car is doing the driving? MADD will probably go out of business. (I would hope they'd be happy to do so.) The taxi business would probably suffer - who needs a cab when your car is your own chauffeur? You could even sit in the back seat and blog. Or take a nap.
Ever have one of those medical or dental procedures where you're told that you must bring someone along to drive you home? "Not necessary, doc. My car will get me there." And the nearly-blind elderly can have their cars drive them to medical offices. Or senior centers.
Intelligent cars can drive closer together than humans. Road traffic could be denser without the need for more roads. (Lower taxes?! Dare we hope?!) Self-driving cars would bring to an end to pokey drivers and road hogs, too.
The future may be very interesting, indeed.
Outside The Box Thinking ... courtesy of Jeremy Clarkson: "The fact of the matter is that the established car makers are timid and afraid of change. They think the mini MPV is a revolution and that the Smart car can be mentioned in the same breath as penicillin. This means they never think outside the box."
"Why, for instance, does a car have a steering wheel? Or pedals? Or a dashboard? No, really. As anyone under the age of 15 will tell you, the handset for a PlayStation can be used to steer, accelerate and brake a car. And there are still spare buttons on the handset that can be used to fire machine guns."
"And, of course, without a steering wheel or a dashboard, there'd be a lot more space in the cabin, and no need for expensive, weighty airbags."
Tornado Report: When it hit Thursday afternoon, I was behind the wheel of my Lexus about 5 miles away from the touchdown point. I didn't even see the funnel cloud. We are fine; no damage. We did get thunder, lighting and heavy rain. And, later, a rainbow.
Tornadoes are rare around here; the last one in the county happened in 1972. This one came within a mile of our house. While there were trees down, power loss and property damage, no one was killed or seriously injured. Thank God.
Billboard Makeover: My train layout has several lighted billboards. One of them advertises the crack Congressional Limited express passenger train. This train was headed by a GG-1 locomotive painted Tuscan pulling silvery aluminum streamlined passenger cars with Tuscan stripes.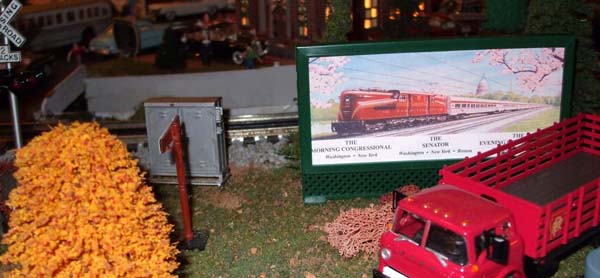 The original signage which came with the billboard faded quickly. So did a replacement. I decided to make my own, scanning in an old illustration, sizing it to the right shape, adding text and sending a pdf to my son who produced copies on a high-quality printer. (photo permalink)
I've added several new photos to the Model Railroading Tips page and the Aerotrain page.
Finally, I added a brand-new page of photos - close-ups of train-layout scenes.
Why all this photo activity? Well, my wife got a new digital camera for Christmas (the first one in our generally Luddite household), so I've been using it to create images for the website. It's a Fujifilm A920 (9.0 Megapixel with 4x optical/7.6x digital zoom).
It's a great little camera.
Presenting ... some Laws of Everyday Life:
• Law of Mechanical Repair: After your hands become coated with grease, your nose will begin to itch or you'll have to pee.

• Law of Visibility: The probability of being watched is directly proportional to the stupidity of your act.

• Law of Phones: If you dial a wrong number, you never get a busy signal.

• Law of Repetition: When you try to prove to someone that a machine won't work, it will.

• Law of Supply: As soon as you find a product that you really like, they will stop making it. (hat tip - George Pradel)
Redacted: Headline from The Onion: 'CIA Realizes It's Been Using Black Highlighters All These Years'.
Definition Of The Day is for 'Tomorrow': One of the greatest labor-saving devices of today.
---
Wednesday January 9, 2008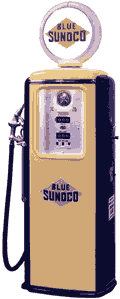 Corn Hustle: Professor Emeritus Don Elliott of the University of Northern Colorado claims that ethanol is all-around more expensive than gasoline.
In a letter to the editor of The Tribune, he refutes the newspaper's misleading claim that ethanol is less expensive and produces less pollution per gallon than gasoline.
Using a more realistic measure of cost per miles driven, he shows that a vehicle running on E85 needs 40 percent more fuel to go the same distance as one burning gasoline, and E85 would cost 9.6% more per mile driven.
On the pollution issue, Professor Elliott figures in the emissions from the fossil fuels used to produce the ethanol as well as the greenhouse gasses E85 produces.
When looking at the total pollution produced by each fuel, E85 produces 15.5 percent more greenhouse gasses per mile.
Someday, history books will have a chapter devoted to The Great Ethanol Scam. (permalink)
Wow! The 2009 Hyundai Genesis is pretty impressive-looking. It has an inviting interior and offers an all-independent suspension with five-links front and rear. "The use of high tensile steel in critical areas in the unibody provides Genesis with 12-14 percent higher dynamic torsional rigidity and a lower body structure weight than the BMW 5-series and Mercedes-Benz E-Class – despite having a substantially larger cabin than either of those benchmarks. Hyundai Genesis has more interior volume than Mercedes Benz E-Class and BMW 7-Series."
"While Genesis will compete for customers with cars like Chrysler 300 and Pontiac G8, our engineering benchmarks were Mercedes E-Class, Infiniti M, and Lexus GS," said John Krafcik, vice president, product development and strategic planning, Hyundai Motor America. "Genesis provides a potent combination of performance, luxury, and value. We think it has the opportunity to be an extremely disruptive force in the large sedan and near-luxury segments."
If the 370 horsepower V-8 version of this RWD sedan with ZF 6-speed auto comes in at $35,000 well-equipped, why would anyone buy that forthcoming Lincoln MK-whatever six-pot? The Cadillac people should be worried, too.
Old Photos Trigger Ancient Recollections: One of my Christmas gifts was a book, 'Lower Northeast Philadelphia'. This captioned photo album brought back a lot of memories. There was an old B&W photo of the S.S. Kresge 5-10-25¢ store on Frankford Avenue, just south of Cottman Ave.
When I was a kid, my Mom used to take me there. We walked to The Avenue from our house. I got a lot of my toys from that Kresge location, including molded plastic cowboys and Indians and 10¢ diecast cars. I still have some of the cars ... (more >>>)
Book Review: 'The Small-Mart Revolution: How Local Businesses Are Beating The Global Competition' by Michael Shuman. The title is very misleading. I expected bulleted, specific step-by-step How-Tos for small retailers. Got general platitudes instead. I expected Tom Peters' In Search Of Excellence-style detailed success stories. Got unhelpful Profiles Lite instead.
This book is mostly a woe-is-us rant from an ex-think tanker turned speaker/consultant. His mantra seemed to be Change Is Bad. Wrong. Change Is Change. If you're in business, you need to adapt or go out of business. This has been true since the Industrial Revolution. Or before.
Clever small business owners are competing with the Wal-Marts and Costcos of this world by offering things the big-boxers can't or won't. I thought this book would tell their stories. Sadly, it didn't.
Don't waste your money on this book. Buy 'Marketing Warfare' instead. It is far more inspiring.
Update: A study by the Cato Institute indicates that the presence of a Wal-Mart does not hurt small businesses. In fact, "the slope of the regression line is actually positive and significantly different from zero, which suggests that states with more Wal-Mart stores actually have significantly higher levels of five-to-nine-employee establishments." So, when Robert Reich claims that Wal-Mart turns "main streets into ghost towns by sucking business away from small retailers," don't believe him. (permalink)
"We Will Control The Horizontal ... We will control the vertical. We will control the temperature." California wants homes fitted with programmable thermostats. "Each PCT will be fitted with a "non-removable" FM receiver that will allow the power authorities to increase your air conditioning temperature setpoint or decrease your heater temperature setpoint to any value they chose. During "price events" those changes are limited to +/- four degrees F and you would be able to manually override the changes. During "emergency events" the new setpoints can be whatever the power authority desires and you would not be able to alter them."
In other words, the temperature of your home will no longer be yours to control. Your desires and needs can and will be overridden by the state of California through its public and private utility organizations.
DrewM. at Ace notes that "while this doohickey is supposed to be "non-removable" I am sure the judicious application of say, a hammer, will do the trick. You don't have to be a nutty Ron Paul supporter to realize that a lot of Global Warming and other environmental scare tactics are simply ways for the left to exert greater control over peoples lives."
"Remember the reason environmentalists are called 'watermelons'; they are green on the outside, red on the inside."
We Make The Mess; You Clean It Up: The Vatican has called on Catholics everywhere to atone for the sex abuse scandals that have engulfed the Church in recent years by taking part in what may be the largest global prayer initiative ever seen.
Give me a break! Asking me to atone for a bunch of perv priests is even more wrong that those slavery apology demands.
During the time that blacks were being enslaved and oppressed in the United States, all of my ancestors were in County Mayo, Ireland - being systematically oppressed, run off their lands and starved by the English.
During the time that altar boys were being sodomized by creeps, I was busy raising a family and trying to make ends meet.
So, leave me out of it. (permalink)
Quote Of The Day is from Greg Gutfeld: "Yogurt is effeminized oatmeal."
---
Monday January 7, 2008
Happy Birthday, Elvis! He would have been 73 tomorrow. More on The King here.
I'm Starting To Like ... Fred Thompson: "You know, when I'm asked which of the current group of Democratic candidates I prefer to run against, I always say it really doesn't matter … These days all those candidates, all the Democratic leaders, are one and the same. They're all NEA-MoveOn.org-ACLU-Michael Moore Democrats. They've allowed these radicals to take control of their party and dictate their course."
"So this election is important not just to enact our conservative principles. This election is important to salvage a once-great political party from the grip of extremism and shake it back to its senses. It's time to give not just Republicans but independents, and, yes, good Democrats a chance to call a halt to the leftward lurch of the once-proud party of working people."
This sounds very much what I would like to see. I used to be a Democrat - a centrist. Democrats once were pragmatists. They tried stuff and, if it didn't work, they modified it or discarded it. My sense is that this was lost, starting with the Johnson administration. The center shifted, very much to the left in the early '70s. I've often said, "I never abandoned the Democratic Party; it abandoned me."
Meanwhile, back on the campaign trail ...
Hillary Clinton Is America's Favorite Folk Hero: Thanks to The People's Cube, I have learned that:
• Once Hillary invented a car that ran on 100% proof pixie juice and emitted oxygen combined with Omega-3 vitamins and minerals. It was stolen by oil companies and buried under 30 feet of concrete underneath a suburban Wal-Mart.

• When Hillary was younger she used to baby-sit children of Mexican day laborers. All of those children later became Nobel Prize laureates.

• On moonless nights, Hillary puts on a Ninja costume and goes out to help the people, by taking away from the rich and giving to the poor.

• In the movies, Hillary's part is usually played by her twin brother Chuck Norris.
And, don't forget, Hillary has been "making change for 35 years." And, by the time she's done, that's the only thing you'll have left in your pocket - change.
Change Of Tune: Hillary Clinton's new theme song in NH is the Dixie Chicks' 'Ready to Run'. If Obama creams her in additional primaries, will his new song be 'Ding, Dong The Witch Is Dead'?
Need A Reason Not To Support Huckabee? Here's one: "His aides are wary of New Hampshire. 'It's all no tax, no government there,' said Bob Wickers, a top strategist. 'It's not ideal.'" No tax; no government. And this is a bad thing ... because???
Supersid, a poster on Lucianne.com, said that Mitt Romney is like Martin Prince on 'The Simpsons'. If so, Huckabee is Ralph Wiggum. Hillary is Lisa Simpson at her most strident and whiny. And Bill Clinton is dating Sherri and Terri. And Homer's Vegas wife.
Something To Avoid: Omaha Steaks' Meat Lasagna. Too salty, limp noodles with Godfather's Pizza style meat pellets. The beef had that unpleasant Fourth Time You Reheat Pot Roast Taste™. We'll never buy it again, although OS's Stuffed Baked Potatoes are quite tasty.
We used to order OS's triple-trimmed beef filets but now buy our steaks from local sources - better quality and lower prices. How do I feel about OS's Potatoes au Gratin? Just pronounce it phonetically: Ugh, rotten.
New Skyscraper: In the Japanese town of Inazawa City, there's a new structure that dominates the skyline. Mitsubishi has erected a tall, skinny, hollow, 567-foot tower filled with elevator shafts for testing high-speed lifts. The $50MM project will allow Mitsubishi's elevator division to test new drives, gears, cables and systems.
Quote Of The Day is from Dan Neil: "I used to wear a rather large and obvious diving watch. "Oh, do you scuba dive? Why, yes, I do, and thank you for asking." One fun fact about this watch is that it was guaranteed watertight to 300 meters, or 984 feet, which means that at that depth my lifeless corpse would know exactly what time it was."
---
Friday January 4, 2008
Never Underestimate The Bad Taste Of The Masses: I don't care if it's super fast and super sporty. The Nissan GT-R is ugly.
From its low-res 1989 Game Boy lines, odd chopped roof, strange black-drool grille, hideous drawn-by-a-second-grader spoiler-wing to its Chevy Cobalt taillights, it sucks.
Is this abomination really produced by the same company that brought us the lovely 1970 240Z and the awesome 1990 300ZX?
And people are waiting in line for this beast?? Well, count me out. (Hey, that means an extra one for you.) I much prefer the lines of the 2009 Chevrolet Corvette ZR1, thank you very much.
Barack Doesn't Drive A Pontiac: Last month, everyone was talking about The Oprah Bump. Now people are asking, "What Oprah Bump?"
In 2004, Oprah gave away Pontiacs to help promote the "game-changing" G6. But, Pontiac never got an Oprah Bump. The G6 sells at about the same rate as the Grand Am it replaced. The GA was always a familiar sight in rental car lots. Today, 44.9% of Pontiac sales are fleet vehicles.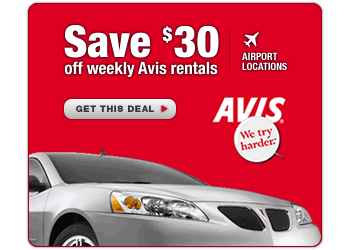 Oprah recently did a whirlwind tour to promote Barack Obama's candidacy. But, if you look at the Iowa poll numbers, Barack has exhibited a fairly steady rise since July '07. Credit for Obama's increased popularity, decisive Iowa victory and ever-improving viability as a presidential candidate should go to him, his campaign staff and his supporters - not to Oprah. Or her Bump.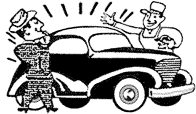 The View Through The Rearview Mirror: In the auto sales stats game, Mazda was a big winner in 2007, racking up a 9.8% gain in sales.
Jaguar was the biggest loser with a sales drop of 24.4%, followed by Buick (-23%) and Hummer (-22%). Pontiac was down by 13% (What Oprah Bump?); so was Chevy (-6.5%).
Americans don't seem to like the Swedes: Saab (–10.3%) and Volvo (–8.6%) were both down for the year. Lincoln sales increased 8.8% but Mercury's decreased.
Overall FoMoCo sales were down by 12.1%; GM (–6.5%) and Chrysler (–3.4%) showed declines, too. BMW was up (+6.7%), as were Honda (+2.5%), Nissan (+4.5%) and Toyota (+2.9%).
2008 will be an interesting year.
Getting A Leg Up On Yoko: From The Daily Gut: "With every day that Heather Mills mines for gold, conversely Yoko Ono creeps away from being the least loved Beatles' wife."
This brings to mind the joke posted by MissMac: "I knew a chap with a wooden leg named Smith." "What was the name of his other leg?"
Legal Complaint Of The Week: An inmate is suing the Utah Department of Corrections for denying him his right to practice an ancient Nordic religion while behind bars.
"Michael Polk is serving time for aggravated assault and robbery. He filed a lawsuit against corrections officials in federal court, accusing them of denying him religious items that he says are necessary to practice the Asatru religion. In the lawsuit, Polk says he has been a member of the Asatru faith since 2005, and in order to properly practice it he needs items including: a Thor's Hammer, a prayer cloth, a Mead Horn used for drinking Wassail, a drum made of wood and boar skin, a rune staff and a sword."
I know what they should do with his rune staff.
Attention-Grabbing Headline: 'Woman Ticketed After Goats Caught Mating'. In Dibble, Oklahoma, a woman received two tickets after her goats were caught mating and relieving themselves on her own yard.
"City law said it is illegal for any two animals to have sex in public within Dibble city limits. It's also against law for them to relieve themselves in public even if the animal is fenced in on private land."
Inconsequential Headline Of The Week: 'Nader throws support to Edwards'.
Quip Of The Week: Kathy Shaidle's web page title (visible at very top of browser window) has ever-changing, amusing sub-heads. Last week it was: "Global Warming - the Loch Ness monster of weather".
Now That Mr. Wizard Is Dead ... we must seek new ways to get educated about helium. It's the King of Elements, you know. After all, "everybody needs to get a blimp, cause blimps are pretty pimp."
And, "you need helium to fill that bitch up."
Instant Infarction: Bacon-topped cookies. The bacon isn't inside the chocolate chip cookie - rather the cookies are made up with maple flavored icing, then adorned with pieces of bacon.
As Homer Simpson says, "Mmmmmmm. Bacon."
Quote Of The Day is from Thomas Sowell: "Those who are looking forward to a second Clinton administration should remember what they say about movies - the sequel is seldom as good as the original. And the original Clinton administration was not all that great."