---

1956 Ford: $56 for '56
The 1955 model year was a stellar period for American automobiles. Chevrolet and Plymouth sported all-new bodies and, for the first time, V-8 engines. Ford offered a substantial restyle with interesting side chrome, prehensile fins and a wraparound windshield but the basic body was based on the 1952 model. While Ford's engines were more powerful than the prior year, Ford's overhead-valve V8 had debuted in the '54 models.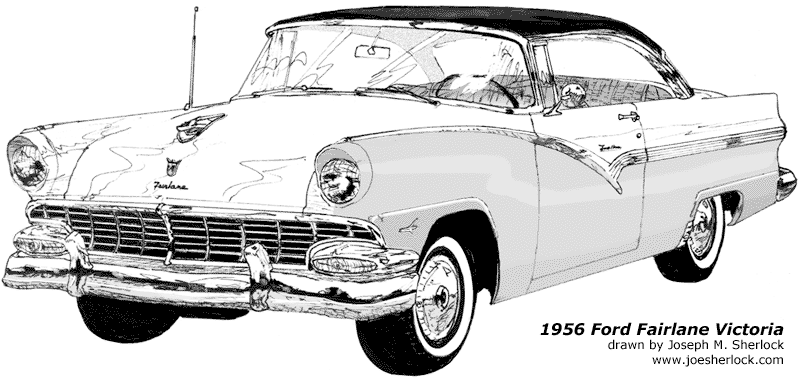 Plymouth and Chevy received some style updating in 1956, as did Ford. But it was a holding action until the next big restyle ('57 for Ford and Plymouth, '58 for Chevrolet.)

For '56, the eggcrate grille featured on the 1955 Fords was widened into a series of rectangles, but this subtle exterior change was nothing compared to Ford's adoption of a 12-volt electrical system across the line. A 223 cubic inch, 6-cylinder and three different-displacement (272, 292, 312) V8 engines could be had. All Fords rode on a 115.5 inch wheelbase and had an overall length of 198.5 inches.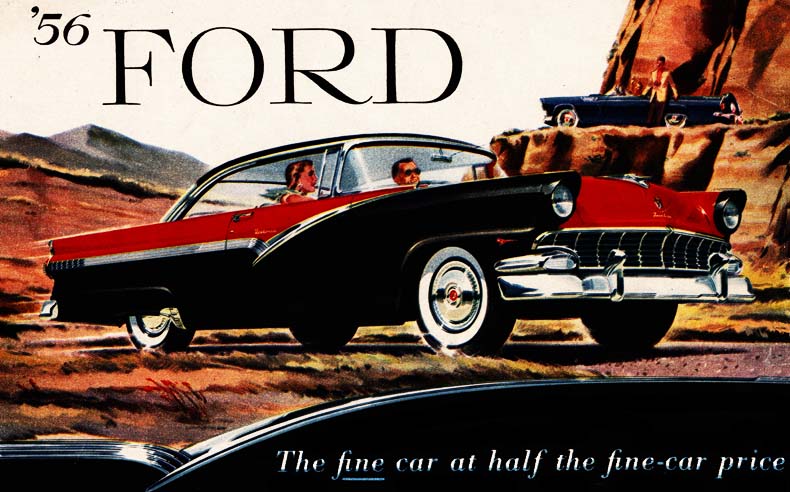 One of the most popular '56 models was the Fairlane Victoria coupe shown in the sketch. Over 645,000 Fairlane models were sold that year. A new addition at midyear was the Town Victoria 4-door hardtop model which, along with the new Customline 2-door hardtop coupe, were meant to compete with the Chevrolet Bel Air models. The flagship Plexiglas-roofed Crown Victoria Skyliner's sales plummeted with just 603 '56 models made; it would be replaced by a retractable hardtop with the Skyliner appellation the following year. 58,146 Sunliner soft top convertibles found buyers in 1956.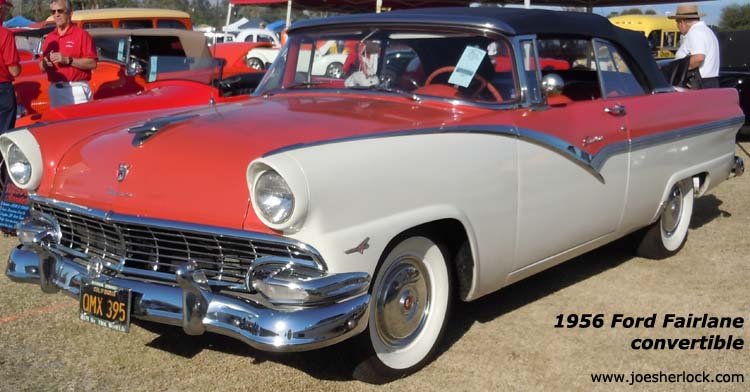 Ford was the only manufacturer that year to offer a Lifeguard safety package - consisting of seat belts, a padded dashboard and a breakaway rearview mirror - was introduced. It was not a big seller, even though a then-obscure Ford employee by the name of Lee Iacocca demonstrated the resilience of U.S. Rubber's Ensolite foam dashboard padding by dropping an egg on it, while standing on a ladder - live on the Ed Sullivan Show. The egg did not break.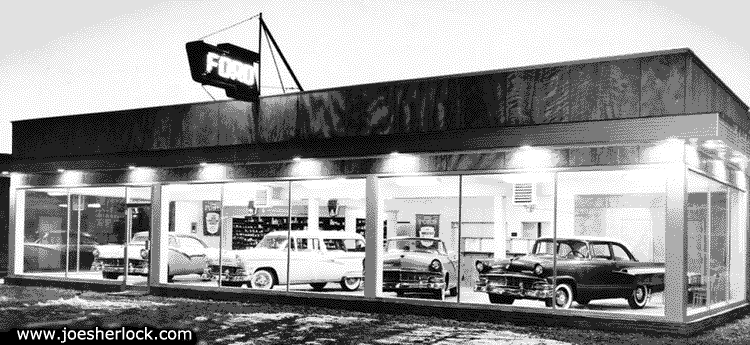 As regular readers know, I love chrome. Therefore, I'm jealous of those 1950s Canadians who could buy cars which looked like American ones but had 23 extra pounds of shiny stuff. Compare the 1956 Ford Fairlane with the 1956 Meteor Rideau:

Lee Iacocca later gained fame within the Ford Motor Company by coming up with $56 for '56, a financing scheme which would put buyers in a brand new '56 Ford Mainline with $56 per month financing. 1956 was a very good year for Ford.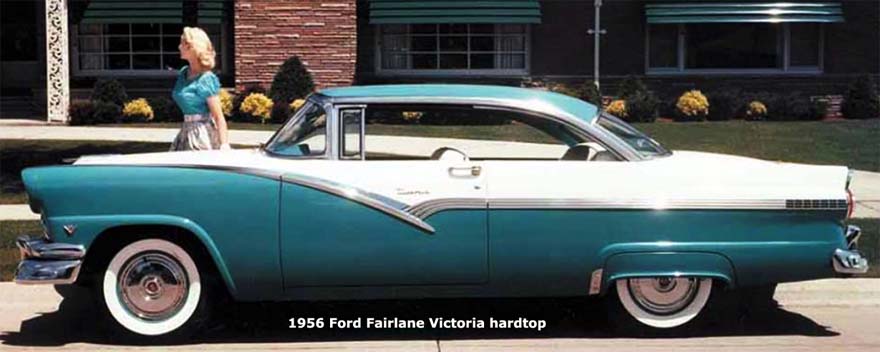 Sales were only slightly off from 1955's record-breaking year. A total of 1,392,847 1956 Fords were sold in the U.S.

I have a soft spot for 1956 Fords because I learned to drive in one. In early 1956, my dad bought a brand new 1956 Ford Mainline Tudor. It was a stripper - no radio, blackwall tires - but it did come with optional full-wheel covers and the optional three-speed overdrive hooked to the base ohv 6-cylinder 137 horsepower engine. Base price was $1850; curb weight of the Mainline was 3,143 pounds.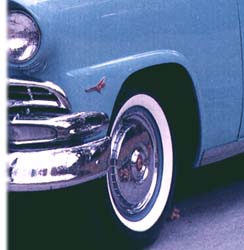 Over 164,000 Mainlines were sold that year. Many to fleets. Philadelphia's police cars were all Ford Mainlines - red ones for the cops, navy blue for the Fairmount Park Police and unmarked Aquatone Blue ones - just like ours - for the city's Detective Squad.
I had lots of adventures in that '56 - too many to enumerate here. I personally blew the clutch out of it speed-shifting from first overdrive to straight second at 55 mph or so. My dad was not happy. He was also unhappy that I put Port-O-Walls on the tires and Pep Boys fake Thunderbird emblems (signifying that the car had a hot 312 cu. in. V8 motor under the hood) on the front flanks.
In October of 1960, a friend and I fastened a Kennedy-for-President poster to the front of my dad's '56 Ford and we drove up Frankford Avenue (in Northeast Philadelphia) about 500 yards ahead of the convertible (a Buick, I think) in which candidate JFK was riding. Try breaking into a Presidential candidate's motorcade today. You'll be quickly shot with Uzis wielded by the Secret Service.
In 1961, I was driving my dad's Ford at about 65 mph, when the light ahead changed to red. When I braked, the steering wheel was almost ripped out of my hands as the car pulled violently to the left, jumping across three lanes. Luckily, I didn't wipe out.
The cause of the odd behavior was rust-out, resulting in the left lower A-frame detaching itself from the car's chassis. Fords of the era were notorious rust buckets.
The Ford Mainline - the first new car my dad had ever purchased - was replaced by a new Volkswagen Beetle. It was the first furrin' car in our neighborhood.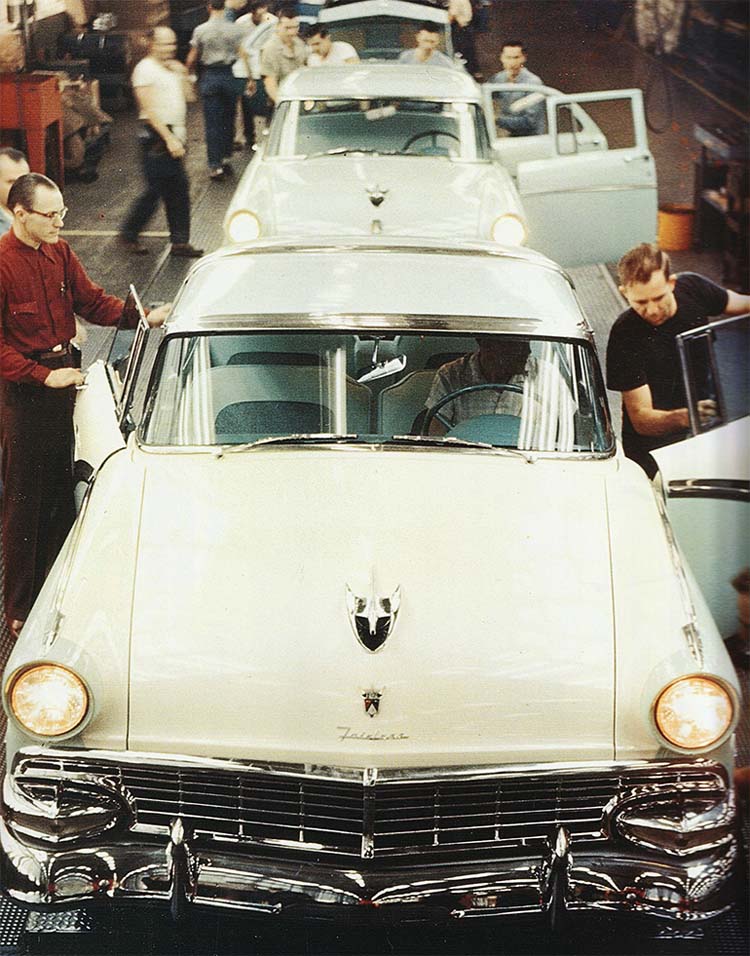 My dad never bought another American-made car. (posted 10/29/10)
---
There are numerous toy and model versions of the 1956 Ford.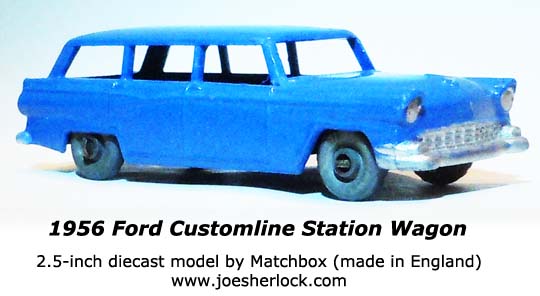 In the late 1950s, Lesney Products of England produced a small Matchbox model of a 1956 Ford Customline station wagon.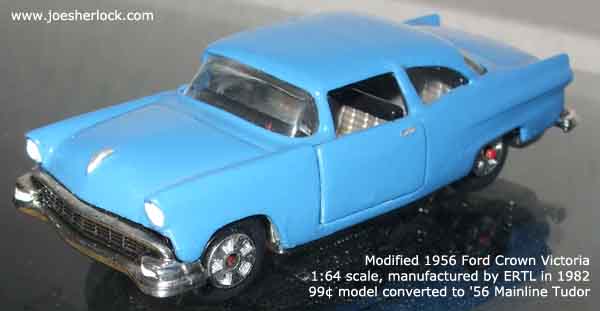 One of my favorites is a a three-inch long ERTL toy. It was originally a fancy black Crown Victoria model but - in the summer of 1982, I ground off the roof and side trim, converting it to resemble a Mainline Tudor. Then I repainted it blue and repainted the interior in the stark charcoal and gray Mainline interior color combo.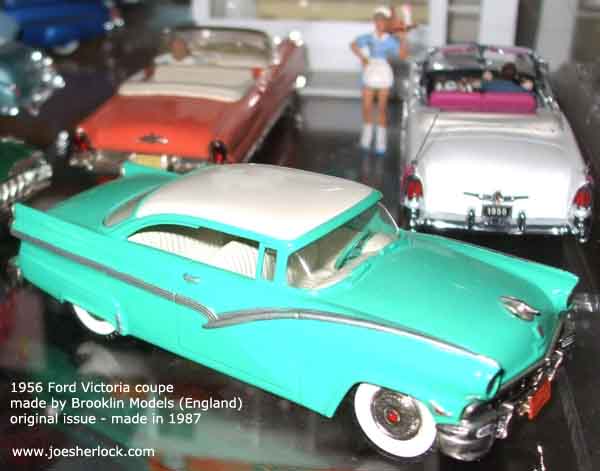 Another favorite is an original issue 1:43 scale Fairlane Victoria two-door hardtop, centrifugally cast in 1987 at the Brooklin Models factory in Bath, England.
These miniatures bring back pleasant '56 memories every time I look at them.
Remember When: 1956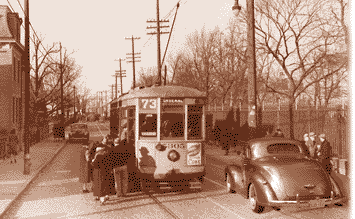 In 1956, cultural icon-to-be Elvis Presley appeared on the national scene with several #1 selling records. Elvis used some of his earnings to buy a '56 Premiere coupe (wisteria with a white roof) and, later, a white Mark II.

New products included Raid insecticide, Crest toothpaste and Comet cleanser. Ford Motor Company went public, issuing stock. Midas Muffler and Burger King began franchising. The 'Dear Abby' advice column debuted.

New words for 1956 included brainstorming, brinkmanship, industrial park and tranquilizer. Ike was reelected. Dean Martin and Jerry Lewis split up. Briget Bardot mode her film debut in 'And God Created Woman.' 'In God We Trust' became the U.S. motto.

Grace Kelly married Prince Rainier of Monaco. Chrysler and Packard offered pushbutton transmissions; Packard also offered power door locks. The first Volvos (PV444 models, which reminded folks of a shrunken '47 Ford) were imported to the U.S. Ford offered seat belts and padded dashboards as options and dished steering wheels as standard equipment, touting its cars as safer. The public wasn't interested, then-sales manager Lee Iacocca developed the oft-heard axiom, "Safety doesn't sell."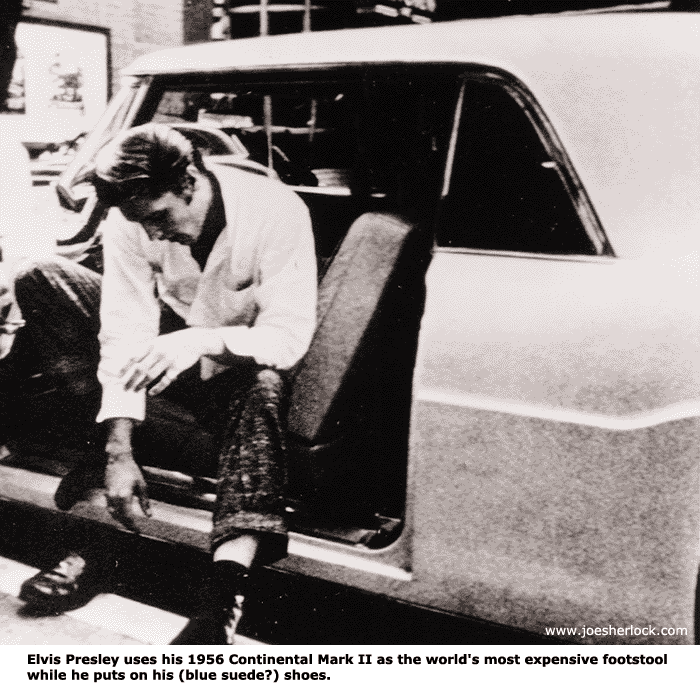 Best-selling songs of 1956 were Elvis' 'Hound Dog' and 'Don't Be Cruel'. Other record hits included Guy Mitchell's 'Singing the Blues', Fats Domino's 'Blueberry Hill', The Platters' 'My Prayer' and 'The Great Pretender', Carl Perkins' 'Blue Suede Shoes', 'The Wayward Wind' by Gogi Grant, Pat Boone's 'I Almost Lost My Mind', Dean Martin's 'Memories Are Made of This', 'Hey Jealous Lover' by Frank Sinatra and Elvis Presley's 'Heartbreak Hotel.'
Top 1956 movies included 'The Ten Commandments', 'Around the World in 80 Days', 'Giant', 'The King and I', 'Love Me Tender' and 'High Society'. In 1956, a movie ticket cost 60¢.
Deaths included actor Bela Lugosi, automobile manufacturer Preston Tucker, bandleader Tommy Dorsey, essayist H.L. Mencken, baseball legend Connie Mack, abstract artist Jason Pollock and comedian Fred Allen.
The Yankees won the World Series over the Brooklyn Dodgers: 4 to 3.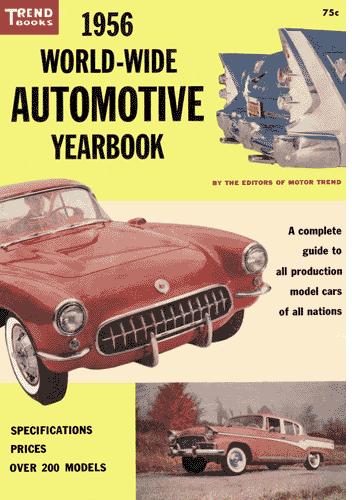 Other Pages Of Interest
copyright 2010-21 - Joseph M. Sherlock - All applicable rights reserved
---
Disclaimer
The facts presented on this website are based on my best guesses and my substantially faulty geezer memory. The opinions expressed herein are strictly those of the author and are protected by the U.S. Constitution. Probably.
Spelling, punctuation and syntax errors are cheerfully repaired when I find them; grudgingly fixed when you do.
If I have slandered any brands of automobiles, either expressly or inadvertently, they're most likely crap cars and deserve it. Automobile manufacturers should be aware that they always have the option of giving me free cars to try and change my mind.
If I have slandered any people or corporations, either expressly or inadvertently, they should buy me strong drinks (and an expensive meal) and try to prove to me that they're not the jerks I've portrayed them to be. If you're buying, I'm willing to listen.
Don't be shy - try a bribe. It might help.
---