---

1956 Facel Vega

For every athlete, there's a competitor. For every nation, there's an enemy. For every political candidate, there's an opponent. And if there isn't, the press will invent one. So, in September of 1956, Motor Trend magazine carried a tag line on its cover announcing that a road test of the Continental Mark II's new competitor was to be found inside. And the test itself carried the title '1956 Facel Vega: Strong Competition For The Mark II'.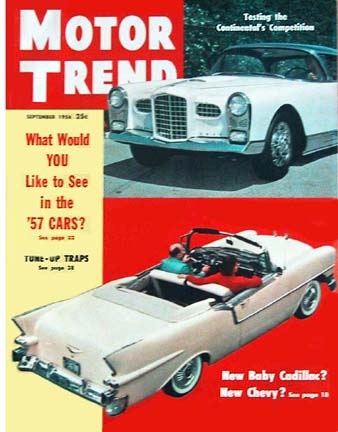 Certainly, there were some superficial similarities - a cleanly-styled coupe body, big American V8 power, luxurious interior appointments and a steep price tag. Both cars made their debut at the Paris Auto Show. Both cars began production in 1955. Both cars were virtually hand built. But there were more differences than similarities. The Facel Vega was built in France by Facel S.A., a specialist bodybuilder who supplied automobile bodies for Simca, Ford France and Panhard. It was powered by a 255 horsepower, 330 cubic inch Chrysler Hemi V-8. The engine was mated to a Chrysler Torqueflite automatic transmission or a 4 speed Pont-a-Mousson manual transmission.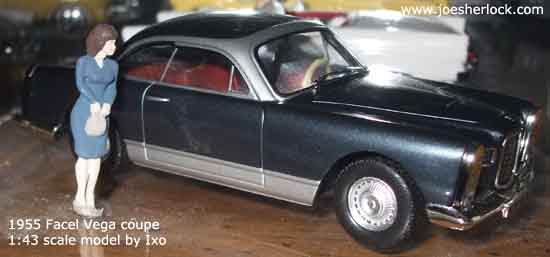 The Facel was much sportier than the Mark II. It had leather front bucket seats, wire wheels and was over 3 feet shorter and 1000 pounds lighter than the Continental. Rear passengers were pretty cramped in the 103 inch wheelbase Facel. Walt Woron tested the car for Motor Trend and praised its luxury and its sports car handling. Even Road & Track liked the Facel Vega, noting that it blended "European styling with a hefty U.S. V8 and - most important - one which can wow the local peasantry in 48 states without fear of being stranded for lack of parts."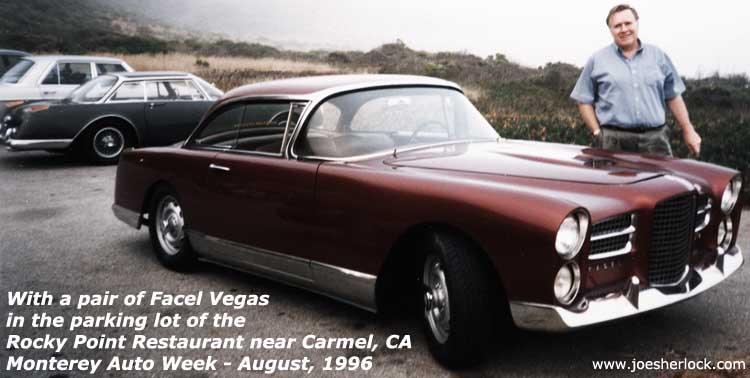 A four-door luxury sedan, the Facel Vega Excellence, was unveiled at the Paris Auto Show in October 1956. The V8-powered sedan offered some styling elements usually found on American cars of the era - tailfins, a wraparound windshield, and the pillarless hardtop body style.The car was equipped with suicide doors as well. Only 156 examples were produced between 1958 and 1964.

The car was equipped with suicide doors as well. Only 156 examples were produced between 1958 and 1964.

I saw a burgundy Excellence parked at the entrance to Episcopal Academy in Fall, 1958. I was getting off the football bus as our school's JV team was preparing to play the lads from Episcopal in suburban Philadelphia. I don't remember how the game turned out but I'll never forget the sight of that striking French sedan.
So, what happened with this Mark II 'competitor'? Not much. Despite nice reviews, a limited dealer network and some service and reliability problems caused the Facel Vega to become a mere footnote in U.S. automotive history. Because of the differences in intent - exclusive 2+2 sporty versus exclusive 5 to 6 passenger luxury - it is doubtful that most prospective purchasers of one car gave much thought to the other.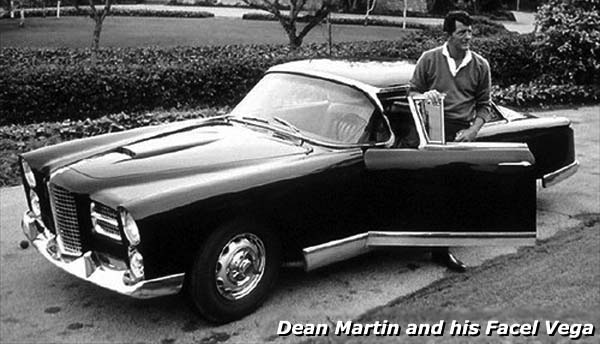 Like the Mark II, the rich and famous were attracted to the Facel Vega; owners included Stirling Moss, Ava Gardner, Danny Kaye, Tony Curtis, Dean Martin, Ringo Starr and Pablo Picasso. (Noted French author Albert Camus was killed in 1960 while in a Facel Vega which hit a tree at 120 miles per hour.) Facels are relatively rare - in nine years of production, less than 1,200 V8 examples were built compared with over 3,000 Mark IIs produced in a mere two year period. In January of 1964, Facel S.A. went into liquidation. The Facel Vega was no more.
There is another attribute that the Facel Vega and the Continental Mark II share - sixty-plus years later, they are still stunningly handsome cars. (posted 7/3/08)
Remember When: 1956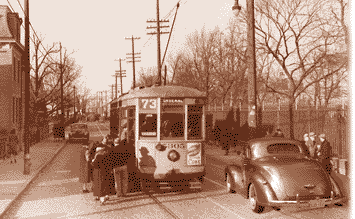 In 1956, cultural icon-to-be Elvis Presley appeared on the national scene with several #1 selling records. Elvis used some of his earnings to buy a '56 Lincoln Premiere coupe (wisteria with a white roof) and, later, a white Continental Mark II.

New products included Raid insecticide, Crest toothpaste and Comet cleanser. Ford Motor Company went public, issuing stock. Midas Muffler and Burger King began franchising. The 'Dear Abby' advice column debuted.

New words for 1956 included brainstorming, brinkmanship, industrial park and tranquilizer. Ike was reelected. Dean Martin and Jerry Lewis split up. Briget Bardot mode her film debut in 'And God Created Woman.' 'In God We Trust' became the U.S. motto.

Grace Kelly married Prince Rainier of Monaco. Chrysler and Packard offered pushbutton transmissions; Packard also offered power door locks. The first Volvos (PV444 models, which reminded folks of a shrunken '47 Ford Tudor) were imported to the U.S. Ford offered seat belts and padded dashboards as options and dished steering wheels as standard equipment, touting its cars as safer. The public wasn't interested, then-sales manager Lee Iacocca developed the oft-heard axiom, "Safety doesn't sell."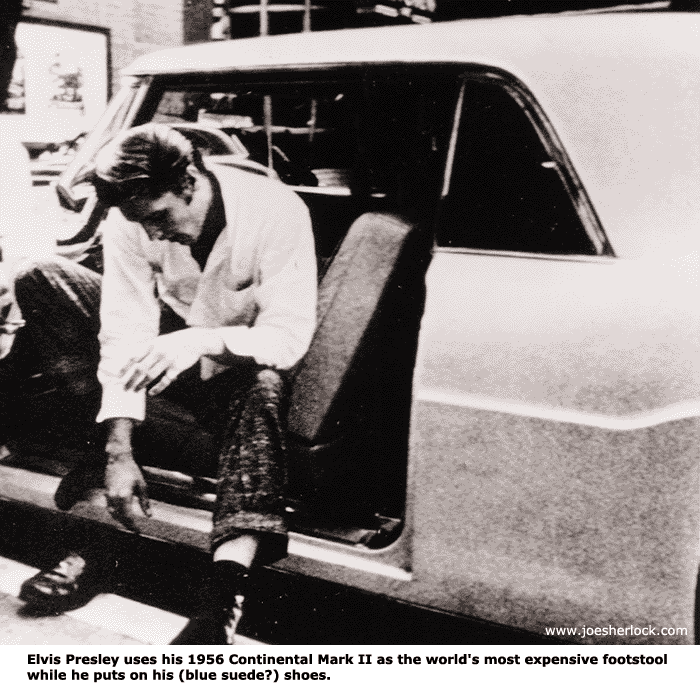 Best-selling songs of 1956 were Elvis' 'Hound Dog' and 'Don't Be Cruel'. Other record hits included Guy Mitchell's 'Singing the Blues', Fats Domino's 'Blueberry Hill', The Platters' 'My Prayer' and 'The Great Pretender', Carl Perkins' 'Blue Suede Shoes', 'The Wayward Wind' by Gogi Grant, Pat Boone's 'I Almost Lost My Mind', Dean Martin's 'Memories Are Made of This', 'Hey Jealous Lover' by Frank Sinatra and Elvis Presley's 'Heartbreak Hotel.'
Top 1956 movies included 'The Ten Commandments', 'Around the World in 80 Days', 'Giant', 'The King and I', 'Love Me Tender' and 'High Society'. In 1956, a movie ticket cost 60¢.
Deaths included actor Bela Lugosi, automobile manufacturer Preston Tucker, bandleader Tommy Dorsey, essayist H.L. Mencken, baseball legend Connie Mack, abstract artist Jason Pollock and comedian Fred Allen.
The Yankees won the World Series over the Brooklyn Dodgers: 4 to 3.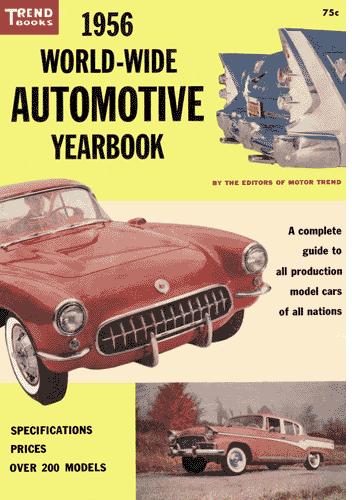 illustration copyright 1996, 2008 Joseph M. Sherlock
---
Other Pages Of Interest
copyright 2008-18 - Joseph M. Sherlock - All applicable rights reserved
---
Disclaimer
The facts presented in this blog are based on my best guesses and my substantially faulty geezer memory. The opinions expressed herein are strictly those of the author and are protected by the U.S. Constitution. Probably.
Spelling, punctuation and syntax errors are cheerfully repaired when I find them; grudgingly fixed when you do.
If I have slandered any brands of automobiles, either expressly or inadvertently, they're most likely crap cars and deserve it. Automobile manufacturers should be aware that they always have the option of trying to change my mind by providing me with vehicles to test drive.
If I have slandered any people or corporations in this blog, either expressly or inadvertently, they should buy me strong drinks (and an expensive meal) and try to prove to me that they're not the jerks I've portrayed them to be. If you're buying, I'm willing to listen.
Don't be shy - try a bribe. It might help.
---
---