These days, calling a car an 'appliance' is considered an insult. It wasn't always so.
Appliances were new-fangled and wondrous things in the 1920s. My maternal grandparents didn't get an electric refrigerator until the 1930s. As a teenager, I could still see and touch the zinc-lined, mahogany ice box which my grandmother kept in the basement - 'just in case' electricity was repealed.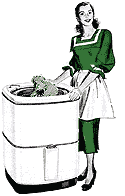 Although Bendix introduced the first automatic washing machine in 1937, most households didn't have automatic washers until after World War II.
Kelvinator was among some two dozen home refrigerator brands introduced to the U.S. market in 1916. By 1923, Kelvinator had grabbed an astounding 80% of the market for electric refrigerators.
The Depression of the 1930s hit the appliance market hard; sales dropped by almost 35%. George W. Mason assumed control of Kelvinator in 1928. Under his leadership, the company lowered its costs while increasing market share through 1936 - a remarkable feat.
When Charles Nash, founder of Nash Motors began looking for his successor, he turned to George Mason. Mason initially rebuffed Nash's offer, but relented when Nash agreed to merge Nash and Kelvinator. High value per dollar was the key to success in the appliance field and Mason brought his philosophy and skill at Nash, bringing unibody construction, lower-weight and better features to the company's automotive offerings.
Nash was always a mid-priced car but, in the postwar era, Mason realized that he needed to break into the low-priced field. But the firm needed to offer something more than just another "me-too" car. The result was the Nash Rambler, introduced in mid-April 1950. The car was smaller than any of the low-priced three offerings but was loaded with standard equipment, including whitewall tires, electric clock, wheel discs, pushbutton radio; Weather-Eye heater/defroster, foam seat cushions and courtesy lights. Interior trim was elegant; Rambler's chic fabrics and coordinated colors were designed to appeal to the feminine eye.
A three-speed manual transmission came standard, with overdrive as an option. The new Nash Rambler weighed in at just 2,430 pounds and with its 82 horsepower, L-head six, was reasonably peppy for the era. This small, light car was a gas sipper too; owners reported 20-25 mpg in normal use. The 100-inch wheelbase gave the Rambler maneuverability and nimbleness. At 178 inches, the little Nash was more than 21 inches shorter than a 1950 Chevrolet.
Sales got off to a slow start, partly due to Korean War material restrictions. In 1950, only 11,422 Ramblers were sold. But in 1951, sales exceeded 70,000 units. In 1951, the Rambler convertible and station wagon were joined by a handsome Country Club two-door hardtop in Custom trim, priced at $1,968. Also joining the line was the Suburban, a family station wagon in Super trim priced $108 less than the fancier Custom wagon.
Buyers continued to flock to showrooms, impressed by the little Nash's sturdiness and high level of standard trim. Rambler's basic engineering was first-rate and it proved to be a sturdy, well-built machine. While cheapie, 'stripper' small cars like the Henry J and Willys Aero faded quickly, the Rambler found success.
In 1952, sales topped 80,000. With modest restyles, the original design soldiered on until the 1956 model year, when a new, larger Rambler was introduced. By the 1958 model year, the Nash brand had gone to the great junkyard in the sky, while the Rambler was restyled and took front and center at the company then known as American Motors.
Legendary road tester Tom McCahill of Mechanix Illustrated put the new Rambler through its paces. He wrote, "I was frankly amazed at the pick-up ... Zero to 60 in 16.9 seconds wasn't bad but the real surprise was going zero to 30 in 4.4 seconds! This is jump starting in any league."
Mason's successor, George Romney, dusted off the original Rambler dies and resurrected the rotund little Nash, christening it the Rambler American (photo and more details here). In 1958, over 30,000 Americans were sold; in '59, sales topped 90,000 - a testament to a sound, near-timeless design. (8/30/10)
PS: In the late 1980s, Franklin Mint offered a 1:43 scale diecast model of the first-generation Nash Rambler as part of its 'Classic Cars of the Fifties' series. I have one in my model car collection.