---
2016 Scottsdale Auctions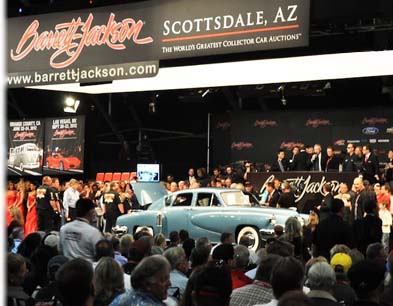 As usual, the various Arizona collector vehicle auctions were full of aging white dudes with buckets of cash bidding up car prices toward the stratosphere as they sought their automotive nirvana du jour. Or the nostalgia of their youth.
How old are these guys? Looking at the televised Barrett-Jackson events, I'd guess that the age of the average seat holder was 50-65. Hemmings Motor News used to claim that its average subscriber was 52 years-old. And that number didn't change much from decade to decade.
It makes sense: By one's early 50s, the kids are out of college and out of the house, the mortgage is shrinking (or paid off) and it's usually peak income time at work. This adds up to Disposable Income to spend on various toys.
It's impossible to cover the various auctions in their entirety, so here is a sampling of cars that I found interesting:
At Bonhams, the first production Kaiser Darrin - a white one with the signature 'Darrin dip' on the side of the body and its unique sliding doors - crossed the block at $198,000. Only 435 Kaiser Darrins were made.
The same auction company sold a 1962 Mercedes-Benz 300SL Roadster for $1,485,000; a 1971 Ferrari 365 GTB/4 Daytona Berlinetta which went under the gavel for $1,155,000; a 1928 Mercedes-Benz 630K La Baule Transformable, which crossed the block at $973,500; a 1935 Hispano-Suiza K6 cabriolet, which sold for $869,000 and a 1965 Aston Martin DB5 sports saloon, which sold for $781,000.
Gooding & Co. sold a blue 1956 Mercedes-Benz 300C station wagon for $489,500, a black 1953 Hudson Hornet convertible for $187,000 (exceeding the pre-auction estimate by more than 50%) and a red 1952 Allard J2X for $451,000.

A blue 1950 Ferrari 166MM/195 S Berlinetta LeMans with an awkward and dowdy-looking body (originally purchased by Briggs Cunningham and later owned by Henry N. Manney III from 1955 to '56) was sold by Gooding for $6,490,000. It was one of six produced and was a Salon Car at the Paris Auto Show.
Gooding also sold a burgundy 1958 Dual-Ghia convertible for $363,000.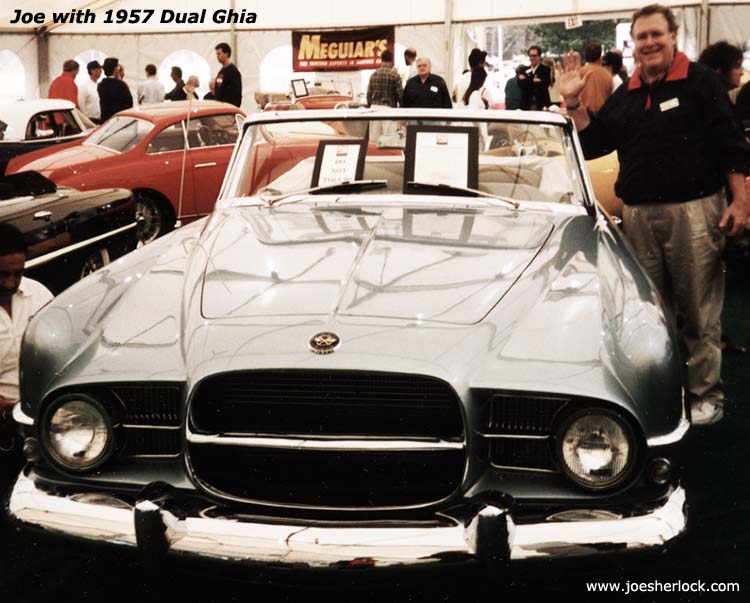 It was one of about 100 D-Gs built. A red 1990 Ferrari F40 fetched $1,534,500, while a red and dark blue 1929 Duesenberg Model J Dual Cowl Phaeton sold for $2,420,000. A dark gray 1962 Facel-Vega II sold for $280,500.
RM Sotheby auctioned a red 1937 Mercedes-Benz 540K Special Roadster for record $9.9 million. When it was new, the 1937 model was delivered to the United States and bought by Reginald Sinclaire, an heir of one of the founders of Corning Glass, for $12,000. The car is believed to have been driven fewer than 11,000 miles in the past 79 years.
Offered from 1936 to '38, the Mercedes 540K was one of the most handsome prewar sports touring cars produced. About 400 examples were made and featured mother-of-pearl instrument panels, rich leather seats and a signature swept-back windshield, flanked by twin spotlights. The massive 5,500-pound roadster could easily top 100 mph on Germany's Autobahn.
I got a close-up look at a silver 540K at the 2011 Allure of the Automobile event. A 540K was featured in the 1941 movie comedy, 'Topper Returns'.
RM Southeby also sold a red and black 1956 Austin-Healey 100M 'Le Mans' - one of 640 built - for $203,500.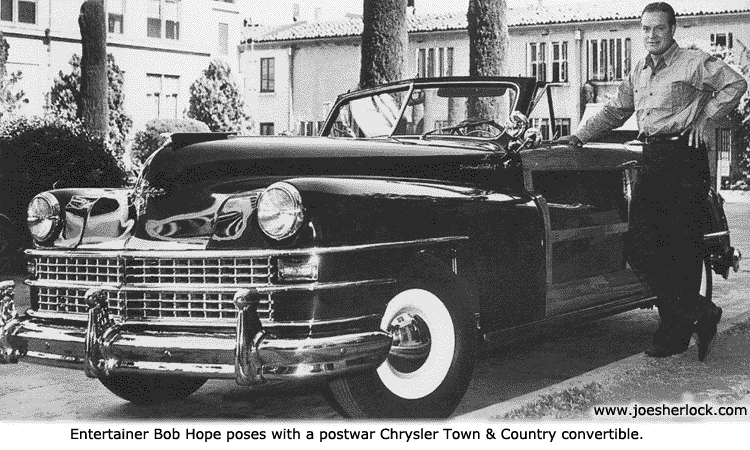 The auction firm sold a light tan 1947 Chrysler Town & Country 'woody' convertible for $170,000 and a silver '55 Mercedes 300 SL Gullwing with a red interior for $1,155,000.
A medium-dark blue (Blue Sera) 1962 Maserati 5000 GT coupe, with the 340 horsepower V8 and five-speed manual transmission - one of 20 bodied by coachbuilder Allemano - sold for $1,540,000. A Murphy-bodied red 1929 Duesenberg convertible coupe fetched $3,000,000. A black 1938 Lincoln Zephyr four-door convertible sold for $66,000.

A 1959 black Chevrolet Impala convertible was sold by Southeby's for $104,500. It looked just like the one my friend Marty Hayes had in college.
At Barrett-Jackson there seemed to be fewer 'not sold' vehicles than last year, indicating a hot market. Prices seemed higher than expected for many of the vehicles sold, especially for pickup truck resto-rods. As usual, there was a plethora of Corvettes, muscle cars, pony cars and older cars with updated powertrains and chassis components. (If I don't see another Mustang, Camaro or Chevelle for the next three months that will be just fine with me.) I watched the B-J proceedings on television; here are some vehicles that caught my eye.
• A Boyd Coddington 1930 Ford Model A-based hot rod roadster in fire engine red, with a small block Chevy V8 engine sold for $100,000.

Boyd Coddington's final creation was a one-off tribute to coachbuilder Delahaye, dubbed The French Connection. It is a custom-bodied, swoopy red and black roadster riding on a custom built chassis. It was powered by a unique, all-aluminum, 12.8 liter hemi V12 engine - an Italian marine motor - coupled to a four-speed transmission. It had a custom red and black ostrich leather interior.

It was expected to fetch at lest $1 million but - in a no-reserve auction - found a buyer at the relative bargain price of $370,000.

Twenty-five years ago, this same car would have commanded almost the same price so, if return on investment is your reason for wanting a classic car, this one would not have been a good choice.

• A black 1941 Ford Deluxe Tudor - a good-looking, older restoration - was sold for $12,000. In 1941, the $762 Deluxe Tudor was the most popular body style; 171,308 were produced.

Fords came in a variety of colors that year.

• A 1948 Plymouth Deluxe five-window coupe gaveled down at $23,100. The car still had a flathead six engine but it was mildly hopped up. The car was painted bright red and was mildly customized with a few mechanical upgrades.

• A 1950 Packard Super Eight convertible, done in a bright red was sold for $70,000. Only 800 of these convertibles were made in 1950 but this one is unique: The body has been fitted over a 1995 Chevy SS frame and the vehicle is powered by a modern Corvette LT1 engine. This modified bathtub Packard had a custom tan leather interior as well.

• A gorgeous, ruby red 1953 Buick Skylark convertible with a Continental kit sold for $120,000. This restored auto had the original; Fireball V8 engine which produced 188 horsepower. Only 1,690 examples were produced and were originally priced at $5,000 - a lot of dough in '53.

• A light blue 1953 Cadillac Eldorado convertible - with matching blue leather interior - was sold for $235,000. 1953 was the first year of Eldorado production. At $7,750, this top-of-the-line Caddy model was priced close to Rolls-Royce levels. Only 533 were produced in '53.

• The very last 1953 Chevrolet Corvette produced - a white one because white was the only color Corvette made in '53 - sold for a whopping $485,000.

Corvettes began rolling off a makeshift assembly line in Flint, Michigan on the very last day of June 1953. Only 300 '53 models were made - all were finished in Polo White with a black fabric top and red interior. Nearly all 1953 production was allocated to VIPs - General Motors execs, DuPont family members, movie legend John Wayne and NBC's 'Today' host Dave Garroway, who starred in the first Corvette promotional film. In the movie, Garroway noted - with a straight face - that the automatic shifter is put on the floor "in keeping with sports car tradition."

• A Pennant Blue 1954 Chevrolet Corvette with the 150 horsepower Blue Flame inline six engine hooked up to a two-speed Powerglide transmission sold for $200,000.

This restored Vette had a beige interior.

• A nice-looking, baby blue 1954 Mercury Monterey hardtop coupe with a hopped-up period Cadillac V8 engine sold for $100,000. Fords, Mercuries and Lincolns has such similar lines in the 1952-'54 period, that a '54 Merc could be easily mistaken for a customized Ford. Or Lincoln.

• A 1955 Packard Caribbean convertible, in white over red and black trim with a matching tri-tone interior, found a new owner for $120,000.

Priced at $5,932 when new, Caribbeans were equipped with a 275 horsepower version of Packard's all-new V8 engine. In 1955, only 500 Caribbeans were produced.

• A customized black 1956 Continental Mark II crossed the auction block at $200,000. The coupe was fitted with chrome wire wheels, a custom red dash and interior with front bucket seats.

Power was provided by a custom-built aluminum 482 cubic-inch V8 engine fitted to a 4-speed transmission with overdrive.

• A nicely-restored 1956 DeSoto Fireflite convertible in a pink and charcoal color scheme sold for $120,000. A 1957 DeSoto Adventurer convertible - black with gold trim - was sold for $150,000.

The '57 model cost $4,272 when new. No one wanted DeSotos when Chrysler made 'em; now they're a hot auction item.

• A 1957 pale yellow BMW Isetta 300 microcar was sold for $55,000. The Isetta was designed by the Italian manufacturer, Iso SpA. Several other manufacturers, including BMW, obtained licenses to produce the little car. BMW used its single-cylinder, four-stroke, 247 cc motorcycle engine which produced 13 horsepower. Top speed of the Isetta is 53 mph - if you're brave.

BMW made 161,728 Isettas during its production run from 1955 to '62. In the Pixar movie, 'Cars', Guido is an Italian Iso Isetta with a forklift attached.

• A very-rare 1957 Chevrolet El Morocco convertible (black with a red interior) went under the gavel at $165,000. The El Morocco was an ersatz Caddy Eldorado made by customizing Chevrolet Bel Airs to look like Cadillacs. Millionaire Detroit industrialist and car enthusiast Ruben Allender was the developer and producer of these cars.

In 1957, only 16 El Moroccos were built; most were two or four-door hardtops. There were only one or two convertibles made, selling new for $2,950 - about $500 more than the equivalent Bel Air model. Allender eventually gave up on his venture because it was too unprofitable.

• A white 1957 Ford Fairlane 500 Skyliner retractable hardtop sold for $65,000. This all-original car which looked new - had only 9,800 miles on the odometer. This was the first year of Ford's three-year run of retractables. Skyliners were the most costly of Ford's non-Thunderbird offerings and weighed 480 pounds more than the Sunliner convertible. This one had a Continental spare tire kit installed which made it even heavier. In 1957, 20,766 Skyliners were produced.

• A 1957 Ford Thunderbird, white with a black interior, powered by a stock 312 cu. in. V8 engine coupled to the Ford-O-Matic auto tranny, sold for $75,000.

It had both tops. Ten to twenty years ago, prices for two-seat Thunderbirds seemed to be stalled in the $25-30,000 range. In recent years, they've become a hot item again, commanding higher prices.

Shortly thereafter, a metallic gray E-series Thunderbird, meaning it has the rare, dual 4-barrel carbed engine, sold for an amazing $260,000. It had both tops and a red interior.

• A 1957 Plymouth Fury two-door hardtop, wearing the requisite white body with gold trim, sold for $50,000.

In '57, Plymouth made 7,888 of these 290 horsepower, befinned coupes.

• A cream-colored 1959 Mercedes 190 SL roadster (with a red interior), looking much like the one that Grace Kelly drove in the 1956 movie 'High Society', sold for $175,000. This '59 model originally cost $5,020 - about half the price of a 300 SL roadster. The 190 SL looked fast but wasn't very, having a mere 120 horsepower motor. A 1958 example in red with a black interior fetched $120,000. A blue 1962 model sold for $145,000.

• An overrestored black 1961 Chevrolet Impala convertible with a red and white interior, powered by an "undocumented" (i.e. - probably not original) 409 engine sold for an incredible $150,000. This seems like a lot of bucks for something with questionable authenticity. The paint on the engine compartment was so smooth and shiny, it could blind you. This is not what the engine bay looked like from the factory but people pay more for shiny things, I guess.

• A 1961 Jaguar XKE roadster sold for $400,000. This dark silver example - with red leather interior - was freshly and properly restored. 1961 was the first year of E-Type production.

• A 1963 Corvette Sting Ray roadster - with no hardtop - done in white with a black interior and powered by the base 327 engine and a four-speed manual transmission found a new buyer at $43,000.

Of course, I have a fondness for the '63 roadster - it brings back good memories of my youth.

I'm always surprised at the prices paid for '58-'62 Corvettes - they are slower and don't handle nearly as well as the '63-'67 Sting Rays but seem to command similar prices on the auction block.

• A 1969 Goggomobil TS-250 two-door coupe brought the gavel down at $23,100.

These 120-inch long microcars were sold from 1957 to '69. They were powered by a 2-cylinder, two-cycle 18 horsepower rear-mounted engine and had a top speed of 55 mph. These Bavarian-built cars were a rare sight in America.

The TS coupes featured a prominent grille which looked like a cross between an Alfa and an Edsel. In the 1959, a new TS was priced at $1,500. During the 1957-69 period, a total of 66,511 coupes were produced.

• A 1969 Chevrolet Corvette L88 in medium blue with a black vinyl roof fetched an extraordinary $525,000. The L88 performance package was an especially rare Corvette option.

• A 1971 Oldsmobile 442 triple-black convertible with red hood stripes sold for $185,000.

• A restored, pumpkin orange Volkswagen Thing with non-correct chrome wheels went under the gavel at $28,000. This VW has never been my thing.

• The 1977 black Pontiac Firebird Trans Am, used by Universal Studios to promote the movie 'Smokey and the Bandit', found a buyer at $500,000 - helped along by a visit from a frail-looking, 80 year-old Burt Reynolds, who rode in the Trans Am as it was driven up on the block.

• A 1979 silver Pontiac Firebird Trans Am 10th Anniversary coupe (with only 10 miles on the odometer) sold for a ridiculous $170,000. This vehicle had a 400 cubic-inch V8 with a 4-speed manual transmission. Muscle cars and pony cars of the mid-to-late Seventies were underpowered - strangled by emissions regulations and weighty mandated safety 'features'. In '79, T/As were available with either 180 or 220 horsepower V8 engines. In 1979, 109,609 Firebirds were produced with prices starting at $6,883.

Hagerty, the collector car insurance giant, noted that "quality examples of Bandit-era Pontiac Trans Ams are reliably selling past $50,000, even with no-mileage cars taken out of the equation. Second-generation Trans Ams are averaging $74,000 in 2016 versus $27,600 in 2015."

• A black 1987 Buick Grand National GNX (Weren't they all black?), with the 3.8 liter turbocharged V6 engine and with only 294 original miles on it, sold for $115,000. Fewer than 550 GNXs were produced in '87.

• A bright yellow 2000 Plymouth Prowler with only 660 miles on the odometer, gaveled down at an amazing $37,500. Prowlers were deeply-flawed, underpowered cars but have held their value surprisingly well - usually selling for $20-30,000 for a decent example, depending mileage. Originally, the car was supposed to have a retractable hardtop and a more powerful engine but neither made it into production.
There weren't too many bargains at this year's Arizona moneyfest. Times are good and the wealthy don't seem to have a care in the world. They're different from you and me. (posted 2/1/16)
---
Other Pages Of Interest
| blog: 'The View Through The Windshield' |
| greatest hits: index of essays & articles | blog archives | '39 Plymouth |
| model train layout | about me | about the blog | e-mail |
copyright 2016 - Joseph M. Sherlock - All applicable rights reserved
---
Disclaimer
The facts presented in this blog are based on my best guesses and my substantially faulty geezer memory. The opinions expressed herein are strictly those of the author and are protected by the U.S. Constitution. Probably.
Spelling, punctuation and syntax errors are cheerfully repaired when I find them; grudgingly fixed when you do.
If I have slandered any brands of automobiles, either expressly or inadvertently, they're most likely crap cars and deserve it. Automobile manufacturers should be aware that they always have the option of trying to change my mind by providing me with vehicles to test drive.
If I have slandered any people or corporations in this blog, either expressly or inadvertently, they should buy me strong drinks (and an expensive meal) and try to prove to me that they're not the jerks I've portrayed them to be. If you're buying, I'm willing to listen.
Don't be shy - try a bribe. It might help.
---
---