Friday July 29, 2005
Four-Door Porsche: After many agonizing false starts, Porsche has finally decided to enter the luxo-sporty sedan business with the Panamera in 2009. The four-door model will be styled like a coupe, with a swoopy side profile. Porsche expects to sell 20,000 a year.
I think this is a smart move by Porsche. I have no doubt that dealers will sell every one the factory makes. At list price. Or above. Look out Jaguar.
I Love Geezer Stories: A 80-year-old German nursing home resident decided he needed something from the store up the road, so he set out for a little drive.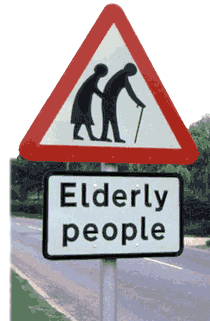 In his motorized wheelchair. On the Autobahn. At 6 mph.
Brinkmanship: Production of the Chrysler 300 sedan, came perilously close to a complete shutdown this spring as a crucial supplier, Collins & Aikman, threatened to pull the plug unless Chrysler paid more for parts. C&A, as I reported on July 19th, is now bankrupt.
The Detroit Free Press wrote: "Such a warning is the auto industry equivalent of a nuclear weapon - rarely threatened and almost never used."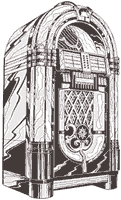 'Moonlight Serenade' is a new CD offering from Carly Simon. I bought a copy this week. Carly has a sassy, conversational voice which lends itself very well to simple accompaniment. Her first 'standards' album, 'My Romance' from 1990 featured few instruments and was a perfect showcase for her vocal talent.
'Moonlight Serenade' features a lush accompaniment which provides serious competition for her voice which 15 years later is not as strong as it used to be.
As 'standards' albums go, this one is better than Rod Stewart's but pales compared to Carly's first effort.
I Fought The Law: After decades of purchasing legal music in many forms, I'm now open to illegal downloads, bootleg CDs, whatever. I am soooo sick of spending half my life trying to remove all of the tamperproof anti-shoplifting devices on CDs. And why do these need to be on products purchased by mail?
I figure that - even at prevailing minimum wage - the recording industry owes me thousands of dollars. So, RIAA, come after me. I plan to counter-sue.
Another Sign Of Approaching End Times: You can now buy a Hello Kitty chess set. (hat tip - Boing Boing)
Quote of the Week is from George Kacher, a well-known European automotive journalist, who offers this assessment of the Porsche Cayenne: "Teaching a bear how to dance does not automatically qualify it for the lead role in Swan Lake. The Cayenne is a great 4WD and a disappointing Porsche."
---
Thursday July 28, 2005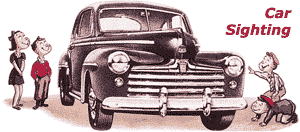 Car Sighting: Coming out of Costco Vancouver, I spotted a cherry 1938 Pontiac Club Coupe with jet black fenders and a gleaming candy-apple red body.
I couldn't tell whether or not it was stock but it did have authentic-looking wide whites and chrome trim rings.
Deadville: AutoExtremist writes that "domestic car dealers across the country are planning their fall vacations now, because when the Detroit automakers dump their various employee pricing programs for everyone, they expect the showrooms to be ghost towns."
There is evidence to indicate that GM's increased sales are coming from future buyers who moved up their purchase dates to save some money. GM, Ford and DC do not seem to be capturing (recapturing?) import buyers. We'll all know for sure when the final results are tabulated.
Carpenters Gold: I received a couple of early birthday gifts last weekend, since my son and his family won't be here for my actual birthday - due to other commitments. One was a two disc CD, 'Carpenters Gold - 35th Anniversary Edition'.
I didn't buy much music during the 1970s - too much of it was forgettable dreck. The Carpenters were an exception. While many of the songs/lyrics were vacuous pop, Karen Carpenter's sweet, talented vocals and Richard's careful arrangements made them eminently listenable. I enjoyed most of the music on this album but, unfortunately, Richard Carpenter has tweaked some of the recordings with lush background vocals, revised bridges and the like. I'd prefer the originals. He is a talented arranger and composer though; the final piece in the set, 'Karen's Theme' - an instrumental, is haunting and compelling.
Richard Carpenter is a car guy; he has a large collection of pristine, award-winning cars from the 1950s-60s, including several Chrysler 300 letter cars and other Mopar muscle cars.
Geezer Trivia: Cubby O'Brien, former Mouseketeer from the original '50s Mickey Mouse Show, was the Carpenters' drummer.
Book Report: My other early present was a requested book, 'The Journal Of Ride Theory Omnibus' by Dan Howland, which is a collection of articles, facts and trivia about amusement parks. Interesting and amusing, especially some of the 'inside dirt' on Disney's parks. (PS - Don't forget to view The Onion's Infograph on Disneyland's 50th Anniversary.)
One article noted the demise of Disney's Mr. Toad's Wild Ride in 1997. It was replaced by a tame, lame Winnie the Pooh ride. Angry protesters wore green T-shirts which read 'Ask Me Why Mickey Is Killing Mr. Toad'. Meanwhile, certain Disney Imagineers had shirts made up bearing the message 'Pooh Happens'. When we first visited Disneyland in 1972, Mr. Toad had the longest line of any ride - it was quite popular.
There was some mention of Disney India: I have ... (more >>>)
Hey, NASA! Need to glue foam to ceramic tile? Try Amazing Goop - available at Lowe's.
Quote-of-the-Day is from the very late Oscar Wilde: "The old believe everything; the middle-aged suspect everything; the young know everything."
---
Wednesday July 27, 2005
Jumping Ship: In an article titled 'Detroit could lose as the best and brightest jump ship', John McCormick of the Detroit News notes: "Any business owner will tell you that finding and keeping good employees is one of the toughest challenges. ... Unfortunately, the reality of these well-intentioned attempts to be fair is that some of the best employees leave and much of the 'deadwood' - the ineffective, non-producers - stay on the payroll."

He is referring specifically to Ford Motor Company's recent plan to cut up to 30 percent of Ford's salaried staff (according to The Wall Street Journal).
This phenomenon has been happening at every large corporation, auto-related or not, for decades. I saw it in the 1960s and '70s at two Fortune 200 companies where I worked. The talented put their resumes on the street; the dolts look for ways to hide.
My concern about Ford is that - after continuing staff reductions in recent years - a 30% reduction may destroy the company's ability to remain in the car business. Who's going to be left in quality control? In product development? In line management, etc.?
Cheap Chic: Jerry Flint writes about low-priced "cult" cars versus cheap cars: "Chevy Aveo is just a cheap car. It's got no special personality. If you want it, the dealer will sell it to you, but he really doesn't care one way or the other. If history is any guide, one day GM will stop importing them. That's what happened to other cheap imported cars like the Opel (once sold by Buick dealers) and the Vauxhall (sold by Pontiac dealers) or the Opel by Isuzu." It's all about product positioning and presentation. Read the whole article.
Ten Things that Great Britain Should Do: The Telegraph recommends ten tough measures to get at the problem of terror. A few might be good for the U.S., too.
Quote of the Day comes from the late Groucho Marx: "Outside of a dog, a book is man's best friend. Inside of a dog it's too dark to read."
---
Tuesday July 26, 2005
Third World Wheels: Meet the Renault Logan, designed for export to "emerging countries". Assembled in Romania, the Logan "was conceived with an emphasis on space - designed to comfortably accommodate four adults, a pig, 220 pounds of potatoes and a kitchen sink."
The 166-inch long, 2000 pound, $6,000 car is so popular that the company is cloning its Romanian approach at low-cost Logan production sites around the world. A plant in Russia started operations in June, and Morocco and Colombia ramp up later this year, followed by Iran, India, Brazil, and China in 2006 or beyond.
Foam Form: An artist has carved a full-sized Hummer from styrofoam.
American Ingenuity: The Hold-It is a kind of leash for the red plastic straw that comes with cans of WD-40.
Interesting Proposal: Is this a better way to reduce health insurance costs? It's worth a try: "Republicans haven't been getting much credit on the health policy front, despite their misguided 2003 drug entitlement masquerading as Medicare "reform." That could change soon. Last week the House Energy and Commerce Committee approved a bill that could dramatically reduce the ranks of the uninsured and spur general economic growth - all without costing a dime to the Treasury. The idea ... is disarmingly simple: Allow Americans to buy health insurance from vendors in any one of the 50 states."
Why I No Longer Subscribe To Newsweek: Regarding John Roberts, the new Supreme Court nominee, Howard Fineman writes: "Washington sits on a substratum of Catholic conservatism that few people who aren't from here understand. It goes back to Georgetown University and pre-D.C. Maryland history. It is that community that Roberts represents, and that Bush is paying homage to with this pick."
Fineman simply makes up this condescending, thinly-veiled, anti-Catholic bullshit. Get a clue, Howard. Bush doesn't need to pay "homage" to any group. He just does what he thinks is right.
Quote-of-the-Day is from Thomas Sowell: "Will even the bloody terrorist attacks in London put a stop to the media's hand-wringing because they don't think we have been nice enough to some of the cut-throats who are locked up in Guantanamo? The media have never shown any such interest in how prisoners are treated anywhere else on the island of Cuba, such as in Castro's prisons."
---
Monday July 25, 2005
Weird-Ohs: If you're old enough, you'll remember these very popular plastic kits from the '60s. These automobile character-toons (similar to ones produced by Ed "Big Daddy" Roth) were manufactured by the Hawk Model Company, beginning in 1963. Hawk's freelance designer, Bill Campbell, is the father of Weird-Ohs.
The plastic models sold very well. At a single toy show, the company received orders for almost 250,000 kits. The factory had to go into overtime to fill all the orders. (hat tip - Boing Boing)
Tourist Tip: If your summer travels take you to the Columbia Gorge, I highly recommend the Columbia Gorge Interpretive Center in Stevenson, WA. It's relatively new - opened a few years ago - and is very interesting.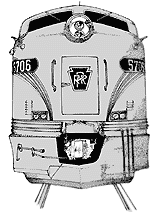 There were many mechanical devices including a four-story fish wheel - once deployed to catch salmon en masse on the Columbia River, a giant Corliss steam engine - it once powered a local sawmill, a 1921 extra-long wheelbase AC Mack log truck with a full load of logs and an EMD E-7 diesel locomotive from the Seattle, Pacific and Spokane Railroad.
There were many eclectic items - Oriental vases and furniture, Northwest memorabilia, an ancient restored biplane, a 1943 Ford Ferguson tractor and the world's largest rosary collection (4,000 of them).
Moderate entrance fees, great views of the Columbia River and helpful staff.
Try it. (We were there last Thursday.)
Variety Is The Spice Of ... toy trains. In preparation for my grandson's visit over the weekend, I changed one of the trains on the floor layout.

I removed my powered PRR MU cars and packed them away. I replaced them with a big O-gauge Pennsylvania Railroad Mallet steam locomotive.
Prior to placing it on the track, I installed seats for an engineer and firemen and then installed the little scale model figures on the seats.
Looks very realistic - the engine and tender are over two feet long. I employed Amazing Goop (slogan: Bonds Whatever Forever) to attach the seats and figures.
Best mastic adhesive I've ever used.
Quote of the Day: "All those who believe in psychokinesis, raise my hand."
---
Friday July 22, 2005
Just Wondering: Do you think any of the people who bought '70s cars with opera lights ever actually went to an opera?
Car Of The Future? It's bright yellow so that it can easily be seen - a safety feature. The black fabric of the faux convertible top provides solar heat for occupants on those cold Massachusetts winter days. Stability (against side-shear wind blasts) is assured by the clever use of Mass. Turnpike-tested fins. Reliability? Well, you can never have too many spare tires, can you?
There's no front end photo but I bet it has at least ten headlights. Thanks, Carpundit, for making my day.
Gap At The Mall: Reading an article about Saturn's future and the elimination of plastic body panels, I was reminded that, earlier this week, I inspected a Saturn Ion on display at the local shopping mall.
The panel gaps were huge and atrocious.
Book Report: I just finished 'An Empire of Wealth: The Epic History of American Economic Power', by John Steele Gordon. It is a history and celebration of the American economy, this book is a celebration of it. Gordon is a financial journalist and columnist for American Heritage magazine.
The book begins ... (more >>>)
Never Trust Old Industrial Films: Apparently, there's a 1954 docu-movie from 1954, 'The House In The Middle', sponsored by the National Paint, Varnish and Lacquer Association, claiming that a clean house with a fresh coat of paint will save your house and family from a nuclear blast.
Quote Of The Day is from the late columnist Earl Wilson: "We have 35 million laws trying to enforce Ten Commandments."
---
Thursday July 21, 2005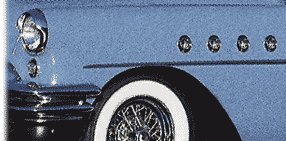 Badges Of Mediocrity: One of my car buddies followed a new Buick LaCrosse last week. He reported that "the Buick emblem has been monkeyed with! Remember the fine enameled triple shield design of previous logos? Well now the emblem is a skeletal chrome device, lacking the enameled fillers in color that made the triple Buick shields a notable logo."
I agree. The deterioration of trim pieces amazes me. The Buick emblem is a typical case.
I remember when cars had large distinctive emblems - chrome with multiple fired-enamel colors. Many have been replaced by decals in the interest of saving a few cents. Well, if cheapness is the objective, why not just use black-painted steel wheels?
My old Plymouth has a very handsome multicolored emblem of a sailing ship - the Mayflower, I think. Plymouth Rock and all that. Ford used to have a crowned coat of arms. Now they offer a single color blue oval - cheap looking. Lincoln used to have a multicolored shield with a knight's head on top. No more. Then Detroit wonders why people think their cars are cheesy.
Snooty Salespeople: Michelle Krebs relates the story of a wealthy German gentleman who was snubbed at the Mercedes dealership. "He surmised that they looked him over and decided he couldn't afford a Mercedes so didn't bother with him. His next stop was the local Toyota dealership, from which he drove away in his brand-new automobile. He has no sympathy for the automaker of his homeland, where imports are making inroads to the point that many of the taxis, once universally German-made Mercedes and BMWs, have been supplanted by Toyotas. They deserve what they get, he implied."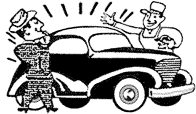 I've had the same problem throughout my life, regardless of how I was dressed. I have arrived at dealerships ready to buy, often calling ahead and making an appointment, and been given the ol' bum's rush by arrogant salespeople.
In the end, it's always worked out OK. I've always managed to find somebody somewhere who wanted to sell me a car. And the others? No problem. I've never gone back. And told all my friends about them.
I bet the German gentleman did, too.
Buh Bye: According to The Car Connection, Pontiac is discontinuing "the Bonneville sedan, the Sunfire compact car, and the ill-fated Aztek sport wagon."
Geez, I didn't know the Aztek was still in production.
Loose Bits: Jeremy Clarkson did a track test on an Aston Martin DB9 and tried to turn off the traction control: "... I pushed the button to turn it off ... and nothing happened. So I pushed it again, a bit harder, and with a slight sucking noise the whole caboodle disappeared into the dashboard."
No Child Left Behind: It's working, according to Thomas Sowell. The Lefties at NEA are weeping and gnashing their teeth.
Creating Tomorrow's Losers: A group of British teachers has proposed that the word "fail" be banned from use in classrooms and replaced with the phrase "deferred success" to avoid demoralizing pupils.
New Math: It is 97% certain that God raised Jesus Christ from the dead - based on sheer logic and mathematics, not faith - according to Oxford professor Richard Swinburne.
Quote of The Day is from Daimian Penny: "Just as one man's "terrorist" is another man's "freedom fighter", one man's "impartial journalist" is another man's "cowardly, amoral appeaser"."
Quote Of The Day II is from Bruce Willis: "Will somebody please tell me why Ted Kennedy is still running around Washington? Tell him to get a real job!" Maybe as a bridge tender.
---
Wednesday July 20, 2005
Italian Roadmaster: MotorWeek tested the $100,000 Maserati Quattroporte this week. Its auto transmission shifted roughly and the interior had a cheesy taxicab-grade black steering wheel with matching upper dash. Despite having a 400 horsepower engine, the Maserati did 0-60 in six seconds - not very impressive by today's performance car standards. (Heck, the new Lexus RH400h hybrid SUV that MW tested did it in 7 seconds.)
I still think the styling of the Quattroporte is disappointing; it doesn't seem Italian at all - looks like a Buick to me.
I'm Jealous: Robert Farago got to test the new Bentley Continental Flying Spur. He liked it. And it doesn't look like a Buick.
A Hunka-Hunka Car: A man claims that his two year-old daughter accidentally hit the 'Buy It Now' button on eBay for a $245,000 car - a 1969 Mercedes-Benz 600 limo once owned by Elvis Presley.
Jason Shepard insists his young daughter was responsible for the purchase; seller Gene Epstein still wants his money. Epstein is an antique-car collector and philanthropist active in organ donation. I met Gene at a Concours d'Elegance several years ago; he seemed like a very nice guy.
In Praise Of Leeds: It saddens me that those British terrorists were residents of Leeds. It's a very pleasant town. My wife and I have been there a few times. Our first visit was on July 4, 1987.
We attended the Leeds model car swapmeet and car show. Everyone was very nice and I spotted a nicely restored van painted up as a Meccano/Dinky toy.
There was even a Fourth of July American fifties sock hop that night (with fireworks), proving that the folks of Leeds are truly good sports.
Headline Of The Day: 'Convicted Pedophile Sues Catholic Firm For Unfair Dismissal' (hat tip - Relapsed Catholic)
Quote Of The Day is from Thomas Sowell: "Why do we keep pretending that we know how to control child molesters after they are released from prison? How many more children must be killed before we face the plain reality that, if it is dangerous to let child molesters out of prison, then they should be kept in prison."
---
Tuesday July 19, 2005
There's No Accounting For Taste: I always believed that my taste had improved with age. Then, I found a car drawing I had made when I was in 8th grade (1957). I cleaned it up and colorized it with PhotoShop ... (more >>>)
What's Next - A Scratch 'N Sniff Postcard? A German man has canned the noxious-smelling exhaust fumes of East Germany's cult Trabant car and is doing a brisk trade selling the scent to those nostalgic for the former Communist state.
What A Mess! Bankrupt auto-parts supplier Collins & Aikman Corp. provides components for nine of every 10 cars and trucks built in North America. "Under former C&A Chairman and CEO David Stockman and his predecessors, the supplier pursued and won contract after contract with the automakers that were unprofitable from the very beginning. At least 35 such contracts have been found so far."
Stockman was U.S. budget czar during the Reagan administration. But he never learned the first Rule Of Manufacturing: Know Your Costs. And the First Corollary: Know which are fixed and which are variable, so you can calculate volume dependency.
Big Trouble In Little China? George Friedman thinks so: "China is not doing nearly as well economically as it appears. True, its exports are surging, but that doesn't mean the exports are profitable. Bad debts in China total an astounding $600 billion, according to Standard and Poor's - and I'd put the number higher. The Chinese economic miracle, which has been nothing to sneeze at, is running out of steam, as the rest of Asia did before it."
Just Plame Stupid: John Tierney of the New York Times writes sagely and succinctly about Plame, Rove, Wilson et al "... it looks as if this scandal is about a spy who was not endangered, a whistle-blower who did not blow the whistle and was not smeared, and a White House official who has not been fired for a felony that he did not commit. And so far the only victim is a reporter who did not write a story about it. ... What do you call a scandal that's not scandalous? Nadagate." I agree. And I haven't written about this matter because 1) it's being well-covered/unmasked/dissected by others in the blogosphere and 2) it's just another inside-the-Beltway, overhyped non-event. (hat tip - Don Luskin)
Maybe They Just Wanted To Make A Really Comfortable Sofa: Armed bandits in Brazil robbed a vehicle carrying more than 400 breast implants.
Python Returns: Public television viewers in the United States will be treated to six new 'Monty Python' specials, PBS has announced. The new specials will focus on each member of the British comedy troupe, mixing new footage with clips from 'Python' movies as well as the classic British television series. "You don't frighten us, English pig-dogs! Go and boil your bottom, sons of a silly person."
Quote Of The Day is from Ronald Reagan: "Government's view of the economy could be summed up in a few short phrases: If it moves, tax it. If it keeps moving, regulate it. And if it stops moving, subsidize it."
---
Monday July 18, 2005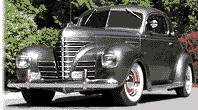 Road Rumble: Summer has finally come to the Pacific Northwest. (How do I know this? I had to turn on the sprinkler system last Thursday.) So, I drove the '39 Plymouth to a couple of client meetings, Glasspaks rumbling all the way there and back.
The coupe's newly-charged A/C is now working - a good thing in this weather. I'm chillin'.
Hey! I've Got The Same Problem. NASA has indefinitely put off its long-awaited return to space, saying that engineers were no closer to knowing why a fuel gauge acted up right before the shuttle Discovery's scheduled liftoff.
I have the same problem with my '39 Plymouth. We've checked the wiring, replaced the sending unit and tested the gauge itself. The system seems to have a mind of its own. I solved the problem with a $3.00 clip-on odometer recorder from J. C. Whitney. Every time I fill up, I enter the new odometer reading and make sure that I fill up within another 150 miles or so.
Maybe NASA should look in the J. C. Whitney catalog for a solution.
"What I Learned During My European Vacation": Julia Anderson, business editor of The Columbian (Vancouver, WA), has just returned from a vacation in Italy and Greece. In her Sunday column titled 'The Global Economy Is Just Fine', she reports that "the European economy is expanding faster than ours with countries in eastern Europe ... doing the best." Huh?
Let's see ... the US economy grew by a robust 3.8% in the first quarter. For the second-quarter, economists are looking for a preliminary Gross Domestic Product growth of 3.4%. This is not the 4.4% GDP of 2004, but it is indicative of a healthy economy.
By comparison, Euro zone GDP rose a mere 0.5% in the first quarter. Meanwhile, the European Commission said it is leaving its forecasts unchanged for euro zone GDP growth in the second and third quarters, at 0.1-0.5% and 0.2-0.6% respectively."
Italy is struggling with recession although Economy Minister Domenico Siniscalco said he did not expect to have to revise a prediction of zero growth this year. Italy's Confindustria business federation took a different view, predicting the euro zone's third largest economy would shrink this year for the first time since 1993, contracting 0.3%.
Don't like using GDP as a measurement? Look at unemployment statistics: The U.S. national unemployment rate for May was 5.1%. Italy is 8%. Greece's economy over the last few years has been one of the strongest in the EU, but the unemployment rate is 10.4% of the workforce in the first three months of 2005, down from 11.3% in the same period last year.
Germany and France have 10% unemployment rates. Unemployment in Poland is at about 18%. And, a recent report by an economist working for Sweden's largest labor union claims that the true unemployment rate in that country is between 20 and 25%.
I knew from my general business reading that the U.S. was doing far better than most of Europe. But I had to do some research to find supporting statistics.
A business editor like Julia Anderson should have even more knowledge. And know better than to write such drivel. Maybe the Columbian needs to get a new editor.
By the way, Julia was my editor for my Columbian business column for several years. I would describe her style as 'disengaged'. I was active in the local business community at the time and never encountered her or her subordinates at the many business functions I attended.
I often saw Tony Bacon, late publisher of the local business publication Daily Insider, there, making contacts and snooping out business news. I even met business reporters from the Oregonian and the Vancouver Business Journal at these events. I never ran into anyone from the Columbian except ad salespeople. (permalink)
More Good News about the U.S. economy, according to Irwin M. Stelzer. My business clients are reporting record sales, testing their capacity to produce and deliver.
"And We Mean It": Ryan Sager has proposed a constitutional amendment.
Twinkie Shortage Warning: Interstate Bakeries is closing two more West Coast plants.
Incomprehensible Bumper Sticker Sighting: 'My Other Car Is Made Of Meat'.
Headline Of The Day: 'Arctic pollution linked to bird droppings.'
Headline Of The Day (Part Deux): From last week's Onion: 'Unreleased Harry Potter Book More Secure Than U.S. Trains'.
Quote Of The Day is from Thomas Sowell: "Insurance companies are in the business of reducing given risks and transferring them, for a price. Non-profit advocacy groups are in the business of maximizing fears from given risks, in order to attract the donations that keep them going. Yet because the latter's income is not called by the dreaded word 'profit,' they are considered to be doing something more noble."
---
Friday July 15, 2005
Selling The Sizzle: The lemming-like response of Ford and DaimlerChrysler to GM's 'Employee Discounts For All' program is disheartening. It reminds me of Omaha Steaks, the mail-order filet place. Once Omaha gets your name, representatives telephone weekly, attempting to get you to put more beef in your diet.
Omaha Steaks has a price list but, as with Buick LaCrosses, Dodge Rams and Rolex watches, only an idiot pays list price. The game becomes one of trying to beat the OS telemarketer down: "Yeah, but I gotta local butcher that'll do better ..." Eventually, you end up with a load of less-than-list-price steaks accompanied by some flimsy premium like a battery-powered clock. But, you're left wondering if you really got the best price.
Good butchers simply offer good quality meats and don't do deals - they don't have to. Everybody pays the same. Good car companies operate the same way.
I cannot think of Omaha Steaks without thinking "fight hard for a good deal." I don't feel that way about my local butcher. Or many other places where I buy goods and services. I can't imagine Omaha Steaks ever making the transition to a 'No Deal, One Fair Price For All' company. I can't imagine Ford, GM or DaimlerChrysler making that jump either. They have sealed their fate.
Juicy Seat: The Lapjuicer is a chair is designed to hold a piece of fruit so a lapdancer can grind the juice out of it. Place a glass with some vodka in the holder, present half an orange to a scantily-clad lass and you'll soon be drinking a Screwdriver.
And, as the old joke goes, pour in a little Milk of Magnesia and you've got a Phillips Screwdriver. (hat tip - Boing Boing)
Quote Of The Day is from Ben Stein, reviewing a book about ads from the 1950s: "My own favorites are the ads for 1950s cars, which summon memories of an age when a car was a chariot for a god - unlike today, when a car is just a little metal box designed mostly to use less gasoline and not pollute and not look very different from any other car. (Okay, with a few magnificent exceptions and a few horrifying exceptions, like that weird specimen the SUV, which exists only to allow small people to feel big.)"
---
Thursday July 14, 2005
Must See TV: I've been a big fan of CAR magazine - a British publication - for many years. I was reading it back when it was sending George Bishop to press previews and he reviewed the food and liquor rather than the vehicles. I soon got the impression that maybe ol' George imbibed so much at these gatherings that no one was encouraging him to get behind the wheel.
It's become almost impossible to get CAR around here - Barnes and Noble doesn't seem to carry it anymore. But I have now found a substitute - a television program called Top Gear on the Discovery Channel. Very opinionated and with a touch of Brit wackiness. An Aston DB-9 races a high speed train to Monte Carlo. A studded Mitsu EVO races a bobsled. Cool.
I'm adding it to my regular viewing list - easy to do, since 'Numbers', 'The Shield' and 'South Park' are all in rerun mode.
No Conquest: In the beginning of July, I wondered if GM was robbing itself of future vehicle sales (i.e. - people who were going to buy a GM product anyway but moved up the purchase date to take advantage of sale prices) with its 'Employee Discounts For All' program. A report now indicates that "most of those sales came from consumers who were already GM customers. ... 63.1 percent of the automaker's June trade-ins were GM models, compared with 64 percent in May. In auto industry parlance, GM was unable to "conquest" more customers from rivals."
Wine Report: Costco is known for providing high-quality stuff at cheap prices. Its Kirkland-brand rolling carry-on luggage is simply the best bargain in America. Kirkland toilet paper offers the softness of lambswool at sandpaper-grade prices. So ... when Costco announced that it was getting into the wine business, I had high hopes.
Alas, I have been disappointed. The Kirkland Signature 2001 Cabernet Sauvignon did not meet my price/quality expectations. Made with grapes from the Alexander Valley of Sonoma County California, it offered few notes and ended on a bitter one.
At $17 per bottle, it's no bargain. But that's OK. Costco still offers lots of other, non-house brands (like Greg Norman Estates 2002 Cabernet Merlot from Australia - 89% Cabernet) at even better prices.
Quote Of The Day is from Will Rogers: "Diplomacy is the art of saying "Nice doggie!"... until you can find a rock."
---
Wednesday July 13, 2005
"Gassy, Bloated Feeling": Chris Sawyer of Automotive Design and Production calls Lee Iacocca "the Robespierre of Rebates."
Excerpt: "Just like the refried beans from last night's Mexican dinner, Lee Iacocca is back doing commercials for his alma mater Chrysler. Should we rejoice that the last real American leader of Chrysler Corp. is back in the saddle and encouraging buyers to take advantage of Chrysler's answer to GM's employee pricing campaign? Or should we reach for the Tums and hope the gassy, bloated feeling goes away without too much discomfort for us – or those with sensitive olfactory glands? It's a tough call."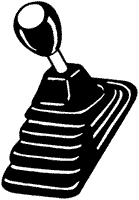 Shifty Discussion: Auto Prophet discusses various manual transmission driving techniques, asking, "Do you use engine braking to help you slow down, by keeping the car in gear and just stepping on the brake, waiting to clutch-in until the RPMs drop to near the stall point?" That's how I always did it. Engaging the clutch excessively is a great way to shorten the life of the throw-out bearing. And using the transmission to slow down - on an everyday basis - can cause premature gear failure.
The lower gears on a manual tranny have a limited design life and are not designed to endure countless hours of use. (It's fine to downshift for engine braking on the occasional steep downhill grade.) I drove stick-shift cars for 40 years, although every vehicle in our garage now is an automatic.
Auto trannys are far more efficient than they used to be. (Begone, ye two-speed Powerglide slushbox! A pox on thee, Dynaflow!) Today, transmission choice is strictly a matter of personal preference.
Book Report: I've just finished 'America's Bishop: The Life and Times of Fulton J. Sheen' by Thomas C. Reeves. I thoroughly enjoyed it. I began reading the book just as another great 20th Century religious icon, Rev. Billy Graham, was finishing up his final crusade in the twilight of his life. Like Sheen ... (more >>>)
The Apology Cafe: Japanese customers must apologize for their country's wartime occupation of China before getting a seat at a restaurant in former Manchuria (now NE China) or find another place to eat.
Cool Blog: I've added Pugs of War to my 'Worth-A-Visit' list. Check it out.
Quote Of The Day is from Somerset Maugham, "If a nation values anything more than freedom, it will lose its freedom, and the irony of it is that if it is comfort or money that it values more, it will lose that too."
---
Tuesday July 12, 2005
Lee Who? I've seen the new DaimlerChrysler commercial with Lee Iacocca and Jason Alexander. I found it mildly amusing but doubt that it will be particularly effective. (The 'deal' might be effective, not 80 year-old Lee.) Today's median vehicle buyer was still in school when Iacocca was a titan. And, there were many other business legends in the 1980s with whom Lee had to share print space - Donald Trump, Steve Jobs, Bill Gates, Michael Eisner, Richard Branson, Jack Welch, Michael Milken, Ted Turner, Alfred Taubman, Al Neuharth, John Delorean, Andrew Grove, Rupert Murdock, Fred Smith and Tom Monaghan quickly come to mind.
Can you name fifteen famous industry icons from when you were in high school or college? Me neither.
Discount Dilemma: Rachael Beck compares the current auto discount mania to retailing. Excerpt: "Automakers might want to look at the retail industry to see how discounting can help as well as hurt business. Merchants, especially department stores, have become increasingly reliant on promotions to lure consumers into their stores."
"But shoppers have become somewhat numb to the constant discounting. They often wait until they know it is the absolute lowest price before they buy (just think of the success of the post-Christmas sales). While that might clear out inventory, it doesn't do much for profits."
Tony's New Ride: Watching the coverage of the G-8 summit, I got a glimpse of Tony Blair's new bulletproof, gunmetal gray, long-wheelbase Jaguar. According to an article in The Times, three were built at a cost of over $350,000 each. They are fitted with compressed air systems to enable Blair and his entourage to breathe in a poison gas attack. These James Bond-style Jaguars are said to feature the latest "ultra-security" gadgets. Although each will weigh more than three tons, they have specially-adapted suspension systems so they can travel at 150 mph.
The passenger compartment can withstand the blast of a hand grenade and bullets from high-velocity automatic rifles. Devices fitted to the wheels will allow it to continue moving at speed even if the tires have been shot out.
The cars' security system will detect whether anybody has tried to interfere with or enter the vehicle. An intercom with speakers under the car allows those inside to talk to people outside without having to open the windows.
No More Aid To Africa? Here's an enlightening interview with Kenyan economics expert James Shikwati, titled 'For God's Sake, Please Stop the Aid!' Excerpt: "Our politicians were overwhelmed with money, and they try to siphon off as much as possible. The late tyrant of the Central African Republic, Jean Bedel Bokassa, cynically summed it up by saying: "The French government pays for everything in our country. We ask the French for money. We get it, and then we waste it. .... If (people) really want to fight poverty, they should completely halt development aid and give Africa the opportunity to ensure its own survival. Currently, Africa is like a child that immediately cries for its babysitter when something goes wrong. Africa should stand on its own two feet."
Asked if stopping the UN's World Food Program would result in mass starvation, Shikwati replied, "I don't think so. In such a case, the Kenyans, for a change, would be forced to initiate trade relations with Uganda or Tanzania, and buy their food there. This type of trade is vital for Africa. It would force us to improve our own infrastructure, while making national borders - drawn by the Europeans by the way - more permeable. It would also force us to establish laws favoring market economy."
Quote Of The Day is from Thomas Sowell: "How did the British survive the nightly bombings of London during World War II without an army of shrinks giving them 'grief counseling'? More important, could they have survived if there had been armies of shrinks urging them to wallow in their emotions?"
---
Monday July 11, 2005
Car Sighting: My daughter was on vacation in Pacific City, Oregon last week. On Thursday, a big tractor trailer with Lincoln emblazoned on one side and Mercury on the other pulled up near the sand. A 2006 black Lincoln Zephyr was rolled off. Helicopters equipped with cameras circled the area to record the Zephyr making a run across the beach with the blue Pacific and setting sun in the background.
Look for it in a commercial this fall.
Raunchy Royal Rover: According to Page Six, the 1978 Range Rover Prince Charles drove while on honeymoon with Princess Diana - and which he also used for a randy rendezvous with Camilla Parker-Bowles - was put up for sale on eBay this week, then abruptly taken down after the London terrorist bombings.
For That Kind Of Money, You Could Buy A Pretty Decent '85 Ford Tempo. In Washington DC, the Mandarin Oriental's City Zen Restaurant sells a $650 glass of Remy Martin cognac.
Confronting Evil: As readers know, most of this blog's content is about superficial stuff - car trivia, the foibles of auto companies, the pleasures of vehicle waxing, geezer nostalgia, fluff, quips and pop culture one-liners. In the wake of last week's London reminder of the senseless barbarism that exists in this world, I feel compelled to write about something a little more serious - Evil.
Traditional Catholicism always acknowledged that there is genuine Lucifier-inspired Evil in the world. That devils walk the earth, so to speak. And that Life's job description included making sure that Good prevailed over Evil. Hitler Evil. Idi Amin Evil. Pol Pot Evil. Charles Manson Evil.
Anyone who senselessly kills other human souls with absolutely no justifiable cause is Evil. (Sadly, America has not always been very good at conquering Evil. We have tolerated it when it suits our national, political or economic purposes. But past indiscretions do not give us a 'pass' on confronting current evils.)
Islamic extremists see a black-and-white world where the West is bad because it tolerates 'sin' and Jews. (One of the 'sins' is democracy.) Instead of simply avoiding the West and shunning its values, they have made it their crusade to eliminate Western civilization as we know it. This jihad is an example of Absolute Evil because as with Stalin, Hitler, bin Laden, et al, there is no justifiable cause.
The global jihad against the West (specifically, a holy war against the Jews and anyone who helps them) aids Islam in gathering converts in the West from groups that feel themselves to be oppressed or marginalized. Are all Muslims Evil? Of course not. But, in today's world, all Evil seems to be carried out by people identifying themselves as Muslims. Presbyterians didn't fly planes into the twin towers. Baptists aren't blowing up Jews in the West Bank. Buddhists aren't triggering explosives on Madrid commuter trains. And Jews aren't setting off bombs in the London Underground.
What we must do above all is remain true to our principles of freedom, equality of rights and dignity for all. These ideas and related ones are what set us apart from global jihadists. Their ideology is Evil - a threat to the peace and human rights of non-Muslims as well as Muslims worldwide. If Evil is not confronted, it will prevail.
Downward Trendline: Don Luskin was on CNBC with Larry Kudlow last Thursday. Asked about the London bombings, he said (This may not be exact because I'm quoting from memory): "Twin Towers - 3,000 dead. Madrid - 300 dead. London - 30 dead. Look at the trend. What's next? Three dead? The terrorists are losing in a big way." The death toll in London has now risen well above 30, but Don's point is well taken. Is this the best that these terrorist "geniuses" can do? Obviously, the various post 9/11 security measures implemented by civilized nations are working.
London Hospitality: A handmade sign posted in the window of a Covent Garden restaurant last week read: "During emergency, please feel free to come in and stay as long as you like. Join us for tea, soft drinks, coffee, soup on the house."
Headline Of The Day: 'Melon causes truck crash.'
Quote of The Day is from Thomas Friedman of the New York Times: "When Salman Rushdie wrote a controversial novel involving the prophet Muhammad, he was sentenced to death by the leader of Iran. To this day - to this day - no major Muslim cleric or religious body has ever issued a fatwa condemning Osama bin Laden." (hat tip - Instapundit)
Today's Thought: "If life gives you lemons, throw them at someone."
---
Friday July 8, 2005
Pray For London's Victims. Yesterday's London bombings typify the methodology of Islamic terrorists - the focus on unarmed, innocent civilians, the dastardly methods, the attempt to cause maximum human damage, the sheer barbarism. The people targeted were ordinary Londoners - of all faiths and colors - on their way to work. (One of the tube stations attacked, Edgeware Road, is located in an area inhabited by many Islamic immigrants. Presumably, quite a few of the victims were Muslims.)
Dave Leggett of just-auto wrote: "I was supposed to be going up to London again later today for a meeting, but that's been called off now after the bombings on the Tube earlier today. We've been expecting something like this to happen in London for some time now, but it is still pretty shocking when it does."
Ken Livingstone, mayor of London said: "This was not a terrorist attack against the mighty and the powerful; it is not aimed at presidents or prime ministers; it was aimed at ordinary working class Londoners, black and white, Muslim and Christians, Hindu and Jew, young and old, indiscriminate attempt at slaughter irrespective of any considerations, of age, of class, of religion, whatever, that isn't an ideology, it isn't even a perverted faith, it's just indiscriminate attempt at mass murder, and we know what the objective is, they seek to divide London."
"They seek to turn Londoners against each other and Londoners will not be divided by this cowardly attack ... I wish to speak through you directly, to those who came to London to claim lives, nothing you do, how many of us you kill will stop that flight to our cities where freedom is strong and where people can live in harmony with one another, whatever you do, how many you kill, you will fail."
This is a world war, fought by a cowardly enemy wearing neither uniforms nor other identification. They represent no single nation - just the perverted ideology of jihadism. In the film 'Independence Day', the president asks an alien, "What do you want from us?" The monster's reply: "Die. We want you to die." This is chillingly similar to al Qaeda's objective. Therefore, we must remain strong and unwavering in the war against terror. We must destroy the enemy and its organization - without compromise.
I've been to London several times over the last 30 years and have always enjoyed the city and its people. On my last trip five years ago, I departed for Scotland by train at Kings Cross Station - the same area where the bombs were detonated. My heart goes out to the victims of this horrid act.
Don't Underestimate The British: During World War II, they exhibited their legendary resolve and resourcefulness. To avoid destruction by Nazi bombs, the British set up an aircraft components factory in London's Central Line Underground, complete with milling machines, drill presses, etc. Halifax bomber airplanes were assembled in one of the Underground's train storage and service depots.
Waxing Prose: Last week, I waxed my wife's Avalon. It took about 80 minutes to complete, including all painted metal around the trunk lip and the edge/insides of each door. I do this because it keeps the dirt out; makes it easier to keep clean and keeps clothes from getting dirty when entering/exiting. For the main body surfaces, I used my 15 year-old Black & Decker orbital buffer. It's not a professional-level buffer but it works for me and doesn't leave swirl marks.
The Avalon's metallic paint now glows in the sunshine. I can't get over how good the fit and finish is on this new car. We now have over 3,000 miles on the Toyota and are getting 24-28 mpg, depending on the kind of driving.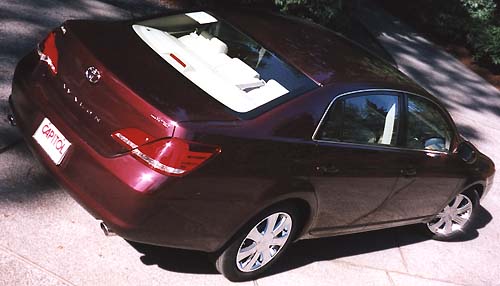 I also waxed my daughter's 2004 Honda CR-V. Getting up close and personal with this vehicle gave me an opportunity to look at the fit and finish on this machine as well. Flawless - no wonder Hondas sell so well. The CR-V has a lot of black plastic cladding (thick, unwarped and high quality) which I treated with STP Son-of-a-Gun protectant. But I got exhausted from climbing up and down a ladder to wax the roof - this vehicle is much taller than it looks. Nevertheless, it seems to be very well made (perhaps surpassing the Avalon) and now gleams like brand-new - even at 22,000 miles.
There's something deeply satisfying and therapeutic about cleaning and polishing a vehicle.
Can You Buy Car Wax In 55 Gallon Drums? One of my friends just purcgased large GMC Duramax diesel four-door pickup and a huge Sunny Brook fifth-wheel. He loves it - but for me it would represent a 54 foot long nightmare of white-knuckle driving.
Based on my experience with my daughter's little CR-V, I'm afraid that trying to wax and detail this behemoth would probably kill me.
Lesko Ride Update: Obnoxious late-night informercial pitchman Matthew Lesko - he who wears suits with question marks - has a new car ... "an eye-burning-orange Scion xB, slathered with custom black question marks."
When Security Trumps Free Markets: Terence Jeffrey makes a persuasive case for not letting the Chinese buy Unocal.
Fake Religions Of The World: There are many, of course. Some are harmless. Then there's Scientology. The IRS declared it 'fake' by taking away its non-profit tax-exempt status in the 1970s after a group of the church's leaders were convicted of burglarizing the IRS headquarters.
Despite the fact that the governments of Germany, Belgium and Spain consider the church a dangerous cult, Bill Clinton restored Scientology's tax-exempt status. I guess he wanted to curry favor with certain people in Hollywood. You'll find an interesting and revealing interview with an ex-Scientologist here.
Book Of Lists: Former CBS News correspondent Bernard Goldberg has written another book, '100 People Who Are Screwing Up America.' Bernie's Top Picks are: Michael Moore, Arthur Sulzberger (publisher of The New York Times), Ted Kennedy (aka - Admiral Oldsmobile), Jesse Jackson (If you're a hammer, you see the world as a nail; if you're Jesse, you see the world as a bunch of racists.), Anthony Romero (executive director of the ACLU) and Jimmy Carter (ex-president and egomaniacal meddler).
Other luminaries on Goldberg's list include Paul Krugman (New York Times columnist and alleged economist), Al Franken (one of the unfunniest 'comedians' to walk on this earth), Gloria Steinem (Or is it Gloria Strident?) and Al Sharpton (Jesse Jackson squared).
Today's Thought: "Acting is an art which consists of keeping the audience from coughing."
---
Thursday July 7, 2005
Shades Of The '57 Skyliner: Volvo plans to introduce a Pininfarina-built, retractable hardtop at the Frankfurt Auto Show this fall. I wonder if it uses much of Ford's 48 year-old retractable technology?

Deserting A Sinking Ship? According to AutoExtremist, "Donald Toresco, one of the East Coast's largest dealers, giving up his Ford franchise in Springfield, N.J., near New York City, in order to devote all of his energies to his growing Toyota franchise."
This can't be good news for Ford.
Several months ago, I wrote about the decline of some Lincoln-Mercury dealerships.
Praiseworthy: Paul and Anita Lienert tested the 2006 Hyundai Sonata, reporting that it "is leagues ahead of the Korean products that hit American roads more than a decade ago. Hyundai deserves major credit for raising the bar with the latest edition. If you're in the market for a roomy, well-built and well-equipped family sedan, this one should be at or near the top of your consideration list." Interestingly, although the Sonata is now assembled in the U.S., "only 28 percent of the parts come from North America; the bulk of them are shipped over here from Korea."
I saw a preproduction prototype earlier this year at the Portland Auto Show and thought that it was a very nice-looking, conservatively-styled sedan.
More Praiseworthy: While the Hyundai report was an interesting read, I enjoyed Robert Farago's road test of the Dodge Magnum SRT-8 a lot more. Cooler writing; cooler car.
PETA Would Still Be Pissed: Tragedy was narrowly averted when Harry, a pet hamster, was violently thrown from the 4" by 4" payload of a remote-controlled toy Ford F-350 monster truck.
Worth A Read: Neo-neocon, a fifty-something former liberal, has a series of well-written, thoughtful and thought-provoking entries on her blog. And, if you have the time, check out some of the hostile and truly moonbat responses in the comments section. (hat tip - Roger Simon)
The Public Heist: Jonah Goldberg writes: "When public broadcasting's integrity is attacked, the PBSers harrumph that government money is only a tiny fraction of their budgets. But, they say without taking a breath, if you take even one penny of it away, it will destroy us."
"Or consider PBS' glorious status as "commercial free" programming. The sponsors I used to dun for cash must do a spit-take every time they hear this. PBS is not only chock-a-block with ads - they merely appear before and after, but not during, most programs - but some shows are actual commercials. The cooking shows - dozens of them - are infomercials for cookbooks and delicately placed products. Even the best documentaries (and there are some great ones) are shrewdly packaged as part of a larger marketing campaign to move all sorts of swag, from coffee table books to CDs. And if you think "Sesame Street" is pure, you haven't seen my daughter's diapers (or her cups, plates, band-aids, stuffed toys, etc.)."
"It should also be noted that in terms of fulfilling one of PBS' original mandates of informing the public about its own government, C-Span eats public broadcasting's lunch every day - and it's as commercial free as it gets." Seattle's KCTS seems to be Begging For Money every three weeks or so. And how many times does one need to see 'Celtic Women'? KCTS runs it more often than Turner runs 'The Shawshank Redemption.' PBS - I can live without it.
Quote of The Day is from Donald Mac Queen who says that "all of the Iranian hostage takers should have been hunted down and killed by now. We are in this current trouble because the thugs who run the Middle East, especially the Iranians, realized that we treated terrorism as little more than a nuisance that could be solved by law enforcement and the odd cruise missile strike. ... I have long thought that we should - quietly - put the word out that, if you kill Americans, you should be prepared to look over your shoulder for the rest of your (hopefully short) life, because we will find you and we kill you. And then do it. I feel so strongly about this that the government can raise my taxes if only it would show the rest of the world that messing with the US of A is tantamount to signing your own death warrant."
Headline from The Onion: "Mason-Dixon Line Renamed IHOP-Waffle House Line".
Today's Thought is from the late, large Orson Welles: "My doctor told me to stop having intimate dinners for four - unless there are three other people."
---
Wednesday July 6, 2005
Chips Ahoy! I had a plethora of stone chips on the front of my Jaguar. It's the downside of living around here - there are many quarries and gravel pits in these parts and vehicles kick up small stones and gravel fines which litter the roadways.
Last week, I took the car to a detail shop which uses a 'fill and wipe' technique to cover stone chips. The shop showed me a sample hood with half treated/half untreated. It looked impressive. The process is described thusly: "The paint touch-up process is unique in that a technician covers the affected area with automotive enamel paint, applies a solution that takes off the excess paint but leaves paint in the chipped area." The cost was $150; the alternative was a $4,000 paint job.
The end result is remarkable - the chips have practically disappeared. The shop was less successful with the big scratch on the driver's door (where the car had been 'keyed' earlier this year by some lowlife miscreant) but, to be fair, I had already done a lot of work on that myself. I'll probably have to have the door repainted. Or live with it.
The Jaguar Club of Oregon is having a Concours d' Elegance in Forest Grove on July 16th. As I was looking at the car, I thought about entering it. Then I came to my senses. I don't want to spend the next two weeks cleaning crevices with Q-tips and detailing the engine compartment - waaaaaay too tedious. But that's the kind of stuff you have to do if you're serious about competing. And then there's that scratch on the door ... I quickly concluded that my Concours days are over.
I'll just drive and enjoy my cars.
Passing Gas: Almost all 2006 Fords sold in the U.S. will have gas caps bearing the message "Ford recommends BP." Since there are no BP stations around here - they've all been re-branded as Union 76 stations - I guess there's no Ford in my future.
Ow! Ow! Ow! Ow! Here is a compelling animation of a falling female mannequin. If she gets stuck on a bubble rock, you can help her with your cursor. (hat tip - Boing Boing)
Bad Vibrations: PBS' 'A Capital Fourth' featured The Beach Boys as part of the pre-fireworks show. The more accurate name for the group should be 'The Two Remaining Beach Old Men Who Can't Sing.'
It was an appallingly bad performance. Time to Shut Down and drive that Little Deuce Coupe to the old folks home, boys.
Quote of the Day is from Kathy Shaidle: "Have you ever noticed that the homeless - whose numbers are greatly exaggerated to begin with - are never "mentally ill alcoholics" unless it suits the purposes of the Professional Homelessness Activist? The activist insists that "people are on the street because the government kicked them out of mental hospitals" - forgetting that this was done at the behest of leftwing social workers in thrall of their latest untested theory. But if you suggest that most homeless people you encounter are obviously insane, drunk, off their meds and should be hospitalized for their own good and everyone else's, you're 'an insensitive bigot'." (permalink)
Today's Thought is attributed to the late NY gossip columnist, Earl Wilson: "If you think nobody cares if you're alive, try missing a couple of car payments."
---
Tuesday July 5, 2005
Big Sale Results: The data are in. General Motors' June 'Employee Discount For All' sale produced a whopping +41% increase over the same period last year. GM's truck sales were up monstrously (+69%) but cars were up only 3%, so it didn't give much of a boost to the Buick LaCrosse, Pontiac G6 and other sedans that GM has been touting.
It's not clear that these sales were 'stolen' from other manufacturers (see following paragraphs), so one has to wonder if GM may be robbing itself of future sales (i.e. - people who were going to buy a GM product in the next few months but moved up the date to take advantage of sale prices). Time will tell.
Ford did report a slight drop in overall sales (-3%), mostly from trucks, like the aging Ford Ranger (-26%), the Lincoln Navigator and Aviator (-33%) and non-competitive Freestar van (-45%). F-series trucks were down 3%. Car sales were generally up, lead by the super-hot Mustang (up 80% over last year). One could argue that some Lincoln SUV sales moved to Cadillac but I would guess that those 'lost' Freestar sales went to Honda, Toyota and Chrysler.
DaimlerChrysler was up a little overall (up 1%). Sales of the Grand Cherokee were up 78% and the Chrysler T&C van was up by 70%.
Saab, part of GM's discount program, reported a 57% increase. Meanwhile, Nissan was up 14%, Toyota up 10% and Honda up 5%. Big losers included Jaguar (-34%), Mazda (-21%), Mitsubishi (-17%), Porsche (-13%) and Volvo (-9%). It's hard to believe that all these lost import sales are going to GM - I wouldn't expect a prospective Porsche purchaser to jump to Corvette (which wasn't part of the discount deal). Nor would I think that a prospect would forsake a Jaguar for a Cadillac. A Mercedes, Lexus, Audi or BMW, perhaps.
It will be interesting to see what July brings. GM is thinking about extending its program and Chrysler threatening to launch its own 'Employee Discounts For Everyone' scheme. And, if GM and Chrysler start a price war, Ford will surely join the fray.
CR-V Hybrid: In January, AutoWeek reported that Honda had no plans to build hybrid SUVs in the next three years. "For now, we are not thinking about it" for the three-year plan starting in April, says Honda President Takeo Fukui. SUV owners care little about fuel economy, Fukui says. "If they look for fuel efficiency," he says, "they could shift to a car." I'm now hearing that a CR-V hybrid is in the works, possibly for release in 2006.
Refund, Please: A British journalist, frustrated by a myriad of problems with his new Ford GT, asked for his money back. Excerpt: "As a courtesy car they gave me a Ford Focus, with a diesel engine. Nice."
As much as I drool over the GT, at $150,000 plus Dealer Gouge, I was never going to buy one anyway. So, why do I feel that my dream is now shattered? (hat tip - justauto.com)
As Seen On TV: I've been listening to the oft-seen-in-informercials, two-CD album, 'All of Me', by Anne Murray - a Father's Day present. It's quite good. I've always enjoyed her pleasant and pure vocals. One disc is a greatest hits collection ('Snowbird,' et al); the second is filled with 15 Great American Songbook-types. Her rendition of 'As Time Goes By' is particularly compelling.
The accompaniment is occasionally too bluegrassy for my taste but otherwise this is a fine compilation. And, when it comes to these old standards, Anne sings much better than Rod Stewart. How much did I like it? Well enough that I imported 23 of the 31 songs into iTunes, putting my library over the 1,200 mark.
Gummed Up: Wrigley will cut 500 jobs and close some factories as part of its $1.46 billion acquisition of the Life Savers and Altoids candy and mint businesses from Kraft Foods. Wrigley also owns the Juicy Fruit and Big Red gum brands.
Rethinking Oxfam: I used to contribute to Oxfam for African relief. Then I stopped. This article should give others pause as well. There's more on the futility of providing monetary aid to Africa here.
Maybe He Was Sick Of Teaching! A New York City school teacher resigned after admitting he pursued a career as a professional wrestler when he took 11 days of sick leave. He's not the first educator to jump in the ring.
In an episode of The Simpsons, professional wrestler Professor Werner von Brawn (wearing a mortarboard and gown) fought the Iron Yuppie.
Quotes of the Day are from Linda Stasi of the New York Post regarding Tom Cruise and Scientology: "If I want answers to an actual medical issue - or about life for that matter - trust me, I'm not going to an actor who can't stay married, and whose religion was invented by a sci-fi writer with a bad dye job."
And about Oprah " ... after she was barred from entering a Hermes store in Paris. After it was closed. And now plans a whole show around it. Excuse me? How many stores have opened for you after-hours? In France? Exactly." 'Nuff said.
Today's Thought is from my not-so-favorite comedian, Gallagher, but it's a good comment: "I wish there was a knob on the TV to turn up the intelligence. There's a knob called "brightness," but it doesn't work."
---
Friday July 1, 2005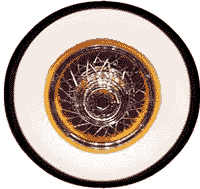 It's A Classic: The Fourth of July weekend is upon us and towns all over America will host holiday car shows and/or parades full of old cars. It's a wonderful American tradition. Many of the cars will be older collector vehicles which have been preserved and polished by proud doting owners. But, just because someone cherishes them, it doesn't mean these vehicles are classics.
Recently, a car buddy sent me an e-mail, suggesting that I check out a "classic" car site.
I guess I was expecting to see some formal sedans - Rolls-Royces, a Packard custom-bodied V-12, Duesenberg SJs, etc.
What appeared on my screen instead was a badly-designed website with the usual mixture of old cars - muscle cars, half-built hot rods and nosed-and-decked 1948 Chevies. Not that these are bad cars, but certainly not classic cars. Which brings me to the subject of the chronic overuse of the word 'classic.'

When I was growing up and lusting after the cars pictured in Car Life and Motor Trend, I read that the Classic Car Club of America would only permit certain cars to be designated as 'classic.' The car had to be both rare and aesthetically pleasing. Most Duesenbergs qualified; only certain models of Packard, Stutz and Pierce Arrow were accepted.
Few Cadillacs were allowed and the only Lincolns permitted were the 1940 and 1941 Continental Cabriolets. It sounded like a pretty snobbish organization; too snooty for my taste at the time.
Now the pendulum has swung too far the other way - everything is a 'classic.' ... (more >>>)