Saturday October 30, 2004
Trick Or Treat: Halloween brings back memories of my daughter's trick-or-treating years. One year, I made a cylindrical costume for her out of cardboard and wood and painted it; she went as a giant Rolo candy bar.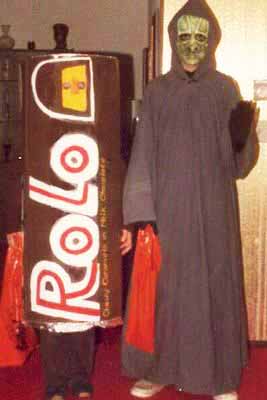 In 1980, my daughter went trick or treating as a Rolo bar while my son dressed as a lizard-faced alien.
Another year, I made her a giant pack of Wrigley's Gum Pack from cardboard to wear. My daughter still reminds me of those times - every Halloween, saying that both costumes were awkward and uncomfortable. (Hey, I wasn't a professional costumer - just an amateur.)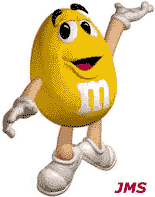 I remember going out trick-or-treating as a kid. You could tell a lot about adults based on the treats they gave out. First, there were the really-great folks who gave out full-sized candy bars.
Then there were the cheapskates who gave out Klein Bars, a cheap knockoff of Hershey Bars - a little smaller in length and width and micro-thin. But wrapped like a Hershey - even the lettering was similar. Except the slide-off wrapper was dark green instead of brown. (Like they could fool anybody above idiot level that these were Hershey bars. What were they thinking?) In those days, Klein Bars cost 3¢; Hershey Bars cost 5¢.
Then there were the 'creative' cheapskates who gave out little candies wrapped up in a paper napkin folded up 'hobo-style' and tied with cheap ribbon. Always containing disappointing contents - a couple of forlorn pieces of candy corn and some cheap hard candies fused together. Fooled no one - underneath the paper and ribbon - they were still cheapskates.
Finally, there were the jerks who gave out a single penny ... or didn't open their doors at all. Luckily, most people were nice ... and generous.
Halloween - a time when children can become judgmental and learn to separate adults into specific categories.
---
Friday October 29, 2004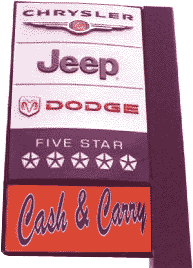 Makin' Money: "Chrysler earned $269 million in the third quarter, up from $171 million a year ago, outperforming its larger U.S. rivals in North America."
Why? Because, the Chrysler 300C and Dodge Magnum are selling like hotcakes. If you make cool cars that people want to buy, you'll make money.
GM and Ford don't seem to understand that. That's why both are losing money. The Ford 500 is the dullest thing on wheels, for example. The Buick LaCrosse is a close second.
Bush and the Economy: There is much noise about Bush's "jobless recovery" and how George W. Bush "ruined the economy."
It is time to (once again) set the record straight:
1. The economy was already headed downhill while Bill Clinton was still in office. This assertion is supported by economic data.

2. The stock market peaked well before the 2000 election and was in decline nine months before Bush was even inaugurated.

3. The events of 9/11 dealt America a serious economic blow. Most of my clients reported that their phones basically didn't ring for weeks afterward. People were so focused on the horror, they forgot to work. Productivity was awful. They also stopped buying stuff.

Car showrooms were virtually deserted in the weeks following 9/11. I traveled cross country in early October 2001. Hotels were virtually empty. So were restaurants. And shopping malls. 9/11's aftereffects profoundly deepened a recession which had already begun.

4. The nature of the economy is changing. Ever-increasing productivity means fewer new jobs created. More work is done with less labor. This is a result of technology and is out of a president's control. Any president. Corporations are amoral - they do what's good for themselves (and hopefully their shareholders).

They worry little about social policy. Corporations readily relocate work to other locations - including overseas - whenever substantial savings can be achieved. For over 50 years, manufacturing work has been moved from high-cost locations to lower cost ones (from the Northeast to the South in the 1950s, to Japan in the 1960s, to Southeast Asia in the '80s and, now, to China).

The advent of low-cost telecommunications and the ability to send files electronically is now causing high-paying American white-collar, non-manufacturing jobs to move to lower-cost locales such as India. This trend will continue - no matter who is president.

5. The recession is now over. Unemployment rates are headed down. Jobs are being created, albeit at a slower rate than, say, 20 years ago. Most of my clients report substantial increases in sales beginning in Spring of this year. Several of them are hiring and/or making substantial purchases of capital equipment to handle the increased business.

History will eventually show that Bush's timely tax cut helped get this country out of a recession.
It is unreasonable and unfair to blame President Bush for the economic woes of the past few years. John Kerry can contribute nothing to make things better. Stay the course - re-elect George Bush.
Some Things Never Change: Hugh Hewitt writes: "John Kerry now closes his presidential campaign exactly as he opened his political life: Attacking the United States military. Thirty-three years ago, before the Senate Foreign Relations Committee, he indicted the soldiers of Vietnam as war criminals, the heirs of Genghis Khan.
This week he embraced an already discredited account of missing munitions to attack the reputation of the 3rd Infantry Division and the 101st Airborne."
Quote of the Day is from James Lileks: "All you need to know about Arafat was that he insisted on wearing a pistol when he addressed the UN General Assembly. And all you need to know about the UN, I suppose, is that they let him."
That would be Yassir Arafat, the terrorist who actually won a Nobel Peace Prize. Kind of depreciates the value of the Nobel, doesn't it?
But the Nobel Prize does have some value - each medallion has drilled holes and can actually be used as a police whistle. That's why no Nobel Prize winner has ever been mugged.
Clarification: Yassir Arafat is no relation to Yassir That's-my-Baby.
A Hunka-Hunka Burnin' Polls: Mark Steyn has written: "What's up with Hawaii? Two polls in two Honolulu newspapers over the weekend showed George W. Bush with a small lead over John Kerry. That's not supposed to be happening. Hawaii's solidly Democrat. It's a swing state only in the sense noted by Elvis ('And when she starts to sway/I gotta say/She really moves the grass around')."
How can you not agree with a guy who knows the words to 'Rock-A-Hula'?
Burning Commentary from Ann Coulter: "Bill Clinton had to interrupt an important sponge bath with someone named "Bunny" to come to Kerry's rescue in Philadelphia. (Possible slogan: "Kerry – The Same as Clinton, Without the Burning Sensation.")"
---
Thursday October 28, 2004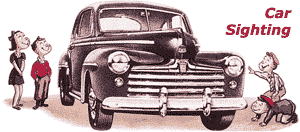 Car Sightings: S saw a metallic purple Cadillac XLR roadster on I-5 Wednesday afternoon. Stunning.
David Thomas at AutoBlog is surprised that there are over 100,000 Mazda RX-8s on the road.
You could have fooled me, too. I don't see very many on the road. Based on my observations, I would have guessed sales at 20-25,000 per year.
I'm Speechless! From AutoExtremist: "From the "Hell Freezes Over" file, Automotive News Europe reported that Porsche is considering building a hybrid version of the Cayenne - using a Toyota powertrain."
Maybe Porsche should just sell the #@$% company to Toyota. Or Kia. That hum you hear is Ol' Herr Doktor Porsche spinning in his grave at 7,000 rpm.
Kerry Bias: A new study for the non-partisan Project for Excellence in Journalism suggests that in the first two weeks of October, during the period of the presidential debates, George W. Bush received much more unfavorable media coverage than Sen. John Kerry.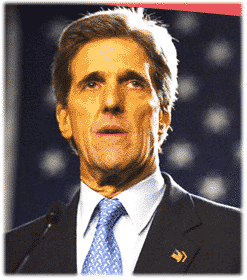 Lame Endorsement: After months of coy "I haven't made up my mind but I'm really pissed at Bush" scribbling, blogger Andrew Sullivan has finally endorsed John Kerry.
Apparently holding his nose while he types one-handed, Sullivan writes: "I know few people enthused about John Kerry. His record is undistinguished, and where it stands out, mainly regrettable.
He intuitively believes that if a problem exists, it is the government's job to fix it. He has far too much faith in international institutions, like the corrupt and feckless United Nations, in the tasks of global management. He got the Cold War wrong. He got the first Gulf War wrong."
Sullivan's in the 'Anybody But Bush' camp - likely driven there (at least in part) by his oft-spoken opposition to the non-gay-friendly policies of the Republican party. But even Andrew can't seem to make a convincing case for Kerry.
Saint John Kerry, Patron of Nuance: Jeff Jacoby deconstructs Kerry's religious values.
I Still Miss Elvis: Bruce Springsteen and Bon Jovi are performing at Kerry rallies.
I remember an interview given by Elvis Presley in the late '60s. He was asked a political question. He demurred, saying, "I just sing the songs - that's all."
Big Gulp: 7-Eleven gives woman $711 bonus when she gave birth to a 7 pound, 11 ounce baby.
It Wasn't My Fault! From Scrappleface: "An attorney for The New York Times today blamed yesterday's false story - suggesting President George Bush lost 377 tons of Iraqi explosives - on "an attack of acid reflux."
The incident marks the second time in a week that a major performance was interrupted by the gastric disorder - the first being Ashlee Simpson's appearance on Saturday Night Live."
The World According to The Onion: Knowing that the minority vote will be crucial in the upcoming presidential election, Republican Party officials are urging blacks, Hispanics, and other minorities to get out and vote on Wednesday, November 3rd.
The Onion Gives Flu Season Advice: "If any members of your family are elderly or have weakened immune systems, dig graves now before the ground hardens."
---
Wednesday October 27, 2004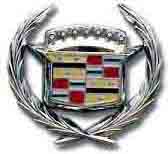 Gadget Overkill: Mark Phelan of the Detroit Free Press writes: "Cadillac won global praise and international awards for innovative engineering when it introduced infrared night vision on its DeVille sedan a few years ago, but the feature isn't available on the new 2005 STS sedan, and it's not likely to show up on any future Cadillacs.
The option, which projects a green image on the car's heads-up display, works just fine, but it turns out buyers just don't care enough about it to shell out an extra $2,250 to see a blurry silhouette of a possum in a roadside ditch."
Plagiarism = Lying: An academic researcher has found 11 passages in Senator Kerry's published writings that appear to have been taken from other works without attribution. Six of the passages come from Mr. Kerry's 1997 book, "The New War: The Web of Crime That Threatens America's National Security."
All bear some similarity to news accounts that preceded publication of the book.
More Kerry Lies: U.N. ambassadors from several nations are disputing assertions by Sen. John Kerry that he met for hours with all members of the U.N. Security Council just a week before voting in October 2002 to authorize the use of force in Iraq.
Many Lucianne.com posters ask: "Why would a Junior Senator from Massachusetts have been there in the first place?"
Same Old (Lying) Song From Kerry: Thomas Sowell asks: "Do you remember an old musical comedy song that said, "Anything you can do I can do better"? Who would have dreamed that someday a grown man would be running for President of the United States on that childish theme?"
Details: "The latest irresponsible charge from John Kerry is that President Bush let Osama bin Laden escape. You would think we had bin Laden in custody and Bush left the door open. We never "let" bin Laden escape. We never had him. Bush didn't even have another country offer to turn him over to us, as happened when Clinton was President.
As with so many other things, Senator Kerry says that he would do it better: "I would have used our military and we would have gone after and captured or killed Osama bin Laden." He would have been "tough," he says." Yeah, right.
Hanoi John: The first documentary evidence that Vietnamese communists were directly steering John Kerry's antiwar group Vietnam Veterans Against the War has been discovered in a U.S. archive.
One freshly unearthed document, captured by the U.S. from Vietnamese communists in 1971 and later translated, indicates the Viet Cong and North Vietnamese delegations to the Paris peace talks that year were used as the communications link to direct the activities of Kerry and other antiwar activists who attended.
More Lies - Fake News: News of missing explosives in Iraq (a now-disproven claim) - first reported in April 2003 - was being resurrected for a '60 Minutes' election eve broadcast designed to knock the Bush administration into a crisis mode. Jeff Fager, executive producer said that "our plan was to run the story on October 31."
Cliff May of National Review Online writes that the original New York Times missing explosives story was deliberately leaked by the IAEA (International Atomic Energy Agency) to embarrass the Bush administration during the final weeks of the election. These are examples of anti-Bush manipulation by the biased, partisan mainstream media in order to influence the outcome of the election.
Sound Familiar? "An incumbent President from the heartland faces a strong, experienced challenger from the Northeast. The challenger is strong in part because the incumbent seems weak - inarticulate and gaffe-prone. But not too weak: Insiders make jokes about him, but he seems to connect with ordinary voters outside the Boston-New York-Washington, D.C. corridor. (Within that corridor he is plainly unpopular, and the Northeastern media overwhelmingly oppose his reelection.)
When he came to office, the incumbent had only modest experience. No one had thought of him as a major player in American government during the decade before he moved to the White House, and what experience he had prepared him for domestic policymaking, not foreign affairs."
It's Truman vs. Dewey. Or is it?
Quote of the Day is from Dennis Miller about former President Bill Clinton stumping for John Kerry in Philadelphia: "Just to make sure there were no embarrassing incidents, Kerry campaign workers made sure Clinton didn't even get close to the crack of the Liberty Bell."
---
Tuesday October 26, 2004
Painting Images With Words: AutoWeek had a fawning article about the dramatic styling of the new semi-fastback Mercedes CLS500 sedan. I have been struggling to put my negative reaction to the styling into words - from some angles, the car looks disturbingly like a hunched-over, 1948 stepdown Hudson.
Now Autoblog has come up with a more apt description: " ... a car that, when viewed in profile, closely resembles a dog squatting to make a number two on a despised neighbor's lawn. Who's a good doggy? Who is? You are."
Big Bucks: AutoWeek reports that a 1913 Mercer 35J Raceabout was sold for $1,022,500. Outta my league.

GM Woes: An article in Business Week chides GM and points out problems including too much manufacturing capacity, too much discounting and ever-increasing costs, especially health care. (hat tip - AutoBlog).
I'll add that GM has too many brands and models. Cadillac and Corvette are doing well. Chevrolet has lots of models but none are class-leaders.
As for Buick, a friend of mine recently rode in a 2004 Rendezvous. He reported that the car is "typical Buick - numb, dumb, and feedback dead. Overstuffed leather armchairs for seats. Too well insulated from the road, no feeling, no spirit. Leaned through the corners. Reminded me of my grandfather's 1951 Oldsmobile."
I think the Buick Rendezvous is an awkward-looking vehicle, although I see a lot of them on the road ... so they must be popular. Buick is no longer a near-luxury brand as it was in the 1930s through '70s. It has been downgraded to a sort of high-trim level Chevrolet status, while Pontiac is presented as a sportier Chevrolet.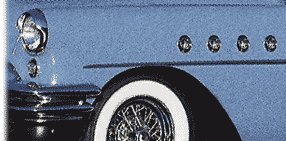 I notice that the Corvette no longer carries Chevy badges - GM doesn't want to cheapen the Vette with a bow-tie emblem, I guess. Buicks are favorites of the elderly because they remember what Buick used-to-be.
The rental Buick I drove a few weeks ago was a pleasant enough car - fine for highway cruising. Better than a '58 Roadmaster. Not something you'd enter at Lime Rock, though.
And Saturn - deservedly or not - is the loser brand. (Noisy. Rattle-prone. Poor panel fits. Crude.) Why GM dumped Oldsmobile and kept Saturn, I'll never understand.
Ford Woes: FoMoCo has woes of its own - too many to enumerate here. But the latest 'down' indicator is that four AutoWeek testers sampled the new Ford Freestyle and were .. ahem .. underwhelmed.
Our Brothers' Keeper: Nice words from Canadian columnist, David Warren: "They (Americans) are their brother's keeper, whether they wish it or not. Many Americans would dearly love not to have to make the tough decisions that go with being the world's present "hyperpower". But I am glad they are stuck with it. For all their flaws, they have proved through decades of real power a remarkably generous people; much short of sanctity as we all fall short. Imagine had communist Russia or China, an Islamist Persia, a fascist Germany or Japan, had the U.S. near-monopoly on 'force projection'." (hat tip - Relapsed Catholic)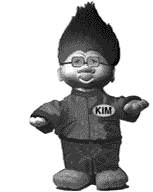 Team America: I wanted to see this movie when it first opened but my miserable cold delayed me. I saw it yesterday afternoon (in a completely empty theater). Hilarious flick!
I enjoyed the songs, the excellent, detailed sets and models (especially the Lamborghini Diablo flying limo), the special effects, Janeane Garofalo getting her head blown off and Kim Jung Il channeling Eric Cartman.
See the movie before it's gone.
Britons want Homer Simpson as U.S. President: Homer was overwhelming favorite in a Radio Times magazine poll on which U.S. TV character should take over at the White House. His slogan: "No big government, just big waist sizes."
---
Monday October 25, 2004
You Stepped On My Toe; I Will Punish You By Amputating My Leg: After receiving a parking ticket, an incensed Iranian motorist doused his car in gasoline and set it ablaze.
Scary News: From the Columbian (Vancouver, WA): A Syrian, Seifuldeine Abbassi, was arrested last week after his home was surrounded by police and federal agents. He has been charged with identity theft.
Here's the scary part - Abbassi is a United Airlines pilot and is licensed to fly 747s and 767s.
The 9/11 Election is what William Kristol of the Weekly Standard calls the upcoming election in a thoughtful and thought-provoking article.
Political Junky Heaven: John Podhoretz asks: "Has there ever, ever, ever been an election as exciting as this one? The answer, after some consideration, is: No way, not by a long shot."
It's mainly because of instant up-to-date information on the internet.
Quote of the Day is from Dennis Roddy of the Pittsburgh Post-Gazette: "Teresa Heinz Kerry's aides are now behaving much like the people who transport bears from one baiting to the next. She is shunted in and out of side doors. She is held in rooms. Phone calls go unreturned. A cordon of security hovers in ways that keep questions just beyond earshot, and when a stray one gets through, eyes are averted and the envelope of suits moves for the exit.
All that remains is for someone to shout, "Run for your lives, she's loose" to complete the scene."
The End Times Are Near: The first Hooters restaurant opens in China.
Just Asking: Have you noticed all of the commercials/infomercials for cleaning products and devices are hosted by fast-talking Australians? Is Australia that dirty?
---
Saturday October 23, 2004
76 Years: Bubble gum is celebrating its 76th anniversary. Created in 1928 by Walter Deimer, an accountant in Philadelphia, the perennial treat was pegged Dubble Bubble by its maker and sold by Fleer Gum, which owned the brand name.
Privately-held Concord Confections, Inc. of Toronto acquired the Dubble Bubble brand in 1998, selling it in 62 different countries and generating sales of more than $100 million. Its major competitor in the bubble gum business is Topps, which makes Bazooka bubble gum.
---
Friday October 22, 2004
Happy Birthday: GM's small block V-8 was introduced fifty years ago in the 1955 Chevrolet.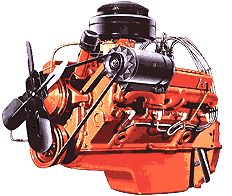 Originally, it was available as a 265-cubic-inch engine producing 165 horsepower in its base two-barrel carburetor setup; 195 hp with a four-barrel. Over 90 million small block V-8s have been produced since then.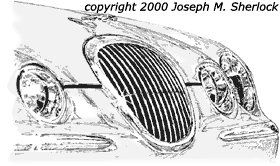 Jaguar Undefined: AutoWeek writes: "Fifteen years after buying Jaguar Cars Ltd., Ford Motor Co. is still struggling with a simple question: What is a Jaguar? The automaker is stuck between Jaguar opulence and Ford bean counting. Jaguar's XJ flagship has a cutting-edge platform but a built-to-price interior. And the X-Type is a mass-market sedan gussied up in luxury garb."
Eric Noble, president of the Car Lab consultancy in Orange, Calif., says Jaguar "blew it" by giving "abominable" interiors to a sedan that goes for $61,495, including freight. "The interiors just reek of Ford," Noble says. "How is that part of the Jaguar heritage? The XJ is a fantastic platform. That Ford bean counters are unwilling to spend another $250 on piece costs for the interior is a crime. They aren't willing to admit the problem, much less fix it."
My take - if, after 15 years of ownership, Ford still can't answer the What-is-Jaguar question, then the brand is doomed to suffer the same mediocre fate as the present Mercury and Lincoln offerings. Ford doesn't know what a Lincoln is anymore. Or a Mercury.
Tears On Demand: In the Jewish World Review, Zev Chafets writes that - in the mid-1980s - when visiting the Yad Vashem Holocaust museum in Jerusalem - "Kerry toured the exhibits, asked questions and emerged somber but dry-eyed. "Sen. Gore was here recently," one of his Israeli hosts said. "This museum brought him to tears." There was probably a bit of malice in this remark; everyone knew that Kerry and Gore were rivals. Kerry responded by asking for a private moment. He went off to the side and stood alone. When he returned, according to people who were there, he had tears running down his cheeks."
---
Thursday October 21, 2004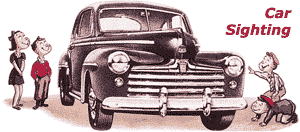 Car Sightings: Driving around shabby NE Portland this week, two vehicles caught my eye. One was a late-'70s Volvo 262C Bertone. This was not one of the Italian studio's better efforts and it hasn't improved with age.
The Bertone was basically a Volvo coupe with a chopped top overlaid with black vinyl. Yecch. It is distinctive only because it is rare.
The other car was a like-new 1967 Mercury Comet Villager station wagon in robin's egg blue, with lots of chrome accents around the windshield, windows and everywhere else. Never a beauty queen, the Merc now has a nice nostalgic look.
The lack of decent sightings is due to the crappy weather (rain, rain, rain) and my poor state of mind. I've got a miserable cold - undoubtedly a consequence of breathing recirculated, germ-saturated atmosphere for several hours on a cross-country flight last week.
From The Onion: John Kerry says stem-cell research may hold cure to his ailing campaign.
The World According to Teresa Kerry ... on Laura Bush: "Well, you know, I don't know Laura Bush. But she seems to be calm, and she has a sparkle in her eye, which is good. But I don't know that she's ever had a real job - I mean, since she's been grown up."
We can't all be ketchup heiresses, I suppose. A few hours later, Teresa apologized.
Scrappleface Reports: 'Kerry Claims Bush Will Draft The Elderly.' "If George W. Bush wins this election, I warn you that he will kill two birds with one stone," said John Forbes Kerry, the Democrat presidential candidate. "He'll bail out Social Security by sending our nation's grandparents to the front lines in Iraq to die in the wrong war."
More Scrappleface: 'Flu Threat Spurs Kerry to Suspend Campaign.' Mr. Kerry said his campaign would "remain on hiatus until every man, woman and child in this country receives a free vaccination and a year's supply of hand soap and Kleenex."
---
Wednesday October 20, 2004
Progress: We received the J. C. Penney Christmas Catalog this week; it has almost 100 pages of toys, dolls and games. It's amazing how toys have evolved over the years. All of the little girls' kitchens are now made of blow-molded polyethylene instead of lithographed sheet metal. No more sharp edges to cut dad's hands to pieces during assembly.
I remember putting together an avocado-colored metal set for my daughter in the mid-1970s. I had bandages on every finger by Christmas morning. I wonder if any dads ever hit an artery and exsanguinated on Christmas eve? "Merry Christmas, honey. Daddy's dead!"
Holy Flip-Flop: A consultant to the Vatican has said Democratic presidential candidate John Kerry has incurred the penalty of excommunication from the Catholic Church. But then the Vatican denied it.
---
Tuesday October 19, 2004
Why A Toyota Has $1,638 More Consumer Value Than A Chevy: Morgan Stanley estimates that pension and retiree health care costs GM $1,824 per vehicle, compared to $1,460 for Ford Motor Co., $985 for Chrysler and just $186 for Toyota. Chairman Rick Wagoner said, "We've got to move faster in addressing some tough cost challenges like health care in the United States. I don't think we can accept that the health care problem will be solved gradually over the next two decades. We don't have two decades."
Quote of the Day is from Sis Bowman of the Zainsville (Ohio) Times Recorder: "The only poll I really believe in is The Weekly Reader poll. The kids' newspaper has conducted a poll of kids age 9 and up that has proven right in the last 11 elections. This year, kids picked Bush by a 66 to 33 percent margin. If you can't trust a child, who can you trust?"
---
Monday October 18, 2004
Geezer Rage: A 63 year-old German retiree, angry at being stranded at a railway station, smashed up a police car with his crutch when police refused to drive him home or get him a hotel room.
Stretching Experience: We no longer leave our car at the airport. The parking fees are too high and the prospect of muscling luggage on and off a shuttle bus is unappealing. We now use a car service.
Last week, the service delivered us from the Portland airport to our doorstep in a 2004 Lincoln Town Car L-Series - the first one in which I've ridden. It is an extended-wheelbase factory model with a five-inch stretch. Very comfy and has lots of legroom.
For a few moments, I felt like Donald Trump.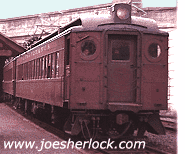 Train Memories: Day-hopping to college, I often traveled on the Pennsylvania Railroad's Paoli Local.
Often, the cars were ancient MUs - electrically powered, multiple-unit interurban cars with overhead pantographs and distinctive circular front windows (porthole windows - railroad buffs refer to the them as 'owl eyes').
K-Line Trains is now offering an O-gauge two-car MU set. But I only wanted them if they had the circular windows, so I e-mailed Nick Ladd, K-Line's sales manager. Got a prompt reply: "The PRR version will have the famous "owl" eyes so common on all rust liners. I used to ride them in Philadelphia and loved the look of the round windows."

I placed an order; it arrived last week. The cars have molded seats with little people in them, proper outside marker lights - red and green - which reverse when the train reverses, directional headlights, bell sounds and a realistic digital horn. I'm glad I got this train set; the little MUs running around on the living room floor are bringing back lots of memories.
Civic Duty: I voted over the weekend. My wife and I have "permanent absentee" status and our ballots are mailed to us. We read the Voters' Pamphlet, filled out the ballots at our leisure and mailed them back.
I take no pleasure in standing in line on a rainy November day in a schoolroom full of coughing people - especially when there's a shortage of flu vaccine.
Bush For President: I lean Republican but vote for the person, not the party. In fact, I voted for four Democrats on a State/Local level. But, for President, I voted for George W. Bush. A perfect president? No. I wish he were more miserly with my money and less timid about blowing up those Iraq viper nests disguised as mosques. But, generally, he's a decisive and likeable guy who responded to 9-11 with courage and backbone. And his views on terrorism are compelling.
My vote for Bush is also a vote against Kerry. John Kerry has no credibility with me. He carries the marks of a phony. He constantly reminds people that he served in Vietnam, yet everyone I know who was in Vietnam despises him. He brags too much; real heroes are never so full of themselves.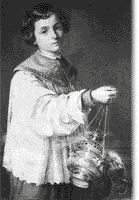 In the last debate, when asked about stem cell research, Kerry said, "You know, I was an altar boy ..." More crowing - being an altar boy has nothing to do with theological insight. Kerry's message seemed to be: "I'm no ordinary Catholic, I am a former altar boy." I was waiting for him to add: ".. and I killed twelve Viet Cong with a large candlestick at Christmas Mass in Cambodia in '68."
After so many years in the U.S. Senate, Kerry should have something to brag about. He doesn't. He just took up space (and our tax dollars). Kerry has a strange worldview - he sees terror as a "nuisance." He compares it to prostitution - distasteful but part of societal tradition. Baloney. I don't want a president who equates mass murderers with hookers lurking near an alley.
Nothing is ever Kerry's fault, either - Secret Service people get in his way while he snowboards. This bounder would never fall otherwise - so it's their fault when he takes a spill. Kerry always seems to be late for campaign events - not his fault, though. (Bush and Cheney always seem to arrive on time.) And the fact that his anti-war comments in 1971 were used by the enemy to taunt American POWs - well ... that's not his fault either.
We haven't had such a faultless president since Jimmy Carter. Jimmah thought everything was someone else's fault, too. No thanks, John Kerry, one "faultless" president was enough.
I don't claim omniscience here; I'm just an opinionated geezer. In a democracy, good men can disagree. So ... think carefully. Vote for the man you believe in - but make sure you do vote.
---
Saturday October 16, 2004
Book Review: 'Playing With Trains: A Passion Beyond Scale' by Sam Posey. My friend and fellow car/train nut from Pennsylvania sent me this book. I wanted to like it.
The title is great and Sam Posey is a legendary car guy - a former Indianapolis and Grand Prix driver turned Emmy-winning ABC sportscaster. He likes trains. And he's about my age. The book is about his love of model trains, beginning with the Lionel sets he had as a child and culminating in his 16-year task of recreating the Colorado Midland Railway in HO scale. Posey estimates that he spent 6,000 hours building the layout. This does not include the professionals he engaged to help build his dream.
The first half of the book ... (more >>>)
---
Friday October 15, 2004
Papal Ferrari: Ferrari president Luca Montezemolo said the Italian Formula One team would build a special car for Pope John Paul II to mark his 26 years as pontiff. Mr. Montezemolo drew the line at changing the color of the car from its customary red to a different shade that the Holy Father might prefer.
"The Pope would not be best pleased to see a Ferrari that wasn't a Ferrari," he remarked. (hat tip - Relapsed Catholic)
Slow Hand; Fast Foot: 59-year-old guitar legend Eric Clapton had his licence suspended after speeding down a French motorway at 134 mph in his Porsche 911 Turbo.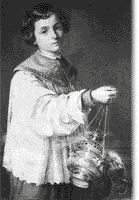 Altar Boys For Truth: During Wednesday's debate, Kerry used the "I used to be an altar boy" mantra. This is remarkably similar to the demon's wail in The Exorcist: "I'm just an old altar boy, Father."
If any group of former altar boys want to organize some Swift Boat Vet-style anti-Kerry ads, count me in.
Profiles In Cowardice: Sen. Mark Dayton (D-Minn.) has closed his Capitol Hill office because of concerns over a terrorist attack.
This is very strange; we felt very safe during our visit to Fortress Washington (see yesterday's posting under 'Security'). And our hotel was right across the street from the House Office Building.
The Senator's Replacement? A new website is proposing James Lileks for the U.S. Senate in 2006 replacing fraidy-cat Mark Dayton. The site describes Lileks as "Author, Columnist, Radio personality, Photographer, Blogfather and Patriot."
I've often quoted James Lileks in this space and enjoy his writing and radio commentary. But I think his talents would be wasted in Congress. Instead, I propose that he replace Dan Rather on the CBS Evening News. James is would bring much needed elements of honesty, humor, optimism, quirkiness and Sensible Midwest Thinking to the mainstream media. And he can still can work from home: "For CBS News, this is James Lileks, reporting from Jasperwood. Courage."
---
Thursday October 14, 2004
I'm Back: My wife and I arrived home safe and sound after a wonderful vacation in northern New England, Quebec and Washington, D.C. The weather was spectacular - only 3 hours of rain during the entire two weeks.
A summary: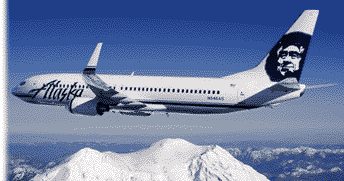 Flying: Alaska Airlines is terrific. Its people are professional and the service is friendly and exceptional.
I am so glad that we've switched from those surly and uncaring drones at United Airlines.
Rental Car: We drove a black 2004 Buick Century for a week. All the car buff mags make fun of Buicks, but this entry-level car with its 3.1 liter V-6 was perfectly acceptable for our needs. There was absolutely no wind noise at 75 mph and the ride was plush as were the very comfortable seats. The 175 horsepower engine wasn't particularly peppy but it did the job.
For a $21,000 car, it was pretty nice - fit and finish were excellent, the interior was roomy and the controls were easy to decipher. The Buick was nimble on narrow Quebec City streets and the exterior seemed smaller than its 195-inch length. The steering was overboosted and numb but the brakes were responsive. We averaged 26 mpg on a 1,200 mile trip.
We rented the Buick from Enterprise in Boston. Nice folks and, boy, are they efficient. The car was vacuumed, washed and re-rented - 25 minutes after we turned it in. Enterprise had some eclectic rental offerings including a Prius, Volvos, a Mazda 6 wagon, Chrysler 300 and even a boxy Scion. (permalink)
Driving and Car Sightings: The roads around Boston are awful - full of potholes, bumps and patches. The moment you cross I-93 into New Hampshire, the roadways improve by leaps and bounds. What does Massachusetts do with all its tax revenue? New Hampshire has neither a sales tax nor an income tax but has far superior roads.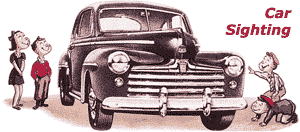 Saw a 1960 triple-black Caddy convertible sailing south on 93 in NH. It seemed like half the cars in New England and Canada are black. Saw a very nice red and white 1959 Ford retractable in St. Johnsbury, Vermont. I complimented the owner on the car's condition. He said, "Wanna buy it?" No thanks - an old car is one souvenir I don't need. We'll stick to things like refrigerator magnets; they're easier to ship.
The first car we spotted after crossing the Canadian border was a late-80s Honda Accord coupe with terminal body cancer. This was a reminder that we had entered the land of salted roads (Route de Sel).
For car enthusiasts, Canada used to be Bizzaro America. Fords were Meteors, Mercurys were Monarchs, Dodges were Plymouths with Dodge front clips, Mercury was a Ford truck brand. Trim and grilles were different and seemingly exotic. Model names were cool - Acadian, Parisienne, etc. No more. Canadian roads have the same offerings as the U.S., except that there seemed to be more Hyundais and Kias. I saw lots of Dodge Magnums and Chrysler 300s in Canada and northern New England. These cars are obviously home runs for Chrysler.
There's a wonderful Italian restaurant in Quebec - Portofino. The walls are covered with Ferraribilia. One night, the owner's red 348 TS was parked out front. A spectacular car.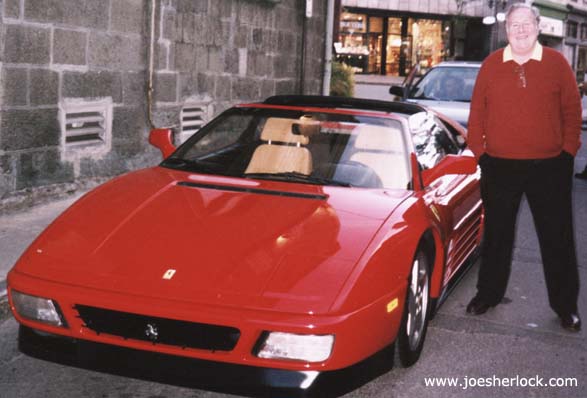 On Quebec's narrow streets, we saw a Shelby Mustang GT-500, a turquoise-and-white 1959 Oldsmobile 98 sedan and a girl on a unicycle. Unicycles probably make sense in a country where regular gas costs more than $3.50 per gallon.
In Boston, we spotted a red Bentley GT parked in front of the Four Seasons. Photos don't do this car justice - the lines are sleek, curvaceous and complex. Unfortunately, the car had a large dollop of bird crap on the hood. You'd think that, for all that money, Bentleys would come with some kind of anti-crap force-field as standard equipment.
In D.C, I spotted a red Lamborghini Countach navigating the roads near the Washington Monument. There are tons of faux-Lambo kit cars but this one looked and sounded right.
Saw a forlorn Daimler SP 250 sports car parked near George Washington University. This was a surprising sighting since relatively few of these ugly-snouted, V-8 sports cars were imported to the U.S.
I now believe that half of the black Lincoln Town cars produced are sent directly to D.C.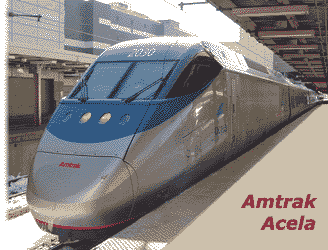 Amtrak: We rode the Acela from Boston to Washington. It was a most pleasant experience.
The rail upgrades are still in progress, so the train has to go slow in spots.
The ride is not nearly as smooth as the Eurostar, but the staff were friendly and the service was very prompt.
Special thanks to Manny the Boston ticket agent who got us on an earlier train with only minutes to spare and made all the changes with a smile.
It was a thrill to go up and over the Hellgate Bridge into New York City.

The four-track section of the old Pennsy line has been mostly upgraded and we flew through New Jersey. I got jolts of nostalgia from seeing the familiar Philly railscape roll past - Holmesburg Station, Frankford Junction, the Zoo, the stately Art Museum and the spectacular 30th Street Station.
The beautifully restored Union Station in D.C. is a sight to behold. And to wander around. By the way, Acela trains also offer a "quiet car" where cell phone use and loud talking are prohibited.
Security: Getting into Canada was easy. They just wanted to know if we had "guns, explosives or firecrackers." Getting back in the U.S. was also easy - same questions but they asked about cigarettes, too.
On the other hand, Washington is a locked-down city, with armed police, checkpoints and barriers everywhere. I thought I was in 1971 Berlin. But, it did provide a secure feeling. And having all those cops was great - whenever we'd get lost, we'd just walk up to the nearest security booth and ask for directions.
Everyone in Washington was friendly and helpful, including the Metro people. We used the Metro rail system to go everywhere - it was fast and convenient.
We flew home from Reagan National. Security was very tight. We were told by the flight attendants that once the doors closed, no one could leave their seats - for any reason - until the flight had been airborne for 30 minutes. This is apparently a special requirement for flights departing from Reagan. After takeoff, the flights hook left over Arlington National Cemetery - away from the Capitol and the White House - but almost directly over the Pentagon.
Sights: In Quebec, everything is in French and the names of all businesses seem very romantic. Once we saw a sign for an establishment that sounded like an intimate bistro - a good place to have a quiet and relaxing lunch. It turned out to be a tire store.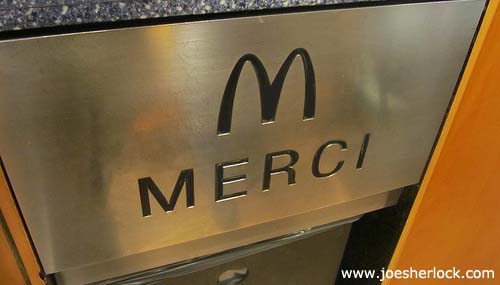 Even the McDonald's trash receptacles have 'Merci' engraved on their swinging doors.
The Fall colors were at peak as we traveled New Hampshire and Vermont. Breathtaking - I never tire of them. The Acela's windows offered spectacular Connecticut views - lots of autumn foliage and glimpses of boats on sun-sparkled water.
In Washington, we spotted the dreaded Environmental Protection Agency - it was housed in a very stately, column-laden and ornate granite edifice from the 1920s or '30s. I had expected an adobe hut with solar panels and a windmill on the roof.
The Department of Transportation building was an architecturally-anonymous cracker box design from the 1960s. Why didn't they sculpt it in the shape of a 1950s car with shiny chrome spears along the side and fin-shaped towers? And enclose the exposed tower elevators in taillight-red glass panels?
Food: We had almost no dining disappointments during our travels. The aforementioned Portofino offered spectacular Italian food along with excellent service. It was so good, we dined there twice.
The Creperie de Breton on Ste. Jean in Quebec is a marvelous place for a Sunday breakfast. We ate a wonderful lunch at Fratello's in Manchester, NH.
In D.C., the food at Bobby Van's (steaks and chops) and at Galileo's (Italian - Naples Region) was outstanding.
And ... there's nothing like sitting in the bar of the Chateau Frontenac overlooking the St. Lawrence River, sipping Brandy Alexanders on a Fall afternoon.
Religious Observances: We went to Mass at the Notre Dame Basilica in Quebec. I remember being there almost 50 years ago and seeing several cardinal's hats hanging from the ceiling. When a cardinal died, his hat was strung up for all to see - until it disintegrated into a pile of dust.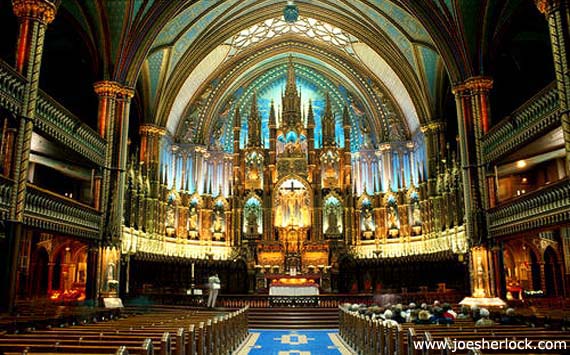 Now the hats have disappeared. I inquired and was told that "when we redid the church a few years ago, we took them down because they were dusty and ugly."
Fame is fleeting. Tradition is swept away by Style.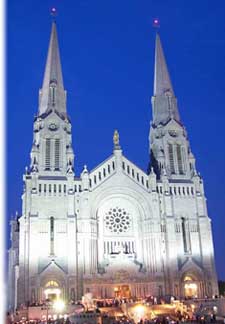 Ste. Anne de Beaupre used to be a shrine for pilgrims; now it is more commercial and caters to bus tours.
You can light $5.00 votive candles before the relic of Saint Anne but when the rack becomes full and another bus is rolling into the parking lot, the candle rack is quickly moved to the basement where many other racks of burning candles light up a nondescript (but very hot) room.
Meanwhile upstairs, a fresh candle supply is wheeled in for the new arrivals. Turning inventory and optimizing cash flow - Catholic-style.
Next to the gift shop is a small, glass-fronted, free-standing building with a priest sitting at a desk, looking like a Notary Public. Go inside and he will bless all purchases. Free.
On a Sunday afternoon, we visited the historic Holy Trinity Anglican church in Quebec. As I approached the door, I heard strains of 'Embraceable You' on a piano. Followed by the tinkling of 'Misty.'
I thought it was one of those Gay Anglican churches I've read about, but they were just having an afternoon concert.
We departed to the melody of 'Autumn In New York.'
Best Attraction: In D.C., the National Museum of American History is offering 'America on the Move. An exhibit of transportation from 1800 to present. It is impressive and clever. The museum displays the original John Bull locomotive from the 1830s, a Southern Crescent Pacific steam loco, old streetcars and even a Chicago El car with a video wall of walking talking riders - actors in 1950s era costumes. Very well done, too.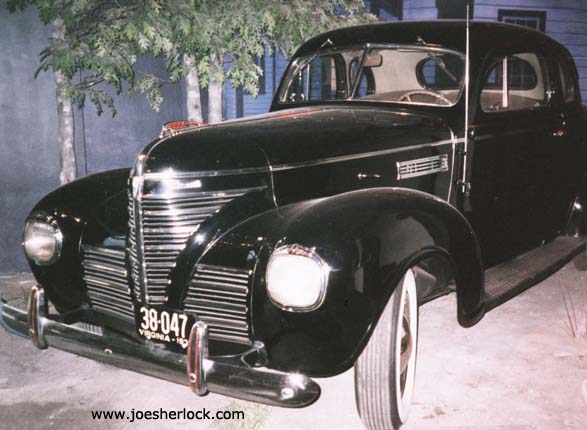 The museum even had a 1939 Plymouth business coupe on display as well as a 1950 Buick and Elvis' hot rod from the movie 'Loving You'.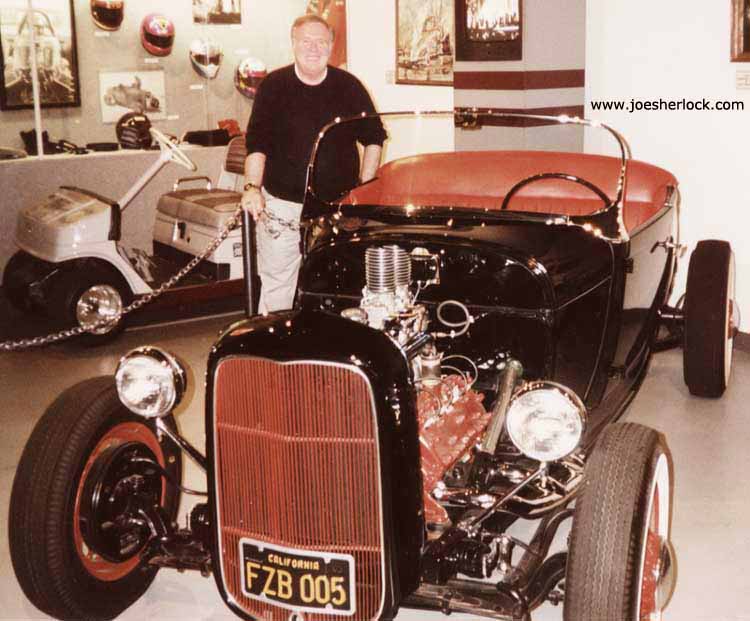 Also on exhibit was a classy '55 Ford Country Squire and lots more. The rest of the museum was fascinating as well. We saw Julia Child's kitchen, the Horn and Hardart Automat and lot of other cultural icons. Including Howdy Doody.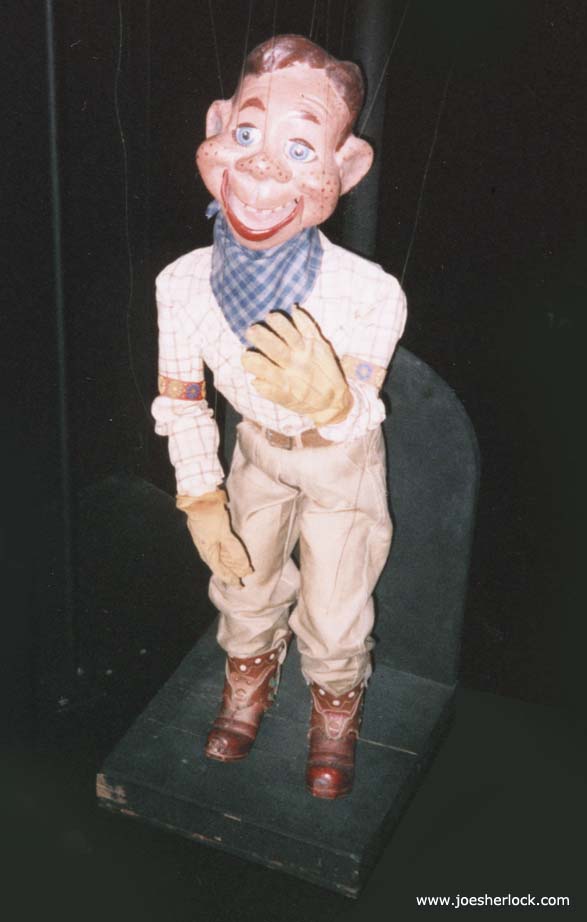 The basement cafeteria turned out to be a gem, too. We spent almost the entire day at this museum.
The Postal Museum was a lot of fun as well. And we had an enjoyable lunch at Capitol City Brewing in the same building - the only Post Office with a brewery.
Disappointments: The Drummer Boy Motor Inn (aka - Econolodge) in Lincoln, NH is a real dump. AAA gave it a three-diamond rating. It deserved a zero. Avoid it at all costs.
The pricey Restaurant Auberge du Tresor in Quebec has good cuisine but very poor service. We'll never go back.
In Washington, the Vietnam War Memorial was being repaired; it looked like they were replacing the walkway. Half of it was closed and inaccessible. The Washington Monument was closed for repairs, too.
We just missed the D.C. Duck Boat Tours; they had closed for the season. Oh, well. Maybe next time. (trip report permalink)