Opels and Vauxhalls and GM, Oh My (posted 4/12/10)
The General Motors bankruptcy and subsequent government takeover has caused chaos at Germany's Opel and Britain's Vauxhall as these GM children are struggling to live without Daddy's Monthly Stipend.
Both brands are generally off the radar for most Americans, since the marques have been absent from our shores for decades. I had forgotten so much about them that I've had to pick at the scab of my automotive memory. And search reference books for facts and data to support some of my recollections.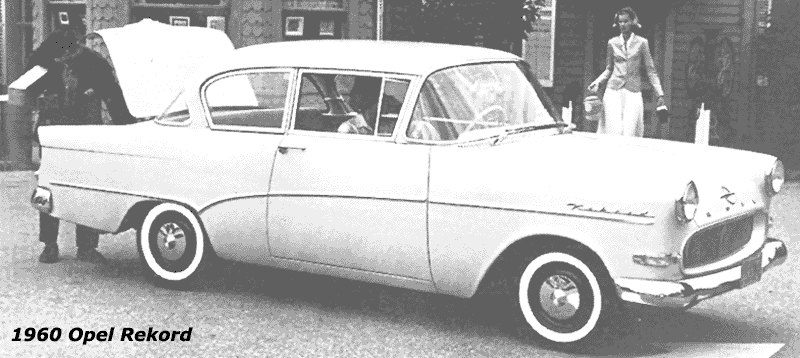 Vauxhall began making cars in London in 1903 and was purchased by General Motors in 1925. In 1957, GM responded to a perceived consumer sentiment for smaller, imported economy cars such as Volkswagen by deciding to import its European brands to the U.S. They chose economy models of Opel and Vauxhall and priced them several hundred dollars below entry-level, full-size American cars, close in price to GM's nemesis, the Beetle.
Beginning with the 1958 model year (in late 1957), English-made Vauxhalls were being sold by Pontiac dealers. Because of the usual bizarre electrical problems associated with English component supplier Lucas and because Pontiac dealers were ill-suited to maintain and repair them, Vauxhalls quickly faded from the U.S. scene. They were replaced in Pontiac showrooms in 1961 with home-built Pontiac Tempests.

A friend's family once had a pea-green Vauxhall Victor, complete with Harley Earl styling touches - wraparound windshield, fins and a full-width chrome grille. They described the Victor as "a dog", and were soon rid of it.
Above: full-page ads from the 1960 Philadelphia Auto Show souvenir program
At the same time as the Vauxhall-Pontiac pairing, the German-produced Opel Rekord began to be imported and sold through Buick dealers. But Opels used reliable, German-made Bosch electrics and had fewer problems, so Buick dealers continued to sell them, even after the small Buick Skylark came on the scene in the early 1960s. The Rekord even had dipped side spears of chrome, reminiscent of similar trim which adorned 1950s-era Buicks.
Adam Opel AG was a maker of bicycles and produced their first automobile in 1898. Opel was acquired by GM in the 1920s. Opel was a very successful manufacturer of automobiles producing everything from little economy Kadetts to larger, near-luxury automobiles. After World War II, Opel was forced to sell all pre-war Kadett tooling to the USSR. The Russkies used it to produce the postwar Moskvich.
By the mid-1960s, Opel was again offering a full range of vehicles; the top-of-the-line Diplomat had a Chevy V-8 engine. But, in the U.S., the brand never acquired the cachet of Volkswagen. Buick dealers eventually ceased selling it after a 1970s rise in deutschemark against the dollar made the Opel overpriced for the American marketplace. Later, there was a disastrous, last-ditch attempt by GM Detroit to revive the name - offering an Opel-branded Japanese Isuzu Gemini. GM owned a piece of Isuzu and was anxious to make the most of it. Isuzu had humble beginnings; the first automobile to roll off the line in 1953 was a Hillman Minx made under license from the British firm. So, the concept of putting other's names on its work was not new to Isuzu.
In the 1970s, Vauxhall and Opel began sharing styling and platforms. GM attempted to produce world cars with common platforms. The U.S. Chevy Chevette of the late 1970s was almost identical to the Vauxhall Chevette, Pontiac 1000, Opel Kadett City and Holden Gemini. The GM J-Car DNA of the early 1980s spawned clones worldwide: Chevrolet Cavalier, Pontiac Sunbird, Oldsmobile Firenza, Buick Skyhawk, Cadillac Cimarron, Holden Camira, Opel Ascona and Vauxhall Cavalier.
And, of course, the deceased and generally unloved Cadillac Catera was made in Germany on the Opel assembly line. It was, essentially, a rebadged Opel Sigma V-6. Consumer Reports rated the Catera as "worse than average" for quality/reliability, citing cooling and electrical problems. Saturn also sold rebadged Opel models with little success.
Today, many Opel and Vauxhall models are virtually identical. Opel even makes right-hand drive models for export to Ireland; the Irish still have a reluctance to buy things from the Brits.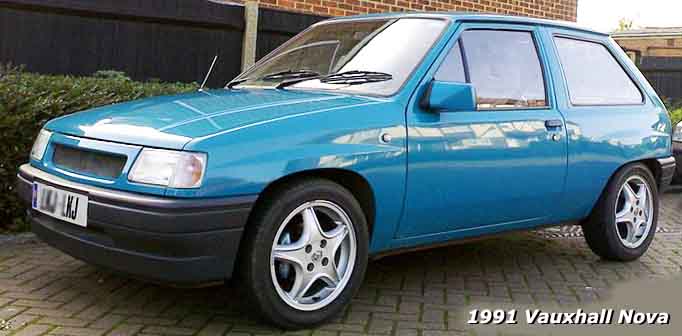 On our 1991 trip to England, my wife and I rented a blue Vauxhall Nova - an anemic little machine which did, however, get us to where we were going. I finally managed to get it over the century mark on the M40 motorway. I remember that the '91 Vauxhall still had a manual choke pull on the dash. The last time I had driven a car with a manual choke was thirty years before in my dad's '56 Ford Mainline 6.

On our trip to Ireland in 1997, we rented an Opel Astra. It was a nice little car, larger than the Nova. Had an automatic choke, too.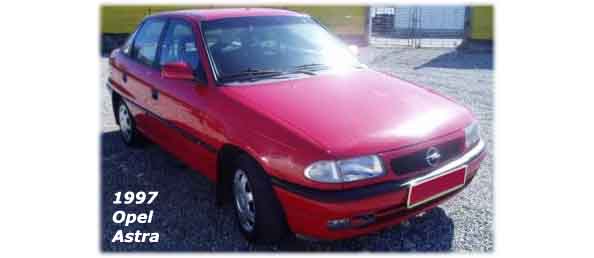 Back in the day, I drove my late friend Marty's peppy new 4-speed '68 Opel Kadett coupe - yellow with black stripes. I think 80% of the Kadetts imported to the U.S. in 1968 were yellow.
He later traded it in for a stripe-free yellow 1970 Opel GT sports coupe - a gorgeous little beast. It wasn't much faster than the Kadette but looked like an un-Sanforized Corvette Sting Ray of the era - but in a good way. The Opel's pop-up headlights were mechanically-activated by a lever inside the car; it required a bit of ooomph to open them.
In Europe, the Opel and Vauxhall brands are history-laden marques. In America, they remain little more than a curiosity and a footnote.
---
Other Pages Of Interest
copyright 2010-21 - Joseph M. Sherlock - All applicable rights reserved
---
Disclaimer
The facts presented on this website are based on my best guesses and my substantially faulty geezer memory. The opinions expressed herein are strictly those of the author and are protected by the U.S. Constitution. Probably.
Spelling, punctuation and syntax errors are cheerfully repaired when I find them; grudgingly fixed when you do.
If I have slandered any brands of automobiles, either expressly or inadvertently, they're most likely crap cars and deserve it. Automobile manufacturers should be aware that they always have the option of giving me free cars to try and change my mind.
If I have slandered any people or corporations, either expressly or inadvertently, they should buy me strong drinks (and an expensive meal) and try to prove to me that they're not the jerks I've portrayed them to be. If you're buying, I'm willing to listen.
Don't be shy - try a bribe. It might help.