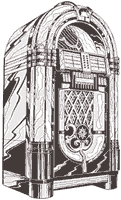 Every time I hear the phrase The Day The Music Died, I get quite irritated. Because it didn't. I know of no one who piloted his/her Chevrolet to any sort of levee and found it to be without water. The Music didn't die. Because The Music consisted of a large galaxy with several high-luminosity pop giant stars (Elvis Presley, Chuck Berry, Nat King Cole, Frank Sinatra, etc.) and hundreds of very talented dwarf stars (Bobby Darin, Connie Francis, Lloyd Price, Frankie Avalon, Sam Cooke, Johnny Mathis, Bobby Rydell, Dion, Jackie Wilson, Brook Benton, Jerry Lee Lewis, Gene Pitney, Fats Domino, Brenda Lee, Roy Orbison, Ben E. King, Paul Anka, Gene McDaniels, Del Shannon, Bobby Lewis and many, many more).
Make no mistake about it - the three Fallen Idols were in the smaller star category. Buddy Holly had several hits but his career had been in decline ever since he abandoned the Crickets and went solo. (He signed on for the grueling winter tour because he needed the money.)
Richie Valens produced only a couple of chartmakers. J.P. Richardson (aka - The Big Bopper) was - at the time of his death - a one-hit wonder. I intend no putdown of these gentlemen or their talents; I have several of Buddy Holly's songs in my iTunes library and know all the words to The Bopper's 'Chantilly Lace'.
But all are remembered today primarily because they died Famously and Tragically. And therefore, became Larger Than Life. And have attracted their own crew of posthumous hangers-on. I swear there are at least two-dozen third-rate '50s rockers who have claimed to be "almost on that ill-fated, four-seat airplane," claiming that they gave up their seats for Holly, Valens and the Bopper. And maybe the pilot.
Even though, objectively, the recordings and careers of the ill-fated three weren't so great in Life, in Death, they have become immortalized, Evita-like, and are still reverentially spoken-of today in the world of music. They are now Dusty Icons of the Jurassic Age of Rock who happened to be in the wrong place (for them) at the right time (for those who feed off of their fame and music royalties). RIP, fellas.