How To Succeed In The Restaurant Business
Running A Profitable Eatery
(posted 6/26/13)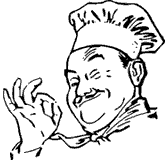 In the world of new businesses, dining establishments have the highest failure rate of all. American chef, author and television personality Anthony Bourdain has said that nine out of ten restaurants in the U.S. close within their first year. This is not just an American phenomenon: Gaststättenneueröffnungsuntergangsgewissheit is a German word meaning total confidence that a newly-opened restaurant is doomed to fail. Literal translation: "Inn-New-Opening-Downfall-Certitude."
Opening a restaurant is complex and capital-intensive compared with many other start-ups. Eateries are typically not high-margin businesses, so there is little room for error. Average pre-tax profit margins range from 2-6% (2% for full-service and 6% for limited-service places like pizzerias).
During my many years as a business consultant, I advised numerous restaurants. Based on my experiences, I've discovered eight things you must do to achieve culinary success:
1. Before You Start, Get Experience: If you've never been in the business, do not open a restaurant until you gain experience, learning the business from the inside as an employee of an existing eatery. Work in the kitchen and at the front of the house. Learn the rhythms of food prep and observe the cycles of dining traffic.

If possible, get a job where you can access the restaurant's financials. Measure them against business guidelines such a those in 'RMA Statement Studies', a book which can usually be found at your local bank or in the reference section of your public library.

Subscribe to trade magazines and find out everything you can about the restaurant business.

2. Do Your Marketing Homework: Is there a need for your restaurant? A common mistake is to open the sort of restaurant you would like to patronize, rather than one which suits your locality and your market.

I once lived in a small town (35,000 population), where a Scottish restaurant specializing is haggis and pasties opened. The owner bragged to the local newspaper, "There's not another one within 400 miles of here." No wonder. With a limited menu which didn't appeal to many, it would probably take a population of two million or so to support a Haggis Palace.

Pizza is a far more appetizing dish, yet it takes a population of 5,000 to support a single, sit-down pizzeria.

Use demographics to determine if the market will support your proposed eatery - don't be the eighth pizza joint in a seven-pizzeria town.

3. Define Your Business: What kind of restaurant are you? How are you going to differentiate yourself from your competition? You must have a 'reason for your existence' which is readily understood by prospective diners.

I once ate at a recommended restaurant in Missoula, MT. The food was decent and fairly-priced; the waitress was pleasant and attentive but the overall experience was somehow forgettable. I felt as though I'd been to this place before - a hundred times, in a hundred cities on a hundred boring Tuesday nights. I described my experience to a friend as "déjà vu ... followed by amnesia." I can't even remember the name of the joint.

In the old Seinfeld television series, there was an episode titled 'The Dream Café', about a failing new restaurant, owned by Pakistani immigrant Babu Bhatt. It offered a broad and nondescript menu. Jerry Seinfeld quipped, "It's all over the place." Don't let your eatery be 'all over the place' - develop a distinct identity.

Make sure your identity is a good one. The Marathon Grill has multiple locations in Philadelphia, PA. But, when I visited the Chestnut St. location, it featured a slow kitchen, an indifferent waitress and unexceptional, overpriced comestibles in a bland setting. Yet Marathon's website espoused a 'philosophy' including "principles of consistency."

Too many dining establishments focus on mission statements and other high-falutin' axioms instead of concentrating on delivering good food, service and value.

4. Own Your Recipes: Part of making your restaurant unique is having your own recipes. It is very tempting to use prepackaged meals or sides offered by food supply giants like Sysco but your main entrees and sides should always be your own creations. Sysco is great for specialty items, sugar packets, condiments such as salsa (by the way, Sysco's house brand of salsa is outstanding) and secondary entrees.

Whether you develop your own recipes or have someone else create them for you, be sure to record them and store copies offsite in a safe place. Your unique recipes are what set your establishment apart from the competition.

CJ's Restaurant opened on a promising note in 2004, but the owners knew nothing about the restaurant business and, after a few months, it floundered when the chef quit and took all the recipes with him. A new chef was brought in; he changed everything ... but not in a good way. The food quality was abysmal. Many customers stopped coming by and several wait people quit. A third chef brought an all-too brief renaissance, followed by a cliff-dropping decline in quality of food and service after he left. Soon, CJ's was out of business.

5. Sell, Sell, Sell: You'll never get business if your customers don't know you exist. Statistics have shown that, for most restaurants, 90% of customers live within 3 miles. Therefore, your advertising and promotion should be focused on that three mile radius.

Use flyer inserts and neighborhood newspapers to promote your establishment. Make sure that your restaurant's signage is bright and designed to be seen. Hold open houses and tastings for local business groups. Work hard to get good rankings/reviews on popular dining critic websites such as Yelp, TripAdvisor, Urban Spoon, etc.

Sadly, the majority of restaurants have uninviting, overly-complex websites. Get a leg up on your competition by having a professional build a good one for your establishment.

The National Restaurant Association estimates that three-quarters of most restaurants' sales come from repeat customers. The most successful restaurants aim to get at least 60% of their patrons to visit their restaurant once or more each month.

Happy customers are the cheapest way to get the good word out.

6. Hire Only The Best Staff: To your diners, wait staff are the 'face' of your restaurant. Therefore, hire the best you can find. On average, management turnover rates run around 20% annually for table-service restaurants, while hourly workers turn over at roughly 150% per year.

No matter how delicious the food or generous the cocktails, lousy servers and/or bartenders can ruin a customer's dining experience. If you employ someone and find that they're not doing a good job, give them one warning. If you don't see immediate improvement, fire them. An employee's bad habits, poor service and negative attitudes put your business' survival at risk.

Train your people before you open. More than 50% of your potential customer base will visit your establishment within the first 30 days. Set standards for service: food on table in 8-10 minutes after ordering for lunch; 12-15 minutes at dinner.

I patronized La Solera, a local Mexican restaurant, on three different occasions. Then I gave up. The food was actually pretty good but the revolving staff of flawed waitresses and the inability of the cook to make anything in less than a half-hour frustrated me beyond belief.

7. Know Your Costs: Restaurant Impossible is a restaurant make-over show television program aired by the Food Network. Robert Irvine, celebrity chef, restaurateur and restaurant consultant, is the host. It's a fascinating show that teaches important lessons. If you are planning to open an eatery of any kind, I highly recommend that you watch it.

Irvine has said that food costs represent 28-32% of food revenues. Therefore, entrees should be priced at a minimum of three times the cost of food ingredients. Later, he said that for a breakfast & lunch place, food costs were typically 18-22% of revenues, while at a high-end steakhouse they might run 32-36%.

• One of Chef Irvine's clients, Salt Works II in North Carolina, had food costs topping 50% - waaay out of line for a casual country dining place. Robert reduced portions, raised prices and put programs in place to reduce wastage. Speaking of expenses, labor costs (payroll) should be 23-27% of total revenues, according to Irvine.

• Restaurant Impossible did a makeover of The Main Dish in Meridianville, Alabama. There were no cost control systems in place. The owners thought that the catering side of their business was "saving their restaurant." The reality was quite the opposite. A $10.95 per plate event cost them $10.54/plate in food costs alone. (Typically, food costs represent less than 40% of the selling price for catered items.) The restaurant's catering service was popular because they were grossly underpricing everyone else in town and losing their shirts. Irvine told them, "You should be charging $22.00 per plate for this."

• Hoffman's Bistro in Santa Cruz, California didn't know their costs either. The restaurant/bakery was losing money on the bakery side. A Restaurant Impossible makeover included the removal of the three-case bakery section and constructing a hopefully-profitable bar to replace it.

• During most episodes, the Restaurant Impossible changes include simplifying the menu and reducing offerings - too big means too much food inventory, longer prep times and fewer table turns (people take too long to study the menu). Pastori's in Ellington, Connecticut had an outdoor sign which advertised "pizza, lounge, restaurant." Over 400 items were listed on the menu. Surprisingly, pizza was not one of the top five sellers. One of Chef Robert first actions was to drastically cut the restaurant's menu size. Fewer offerings reduce food inventory and, therefore, will increase cash flow.

Learn your costs, price items accordingly, keep it simple and make a profit on everything you do.

8. Make A Positive First Impression: Dated decor, dumpy appearance, lack of cleanliness and/or clutter (table tents, too many beer signs, other people's brochures and posters, too many charity jars at cash register) will quickly kill a promising restaurant.

Over 50% of your potential customer base will visit your establishment within the first 30 days after opening. You must make a spectacular first impression. Hire a decorating consultant to help make your restaurant's appearance distinctive, consistent and memorable. And be meticulous about keeping your business spotless, clutter-free and inviting.
Finally, consider benchmarking your most profitable counterparts. Darden Restaurants is one of the largest and most successful large restaurant chains. Darden operates over 1,800 locations (
Red Lobster, Olive Garden, LongHorn Steakhouse and others
). The company's food & labor runs about 62% and its net profit before taxes is in the 7-8% range. A typical Darden restaurant does $3.9 million in annual sales. The Olive Garden segment of Darden's business does over $4 billion in annual sales from its almost 900 locations.
Let these ideas and suggestions inspire you to succeed in your restaurant endeavor.
---
copyright 2013-20 - Joseph M. Sherlock - All applicable rights reserved
---
Disclaimer
The facts presented on this website are based on my best guesses and my substantially faulty geezer memory. The opinions expressed herein are strictly those of the author and are protected by the U.S. Constitution. Probably.
Spelling, punctuation and syntax errors are cheerfully repaired when I find them; grudgingly fixed when you do.
If I have slandered any brands of automobiles, either expressly or inadvertently, they're most likely crap cars and deserve it. Automobile manufacturers should be aware that they always have the option of trying to change my mind by providing me with vehicles to test drive.
If I have slandered any people or corporations, either expressly or inadvertently, they should buy me strong drinks (and an expensive meal) and try to prove to me that they're not the jerks I've portrayed them to be. If you're buying, I'm willing to listen.