"The brand will have no bread-and-butter midsize sedan after the Avenger ends production early next year, leaving a gaping hole in its portfolio, which already was severely trimmed by the decision to move the manufacturer's pickups from Dodge to the recently created Ram brand."
There are several ominous signs:
• There's apparently no new Dodge Avenger in the works.
• The Dodge Viper has been rebranded as the SRT Viper for the 2013 model year.
• The iconic Dodge name has been removed from its trucks; they are now known as Ram trucks.
• The next Chrysler LLC minivan is to be Town & Country only - no Dodge version will be offered.
It seems like Sergio Marchionne and his managers are leaving the iconic and successful Dodge brand to rot away like a dead housecat in an episode of 'Hoarders'.
In my lifetime, there has always been a Dodge automobile. My cousin Tommy's dad bought a gorgeous, new 1956 Custom Royal Lancer model painted in a stately black and white color scheme. My late friend Joe Sweeney used to drive a '55 black Royal Lancer two-door hardtop - the one with the auto transmission lever sticking out of the dash. Pushbuttons replaced the chrome lever in 1956.
Dodge sought to be a mid-priced, aspirational brand but also wanted to offer something for everyone. The Dodge La Femme was offered in 1955 and '56 and was specifically designed for women, making this Dodge model the original Chick Car. The 1956 La Femme's exterior was painted Misty Orchid and Regal Orchid. Interiors were done in various shades of lavender and pink. The overall effect was sort-of purply:
Despite the special trim and gold-tone badging, the La Femme was not popular with the ladies. Less than 1,500 units were sold in two years.
Numerous friends owned - and were fond of - compact Dodge Dart models - mostly '60s-era two-door hardtops. Conservatively styled and budged priced, they represented an alternative for young marrieds who were concerned about money but didn't want to buy a little foreign car.
My plastics firm used a 1977 Dodge Sportsman passenger van as our delivery truck, which I drove often. It did yeoman service for over 11 years.
Dodge has a long and proud history. Founded as the Dodge Brothers Company by brothers Horace Elgin Dodge and John Francis Dodge in 1900, Dodge was originally a supplier of parts and assemblies for automakers. The firm began building complete automobiles in 1915, predating the founding of Chrysler Corporation, which eventually acquired Dodge.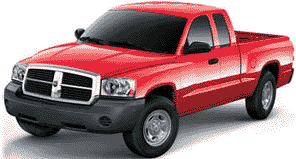 Dodge has always offered truck models. In the early years, these were based largely on the existing passenger cars but eventually gained unique chassis and body designs. The Dodge-built Power Wagon became a World War II icon and, after the war, become part of Dodge's product portfolio.
The brand has a presence in many worldwide markets, including South America, the Middle East and Europe.
Dodge makes money for Chrysler and always has. In 1940, over 195,000 Dodges were sold. In 1955, almost 277,000 Dodge vehicles found homes. By 1975, Dodge sales were 377,442 units; by 1985, sales exceeded 440,000 per year. In 1995, Dodge sold 531,621 vehicles.
Even without truck sales, Dodge brand sales are almost twice those of the Chrysler brand so far this year. In May 2013, Dodge outsold Volkswagen, Subaru, Buick, Mazda, Kia and many other established low and mid-price auto brands. 2013 Dodge sales are expected to exceed 640,000. If Ram sales were included, Dodge/Ram car/truck sales would come close to 1,000,000 for calendar 2013.
It is hard to understand why Chrysler LLC seems so fixated on eliminating Dodge. Consider Buick - it soldiers on despite a sales drop of more than 50% in 20 years.
It's ironic that Dodge, once a mid-price brand, killed off Plymouth when it moved downscale starting in the 1960s. By 1982, Dodge was outselling Plymouth. Plymouth sales continued to decline relative to Dodge and, by 1990, offered no unique products. Ultimately, Plymouths became rebadged Dodges. And died.
The entry-level luxury market has devoured the mid-priced market with attractively-priced models of Mercedes, BMW, Lexus, Cadillac, etc. replacing the positions once held by Mercury, Oldsmobile and Pontiac.
Now Chrysler has moved downscale enough that it has encroached on Dodge's territory. Chrysler is apparently becoming the new Dodge. Or Plymouth. Strange world.